Synthetic Methane Could Reduce Japan's Dependence on Imported LNG
Pilot projects done by major companies could help achieve decarbonization while avoiding the risks of depending on Russian energy imports.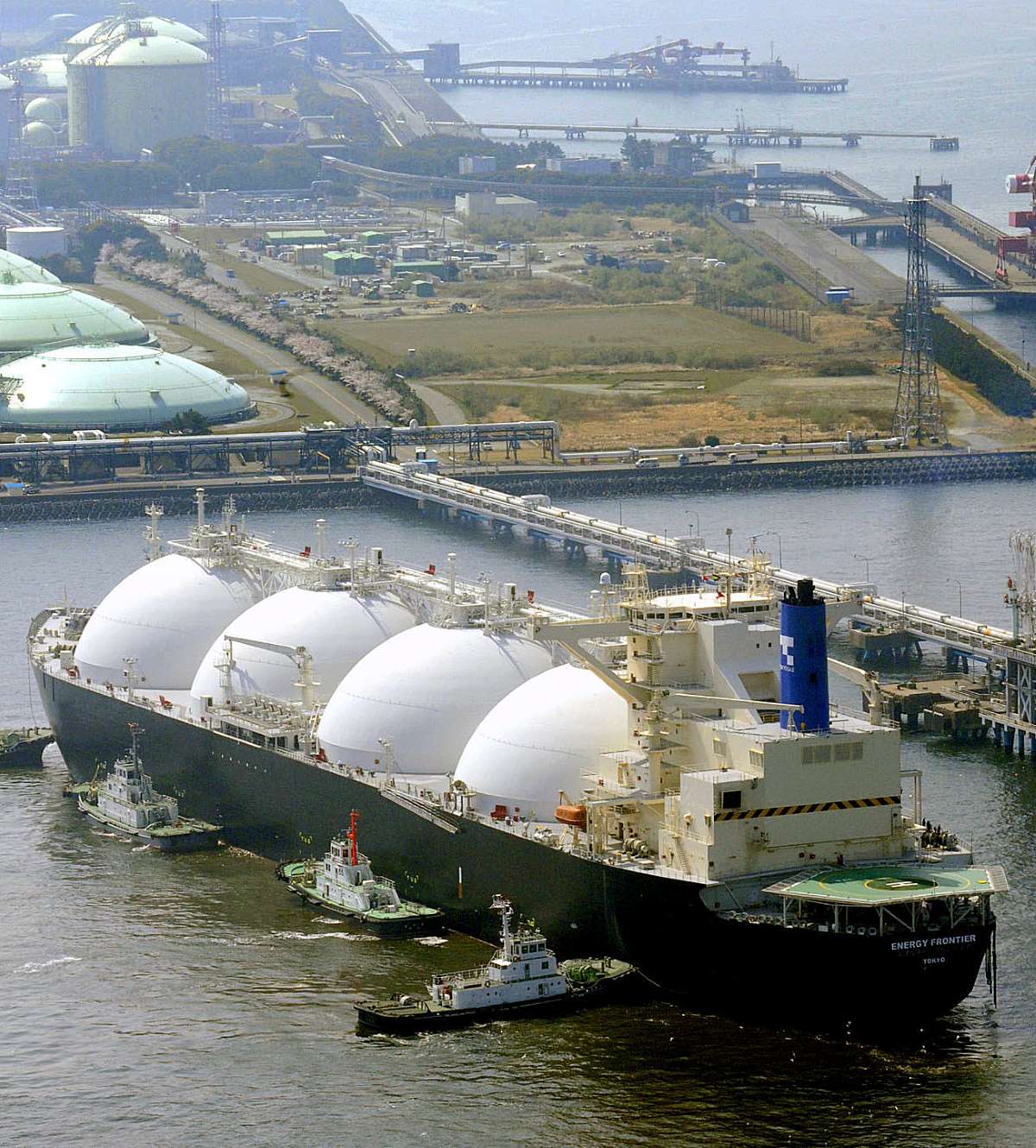 Major gas companies and others are beginning to put their strength into "methanation," the process of producing synthetic methane from hydrogen and carbon dioxide (CO2). This is the same methane that is the main component of gas produced in cities.
By using CO2 during the manufacturing process, emissions from city gas are offset. Since the existing infrastructure can be used, there are great expectations for the process as a key to reducing CO2. However, there is the remaining issue, namely that it is much more expensive to produce than liquified natural gas (LNG).
With Russia's invasion of Ukraine, securing a stable supply of energy has become an even more important concern. That has raised expectations for public and private efforts toward early commercialization of methanation.


Pilot Project by Tokyo Gas
"It can be used in the exact same way as regular city gas," stressed Kei Ogasawara, the Methanation Promotion Group manager at Tokyo Gas's Yokohama Technostation in Tsurumi Ward, Yokohama. He was explaining the synthetic methane produced by the company. The color and strength of the flame are comparable to those of the neighboring city gas.
Using equipment that has been in operation since March 2022, it is possible to produce about 12.5 cubic meters of synthetic methane per hour. Based on the results of the pilot project at this facility, Tokyo Gas aims to introduce larger-scale equipment and expand its manufacturing capacity.
By 2030, the company plans to switch 1% of the commercial city gas to synthetic methane, which adds up to about 80 million cubic meters of the gas.


Low Initial Investment for Methanation
The government's decarbonization efforts include various measures, such as expanding renewable energies by promoting solar power and offshore wind power generation, and burning ammonia for thermal power generation. However, many of these actions require large amounts of new investment in order to increase energy production capacity.
In the intermediate clean energy strategy put out by the government in May, it is pointed out that "investment of about 150 trillion yen will be required in the next 10 years."
Under these circumstances, methanation has the advantage of low initial investment costs because it can use existing equipment, such as the storage tanks and dedicated tankers that are used for LNG, and the pipes for city gas used in homes. If hydrogen and CO2, the raw materials, can be procured inexpensively and in a stable way, it is expected that synthetic methane production will spread rapidly in Japan.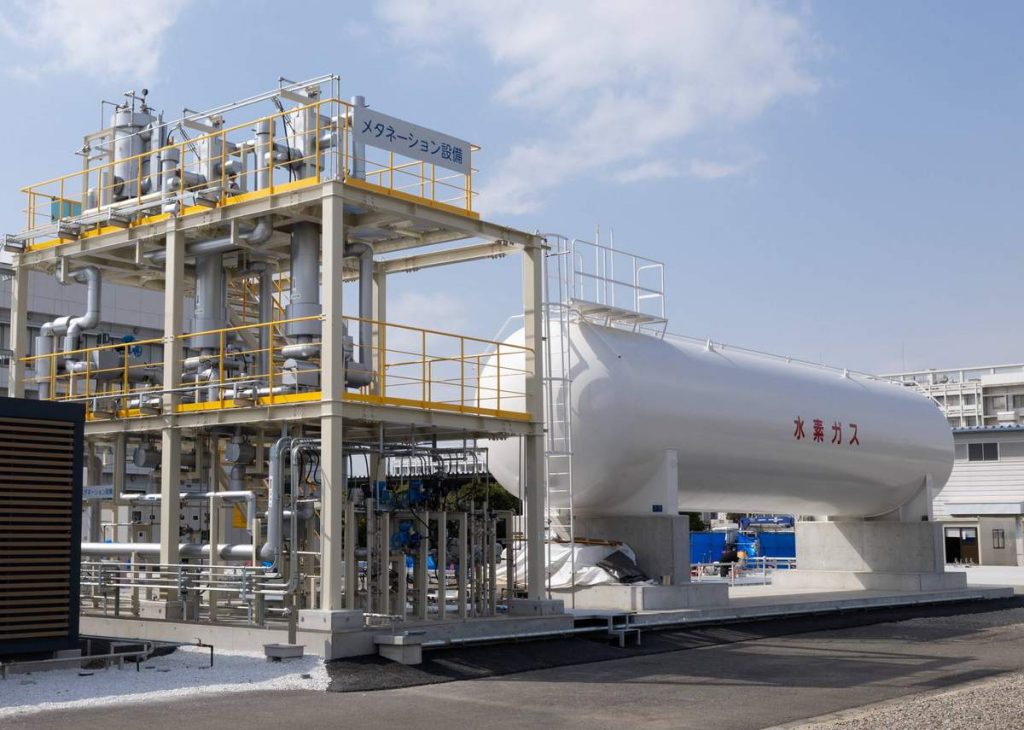 Challenges Ahead
Still, the biggest issue in expanding methanation is the cost.
Even if hydrogen production costs drop to a certain extent due to technological innovation and a secure supply of electricity from cheap renewable sources, "there is a three-fold gap in the price of the production cost in 2030 or so and the current prices of LNG," says Hisataka Yakabe. He is the operating officer and manager of the oxygen and carbon management technology strategy department of Tokyo Gas.
The company is also exploring the need to develop inexpensive power sources, such as large-scale solar power (mega solar) and wind power generation overseas.
Another problem is that, at the moment, the electricity necessary for hydrogen production is primarily derived from the "gray hydrogen" that comes from the thermal power produced by burning LNG, and "brown hydrogen" that is produced by burning coal.
With hydrogen derived from thermal power generation, it is extremely difficult to reduce CO2 emissions to zero.
In order to popularize methanation, in addition to reducing the production cost of synthetic methane, it is also necessary to have a mechanism for producing "green hydrogen" derived from renewable energy, which allows for CO2 emissions to fall to zero when producing hydrogen as a raw material.
Tokyo Gas is not the only company interested in methanation; Osaka Gas, Toho Gas, and other major gas companies are also moving forward with research towards introducing the technology and pilot experiments.
If major companies develop a plan for introducing synthetic methane, it is expected that it can also be expanded to small- and medium-sized companies in rural areas. Therefore, these pilot experiments are the key to widespread use.


Government Support Key
Government support — in particular by the Ministry of Economy, Trade and Industry, which has jurisdiction over energy policy — is indispensable for the test pilot projects of these companies, and for their subsequent implementation on a wider scale.
In June of 2021, the ministry established a council in which the public and private sectors cooperate to promote research and development, with the end goal of implementing synthetic methane production on a commercial scale.
In addition to major gas companies, about 20 other companies — such as the Mitsubishi Corporation, Nippon Steel, and Nippon Yusen — as well as industry groups and research institutes participate. Eight discussions had been held by the council as of May 2022, aimed at meeting the government's target of replacing 1% of city gas with synthetic methane by 2030 and reducing the price of synthetic methane to current LNG levels by 2050.
At the meeting on May 17, the committee members made several observations. Among the comments, "[In promoting methanation] we need a mechanism that all parties can benefit from," it was emphasized. "It is important for policies to properly prioritize" support, such as subsidies, was mentioned as a key, among other points.


Responding to Skyrocketing Prices and Supply Issues
Regarding the current quality of synthetic methane, "there is almost no problem for home use," said Mr Ogasawara of Tokyo Gas. In the future, the plan is to test the impact on industrial equipment, which is used more heavily and produces more heat than household uses.
Meanwhile, energy prices are skyrocketing due to Russia's invasion of Ukraine. In addition, on June 30, Russian President Vladimir Putin announced that Russia would take an executive action transferring the oil and gas venture Sakhalin 2, which has Japanese investors, to a newly established Russian company. Japan's interests are therefore becoming more uncertain.
About 9% of LNG imported by Japan comes from Russia, and most of that comes from the Sakhalin 2 project. If the imports stop, fuel prices will soar. Of even greater concern, though, thermal power plants, which have provided a dependable energy source to counter the inadequate output from other sources that have a tight supply and demand for electricity, could be forced to shut down due to fuel shortages.
Demand for LNG, which emits relatively little CO2 compared to other fossil fuels, is persistent and has led to global competition. If synthetic methane can be used as a substitute, it will lead to a reduction in dependence on imported LNG.
Especially considering the problem of Sakhalin 2, there is an urgent need for the public and private sectors to work together toward the early commercialization of synthetic methane.


RELATED:
(Read the report in Japanese at this link.)


Author: Takehiko Nagata