The Maiden ASEAN-India Naval Exercise: What Lies Ahead?
Bolstering cooperation in the maritime realm, the ASEAN-India naval drill was a crucial step in advancing India's Act-East Policy and Japan's FOIP strategy.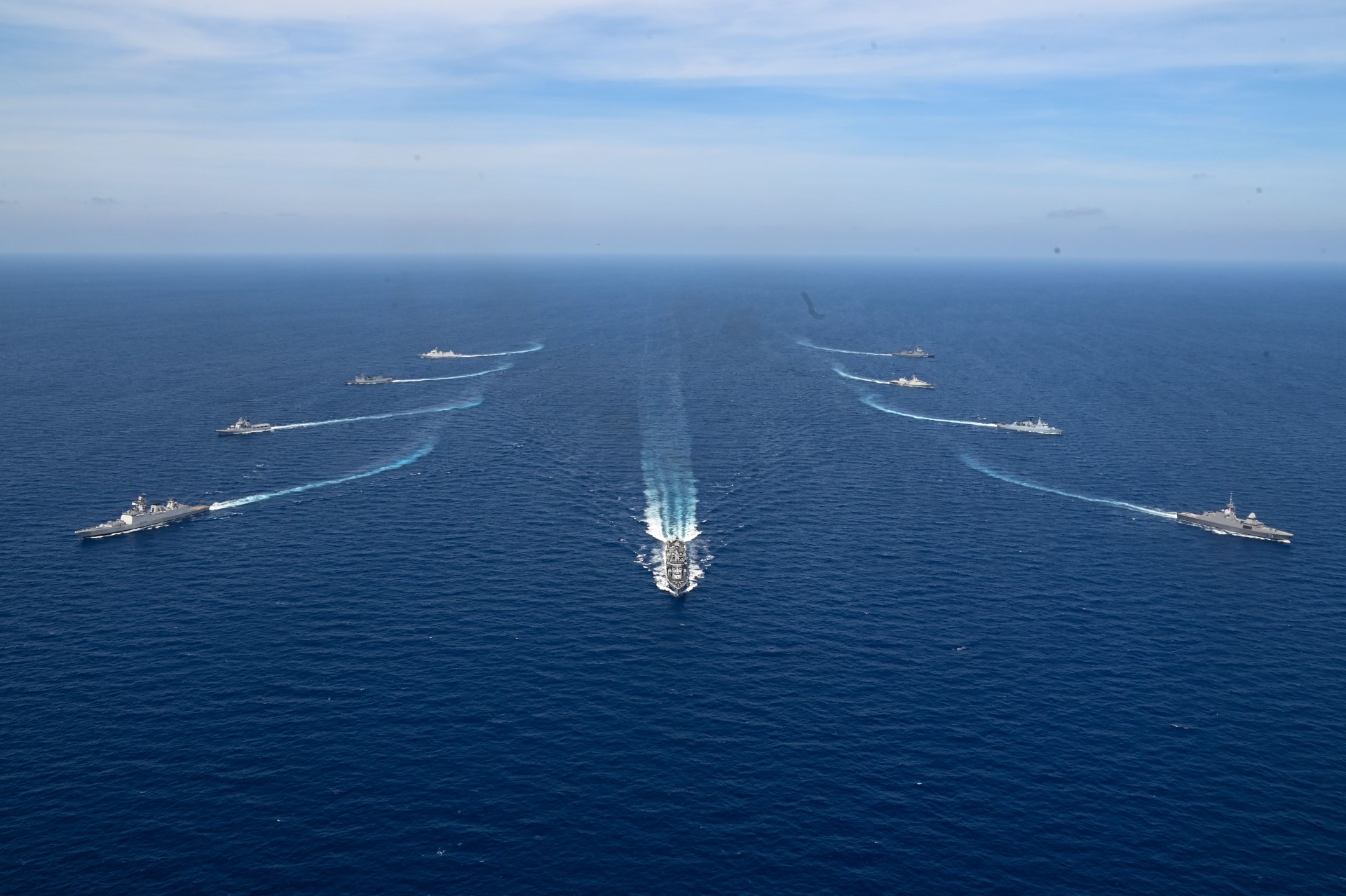 The recently-concluded maiden ASEAN-India Maritime Exercise (AIME) is important for many reasons. In these exercises, ships from the navies of the Philippines, Singapore, India, Brunei, Indonesia, Malaysia, Thailand, and Vietnam took part.
The first or "shore" phase of these exercises was conducted at the Changi Naval Base in Singapore. It encompassed participants conducting exchanges in "Visit, Board, Search and Seizure practices as well as exercises in Humanitarian Assistance and Disaster Relief Operations." The second, or "sea" phase of this exercise involved "helicopter cross-deck landings and maritime security, communication, and maneuvering exercises." The harbor phase was held from May 2-4 while the sea phase was held from May 7-8.
So, why were these exercises important?
To begin with, they mark a leg-up in the ties in the naval realm between India and ASEAN. Until now, India had been conducting bilateral exercises with member countries like Singapore, Indonesia, and Thailand, but not with ASEAN as a whole.
For the ASEAN too, this marks a leap of faith, especially at a time when the ASEAN nations are caught in a big tussle for supremacy between the United States and China. For the ASEAN countries, the role of India is critical as India's Andaman and Nicobar chain of islands lies close to the Strait of Malacca. These islands are extremely important to keep the sea lanes of communication in the region safe. And it is these sea lanes on which the economies of the ASEAN depend.
Security and Growth for All in the Region
Meanwhile, such close cooperation in the maritime realm is also critical for the success of India's "Act-East Policy," which aims at reinvigorating India's historical ties with countries in East Asia and Southeast Asia. Incidentally, India's historical ties with Southeast Asia started out in the maritime realm when Indian empires spread out all over Southeast Asia.
Soon after Narendra Modi was elected as prime minister for the first term, he outlined the SAGAR initiative which means "Security and Growth for All in the Region." This was in March 2015 during his visit to Seychelles, Mauritius, and Sri Lanka. In addition, the Sagarmala project is more evidence of India's increasing interest in the maritime domain, and this is likely to continue in the years to come. This project aims to "promote port-led development in the country through harnessing India's 7,500-km (4660-mile) long coastline, 14,500 km (9010 miles) of potentially navigable waterways, and strategic location on key international maritime trade routes."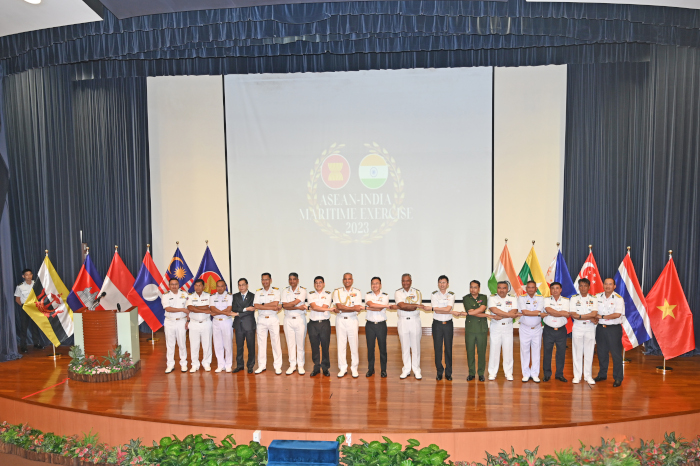 Challenges
There are many challenges, however, as India and ASEAN strive to improve the maritime component of their ties.
All of the ASEAN countries have a close relationship with China. In some cases, ASEAN countries like Cambodia are very close to China, and that is a concern for India. Also noteworthy is the situation in Myanmar, which is deteriorating every day. Moreover, there is not much that ASEAN has done to stem the tide. Refugees from Myanmar have entered India and this has already led to some problems in the country's Northeastern states, like Manipur.
In addition, the ASEAN nations have welcomed the China-led Belt and Road Initiative (BRI). And this could affect their naval ties with India. Besides, interoperability is a big challenge as the Indian Navy has not had enough experience with the ASEAN navies. Equipment is another challenge since these countries use different weapons than India.
What is Japan's Interest?
Time and again, the Japanese government has reiterated its focus on ASEAN centrality. Tokyo faces a litany of challenges in the region, especially the rising belligerence on the part of Beijing. In the case of any future conflict with China, the role of ASEAN nations will be a factor, especially those astride the Strait of Malacca. Recently, there has been increasing construction activity in Myanmar's Coco Islands. This is a cause for worry for India and Japan, given Beijing's close ties with the government of Myanmar. There are fears that Beijing could use these facilities to snoop on both commercial shipping and military maritime traffic from India and Japan.
Besides, the ASEAN region is key to the success of Japan's Free and Open Indo-Pacific (FOIP). This has been outlined by successive Japanese governments, beginning with former Japanese PM Shinzo Abe. Notably, it is continuing with the present government of PM Fumio Kishida. During his visit to India earlier in 2023, PM Kishida unveiled the new "four pillars of cooperation for FOIP."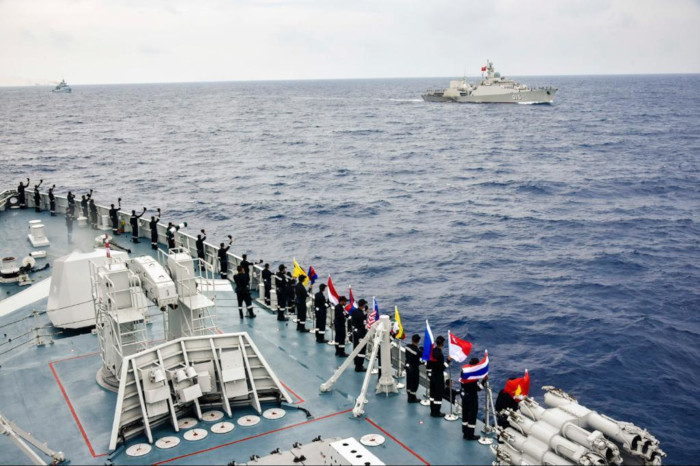 Free and Open Seas
Keeping the seas open and free is important for both India and ASEAN. In addition, both the ASEAN nations and India face non-traditional security threats, especially natural disasters, piracy, human trafficking, etc. The Rohingya issue is one issue that has impacted many of the ASEAN nations. In addition, the Indian Ocean tsunami of December 2004 clearly showed that close cooperation is indispensable for meeting such challenges.
At the same time, New Delhi has also been ramping up its defense ties with the ASEAN countries. It will be supplying BrahMos missiles to the Philippines under a multi-million dollar deal. And there are chances that it may also be exporting the same missile system to other countries in Southeast Asia.
There was another notable feature in the recent India-ASEAN joint exercises. Chinese maritime militia "fishing" ships came near the Indian and ASEAN ships taking part. Then they turned back in a clear sign of bellicosity on the part of China. This militia and other parts of China's military fleet are among the biggest threats that the ASEAN and Indian navies face as they try to ensure a rules-based order in the region.

RELATED:

Author: Dr Rupakjyoti Borah

Dr Rupakjyoti Borah is a Senior Research Fellow with the Japan Forum for Strategic Studies, Tokyo. The views expressed here are personal. His upcoming book is "Beyond the BRI: Can India, Japan and the US Provide an Alternate Model of Connectivity" (World Scientific, Singapore).