Will NTT's 6G Initiative Surpass China's 5G Technology?
NTT aims to build cutting-edge infrastructure for 6G technology that will enable high-speed, high-capacity communications with significantly reduced latency.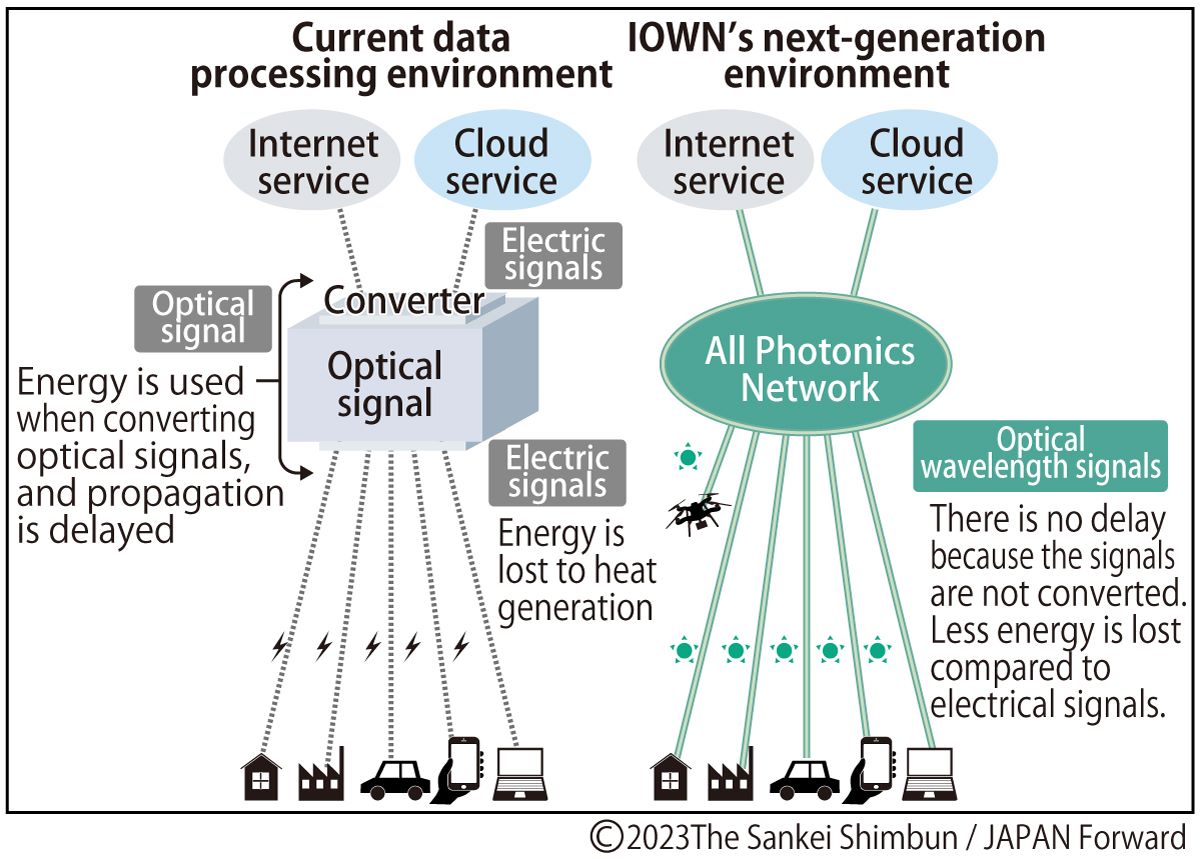 NTT and KDDI have partnered on research and development to build the next generation of high-speed, large-capacity communication networks. They also aim to advance the international standardization of next-generation technology based on NTT's optical communication platform IOWN (Innovative Optical and Wireless Network). Huawei Technologies, a major Chinese telecommunications company, is a frontrunner in the latest 5G mobile communication system. But can Japan catch up using its successor technology, 6G, and emerge as a global leader?
The key to success is likely to be found in IOWN, which NTT aims to realize through "open innovation" that takes advantage of a wide range of knowledge.
All Data Transmitted Through Optical Signals
IOWN is a network infrastructure initiative announced by NTT in May 2019. It will serve as the foundation for next-generation telecommunications.
Crucially, its "All-Photonics Network" (APN) transmits all data as well as communication lines, using optical wavelength signals. This includes information processing inside servers and terminals.
Basically, it uses optical wavelength signals as the means of transmission instead of conventional electrical signals. This will enable high-speed, low-delay, and large-capacity data transmission. It is expected to outperform current network technology and also use significantly less power.
As a first step, NTT launched a leased line service for corporations called "APN IOWN 1.0" in March. The monthly fee is ¥1.98 million JPY (about $15,000 USD). It will take about 6 months to open the line after the company has applied for the service.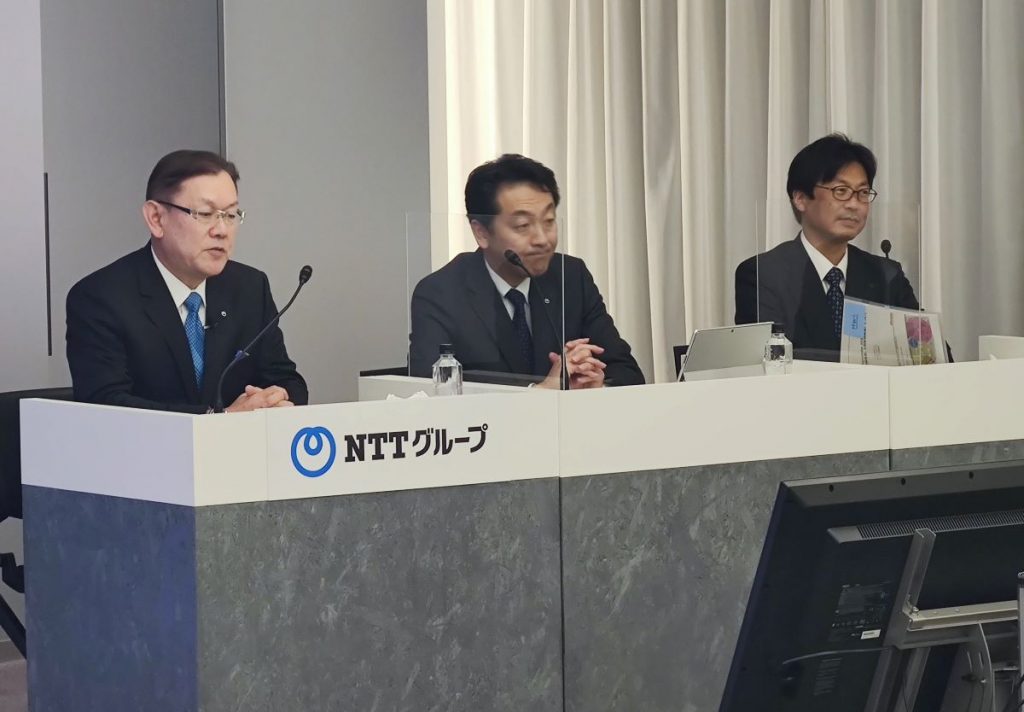 Potential in Semiconductors
The latency is 1/200 that of conventional transmission lines that use electrical signals. Therefore, the service will likely be used to send large amounts of video data between sites, or for telemedicine. The financial industry has also expressed an interest.
NTT intends to announce the specifications of its second service, "IOWN 2.0," in 2024. It hopes that the service will be used for the 2025 Osaka-Kansai Expo venue. The initiative's final goal, "IOWN 4.0," is set to be operational in 2030.
The 4.0 version is expected to use optical wavelength signaling for internal data processing, such as semiconductors. In comparison to current networks, this would be a significant milestone in next-generation technology. It is to have 100 times the power efficiency, 125 times the transmission capacity, and 1/200 times the latency.
Toward the Age of 6G
But the superiority of optical communication technology alone cannot guarantee its popularity in the market.
Japan's telecommunications industry lagged behind in domestic 5G deployment efforts. China's Huawei and other foreign telecommunications giants such as Finland's Nokia and Sweden's Ericsson are ahead of the game.
An industry insider says that Japanese firms couldn't gain a competitive advantage due to a "weak response toward standardization." Some specifications, for example, needed to be changed to conform to foreign technology.
This experience influenced NTT's decision to join forces with KDDI, a competitor in the domestic telecommunications industry. It is now concentrating on establishing a network of partners in order to promote the technology.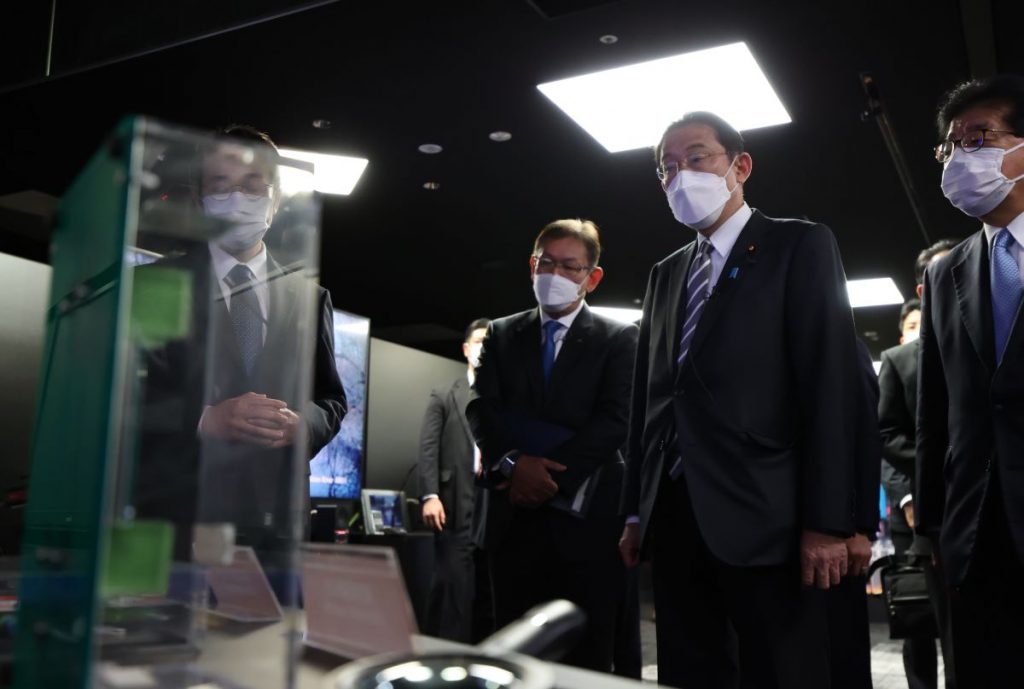 To realize the IOWN initiative, NTT has established the IOWN Global Forum. It is an international collaborative organization with the American semiconductor giant Intel, Sony Group, and others.
In other words, IOWN Global Forum is a "coalition" of volunteers who promote IOWN. Already, 116 organizations from industry, government, and academia are members. Among them are domestic and foreign information appliance manufacturers, IT companies such as Microsoft, international telecommunications carriers, universities, and research institutes. KDDI is the newest member of this group.
In the field of information and communications, there are international standards for both wired and wireless communication. And they are defined by the International Telecommunication Union (ITU), a United Nations specialized agency.
Becoming a Global Standard-Setter
But international standards have yet to be established for optical communication. Telecommunications carriers in various countries have developed their own core infrastructure.
KDDI says regarding 6G, "Instead of transmission by electrical signals, an optical network with low power consumption and low delay will be required. A global standard is required to convert information transmission to optical wavelength signals not only within telecommunications carriers but also in terminals."
NTT wishes to promote IOWN through the global market through international cooperation, so KDDI and NTT are on the same page regarding the desire for standardization.
KDDI, which handles international telecommunications, specializes in long-distance data transmission via submarine cables. Optical signals attenuate and weaken in proportion to the distance traveled. But KDDI has gained an advantage by overcoming this issue.
6G technology is expected to increase communication speeds and the number of devices that can be connected concurrently by a factor of ten, while also reducing latency by a tenth.
With an eye on 6G technology, what kind of synergistic effects will come from the collaboration between two of Japan's largest communication companies, NTT and KDDI?
The demand for secure and dependable communication technology continues to grow. And the two companies are on their way to set the global standard.
Decentralization and Solving the Overheating Problem
​​Data centers are growing in size in proportion to the expanding use of data communications in our daily lives. For instance, video distribution and remote work. That means power consumption is rising as well.
"Some [data] centers consume 120 megawatts of electricity at a single location. This is equivalent to the amount used by several hundred thousand ordinary homes," says Masahisa Kawashima, head of NTT's IOWN promotion department.
As the use of technology continues to grow, from self-driving cars and drones to artificial intelligence, so will the volume of data to be processed. According to the Japan Science and Technology Agency's Center for Low Carbon Society Strategy, the amount of power consumed by data centers worldwide in 2030 will be roughly 15 times that of 2018.
The spread of next-generation optical communication technology IOWN would also be a countermeasure to the rise in power demand.
"If large amounts of data can be transmitted without delay, there will be no need for processing at a single large-scale data center," Dr Kawashima explains. "It will also be possible to construct data centers that can be powered by local small-scale power plants, as well as run 'cluster data centers' for distributed processing."
Furthermore, if semiconductors that process information using optical wavelength signals become widely available, servers, PCs, cell phones, and other IT equipment will no longer experience overheating caused by electrical signal processing.
RELATED:

(Read the article in Japanese.)

Author: Yukako Hino