World Cup: Grateful Qatar Rewards Japanese Fans for Cleaning Up
While Japan won over Germany at the World Cup, Japanese supporters also won hearts online when videos of their clean-up efforts went viral.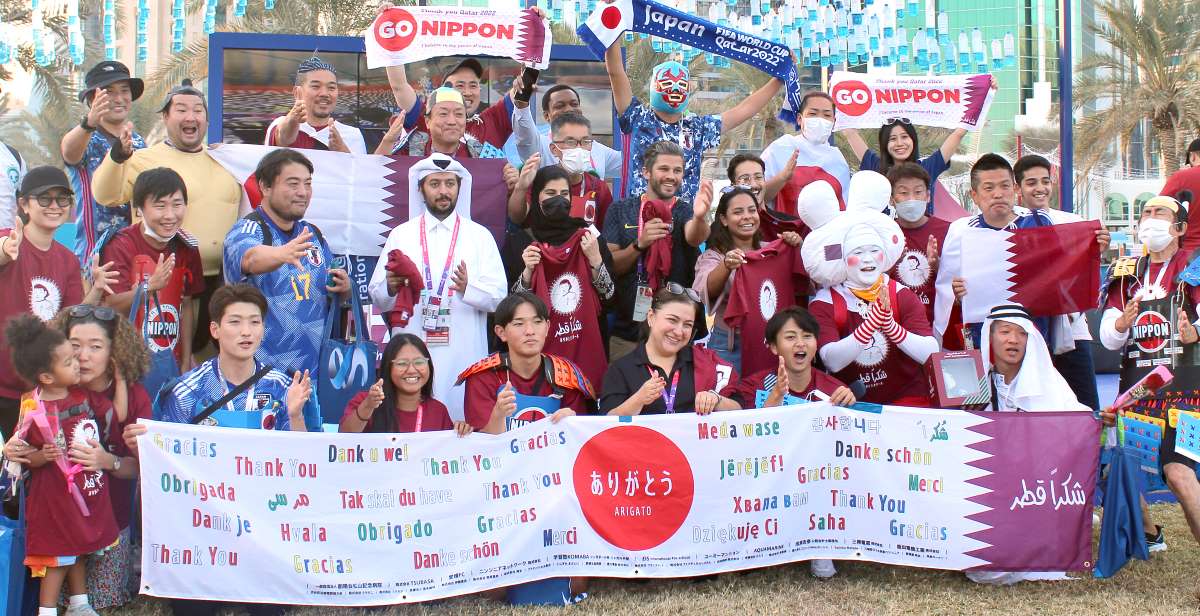 DOHA, Qatar — Japanese supporters at the FIFA World Cup have won praise from around the world for cleaning up the stands after matches.
On November 24, the day after Japan's historic upset over Germany, the World Cup Organizing Committee publicly expressed their gratitude to the Japanese supporters for their cleanup efforts.
Overseas media also gave prominent coverage to the behavior of fans from Japan. But this wasn't the first World Cup tournament where Japanese fans have stayed behind to clean up trash. This selfless act is now becoming a quintessentially Japanese "specialty."
Videos of the fans busy at work spread like wildfire when they were posted by influencers in the Middle East. On Instagram alone, the videos reached 10,000 comments.
Interest in their cleanup efforts surged following the Germany-Japan match at the Khalifa International Stadium in the suburb of Doha.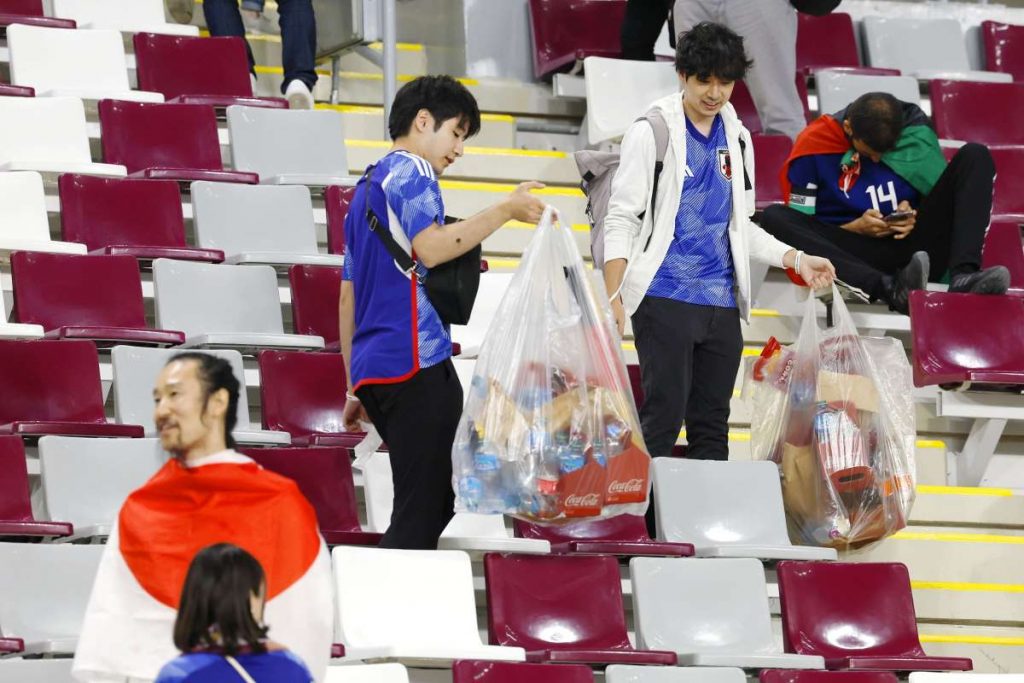 Goodwill at the World Cup
FIFA's official World Cup Twitter account uploaded photos of the Japanese volunteers at work. By the morning of November 25, they had garnered more than 120,000 "likes." That is only one example of the global reaction to the fans' goodwill gesture.
According to officials from the tournament's organizing committee, the Qatari royal family's response to social media posts after the opening match led to a swift decision to publicly commend a Japanese supporter in one of the videos.
Singled out for praise was Hirokazu Tsunoda, a well-known soccer super-fan who lives in Kashiwa City in Chiba Prefecture. Tsunoda is the head of a group of around 20 fervent soccer fans known as the Chonmage-tai or "Topknot Brigade." The group is actively involved in relief efforts, with one of its best-known activities being its program for bringing children from disaster-stricken areas to soccer matches, including World Cups.
Chonmage-tai members enjoy cosplay by dressing in homemade "samurai armor" when they attend soccer matches. They do not fool around, however, when it comes to picking up garbage.
Tsunoda remains modest about the media attention he and his group have received. "Members of our project just happened to be singled out among Japanese fans because we stand out in the videos [due to the costumes]."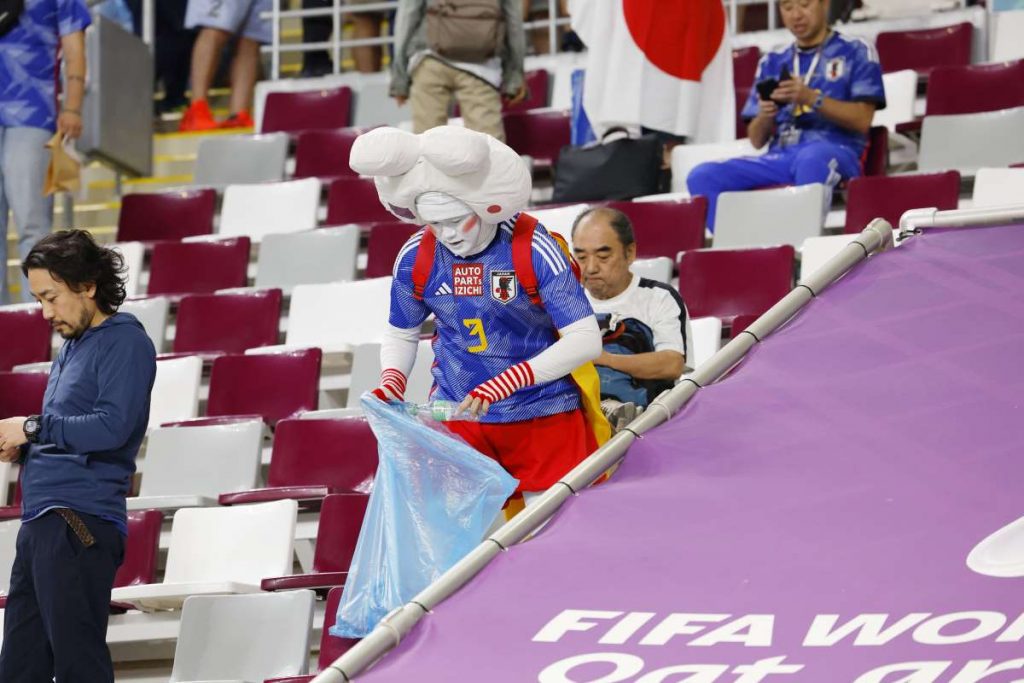 Cleaning Up is Part of Japanese Culture
According to Tsunoda, the trash collected following the opening Qatar-Ecuador match filled around twenty 45-liter (12-gallon) trash bags. When they had finished cleaning up after the Germany-Japan match and were about to leave the stadium, volunteer staff at the stadium called out to them, "Wait Please!"
Then about 200 of the official event volunteers gathered together and thanked them in Japanese by yelling in unison "Arigato."
Tsunoda recalls, "I've been bringing supporters to these events for 20 years. But it was the first time something like this happened. I was deeply moved."
He goes on to explain, "J-League supporters typically clean up venues and it had also been done at previous World Cups, so we are really only following the examples of those who have gone before."
Tsunoda likes to emphasize that what he and other volunteers are doing is simply carrying on a wonderful tradition established over time by many Japanese fans.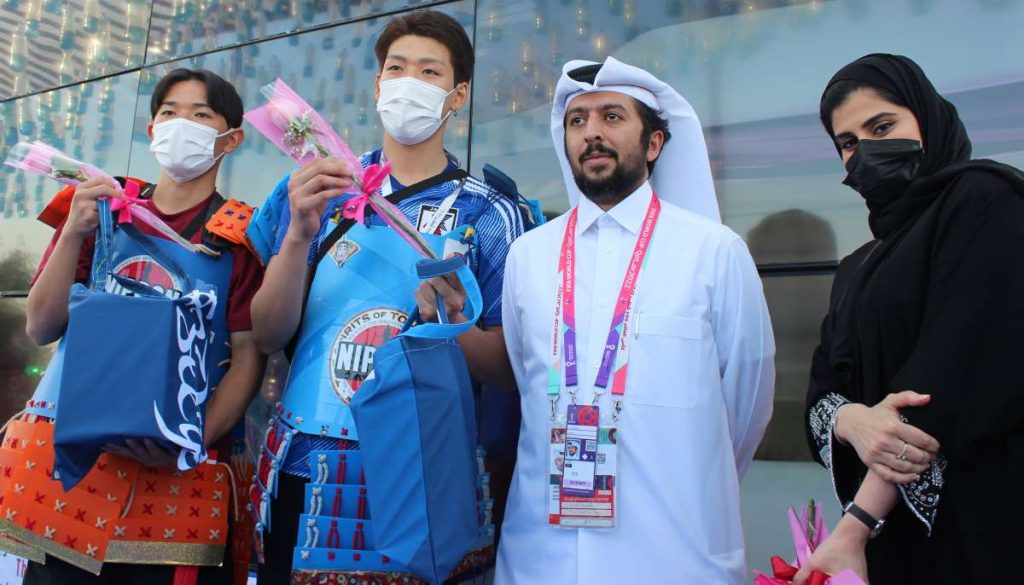 Inspiring Change at the World Cup
In fact, during the last FIFA World Cup held in Russia in 2018, the trash collection activities of Japanese fans following Japan's opening-round victory over Colombia received a lot of global media attention. That encouraged fans from other countries, including Senegal and Uruguay, to emulate them.
During a commendation ceremony in a park in Doha on November 24, Tsunoda's group was presented with a bouquet of roses and World Cup memorabilia. Hiroki Kohata, a 22-year-old university student from Minamisoma in Fukushima Prefecture, was all smiles.
"I never thought we would be honored in this way. Picking up garbage is part of Japanese culture. I hope this inspires people around the world."
Organizing Committee member Bodour Almeer happily said, "I was greatly moved by the videos on social media. Here was this group of people proactively taking action to clean up a city that wasn't even theirs. Since the theme of this year's World Cup is sustainability, I am delighted that they are getting this award."

RELATED:


(Read the article in Japanese at this link.)
Author: Daiki Komatsu, Staff Writer, The Sankei Shimbun