BASEBALL | Nomomania: Former Dodgers Executive Fred Claire Reminisces About 1995 Joyride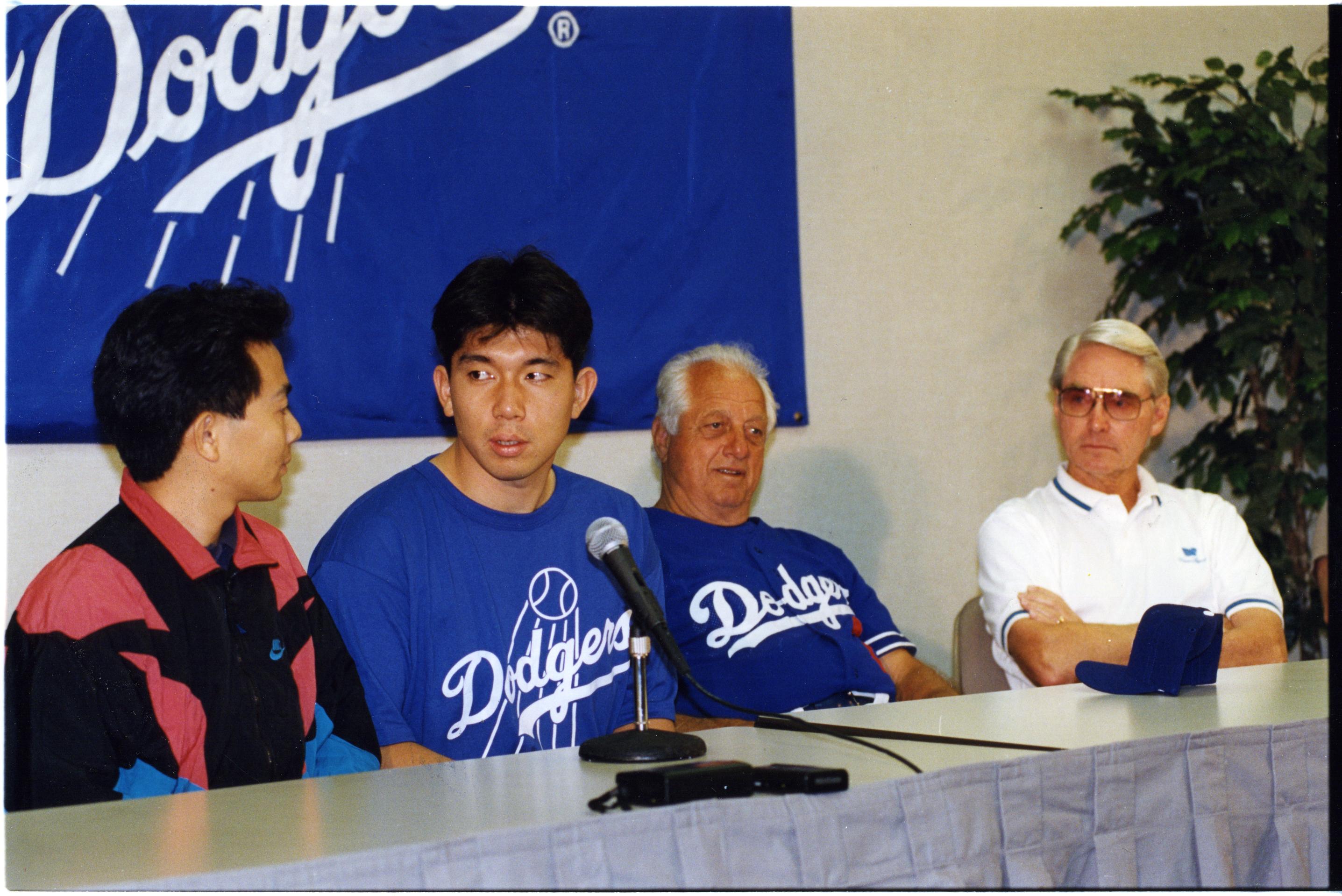 Fourth in a series
It's been 25 years since Hideo Nomo stepped onto the mound for the first time wearing a Los Angeles Dodgers uniform.
Twenty-five years ago, Nomomania was a central theme of the MLB season in the aftermath of a bitter strike that forced the cancellation of the 1994 World Series and shortened the 1995 campaign.
When Nomo brought joy and intrigue to the ballpark—every ballpark he appeared in—Fred Claire had a close-up view of the drama as it unfolded.
In his long tenure in the Dodgers organization (1969-98), Claire worked in the publicity department and in the front office, serving as general manager from 1987 until his ouster in 1998. Claire was The Sporting News Major League Baseball Executive of the Year in 1988.
He was executive vice president of baseball operations and general manager during Nomomania, and played an integral role in the team's pursuit of Nomo after he left Nippon Professional Baseball's Kintetsu Buffaloes, "retiring" following the 1994 season.
With forward-thinking owner Peter O'Malley's blessing, the Dodgers signed Nomo to a one-year deal for $109,000 USD, the minimum salary in the majors in 1995, and gave him a $2 million USD signing bonus.
"I had the total support of Peter O'Malley, and the O'Malley legacy speaks for itself as far as Japan and baseball on an international level," Claire said.
Speaking to JAPAN Forward a few weeks ago, Claire reminisced about the buzz that Nomomania created throughout the majors, how Dodgers games resembled a rock concert tour, and his initial impressions about Nomo's personality and character.
In his 2004 book, My 30 Years in Dodger Blue (Sports Publishing LLC), Claire recounted his long career in the majors with vivid details of Nomo's time with the ballclub (1995-98) while he was there. He also penned another book, Extra Innings: Fred Claire's Journey to City of Hope and Finding a World Championship Team (Mascot Books, 2020) about his battle with skin cancer.
In early 1995, Claire received a phone call from prominent agent Arn Tellem, who now serves as the vice chairman of the NBA's Detroit Pistons, who was assisting fellow agent Don Nomura in finding a team for Nomo. Nomura's name recognition would skyrocket over the next several years, and Tellem's alliance with Nomura helped immensely.
This phone call was Tellem's way of gauging the Dodgers' interest in Nomo.
It was the start of a healthy dialogue.
"At that point I made a number of calls and had some people on our staff make calls to players who had played in Japan and had faced Hideo," Claire recalled by phone from his home in California. "Because at that time teams weren't scouting players in Japan. There was no reason to scout players in Japan because there was no way for a [Japanese] player to be available historically or in terms of the structure. It hadn't happened, with the exception of one player [pitcher Masanori Murakami] who had signed with the [San Francisco] Giants under somewhat unusual circumstances [in 1964]."
So what conclusions were made after conducting the research?
The Dodgers were interested in discussing Nomo with Tellem.
This led to a meeting with Nomura about "if there was a way that we could work out an agreement with Hideo to become a Dodger."
And how did the meeting go?
"I was very, very impressed with Hideo, both from what I had heard about him as a pitcher and looking at his record in Japan," Claire said without needing to cite Nomo's 78-46 won-loss record and large collection of awards during his five seasons with the Buffaloes. "More important, just meeting him and talking to him through Don to get a sense of who he was and what his objectives were or his reasoning was in wanting to sign with a major league team.
"I was very comfortable with all of that, and I can remember that I asked our pitching coach Dave Wallace to fly to California because Hideo was going to come to Dodger Stadium and he was going to throw on the sidelines. So it was really at best just playing catch, because he had come off of a (shoulder) injury. He wasn't in a position to throw from what he had been dealing with, and also just the time of the season. ... The more I saw of Hideo, the more I was impressed by him, and we got into the contract negotiations with Don."
Claire recalled hearing that Nomura had planned meetings with the Seattle Mariners and New York Yankees.
Which is why the Dodgers wasted no time in making their pitch.
"I made it clear that I wanted to sign Hideo," Claire said. "That I wanted to sign him now before he went out to visit with other major league teams, because clearly we knew enough about Japan and through our reports knew enough about Hideo to know [that] here was a very capable pitcher at a very good age and stage of his career.
"So when it came time to meet with Don in my office at Dodger Stadium about a contract for Hideo, and this became very impressive to me about Hideo: I told Don that I wanted to sign Hideo, but it would not be a major league contract. It would be a minor league contract. And he said, 'Oh, no Fred, it's gotta be a major league contract.'
"I said, 'No, Don, I want you to explain to Hideo that major league contracts in the Dodger organization have been earned, and not given. We haven't given a major league contract to any player. They are earned through our system, and then they have the opportunity.'
"And Hideo, it seemed to resonate with him, in my view, sitting across the room, that he understood that this was something that he was going to have to prove that he was worthy of the major league contract. And then Hideo said through Don to [tell] me, 'OK, Hideo understands that, and he doesn't dispute that, but he's asking one thing: If he does sign, will he be given a chance to make the major league club.' "
It was a point that resonated with both parties.
Claire gave his word that the Dodgers were committed to giving Nomo a shot at playing in the majors instead of starting out with one of Los Angeles' minor league squads. Nomo wound up making one start for Bakersfield Blaze of the Single-A California League before joining the parent club.
'A True Pioneer'
That was exactly the motivation that pushed Nomo in his debut season in the majors, a season in which he went 13-6, led the National League in strikeouts (236) and was named the NL starter for the MLB All-Star Game on July 11. He was also selected as the NL Rookie of the Year after the season ended.
"It was clear that Hideo wanted this challenge," Claire told JAPAN Forward.
"He was willing to risk his reputation in Japan. He was willing to risk what he had accomplished as an outstanding and popular player in Japan. He was willing to put all of that on the line, not knowing whether he would be successful, but believing in himself, and that's why Hideo was a true pioneer. He had the confidence in his ability and he had no fear."
Comparing Fernandomania and Nomomania
Mexican pitcher Fernando Valenzuela excelled in the strike-shortened 1981 season. He was named the NL Rookie of the Year honors and the NL Cy Young Award, becoming the first pitcher ever to do that. It began with eight consecutive wins and seven complete games and five shutouts in his first eight starts to open the season.
Valenzuela created great interest in the Dodgers among Mexican-Americans and Mexicans, helping the club significantly expand its fan base.
He also helped make the Dodgers a resounding success in terms of attendance. He made 12 starts at Dodger Stadium in 1981, and 11 were sellouts. Throughout that season, Valenzuela's starts sparked an average increase of 7,519 fans per game (48,431 total) at Dodger Stadium compared to the rest of the team's game, while on the road Valenzuela's starts averaged an increase of 14,292 (33,273) per game in comparison with all Dodgers away games, according to the Society for American Baseball Research.
When Nomo started 14 home games in 1995, the Dodgers averaged 42,858 spectators and 37,349 in non-Nomo games. In Nomo's 14 road starts, the Dodgers had an average attendance of 30,025, while averaging 25,808 in non-Nomo games.
Valenzuela, a left-handed mound magician, knew he was a role model and a hero to millions of people and he embraced this larger-than-life persona.
"I knew I was representing Mexico to many people," Valenzuela once said.
After the hype that Fernandomania created, the Dodgers faced a similar cultural phenomenon 14 years later. And it didn't catch them by surprise.
"We were prepared for it, having lived through Fernandomania and having been able to handle it from a baseball standpoint, from a media standpoint, from a fan response standpoint," Claire observed. "This was not new to us.
"It was very much like Fernandomania," Claire declared. "I mean, it was sweeping, it was dramatic, it was flash bulbs going off. It was full crowds. It was support from a group of fans who believed and cared so much about the performer who was there, and how they related to that performer, [Valenzuela and Nomo]. And it's really deserving. That's probably a book in itself, because the two of them [were alike?] in so many ways, and I've seldom been asked that, but they were very, very much alike in critical ways."
Such as?
"In terms of how they prepared for the stage," Claire noted, "the biggest stage in baseball and the world, how they launched their careers, how they dealt with fame, their own personalities, so we, fortunately, had seen the script before, and it was wonderful. It was tremendous."
Nomo Was Prepared to Be in the Spotlight
In analyzing how Nomo thrived when he joined the Dodgers, Claire, now 84, pointed out that he had been followed closely for years by the Japanese press. In-depth coverage of Nomo's starts, pitching mechanics, statistics, etc. were exhaustively chronicled in the nation's sports newspapers, national dailies and magazines and on radio and television.
"And particularly with Hideo, even more than Fernando, he was used to that type of star treatment," Claire commented.
"From the days he was a youth or pitching for the Olympic team [in 1988], that was something that was not unique to him. If anything, it may not even have been at the same level that he faced in Japan. So that was never something that was an intimidation or a distraction for Hideo. He knew how to handle that."
Asked to recall what legendary Los Angeles Times columnist Jim Murray wrote about Nomo and what Dodgers play-by-play man Vin Scully said on game broadcasts during Nomomania, Claire simply stated that the two media icons were at the top of their game in highlighting the pitcher's accomplishments.
"Vin Scully and Jim Murray knew the greats of every sport at every level," Claire said. "They were dear friends both and they [were] … two of the most artistic, keenest, well read of sport in our history. They both recognized the uniqueness [of Nomomania]. ... Their words and Vinny's voice tell the story."
From media icons who popularized the Dodgers to Hideo Nomo's unique place in baseball history on both sides of the Pacific Ocean, Claire connected the dots with precision and rich details.
"He changed the landscape forever," Claire said of The Tornado. "You could have a player from Japan come over and set the all-time home-run record and he will not change baseball in Japan as much as Hideo. ... There's only going to ever be one player who changed the landscape. It's Hideo."
Author: Ed Odeven
Follow Ed on JAPAN Forward's [Japan Sports Notebook] here on Sundays, in [Odds and Evens] here during the week, and Twitter @itsjapanforward.