BASEBALL | Nomomania: Iconic Announcer Vin Scully Delivered Vivid Descriptions of The Tornado's Historic Season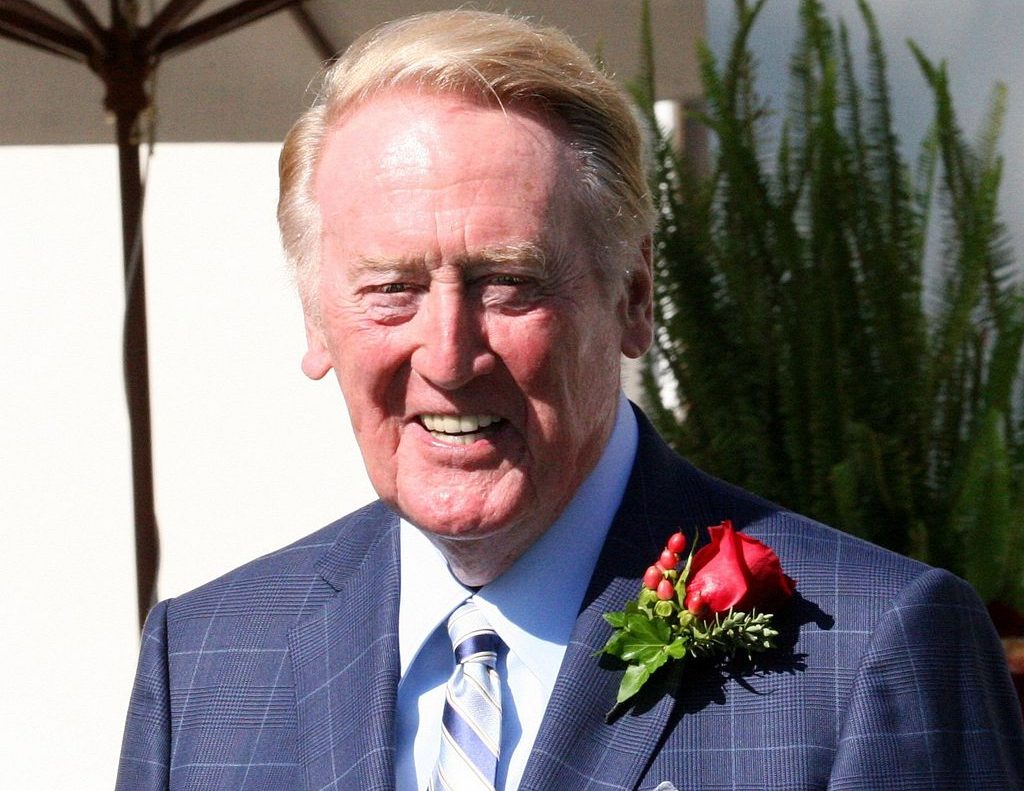 Fifth in a series
It's quite possible that Vin Scully attended more pro baseball games than anyone else in North America between 1950 and 2016.
After all, as the iconic play-by-play voice of the Brooklyn Dodgers (through 1957) and Los Angeles Dodgers on radio and TV, the beloved announcer was an omnipresent figure at the ballpark. He told listeners and viewers what happened at Ebbets Field in Brooklyn, at Los Angeles Memorial Coliseum, at Dodger Stadium, and at dozens of road venues.
Scully was a well-established, well-respected figure in Major League Baseball decades before Hideo Nomo left Nippon Professional Baseball's Kintetsu Buffaloes, deciding to "retire" before he and his agent, Don Nomura, orchestrated a move to the Los Angeles Dodgers for the 1995 MLB season.
For instance, the Fordham University alumni received the Ford C. Frick Award in 1982, the highest honor for a MLB broadcaster. The National Baseball Hall of Fame, which is located in Cooperstown, New York, presents the award each year to a broadcaster for "major contributions to baseball."
That, of course, wasn't the only accolade Scully, who retired at age 88, received for his chosen profession. The National Radio Hall of Fame gave him a Lifetime Achievement Emmy Award and he was inducted into the hall in 1995. Moreover, the National Sports Media Association, previously known as the National Sportscasters and Sportswriters Association, selected Scully as National Sportscaster of the Year four times, and its California Sportscaster of the Year a jaw-dropping 33 times.
When Scully was getting ready to retire from his 67 consecutive years as a Dodgers announcer (an individual record in North American pro sports for one team), his signature voice and upbeat greeting at the outset of another broadcast—"It's time for Dodger baseball! Hi, everybody, and a very pleasant good (afternoon/evening) to you, wherever you may be"—were celebrated throughout MLB.
Years earlier, Nomo and the 1995 Dodgers filled one chapter of a thick volume of Scully's baseball archive.
Delving into the audio vault, provides a glimpse into how the New York City native handled his job with panache and stylistic, poetic descriptions.
During the most brilliant run of Nomo's first season with the Dodgers, Scully highlighted the right-hander's pitching excellence game after game.
Take, for instance, the end of the Dodgers' June 24, 1995, game against their archrivals, the San Francisco Giants, at Dodger Stadium. A packed house of 53,551 spectators witnessed Nomo's fifth straight victory during his magnificent month of pitching—with another win to come the following week—and a month that ended with a sparkling 0.89 June ERA.
Starting at 7:06 p.m., the Dodgers hurler was on top of his game, dealing baffling forkballs and electrifying fastballs. Nomo pitched a complete game and held the Giants to two hits, walked three and struck out 13. The hosts won 7-0. It was Nomo's first MLB shutout.
It ended with Nomo facing Giants superstar outfielder Barry Bonds, and Scully's mellifluous tones filled the airwaves during the 3-hour, 1-minute event.
So let's pick up the action with two strikes and two outs in the ninth and Bonds at the plate...
"Nomo has been incredible," Scully declared. "One of those Japanese words, beautiful and wonderful—utsukushii, subarashii—or at least it's a reasonable facsimile.
"This crowd would bust its buttons if he can strike out Bonds. The 2-2 pitch to Barry Bonds. Swung on and missed. Seven-to-nothing."
Scully Saw It All
In a season that included a 13-6 record, a National League-best 236 strikeouts, NL Rookie of the Year honors and being chosen as the NL starter for the All-Star Game, there were plenty of memorable moments that Scully called from his perch in the press box.
In one sensational stretch of the season, starting on June 14 when he struck out 16 in a home game against the Pittsburgh Pirates, Nomo fanned a Dodgers record 50 batters in four games. By doing so, Nomo topped Hall of Famer Sandy Koufax's previous mark of 49 in four games.
The record-breaking strikeout came against the visiting Colorado Rockies on June 29, a game in which Nomo tossed a six-hit shutout and fanned 13 batters in a 3-0 Dodgers triumph. Rockies sluggers Larry Walker and Vinny Castilla each fanned three times, and eight Colorado players in all went back to the dugout as strikeout victims of the then-26-year-old pitcher.
Shortstop Walt Weiss, the team's No. 8 hitter, was Nomo's final strikeout of the 2-hour, 30-minute Thursday night duel before 46,295.
Just like Bonds five days prior, Weiss went to bat with two outs in the ninth inning against Nomo.
And just like Nomo, Scully was on top of his game in describing what happened next.
"As Nomo goes to the windup, and the 3-2 pitch to Weiss, swung on and missed," Scully said. "He's had 50 strikeouts in four games to surpass the great Sandy Koufax. There was a 'K' [baseball's written abbreviation for strikeout] in Sandy's name. They're gonna to have to put a silent 'K' in Nomo."
For Nomo, it was a special achievement.
"I'm very happy and honored to be compared to Sandy Koufax," Nomo was quoted as saying through his interpreter after the game, according to the Los Angeles Times. "But I don't have records on my mind."
It was a game that exemplified what Nomomania had become several weeks into the season: a media frenzy.
"The Dodgers issued 131 media credentials for the game, including 75 for Japanese reporters and cameramen," the Los Angeles Times reported in its game story. "It's the most media credentials ever provided to a regular-season game at Dodger Stadium, according to the team."
Putting Nomomania into Context
In an hour-long documentary, "Dodgers On-line: 1995 LA Dodgers," Scully spoke again about Nomo's pitching prowess during his breakthrough season as a Japanese trailblazer, the first from his nation in the majors since Masanori Murakami pitched for the Giants in 1964-65.
"Nomo's unique motion left hitters whistling in the wind," Scully observed.
And just how big a deal was Nomomania in Japan? Scully left nothing to the imagination when stating descriptive facts.
"In Japan, his games were shown on giant screens in 13 cities," Scully narrated, "and life came to a stop whenever Nomo pitched."
Brushing aside skepticism in looking at the five-time NPB All-Star's move to the Dodgers, Scully said: "If there was any doubt that he could make the transition to the major leagues, it was quickly erased as teammates embraced the Nomo mystique."
That mystique coupled with a unique approach to pitching made Nomo a must-see attraction.
Scully knows. His broadcasting career started when the New York Yankees, New York Giants and Dodgers vied for supremacy in Gotham and extended well into the 21st century.
"By mid-summer, Nomo had won over all of Major League Baseball," Scully noted in the documentary.
"...He bridged two cultures through baseball," Scully concluded, "and best of all, he got to live every boy's dream."

Author: Ed Odeven
Follow Ed on JAPAN Forward's [Japan Sports Notebook] here on Sundays, in [Odds and Evens] here during the week, and Twitter @itsjapanforward.