BASEBALL | Nomomania: Former Dodgers Owner Peter O'Malley Reflects on Friendship with Trailblazing Pitcher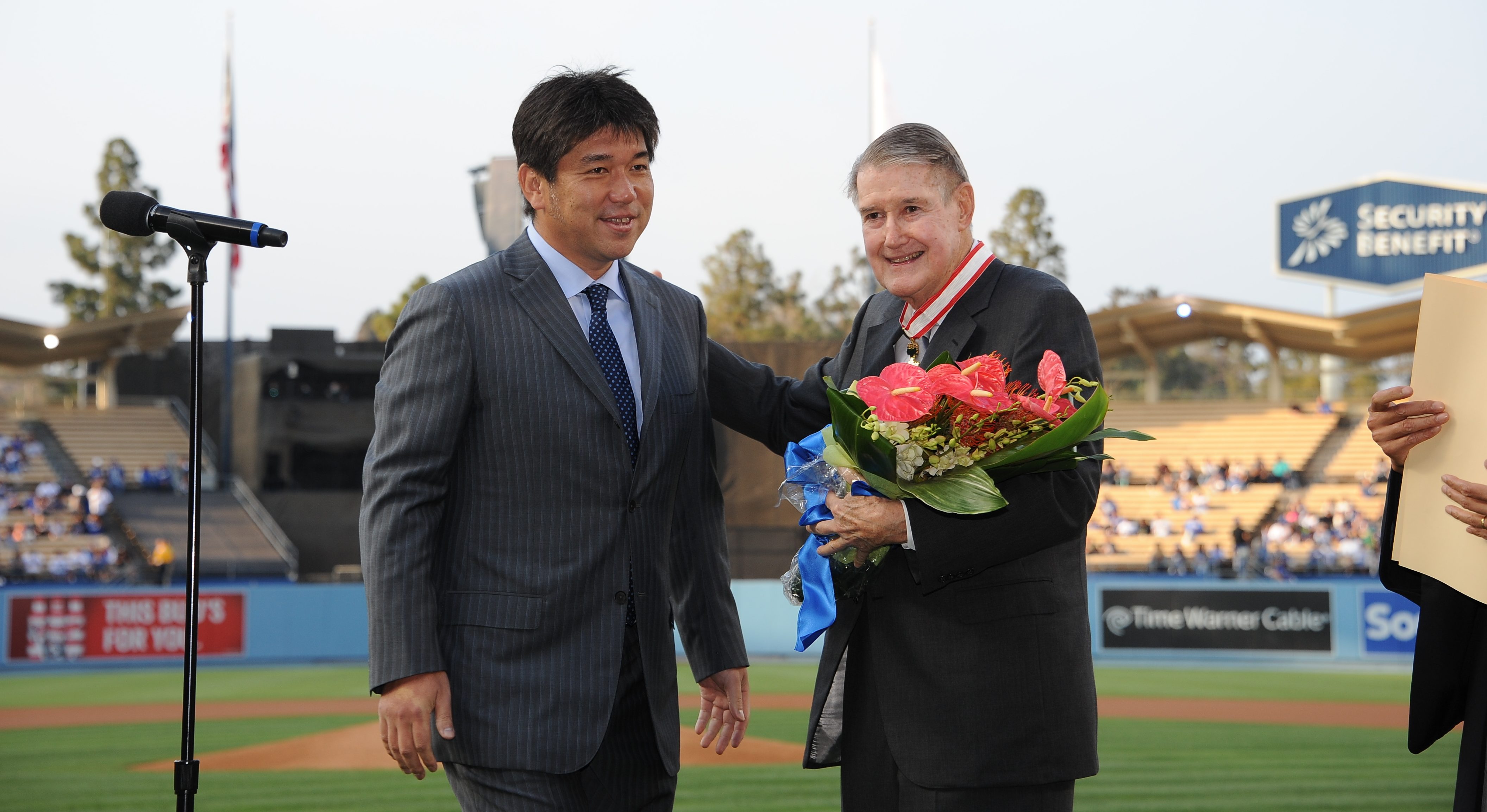 Sixth in a series
Before Hideo Nomo baffled batters throughout the 1995 season, he was given a crash course about the Los Angeles Dodgers' way of doing things.
It started at the top and permeated throughout the organization. Then-owner Peter O'Malley wanted everyone to feel they were a valued part of the organization.
Which is why O'Malley played an active role in making Nomo feel comfortable as an MLB rookie thousands of miles from his homeland.
For instance, in the spring of 1995, O'Malley met Nomo and his agent, Don Nomura, at the airport in Florida and gave them a nighttime tour around Dodgertown in Vero Beach to "see what Dodgertown's all about, and Holman Stadium, field No. 2, field No. 3, and the clubhouse and where you live, where the pool is, all that stuff," O'Malley recalled in a recent interview.
Indeed, O'Malley's lifelong involvement in baseball intersects with his deep ties to Japan.
From a life-changing visit here during his college days to his family ownership of the Brooklyn/Los Angeles Dodgers for decades, O'Malley has been connected to the game on an intimate level.
Days before the Dodgers celebrated winning the 2020 World Series in Arlington, Texas on Tuesday, October 27, JAPAN Forward spoke to O'Malley by phone at his Los Angeles office. O'Malley reflected on trailblazing pitcher Hideo "The Tornado" Nomo's impact on the team and Major League Baseball, as well as many close relationships he developed within Japanese baseball and Japanese society over the years.
In addition to the aforementioned Dodgertown tour, O'Malley made the unusual request for an owner to have weekly visits in his office with a player during spring training. But that was O'Malley's approach.
In other words, he wanted Nomo to feel comfortable around the team.
O'Malley's instructions: "Just come by around four o'clock when you're finished [training] and chat for a few minutes."
Looking back on those spring training visits, O'Malley, now 82, remembered them as meaningful.
"I was happy we did it," he says now. "I think he appreciated it that I really wanted to know how the hell the day had gone and anything out there that you didn't understand.
"But we really bonded early. We really bonded, I think, in my office the first time I met him."
Establishing a Strong Bond with Nomo
Throughout his career as a pitcher, Nomo's demeanor on the mound and at the ballpark was cemented by a serious look on his face. After all, he had a job to do and he was going to get it done.
But years after The Tornado, now 52, pitched his final MLB, O'Malley, said there was another side of Nomo that was even more memorable.
"His smile will light up the biggest room you know of," O'Malley said.
And he's guarded. He's a private person. When he meets someone perhaps for the first time, or the second time, he's reluctant to share that smile. But when he's comfortable and you say something to him, then that smile is more than a smile, it's also a laugh.
That is an incredible sight and I will always remember that, and I've seen it often. I've been fortunate to see [it]. He trusts me, I hate to say that, but it's true. He trusts me. And when he trusts somebody, he'll give you that smile for that sign of friendship. It's so genuine.
Impact of Nomomania
Every season since 1995, Japanese baseball players have filled roster spots for MLB teams.
That's Nomo's legacy. He opened the doors for dozens of players to follow his path to the major leagues. Exhibit A: This year, outfielder Shogo Akiyama made his debut with the Cincinnati Reds, the last of MLB's 30 clubs to sign a Japanese player.
Asked for his general thoughts on the historical impact of Nomo's move to the Dodgers and the legacy of Nomomania, O'Malley had this to say: "Hideo was a true pioneer and he's not received, in my opinion, the credit that he deserves."
O'Malley underscored that observation by highlighting the culture obstacles that were a major part of Nomo's transition to North American baseball.
"When you look back when he came to Los Angeles, not the first time I met him, that was in my office at the stadium, but when he came to spring training in Vero Beach, [Florida], no one in the organization spoke Japanese," the former Dodgers owner recalled. "The pitching coach, the manager, the trainer, everyone had to go through an interpreter and Nomo had to go through an interpreter, whether it was talking about food, dinner, lunch. Whether it was talking about mechanics, whether it was talking about training ... it's pretty tough.
"If you can just imagine yourself in that position, it was a totally new culture for him."
Indeed, it wasn't an easy adjustment for Nomo, but he dedicated himself 100% to every task, on and off the baseball field, that he handled in 1995.
"The fact that he was so dedicated in preparing and listening and learning and being a good teammate, that really impressed the teammates, the coaches, the manager, everybody in the organization," O'Malley said. "We all saw that quickly and he deserves a lot of credit for that."
Nomo's tremendous work ethic and on-field performance brought forth headline-grabbing results: a 13-6 record, a National League-best 236 strikeouts, and an appearance as the NL starter in the All-Star Game on July 15 in Arlington, Texas. What's more, he was named NL Rookie of the Year.
The excitement that Nomomania generated impacted O'Malley's calendar, too.
The Dodgers owner, who sold the team to media mogul Rupert Murdoch in 1998, was adamant about his plans on the day of the All-Star Game.
"I got there early. I wanted to see everything, pre-game, on-the-field [activities], what's he doing," O'Malley recalled. "I just wanted to take in that whole scene prior to the first pitch. I think I got there when the stadium opened."
It wasn't just one game, of course, that was truly special about Nomo's 1995 season. He made 28 regular-season starts, and every one of them was a big event.
Parallels to Fernandomania
Years before Nomo began his pro career with NPB's Kintetsu Buffaloes in 1990, Mexican rookie left-hander Fernando Valenzuela excelled for the Dodgers during the strike-shortened 1981 season, winning 13 games, including eight shutouts, and helping them capture the World Series title. The media and fan frenzy that followed Valenzuela's joyride thrilled Dodgers fans in the United States and Mexico and created a massive increase in ticket sales on days when he pitched.
Speaking to JAPAN Forward several hours before Game 1 of the 2020 Fall Classic, O'Malley said Nomomania vividly reminded him of Fernandomania.
"Fernando ignited the Mexican-American community here and all of Mexico," O'Malley noted. "Fernando's impact on the development of baseball in Mexico was immense and very similar as a pioneer. Although in Fernando's case, a lot of people spoke Spanish and he spoke a little English as compared to Hideo, but Fernando made a tremendous impact for Major League Baseball and, of course, ourselves."
Similarly, when the Dodgers signed South Korean pitcher Chan Ho Park in 1994, he "ignited the Korean-American community here in Los Angeles and the country for South Korea," O'Malley said.
Asked to pinpoint when in 1995 he had a sense that Nomo's popularity would reach a level similar to Valenzuela's, O'Malley said it was evident pretty early on.
"I would talk to [manager] Tommy [Lasorda] and the coaches quite a bit and prior to a home game they'd come by the office before going downstairs to the clubhouse."
During those visits, O'Malley would pepper Lasorda and his coaches with questions: "How's he doing? How's he feeling? Is he healthy? Does he have any ailments?"
They told him, "No, he's coming along fine," O'Malley recalled hearing. "Don't worry about him. He's going to be ready."
He added: "So I think the front office, based on the reports we were getting from the clubhouse, from his pitching coach (Dave Wallace), manager, everybody, trainer, doctors, that he was going to be fine."
Yes, he was fine. He seized the opportunity in 1995. He was completely focused on his work.
"Throughout Major League Baseball, and then when he goes to New York, or Atlanta or Chicago, Nomomania sweeps the country and many parts of the world, including Japan," O'Malley declared. "It made an extraordinary impact, and he deserves all the credit for that."
First Impressions
Prior to signing with the Dodgers in February 1995, Nomo and his renegade agent visited O'Malley in Los Angeles.
Nomo was a coveted hurler, with several other teams wanting to sign him. But looking back at what transpired a quarter century ago, O'Malley said that he believed the Dodgers had a good shot at locking up a deal with the hard-throwing hurler.
Why?
Initial impressions were positive, according to O'Malley.
"The good news is he had heard a lot about the Dodgers," O'Malley stated.
He had heard a lot about myself, and I had heard a lot about him from friends, not scouting reports, but people in amateur baseball, professional baseball, press people. Their reports were all consistent. That he's a very special young man. Serious. Professional, I keep using the word professional with Hideo. In every sense of the word, he was a true professional, and I think it's fair to say that in the first meeting we connected in the first meeting, and I really didn't want him to continue his tour, because I really wanted to sign him if he was comfortable with us.
And I sensed that he was comfortable, so we met the next day. ... And he and Don and I worked out the details, and I was very happy about that and he's like a son to me to this day. ... He's like a good friend.
On Receiving the Order of the Rising Sun
Symbolic of O'Malley's lasting commitment to Japan, he received the Order of the Rising Sun, Gold Rays With Neck Ribbon on July 8, 2015, before a game at Dodger Stadium.
The award recognizes individuals who have made "distinguished achievements in international relations, promotion of Japanese culture, advancements in their field, development in welfare or preservation of the environment."
Harry H. Horinouchi, the then-consul general of Japan in Los Angeles, presented the award to O'Malley.
"It meant a lot for a lot of reasons," O'Malley confessed, looking back at one of the seminal moments in his life.
"I treasure the friendships," he said before adding: "I am proud of the contributions I've made, but it was more thinking about all the friends that we have made in Japan for so many years."
Horinouchi is now the Ambassador of Japan to the Netherlands. He and his wife and O'Malley and his wife have maintained a warm friendship over the years, the former Dodgers owner said.
In planning to honor O'Malley, Horinouchi kept the idea a secret, following government protocol.
Horinouchi insisted that the ceremony should take place at Dodger Stadium, because "well, that's your home," O'Malley recalled. The former Dodgers owner had suggested the special event should take place in Japan.
Nomo celebrated O'Malley's special night by confirming he knew how important the baseball lifer was to the game on both sides of the Pacific Ocean.
"I was very pleased to learn that Mr. O'Malley received this great honor by the Japanese government," Nomo was quoted as saying through an interpreter by The Baltimore Sun in an interview after the event. "I understand his great contribution to Japanese baseball over many decades. Without his support and hard work to Japanese baseball, I wouldn't be here."
Nomo, who owns a home in Los Angeles, has remained in contact with O'Malley over the past several years during annual visits to California. On these trips, the retired pitcher brings his Nomo Baseball Club, an adult amateur team, for training stints in the Golden State, and O'Malley hosts team dinners at Lawry's The Prime Rib restaurant in Beverly Hills. The trip was called off this year, though, due to the COVID-19 pandemic.
Trip of a Lifetime
In 1956, the Dodgers traveled to Japan on a goodwill baseball tour. Peter O'Malley, then 19, accompanied his parents, Dodgers owner Walter and his mother Kay, and his sister, Terry, and the team for the epic trip.
It was the O'Malley family's first trip to Asia and it left a lasting impression on Peter. The Dodgers played 20 exhibition games against the Yomiuri Giants and an NPB All-Star squad during their goodwill tour of Japan from October 19 to November 16. Read more about the trip here.
O'Malley skipped a semester at the University of Pennsylvania in order to make the trip.
"Those who went ... understood the value of goodwill and what they were going to do. And Yomiuri [Shimbun] and Mr. [Matsutaro] Shoriki [the owner] deserves a lot of credit for putting it all together," O'Malley said.
To this day, he believes he made the right choice in delaying his academic pursuits. And he's made about 85 return trips to Japan over the years. He had a goal of making 100 trips, but now acknowledged that it's not going to happen. He does, however, send more Christmas cards to Japan than "probably every other country combined," he quipped.
In the years that followed, the Yomiuri Giants visited Dodgertown, the team's spring training complex in Vero Beach, Florida, on five occasions (starting in 1957 and continuing through 1981).
In O'Malley's recollections of the NPB powerhouse team's sojourns to Florida, the Giants felt the trips were fruitful. He mentioned that legendary manager Tetsuharu Kawakami, Hall of Fame third baseman Shigeo Nagashima and others on the club "gave Dodgertown a lot of credit for their success."
As a team executive, O'Malley was committed to making Dodgertown a baseball laboratory of sorts. He recognized that the cross-cultural exchanges were mutually beneficial. And he instructed the organization to take a proactive approach in studying how the Giants handled workouts and on-field preparations.
"Yes, they want to learn how we do it," he said, referring to Yomiuri and stating a message he gave to the entire ballclub. "They may have a different view. They may think differently about training, working out and everything else, but I want you to notice what they do and why they do it, and I want us to learn from what they do. Learning is all the time and that was the message I gave everyone, not to just have them be here as our guests and help them benefit by them being here. And they did, they truly did."
Not only did both teams learn valuable lessons about how the other approached the game, but lifelong friendships were also formed. O'Malley called it "great bonding," including for managerial counterparts Kawakami and Walter Alston.
"Everybody in the organization knew that it was important to me, it was important to baseball, it was important to the relationship, friendship, between Japan and the United States," O'Malley told JAPAN Forward. "There was no one in the organization who didn't get that."
Now, a quarter century after Nomomania was a distinct element of the 1995 MLB season, Peter O'Malley's cross-cultural baseball ties are deeply rooted in the lasting legacy of The Tornado's story, too.

Author: Ed Odeven
Follow Ed on JAPAN Forward's [Japan Sports Notebook] here on Sundays, in [Odds and Evens] here during the week, and Twitter @itsjapanforward.