China Squirms as Zelenskyy Outlines Russian 'War Crimes'
China's Zhang Jun heard how "children were killed, women were raped," but still voted not to expel Russia from the UN Human Rights Council.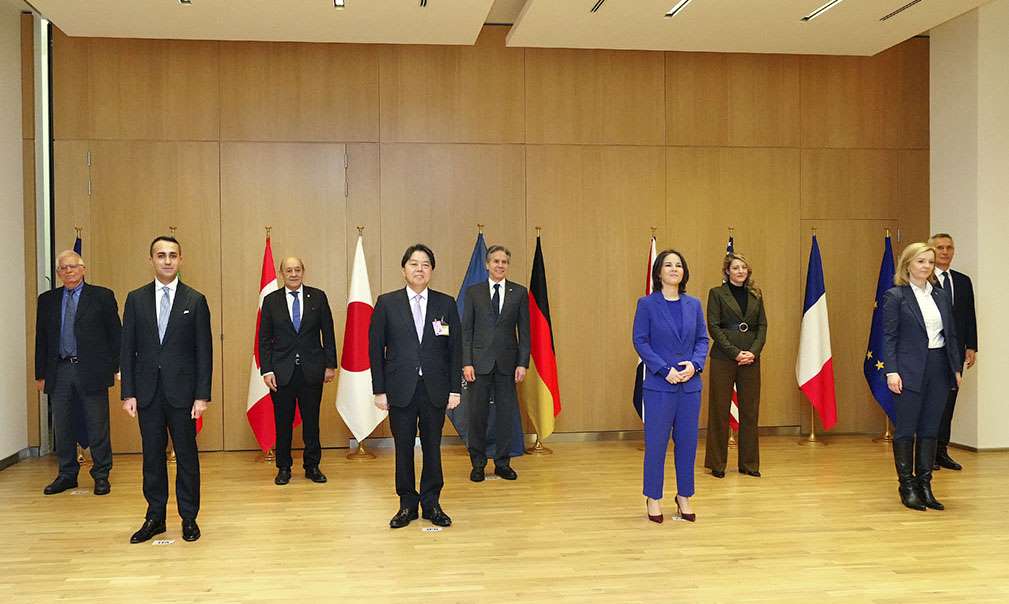 United States President Joe Biden has described evidence of Russian troops killing, torturing, and raping Ukranian civilians as "an outrage to humanity."
However, censors in China attempt to blot out the horrors of the war by controlling the narrative in the press and on social media.
Most Chinese citizens have therefore not seen photographs of orphaned children or of bodies strewn in the streets.
However, Zhang Jun, China's representative to the United Nations, can be under no illusions as to the extent of the suffering. He was briefed on the situation in detail by Ukraine's President Volodymyr Zelenskyy, who had just been to Bucha on the outskirts of Kyiv, following reports of a civilian massacre.
President Zelenskyy told the United Nations Security Council (UNSC) he had witnessed first-hand "the most terrible war crimes."
"Children were killed, women were raped, and all of this is their (Russian) responsibility, and they will be held accountable for the acts they have perpetrated," said Mr Zelenskyy.


Picking Sides
China, along with Russia, is a permanent member of the UNSC. Ambassador Zhang said that China would "continue to promote peace talks" and aimed to maintain dialogue with both Ukraine and Russia.
"Let me make it very clear that China is only on the side of justice, fairness…. We are not choosing sides by country," he said.
However, when faced with a motion on whether to expel Russia from the UN Human Rights Council, China voted no.
"Such a hasty move at the General Assembly, which forces countries to choose sides, will aggravate the division among member states and intensify the confrontation between the parties concerned. It is like adding fuel to the fire," said Ambassador Zhang.
In the end, the UN General Assembly voted to suspend Russia from the Human Rights Council by a large majority, with 93 countries voting in favor, 24 voting against, and 58 abstaining.
Japan has taken sides, evident in a statement issued by the Ministry of Foreign Affairs on April 7, urging accountability and pursuit of the facts:
The killing of a large number of innocent civilians by the Russian forces is a grave breach of international humanitarian law and war crimes. It is absolutely unacceptable and Japan vehemently condemns it. The truth about these atrocities must be uncovered and Russia must be held strictly accountable for war crimes.

Hayashi in Europe
Japan's Foreign Minister Yoshimasa Hayashi pointed out China's lack of criticism against Russia when he met with members of NATO during a trip to Brussels the same week.
Japan is not a part of NATO, but both Mr. Hayashi and Prime Minister Fumio Kishida are in favor of close cooperation with the pact. Mr. Hayashi said the security of Europe and the Indo-Pacific region "can never be discussed separately."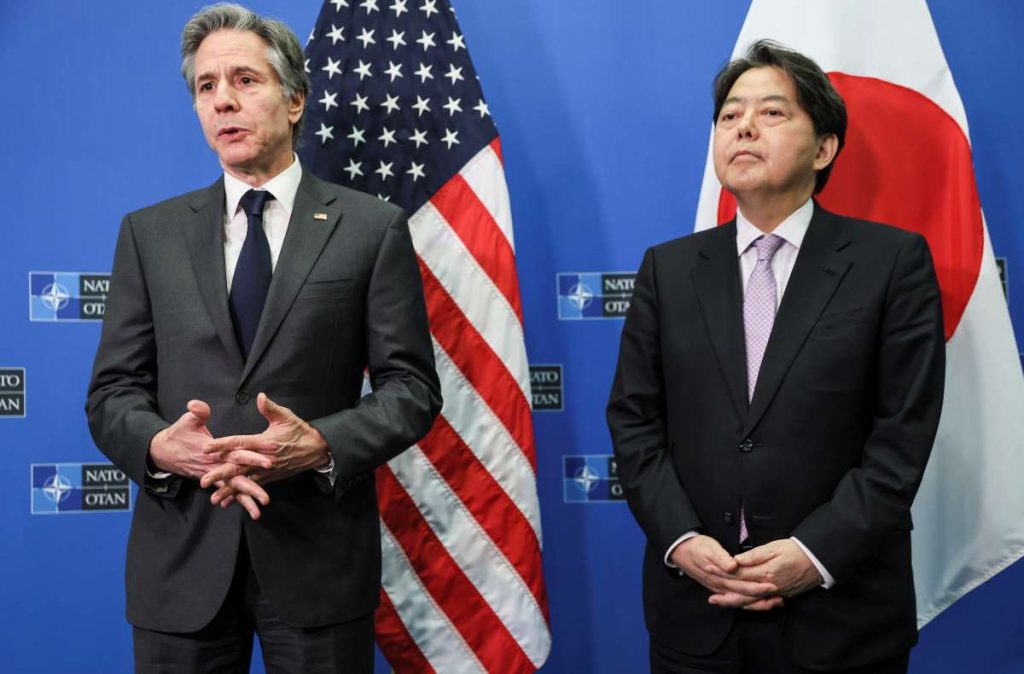 During talks with the US Secretary of State Antony Blinken, Mr. Hayashi warned of the threat to peace as Russia and China sought to alter the status quo in their respective regions by force or coercive means.
The South Korean Foreign Minister Chung Eui-yong also attended the NATO meeting in Brussels as an observer. Yonhap News reported that Mr. Chung was involved in a discussion with Mr. Hayashi, Mr. Blinken, and their counterparts from Australia and New Zealand, during which they spoke of ways to expand partnerships in the Indo-Pacific.


Yoon's New Approach
It is a signal that South Korea may lean towards the United States after President-elect Yoon Suk-yeol takes office in May. It also suggests a less confrontational tone by South Korea towards Japan, with a view to taking a more coordinated approach in regional and international affairs.
Yoon Suk-yeol has said he wants to meet President Zelenskyy, who addressed the Japanese Diet by videolink to Tokyo in March.
RELATED: Zelenskyy's Appeal to Japan: Help Stop Russian Invasion, Start Rebuilding Ukraine
Beijing is unhappy with the potential rapprochement between Tokyo and Seoul. It's seen as a sign that the United States is becoming successful in its campaign to build a more effective framework to contain China in the Indo-Pacific region.
"The US and NATO are using the Ukraine conflict for their own strategic purposes, exploiting the crisis to revive NATO's influence and turning it into a battle between so-called democracy and autocracy," Yang Xiyu, a senior research fellow at the China Institute of International Studies, told the pro-Chinese government newspaper, Global Times.
China longs for the United States to be less influential in Asia. Yet, faced with the prospect of Russia-China unity, South Korea, Japan, and other democracies in the region are moving closer to the United States and are enhancing their links with each other, with mutual safety in mind.


RELATED:
Author: Duncan Bartlett
Duncan Bartlett is a regular contributor to JAPAN Forward. He is the editor of Asian Affairs magazine and a research associate at the SOAS China Institute, University of London. He is currently a teacher on an online course for Economist Executive Education entitled "International relations: China, the US and the Future of Geopolitics." Find his essays and analysis on JAPAN Forward at this link.