Dear Megumi: The Fifth Abductee Was Released, but I Am Still Waiting for You to Return Home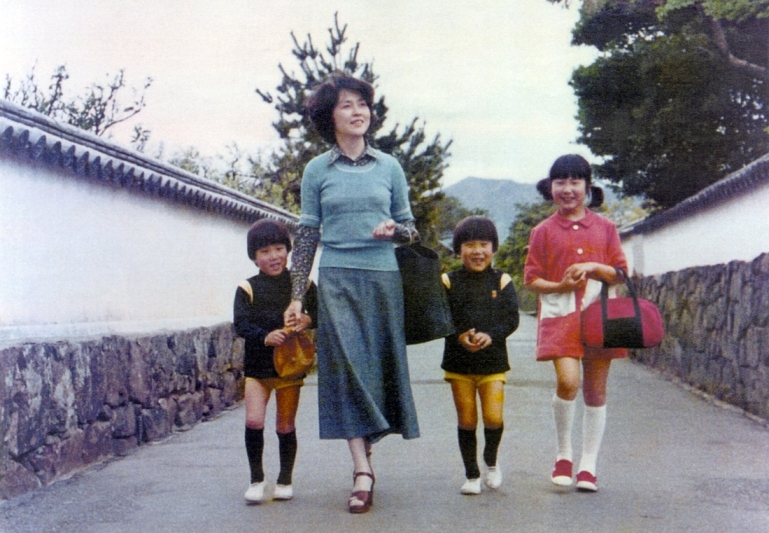 Sakie Yokota walks with her children. Megumi (right) was with family 42 years ago.
Dear Megumi,
It's autumn, the season when the clear sky seems so distant and nature transforms into a beautiful deep green in Japan. At times I almost lose hope, but the support from all those who have sworn to save you keeps me going.
October 15, 2002. The five victims who were abducted by North Korea, just like you, returned to Japan. They were Kaoru and Yukiko Hasuike, Yasushi and Fukie Chimura, and Hitomi Soga. The five walked down the gangway, one step at a time, as if they were unsteady on their feet.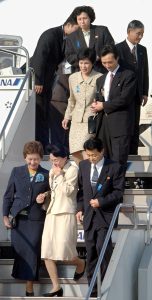 Five abductees came down from the airplane, but....
Members of the Association of Families of Victims Kidnapped by North Korea (AFVKN) gathered at Haneda airport. With a Japanese flag in hand, the members held a banner saying, "Welcome back." We celebrated the return of these five abductees. The state crimes that had been hidden in the dark for so long were finally revealed to the public in broad daylight.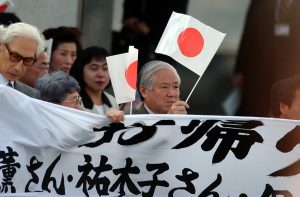 Shigeru and Sakie Yokota were at the airport on the day of five abductees' return
"Please help us!"—the families had desperately cried out on the streets as they held photos of their loved ones. Finally now, those loved had returned home. However, the youthful, happy faces in the photos were now old, gaunt, and tired.
"They really managed to come back," I thought, but a rush of sadness welled up inside me because it was as if the pain they had endured in North Korea was seeping out of them.
That day, your father, mother, and the school principal of Niigata Primary School, Yoshiei Baba, also welcomed the five back to Japan. We were still staring at the gangway after the five reached the ground. We all thought, "Perhaps there's someone left on the plane. Perhaps Megumi is still inside." But nobody else stepped out onto our homeland.
September 17, 2002. North Korea admitted to the abductions at the Japan-North Korea Summit, but insisted that the rest were already dead—including you. The families that had gathered in Tokyo felt completely shattered.
The families of the victims considered dead were overcome with so much fury, grief, and such a violent whirlpool of emotions that it felt like we were losing our minds. The families who were told that their loved ones were still alive could only tremble and apologize. Some were even crying.
The victims of state crimes shouldn't have been the ones to apologize. It was such a cruel and unfair verdict. These families had been fighting together since the establishment of AFVKN in 1997, and were dragged into a chaos worse than anything we had ever experienced. But despite of what we were told, we held each other, faced the future, and swore that we would continue fighting.
I couldn't believe North Korea's assertion. Such a happy, energetic girl like you couldn't be dead. North Korea even handed us human remains insisting they were yours, but they turned out to be fake. They even pointed at your supposed life in North Korea and the circumstances of your abduction as evidence, but everything was smeared with lies.
It has been 15 years since the five abductees came home, but I have always believed that you will come back one day, if not now. Yet, not a single person has returned since. Each day has been agonizing, as if I were living in hell.
AFVKN has travelled across Japan to demand action over the abductions. Members have flown all over the world to tell VIPs about the seriousness and urgency of the situation with North Korea. And yet, we have no sight of the children that were stolen from us.
Your father and I are old now, and we are not as agile as before. The National Association for the Rescue of Japanese Kidnapped by North Korea (NARKN) was especially important to us, but we have decided not to participate this year because of our health and it has become necessary to take care of your father. We feel terribly sorry and guilty.
It has been 40 years since you and so many others were abducted. Twenty years have passed since our family started campaigning for your rescue. I feel so much guilt and regret about my failing strength, because other people have sacrificed so much to secure the release of abductees. I can feel their pain and grief so strongly that it hurts.
Your brothers Takuya and Tetsuya are now desperately continuing the campaign, travelling to the United States and regions throughout Japan for us. Your brothers used to be young children, but now they are proud fathers. It just shows how much time has passed.
A general election was held in Japan this week. Our family has always longed for "a government that thinks about the country and will resolve the abduction problem." We hope the citizens have chosen the candidates who share the same desire. I believe this election was of utmost importance.
It is an embarrassment to our country that we cannot even save our own citizens. I pray that regardless of the party affiliation of those elected, they will do their very best to collect information and act quickly to save the abductees. We don't have much time left.
Tensions are also rising because of the nuclear weapons and missile crisis. I believe the leader of North Korea must be a very lonely person; if only he could open up his heart and converse with people all over the world. I pray for such an opportunity to arise.
Megumi, I always greet you, even though I cannot see you. Your father and mother always feel so close to you. We did everything we could, and we will continue to do everything in our power, pray, and entrust the rest to God. The day for rejoicing will come; just wait a little longer.
(Click here to read the letter in Japanese.)
Read the other letters to Megumi:
Dear Megumi: One Day, You and Other Kidnap Victims Will Set Foot on Japan Again—If Our Gov't Works For It
Letter to Megumi: Somewhere in North Korea, We Know Your Hidden Strength Will Make You Survive
Letter to Megumi: We hope you'll return to the Japanese Summer and Your Mother's Stew
Letter to Megumi: We Long to Have You Back for the Next Children's Day
A Letter to Megumi: 'Forty years have gone by without you… Don't ever give up, you are going to come home'
Check out JAPAN Forward's special coverage of the Japanese kidnapped by North Korea