EDITORIAL | Pyongyang Must Not Be Rewarded for Its Latest Provocations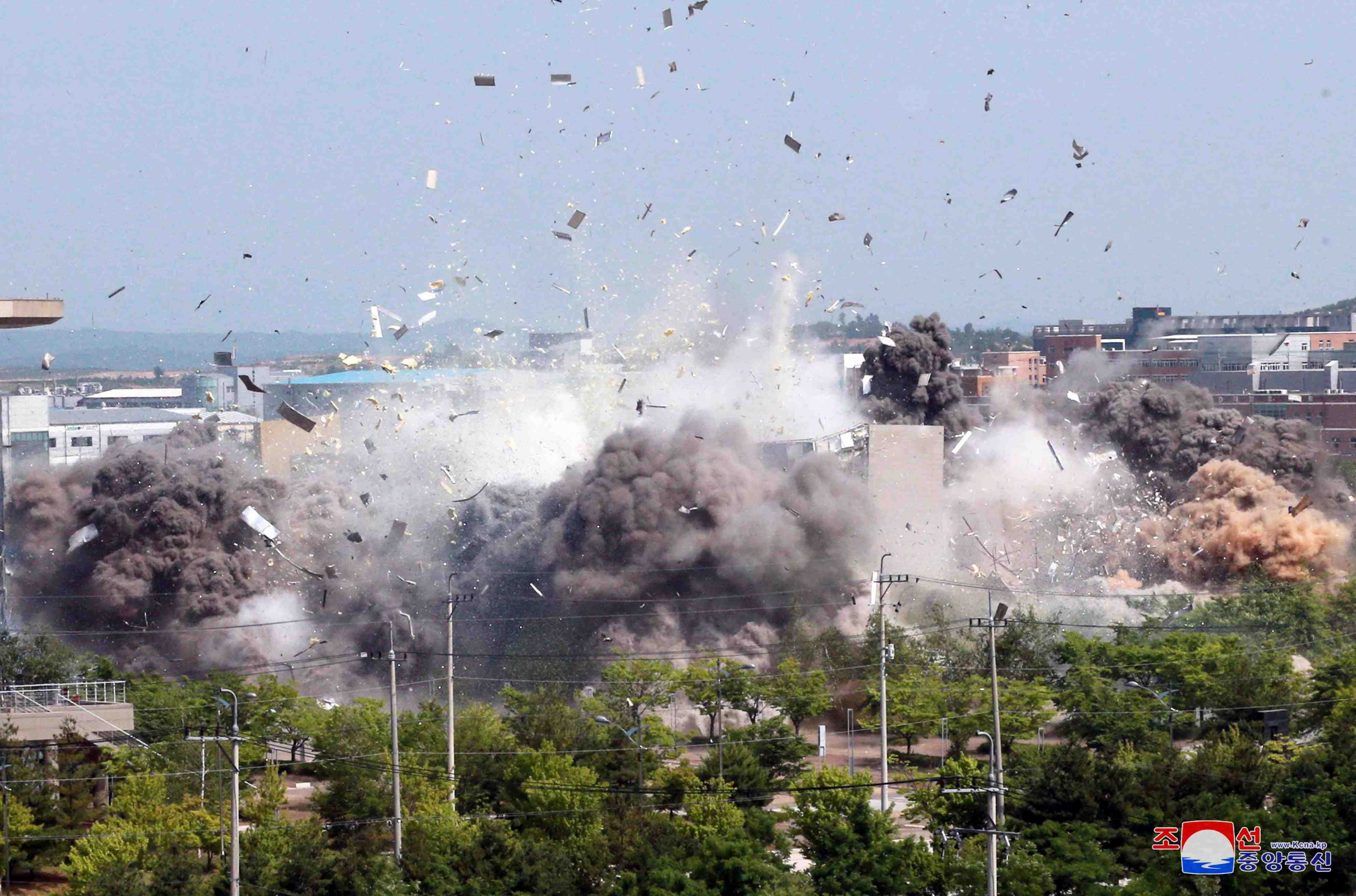 On the evening of June 16, North Korea blew up the Inter-Korean Joint Liaison Office in the city of Kaesong near its border with South Korea.
The spectacular display of ire on the part of the North Korean authorities came three days after Kim Yo Jong, younger sister of supreme leader Kim Jong Un, declared that the building, a symbol of reconciliation between the two Koreas, would be coming down.
North Korea has also severed all communication links with Seoul and has been beefing up its military presence near the Demilitarized Zone (DMZ) that separates it from South Korea. The two regimes officially remain in a state of war.
Pyongyang justified its moves as retaliation against the South Korean government for its failure to prevent groups of North Korean defectors from sending propaganda leaflets criticizing Kim Jong Un, head of the ruling Workers' Party of Korea (WPK), north across the border via balloons or even drones.
However, the reaction of the North seems incredibly hasty and overblown. Rather, its belligerent stance towards Seoul appears to be a case of transference of its own frustration and insecurity.
For one thing, North Korea is expressing its discontent that the economic cooperation promised by the Panmunjom Declaration of Peace, Prosperity and Reunification issued by the governments of the two Koreas in April 2018 has failed to materialize.
The North's pique probably can be attributed to the fact that the promises made by South Korean President Moon Jae In at that time in his hard push for engagement have remained unfulfilled due to crippling United Nations sanctions on the North, which has resulted in a reset of diplomacy towards Pyongyang.
Nevertheless, even more important now should be determination not to reward North Korea's dangerous behavior with concessions or other favors.
President Moon was eager to send a special envoy to North Korea, but Pyongyang refused the suggestion. Moon should now scrap the failed reconciliation approach and face the current situation with resolution.
For the time being, North Korea's antagonistic stance is directed solely against South Korea. But we should remain aware that it also very much has its eye on the United States, Japan, and other countries with a stake in the situation in the Korean Peninsula.
North Korea's negotiations with Washington are deadlocked, as President Donald Trump has put his personal relationship with Kim Jong Un on a back burner as he concentrates on getting reelected. No doubt, North Korea's recent highly visible activities can be viewed as an attempt to gain attention.
Japan and the United States also must resolutely refuse to reward North Korea for its bad behavior. Instead, they must reaffirm the principle of applying "maximum pressure" in concert with South Korea.
It is estimated that currently some 10 million people, or roughly one quarter of North Korea's entire population, are facing hunger because of famine and other factors.
On top of that, the specter of the novel coronavirus pandemic looms large. Although the North Korean government officially claims that there are no confirmed cases of COVID-19 in the country, it is still calling on residents of the capital of Pyongyang to wear masks, have their body temperature checked, use disinfectants, and take other intensive precautions. At the same time, commercial movement between North Korea and its main economic partners, China and Russia, has been cut off.
Several factors are giving the Kim dynasty concern about the stability of its hold on power. Its aggressive lashing out in response to the pinpricks of the leaflets from the South reflect concern about possible discontent among a North Korean populace facing harsh economic conditions.
Recently, Kim Yo Jong has been very much in the limelight. She has been elevated to the position of vice minister and holds several other important posts. With persistent reports that Kim Jong Un is in ill health, we must be prepared for unexpected contingencies surrounding North Korea.
The only way for North Korea to escape its difficulties is to opt for a strategy of peace. It should discard its nuclear and guided missile capabilities, solve the issue of the abduction of Japanese citizens once and for all, and atone for its past criminal actions.
The world should absolutely refuse to accept dangerous behavior and self-serving bargaining on the part of Pyongyang.
(Click here to read the editorial in its original Japanese.)
Author: Editorial Board, The Sankei Shimbun