EDITORIAL | Raising the Alarm On Megasolar Projects' Environmental Impact
The destruction of natural fields and woodlands and their important satoyama features can only be stopped by reinvigorating nuclear power.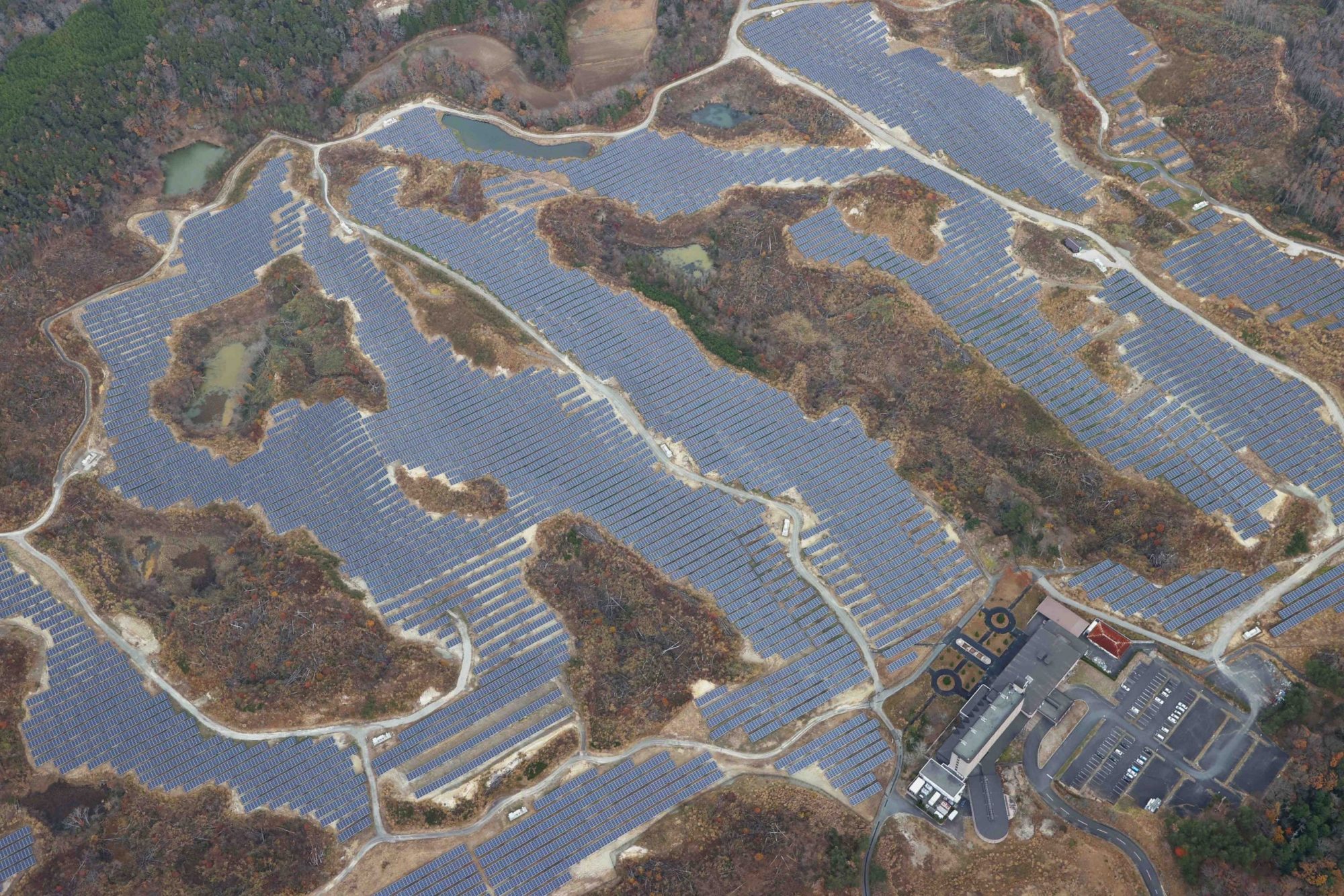 On January 25, as his ministry assessed the environmental impact of a mega solar power plant project planned to be built in Ogawa, Saitama Prefecture, Environment Minister Tsuyoshi Yamaguchi acknowledged several concerns.
Putting them into writing, he then submitted an opinion to Koichi Hagiuda, Minister of Economy, Trade and Industry, demanding a fundamental re-examination of the private sector company's project.
It sends a stern message that "A reconsideration of the project is strongly urged".
The proponents aim to build the 39,600 kilowatt mega solar plant in question on an undulating 86-hectares of land, including a section of a mountain.
The construction requires a large-scale landfill, and in order to cut costs, the plan is to bring in 355,000 cubic meters of sand and earth from the outside, of which half is needed for the embankment. In addition, a section of the planned embankment includes a plot where a previous landfill triggered a slope failure.
Not only is land alteration feared, but there is concern that the widespread deforestation will disturb the satoyama ecosystem (rich, diverse natural areas including fields, meadows, rice paddies and woodlands).
In and around the planned solar plant are nesting grounds for raptors like the gray-faced buzzards. There are many reasons why building a mega solar plant in this region is unreasonable.
Domestic mega solar plants have increased explosively since the feed-in tariff system for renewable energy was introduced ten years ago. Suitable flatlands for the most part have been used, and only mountainous lands near towns and villages remain.
RELATED: Thousands of Japan's Solar Plants Encroach Forests, Rice Fields, Wildlife Sanctuaries
It is not green, and is far from being eco-friendly if forests and other natural environments that are carbon dioxide sinks and are platforms for biodiversity are sacrificed.
The Environment Ministry has been assessing the environmental impacts of projects with solar power output of 30,000 kilowatts or more since April 2020. The project in Ogawa, however, is the first example of the government sounding the alarm.
We can expect this warning bell will have some effect in raising environmental awareness in the industry. However, development of mountain fields will most likely continue.
RELATED: [Speaking Out] Solar Facilities Should Be Regulated as Toughly as Nuclear Plants
Achieving Zero Carbon with Nuclear Energy
Japan has pledged to the world that it aims to reduce carbon dioxide emissions by 46% by 2030, a deadline that is only 8 years ahead. In order to meet the deadline, the country needs to rely on mega solar plants because they can be built quickly.
The incongruity of using our nation's precious natural areas as a stepping stone in an attempt to protect the global environment can only be solved by restoring nuclear power generation, which has fallen to 6% of our energy supply.
Under the current state of international affairs, the longer we wait to restart nuclear reactors, the higher the domestic electricity rates will rise, putting pressure on household budgets, and causing a decline in industrial competitiveness.
It is time for Prime Minister Fumio Kishida to take the initiative and steer the country back to a safe return to utilizing nuclear power, just as other countries are already doing. If the status quo continues, the mountains and rivers will disappear and the country will be destroyed.


RELATED:
(Read the editorial in Japanese at this link.)


Author: Editorial Board, The Sankei Shimbun