France, India, and Japan in the Indo-Pacific: What's Bringing Them Closer?
PM Narendra Modi's recent state visit to Paris highlighted the role of India in France's Indo-Pacific outlook and provided insights into their future.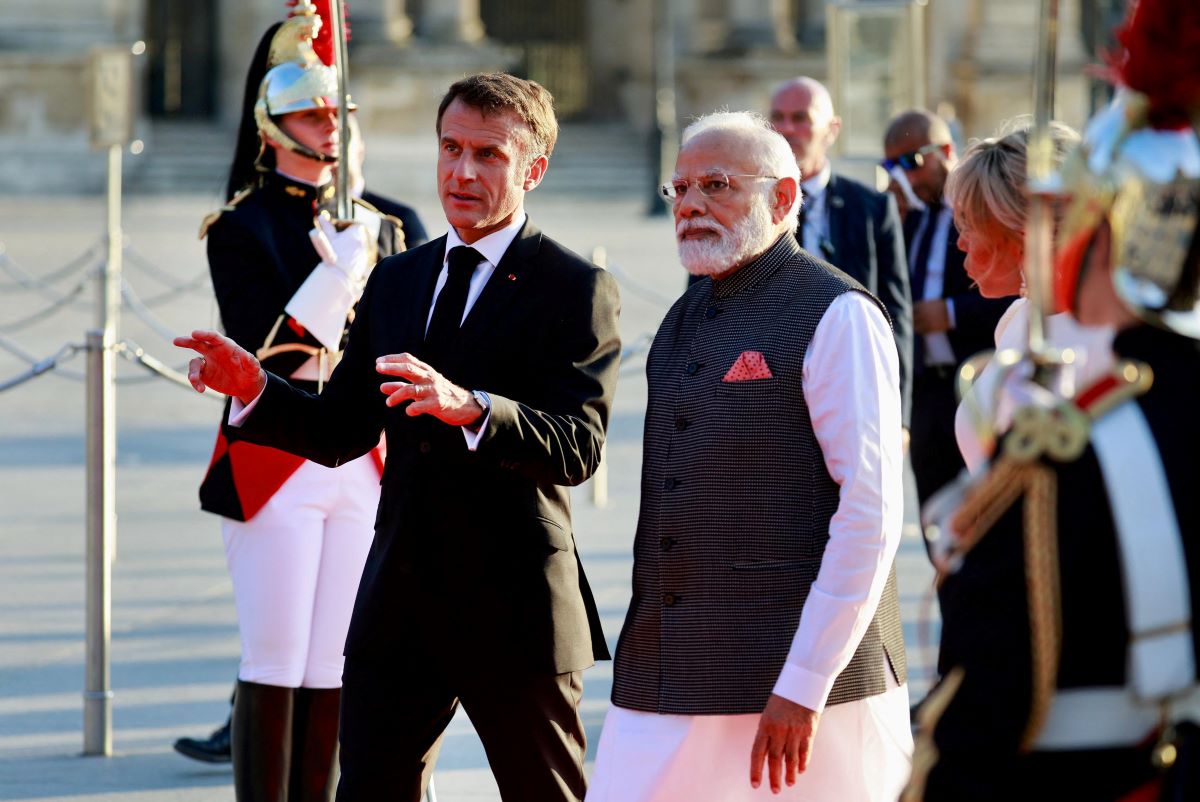 Indian Prime Minister Narendra Modi's recent visit to France marks the culmination of 25 years of strategic partnership between India and France. This "strategic partnership" was agreed upon in the backdrop of India's nuclear tests in 1998. Following the tests, India was ostracized by most nations, with France being a notable exception.
PM Modi was the guest of honor at France's Bastille Day celebrations in Paris on July 14. And in keeping with the growing collaboration between the two countries in the realm of defense, a tri-service contingent from the Indian Armed Forces took part in the 2023 Bastille Day Parade.
Many things have changed in the Indo-Pacific region since India and France signed their strategic partnership back in 1998. However, France's Indo-Pacific strategy, which was launched in 2018, notes that it is an Indo-Pacific power. This is because seven of its thirteen "overseas Departments, Regions, and Communities are situated in either the Indian Ocean or the South Pacific."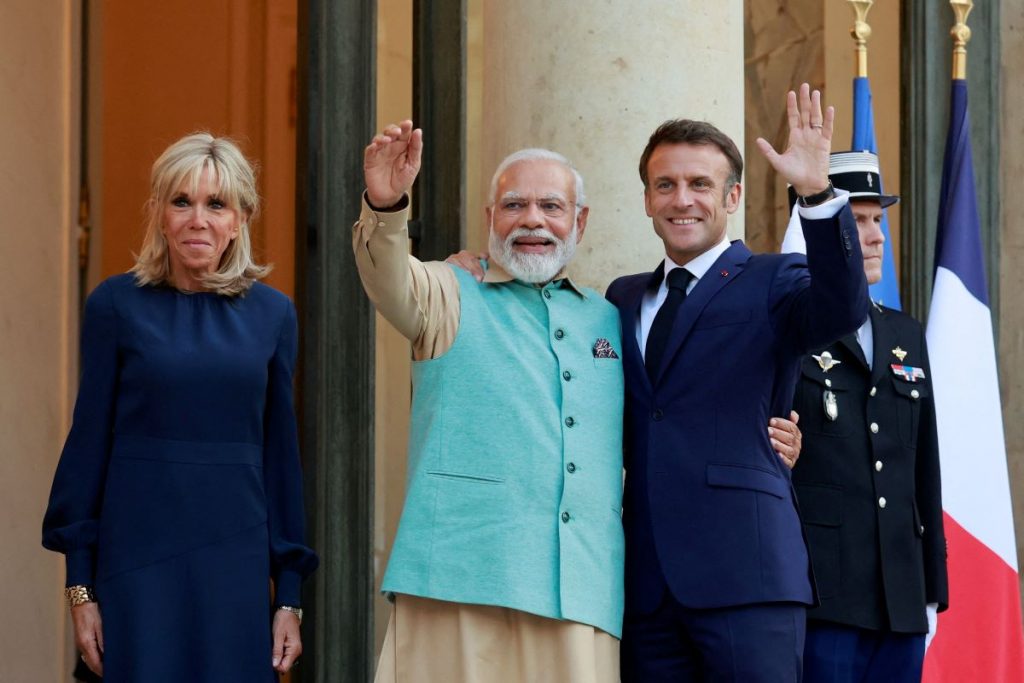 Main Takeaways
The leaders' joint statement issued during this visit notes that "in the future, India and France will extend their ground-breaking defense cooperation in advanced aeronautical technologies by supporting the joint development of a combat aircraft engine. They also support industrial cooperation for motorization of heavy-lift helicopters under the Indian Multi-Role Helicopter [IMRH] program with Safran Helicopter Engine, France."
This will help India's "Make-in-India" initiative. And it will also help wean away New Delhi from its dependence on Moscow for its weapons imports. As per a Stockholm International Peace Research Institute (SIPRI) report, Russia is still India's biggest arms supplier.
The India-France Indo-Pacific Roadmap issued during Modi's July visit notes that "our two countries believe in a free, open, inclusive, secure and peaceful Indo-Pacific region." It goes on to say,
Our cooperation seeks to secure our own economic and security interests; ensure equal and free access to global commons; build partnerships of prosperity and sustainability in the region; advance the rule of international law; and working with others in the region and beyond, build a balanced and stable order in the region, with respect for sovereignty and territorial integrity.
This is important since China has been claiming a significant amount of territory in the South China Sea.
Other important takeaways from the visit by PM Modi include the finalization of a joint Earth observation satellite and the simplification of visa requirements for students, among others. This will greatly help boost the people-to-people ties between the two countries.
The collaboration in space is important since the Indian Space Research Organization (ISRO) launched the Chandrayaan-3 on July 14 (Bastille Day). It is the country's third lunar exploration mission and it's aim is to land a rover on the surface of the moon.
What's In It For Japan?
Japan has a strategy known as the Free and Open Indo-Pacific vision which dovetails with France's strategy for the Indo-Pacific. There are many areas where the interests of India, France, and Japan converge.
All of these countries, India, France, and Japan have close ties with the United States. India has also signed logistics treaties with both the United States and France.
In addition, India is the current chair of the G20. And in that capacity, it is the voice of the Global South. In 2018, India and France also agreed on a "Joint Strategic Vision of India-France Cooperation in the Indian Ocean Region."
A common concern for these 3 nations is the growing belligerence of China in the Indo-Pacific. Beijing has been claiming territory in the South China Sea region, which impacts all three countries. Free and open sea lanes of communication are essential for the economic security of all these three countries.
In addition, France's overseas territories in the Indo-Pacific are home to almost 1.6 million people. Hence, Paris has a direct stake in the region. Besides, President Emmanuel Macron has talked about a Paris-Delhi-Canberra axis and this will be important in the upcoming months and years. Moreover, in February 2021, France sent a nuclear attack submarine to the South China Sea in solidarity with its Western partners.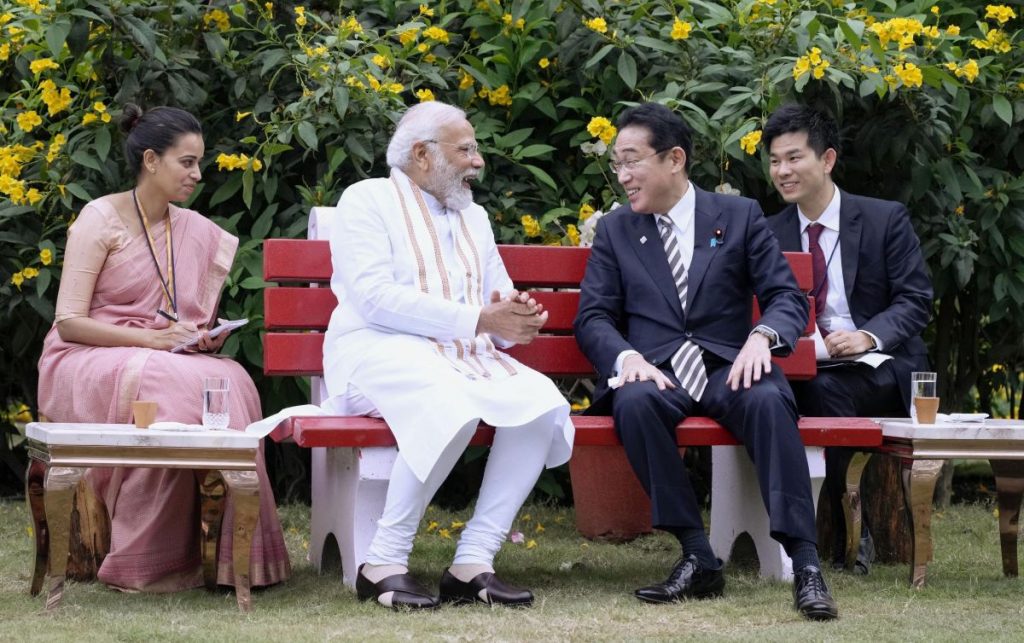 Dissonances
In 2021, Australia walked out of a submarine deal which greatly annoyed France. In addition, there were differences between France and other parties, especially in how to deal with China. It is worth recalling here that France has close economic ties with China.
Another challenge will be India's close ties with Russia, especially in the realm of defense. On the other hand, Japan and France have both taken a strong stance against Russian aggression in Ukraine.
The Road Ahead
It is important for India, France, and Japan to synchronize their actions in the Indo-Pacific to increase their effectiveness. Both France and Japan have signed civilian nuclear deals with India. And in the case of Japan, this is more significant since Japan is the only country to have suffered from the impact of the use of nuclear weapons.
As the joint declaration issued during the G7 Hiroshima Summit noted in May, the time has come to de-risk from China. India presents an attractive option. Hence, there is no denying that the collaboration between India, Japan, and France in the Indo-Pacific could only grow in the times ahead.
RELATED:
Author: Dr Rupakjyoti Borah
Dr Rupakjyoti Borah is a Senior Research Fellow with the Japan Forum for Strategic Studies, Tokyo. The views expressed here are personal.