[FUJI ROCK 2019] Japanese Duo GLIM SPANKY Raise Their Game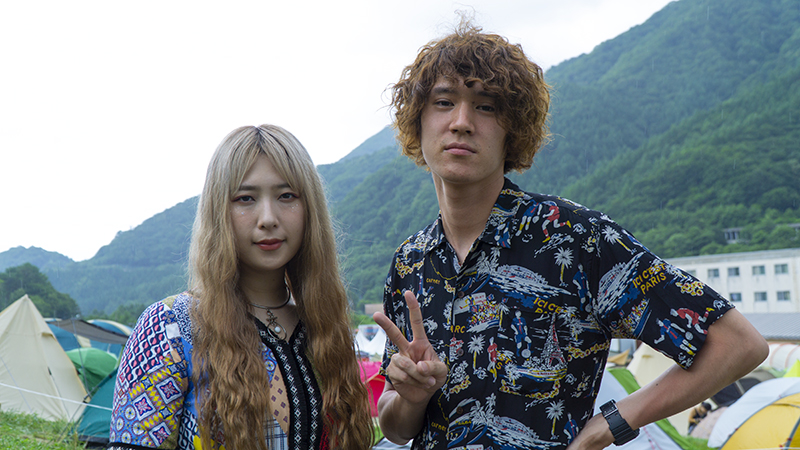 Performing for their third time at the Fuji Rock Festival, GLIM SPANKY is the quintessential band for a festival set in the mountains.
Originally hailing from Nagano Prefecture, itself a place rich in nature, the duo makes music that is heavily influenced by the Woodstock generation — American and British acts from the mid-1960s to early 1970s, from The Beatles to Joni Mitchell. It includes just a little pinch of J-pop golden oldies, such as Yumi Arai, and the psychedelic allusions of George Harrison.
GLIM SPANKY's first incarnation was formed by vocalist and guitarist Remi Matsuo when she was aged 16. Guitarist Hiroki Kamemoto, her high school senior, joined later, and the pair formed a strong bond as songwriters.
When Remi and Hiroki decided to relocate to Tokyo to attend college, they waved goodbye to their band members and have been a duo ever since. They were later signed to the Virgin Music label. They have released four full-length studio albums plus several mini-albums and singles, building up a large fan base within Japan and cracking the Oricon top 10 chart.
Central to their sound are the vocals of Remi, whose singing voice has a rough and cracked quality that oozes rock'n'roll, and Hiroki's guitar melodies, which flavor the rock sound with psychedelic Eastern flourishes.
"Because I have an unusual singing voice, people often ask me whether I have a cold, or whether I drink a lot of alcohol. But this is just my natural voice," said Remi, speaking with JAPAN Forward on-site at the Fuji Rock Festival on Saturday, July 27.
"When I was in primary school or junior high, I noticed that my voice had some kind of distorted edge to it. I couldn't work out how to put my singing voice to good use. But when I was in middle school, I got into The Beatles. John Lennon had a rough quality to his voice in songs like 'Help!' and I realized that a voice like mine would suit rock music really well," Remi reminisced.
"When I first heard her voice, I thought it was so special and unique," recalled Hiroki. "I thought a voice like that would be a great ingredient to make unusual music — her voice is an important element of GLIM SPANKY's sound."
GLIM SPANKY played on the Green Stage, Fuji Rock's largest, for the 2018 edition of the festival, where they were joined by support musicians to deliver a full-band set. This year, they played twice — once as guest musicians during a Green Stage set of the ensemble band Route 17 Rock'n'Roll Orchestra on July 26, and then an acoustic set the next day in the much more intimate Gypsy Avalon field.
"The two stages each have a completely different vibe," said Remi. "The Green Stage is huge, with a vast audience, and the sound from the stage gets carried off into the mountains. It's an exhilarating and wonderful feeling."
She added: "The Gypsy Avalon stage, where we'll play our acoustic set, is a more enclosed space, with lots of nature. If the Green Stage is like a massive American rock festival, Gypsy Avalon is more like a small-scale traditional festival in England where you'd expect to see fairies and to hear very niche music."
For their acoustic set, which took place a few hours after our interview, Remi and Hiroki were joined on stage by a keyboard player who played piano and Rhodes accompaniments to their songs. Remi played an acoustic guitar, with Hiroki playing an electric one. But without the drums and heavy distortion of their usual full-band set, their sound was stripped of its usual bombast, giving the melodies a chance to shine.
The members of GLIM SPANKY tell us that they feel very much at home at Fuji Rock, which is a much more laidback and free festival than many others in Japan. Remi drew parallels with Woodstock, the 1969 event held at a New York State farm that set the template for festivals worldwide with its message of peace, love, and music.
"I was inspired by Woodstock and by so many musicians from that period, so performing at a festival like Fuji Rock in the great outdoors with people who come together to enjoy music, where nature and music are one — that's exactly the kind of festival I wanted to play at," said Remi.
Hiroki added that the similarities with their home prefecture of Nagano make the tree-lined mountains and gurgling streams of Fuji Rock feel familiar.
"Nagano Prefecture has a lot of nature, and the forests look very similar [to Naeba's], so we feel a great affinity for this festival," he said. "As Remi was saying, it's a great fit for a band like us who play music based on old-style rock and psychedelic rock to play at a festival up in the mountains. We love Fuji Rock — and I think GLIM SPANKY are important for Fuji Rock, too."
Hiroki also feels that performing at Fuji Rock offers Japanese musicians a unique opportunity to raise their game. While some of Japan's biggest festivals only book domestic artists, Fuji Rock is a truly international event, with bands from all around the world converging on the Niigata Prefecture ski resort of Naeba.
As such, Hiroki feels the Japanese bands on the bill are exposed to a special mix of global talent — and this vital exposure could help them to grow.
"All these bands from around the world play together in the same field, and we are held to the same standards by the audience," he said. "In that case, our ability as Japanese musicians is put to the test. In those conditions, I think some Japanese bands are able to step up to the next level, while others cannot. So I think this is an important chance to take on that challenge and improve."
Indeed, GLIM SPANKY are taking on challenges of their own. Not content to simply draw influence from Western rock music culture, they have set about globalizing themselves in a deeper way. In the fall of 2018, they decamped to Los Angeles to record their fourth studio album, Looking For The Magic with producer Kennie Takahashi.
It was GLIM SPANKY who approached Takahashi because of love for his work with the Ohio band, The Black Keys. Rather than taking support musicians with them from Japan, they instead hired two local musicians in Los Angeles: drummer Carla Azar from Jack White's backing band, and Raconteurs bassist Jack Lawrence.
"I felt honored to play with those musicians," said Remi. "The most important thing for us was to experience a new viewpoint and to create cool new forms of expression."
Remi explained that the sessions felt very different from recording in Japan. In particular, she found the American musicians' frank exchange of opinion refreshing, in stark contrast to the more reserved demeanor she has experienced with Japanese musicians.
"The musicians rehearsed the songs a lot, and they even made suggestions and thought deeply about it," she said. "So we would all come up with ideas together, discard the ones we wanted to discard, and test out the ideas by playing music together. We had strong communication, and they were so good to us. Carla, the drummer, was especially forthcoming with her opinions. In Japan it's not considered acceptable to voice a strong opinion. But it was actually very helpful that the American musicians were more forthright — it's something I had hoped for. Having that frank exchange of opinions was very different to recording in Japan, and it was a great working environment."
Remi and Hiroki followed their recording sessions with a trip to famed artwork landmark Salvation Mountain, which was created by Leonard Knight in the California Desert area of Imperial County in the 1980s as an expression of the artist's Christian values. It has become an iconic piece of outsider art, which fascinated Remi.
"I love vintage clothes from the late 1960s. And whenever I would research vintage shops overseas, I would see pictures of this colorful mountain," she said. "I tried to find out where it was, and when I found out it was Salvation Mountain, I decided I wanted to film some footage there myself. That was when I was at college, a few years ago.
The duo filmed a video to mark the release of Looking For The Magic, which is available on YouTube. "It's very hot, since it's in the middle of the desert, and there were very few people around, and the conditions were tough, but we felt great freedom and love there," Remi enthuses. "I was just so happy to be able to film there."
Their overseas adventures won't stop there. The band have begun adding stops in cities around Asia, such as Taipei and Hong Kong, to their tour schedules, with hopes to eventually make it to places like North America, Britain and Europe.
"I know that we need to get bigger and more popular or those opportunities won't come," said Hiroki. "As a Japanese band who sing in Japanese, I hope we can first be appreciated in our homeland, and then expand out into the world. That's our goal."
Remi says that GLIM SPANKY's love for rock is not restricted to only the genre of music itself, but includes the culture that surrounds it too — as you may be able to tell from her on-point 1960s clothes and the band's expansive mindset.
"Fashion and art are other essential elements of rock, as well as cinema and literature, and we hope to channel those elements with our own music, said Remi. "I hope we can go overseas and show the world the appeal of our Asian-style rock music."
Looking For the Magic is out now, as is new single "Tiny Bird." Visit their website for more information on GLIM SPANKY.
RELATED ARTICLES:
Author: Daniel Robson