[FUJI ROCK 2019] The Cure Return, and Fans Say They Just Keep Getting Better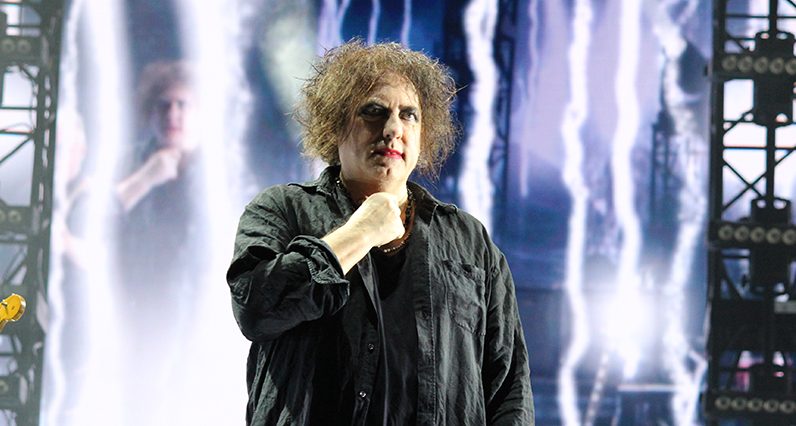 The Cure played a triumphant return set at Fuji Rock 2019 on July 28, six years after they last played at the festival.
They have not released any new music in the interim and therefore had no new material to draw on. They played none of the new songs that they are reportedly in the process of recording for their first new album in 11 years. Despite this, they brought a renewed energy and created a more buoyant set than last time, with frontman Robert Smith's voice in finer form than ever.
Their headlining set on the Green Stage included songs from early in their career, such as "Shake Dog Shake," along with the relatively recent 2004 track, "The End Of The World."
Most represented was their 1989 album Disintegration, celebrating its 30th anniversary this year, with cuts including "Pictures of You" and "Fascination Street" on the set list. And they saved their biggest hits till last, with "Friday I'm In Love" and "Boys Don't Cry" coming in the encore.
What did the fans think?
"The Cure are my favorite British band, and I came all the way from China just to see them today," said Zhou Yi, 30, who was wearing a T-shirt featuring artwork from the Disintegration album. "Disintegration came out the same year I was born, so it's really special to me, and their performance tonight was great — especially the light show they put on."
"I've been to Japan many times, but this is my first time at Fuji Rock — it's amazing!" she said. "I'll definitely come back again, and for the full three days next time."
Tomokazu, 38, travelled to Naeba all the way from Osaka in Western Japan. "I saw The Cure at Fuji Rock 2013, so this was my second time. I was hoping they'd play "Love Cats" — I thought they might play it at the end, but they never did. But they were great, so I'm glad I saw them."
"I've been coming to Fuji Rock since 2007," he said. "This year we are staying at the on-site Prince Hotel, which is much easier than when we used to camp!"
Mai, 30, from Kanagawa, also saw The Cure at Fuji Rock 2013. "They've aged six years since then, but Robert Smith's voice hasn't changed at all — if anything, it sounds better," she said. "The setlist for the encore was great; it's amazing they held back their hits to the very end of their set. I loved hearing 'Boys Don't Cry' and 'Friday I'm in Love.'"
"Last time I saw them, I only knew a few of their songs, but since then I've been listening to all of their music, so I found their set tonight much more moving than last time. Even with no new songs, they've powered up since then," she added.
"I've been coming to Fuji Rock every year for 12 years straight!" Mai said. "It's nice to be able to hang out with friends and drink all day. There's no stress here — Japanese society comes with a lot of stress, so Fuji Rock makes a welcome break."
Visiting Japan from Israel, 30-year-old Shahar caught the first hour of The Cure's set before going to watch James Blake on the White Stage. He said: "Apparently I missed 'Boys Don't Cry' and 'Friday I'm in Love.' I only really know the hits, so I'm disappointed I missed those. But they were pretty good. They were the only classic rock band at Fuji Rock, like old-school bands with drums and guitars and a crazy singer."
"I saw Ellegarden on Friday, and that was amazing — just the way the huge audience sang along to every song," he said. "Nicola Cruz was great too — he's a DJ from Ecuador, and he also played a live set. I managed to get a photo together with him. We missed some other things like Sia because we took a break during the typhoon. I was surprised my tent stayed dry!"
He added, "A couple of fans I spoke to said that they are musicians themselves, and praised the band's musicianship tonight."
"The band are incredibly tight performers," said Mr. Kato, 34, who is Japanese but lives in Singapore. "The bassist and the drummer played especially tight together — as a guitarist myself, I notice when musicians have that chemistry. It was my first time to see them, but they were just as I'd imagined they'd be."
"Fuji Rock is great this year," he said. "I mainly came to see American Football, an emo band I love who recently re-formed. And I'm going to see Quantic later. The typhoon last night was pretty harsh though. My rain boots filled up with water and I had to stick a hair dryer inside them in my hotel room to dry them out."
Guo Songyuan, 25, from China, shared his own professional's perspective on the event: "When I go back to Beijing next week, my band will play a concert, and we plan to play a cover of 'Friday I'm in Love.'"
"I came to Fuji Rock just to see them because they haven't come to Beijing in recent years and they're getting older, so I don't know if I'll have another chance," said Guo, who was wearing a T-shirt printed with a The Cure logo. "They didn't play my favourite song, "Sugar Girl," but that's OK – it was good to hear a lot of songs from Disintegration for its 30th anniversary. If they really are making a new album, I'll definitely buy it. I'll have to buy a new hi-fi system first though, because I don't have a CD player!"
"It's my first time at Fuji Rock," he added. "The typhoon was terrible. We saw a lot of tents floating away, but ours survived without even a drop of water inside!"
RELATED ARTICLES:
For more coverage from Fuji Rock Festival 2019, follow JAPAN Forward.
Author: Daniel Robson