[Gamer's World] Southeast Asia's Game Developers Forge an Identity of Their Own
Influenced by Japan, developers across Southeast Asia are asserting their own cultural backgrounds to create experiences that gamers around the world can enjoy.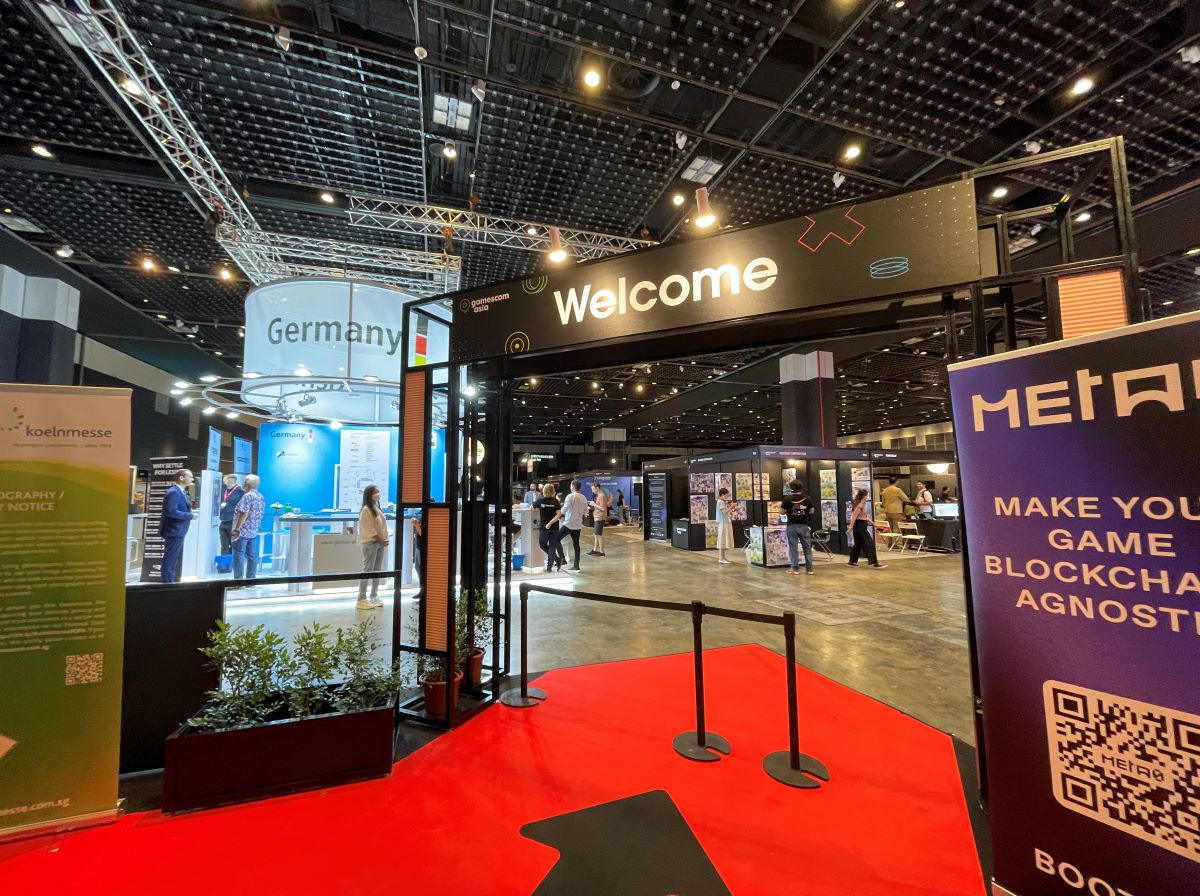 I spent much of October on the road, attending videogame expos in Southeast Asia. It was a gamer's world. Both a wonderful opportunity to catch up on local games from around the region, and to refresh my perspective on how Japanese games and pop culture are perceived by its closest neighbors.
At Level Up KL, held in Kuala Lumpur early in October, I had the opportunity to discover many fantastic upcoming games from Malaysia, Indonesia, Thailand, South Korea, Singapore and more. I wrote about some of my favorites for IGN here.
The highlights include Kabaret, a game based on Southeast Asian folklore in which you explore an afterlife populated by complex characters who just happen to be monsters. Another highlight is Faerie Afterlight, a thoughtful puzzle-platformer that challenges the player to make creative use of enemy creatures' abilities instead of wantonly killing them.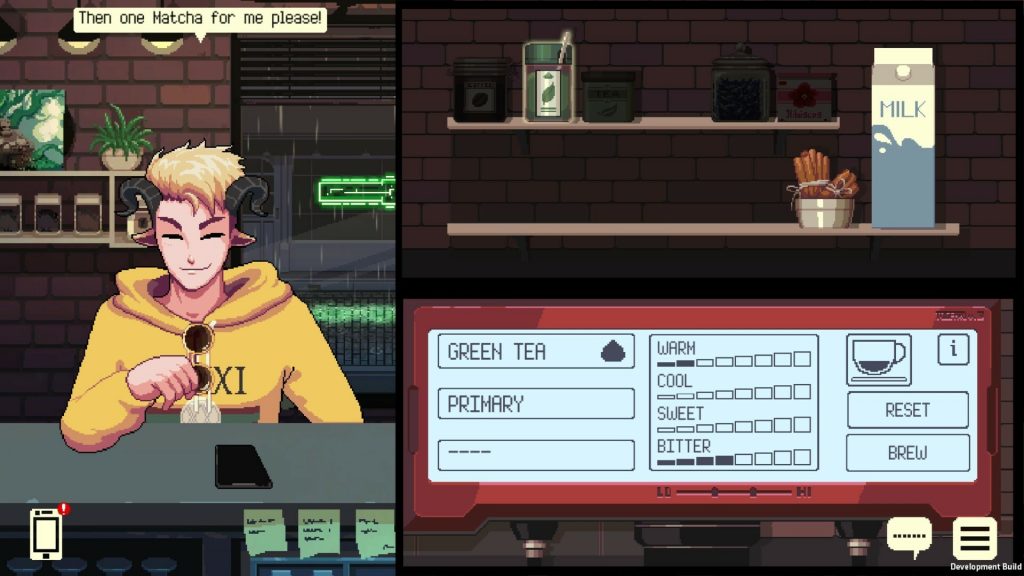 Then there is Coffee Talk Episode 2: Hibiscus & Butterfly. It's the sequel to the much-adored game about a nighttime coffee shop barista who greets a diverse cast of troubled customers and consoles them with comforting drinks.
Through these and many other games, developers from across the Southeast Asia region are asserting their own cultural backgrounds to create experiences that gamers around the world can enjoy. And with Japan being both geographically close and one of gaming's most dominant countries, the influence of Japanese games can be felt in a variety of interesting ways.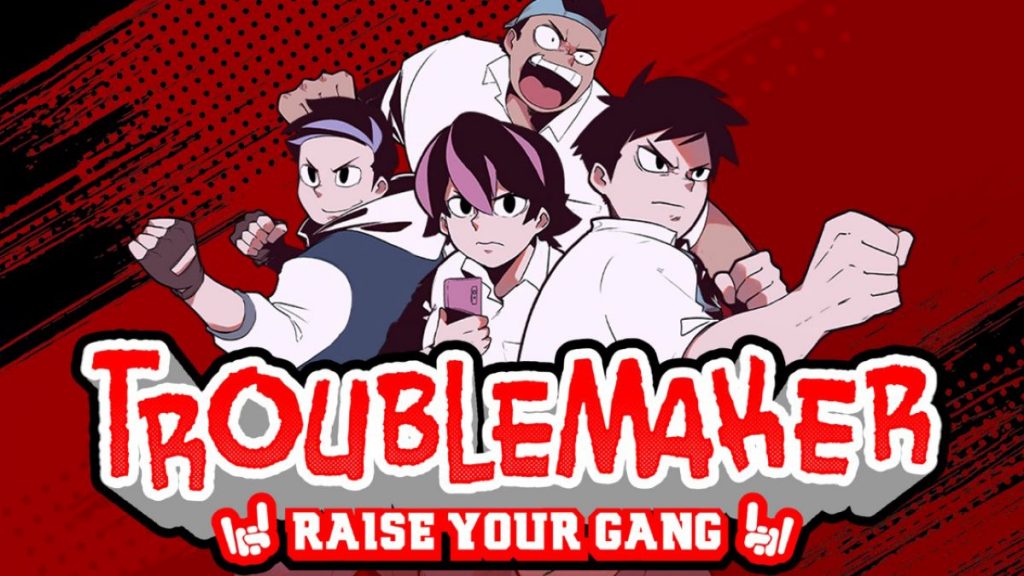 Learning Southeast Asia at Gamer's World
My friends at IGN Southeast Asia, which is based in Kuala Lumpur and covers the English-speaking countries across the SEA region, told me over a nasi lemak and rendang lunch that they grew up watching Japanese anime Doraemon on TV. Anime is hugely popular today in Malaysia, and indeed Japanese games are too.
In fact, some Japanese games are actually made in Malaysia. At least in part, since the country houses several large-scale outsource development companies. Game series from Street Fighter to Dark Souls to Final Fantasy include artwork, animation and other elements created by developers in Malaysia.
As with everywhere in the world, kids in Southeast Asia grew up playing games from Japan and the West. One of the games I played at Level Up KL, Troublemaker, wore these influences proudly on its sleeve.
Troublemaker is a game from a studio of young developers in Indonesia called Gamecom Team. They have reinterpreted the action-adventure elements of Shenmue and the brutal violence of the Yakuza/Like a Dragon series, setting the action in a world that is more familiar to them: an Indonesian high school.
The demo I played was ramshackle and rough, but undeniably fun. And its depiction of the high school hierarchy and liberal use of local slang gave it a sharp energy that stood out.
It was exciting to see Japanese game design repurposed to showcase a less familiar cultural perspective. And local players have taken this approach to heart, with Troublemaker trending on social media after a livestream of the demo garnered some 5 million views.
Breaking Taboos
Japan's influence on games from overseas sometimes runs deeper. In its explorations of local history, Kabaret touches upon the occupation of Malaysia (then known as Malaya) by Japan in the 1940s. At the time Japanese culture was imposed on the locals under a particularly draconian rule.
Producer Saqina Latif told me that this was a period of hardship that her own family had to endure. And Latif admitted that including these themes may be considered controversial, especially when the game is eventually released in Japan. But as a topic that is not widely explored in pop culture, I'm sure it will make Kabaret all the richer.
Videogames have evolved far beyond mere toys, and have become an immersive means of storytelling. They are where the player can soak in the atmosphere of real-world or fantasy locations and drink in detailed lore.
Kabaret producer Latif spoke during a panel titled "Culturally-Infused Games: How to Spice Up Your Game with Unique Southeast Asian Flavors" held at Gamescom Asia in Singapore later in October. Alongside were SEA-based developers of A Space For The Unbound and Project Xandata. Joining them was Malaysian streamer Arief Johan, discussing ways to express local culture through games.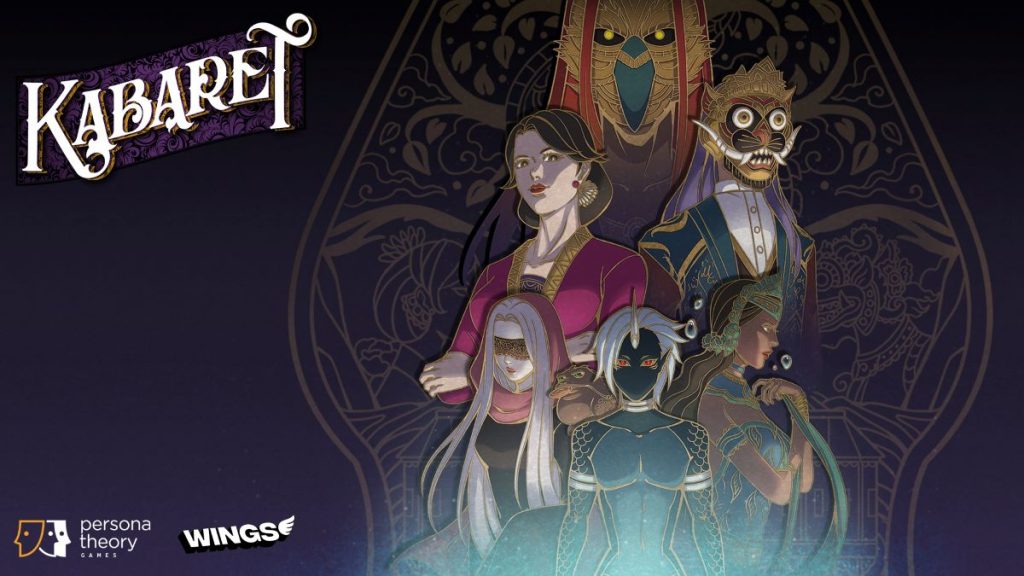 Broadening Cultural Touchstones
During the panel, the point was made that most of the English-speaking world has grown up with games from Japan and the West. In turn, that has heavily influenced the cultural touchpoints they are exposed to. In a sense, it was imposing a kind of cultural imperialism.
When I was a kid in the 1980s and '90s in England, Hollywood cinema dominated the pop culture landscape. It enforced an American viewpoint, skewing the way we thought about the world. Videogames have had a similar effect. The dominant genres have been rising from Japan (RPGs, fighting games, action games, visual novels) and the West (shooting games, modern RPGs).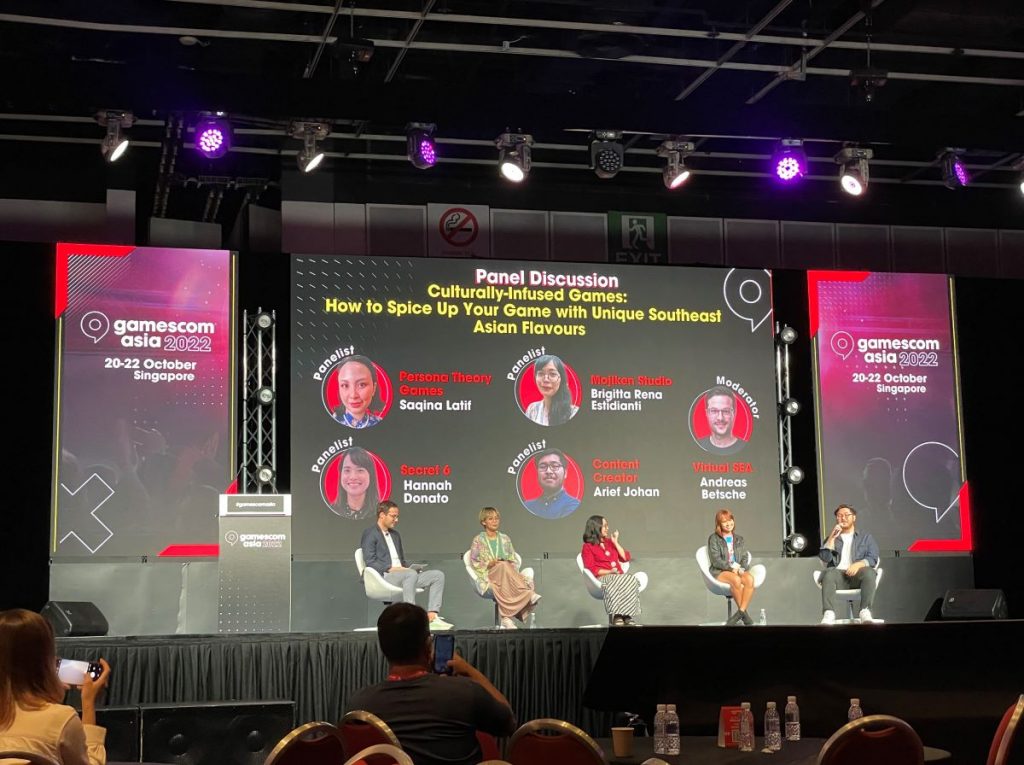 Just like with cinema, in recent years the barriers to releasing games have lowered. As that happens, we are seeing more and more diversity as these genres are reinterpreted and rewritten by developers from all over the world.
Consider the rise of self-publishing and the indie game scene. Add the immense success of games from China ー such as Genshin Impact. And add Chinese publishers such as Tencent and NetEase. Cumulatively, these have changed the ecosystem completely. As a result, gamers are more willing than ever to try a wide range of games. This means they can be exposed to an ever-wider selection of cultural references.
Synchronizing Gamer's World with Singapore
In Singapore, too, the influence of Japanese culture can be easily felt. The most obvious thing I noticed was the availability of Japanese food.
Take the shopping mall attached to the Suntec convention centre where Gamescom Asia was held. There was an entire street of Japanese restaurants. And more to be found all around the city. One bar I visited served Japanese whisky and sake cocktails. Alongside the sophisticated drinks were pork and wagyu beef katsu sandwiches – a staple food at Japanese convenience stores. I never imagined I would see these on the menu of a high-end bar.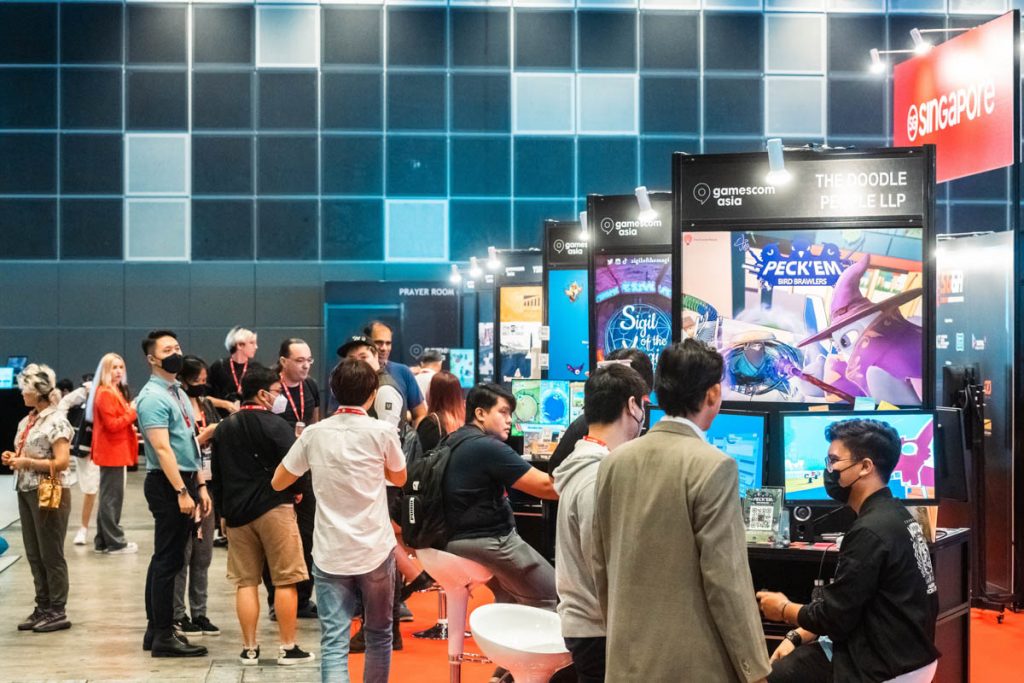 Gamescom Asia is a spinoff of Gamescom, one of the biggest global game expos which is held in August in Cologne, Germany. After a false start in 2020 and an online version in 2021 due to the pandemic, Gamescom Asia was held in person for the first time in October 2022.
The Singapore version started out small. However, there is an undeniable merit to making such a globally renowned event as Gamescom accessible to audiences on the other side of the world in Asia.
Gamer's World and Gamescom Asia
Yes, Asia has its own excellent consumer gaming expos – Tokyo Game Show, ChinaJoy and Taipei Game Show to name just three. But it's cool that local game developers and the player community are able to participate in an offshoot of such a famous Western event, too.
Tokyo Game Show had its own booth at Gamescom Asia. The booth was crowded by local attendees who were perhaps interested in exhibiting at TGS in future. And the T-shirts and magazines handed out at the booth became hot items – TGS is a prestigious game expo, and everyone wanted a piece to take home.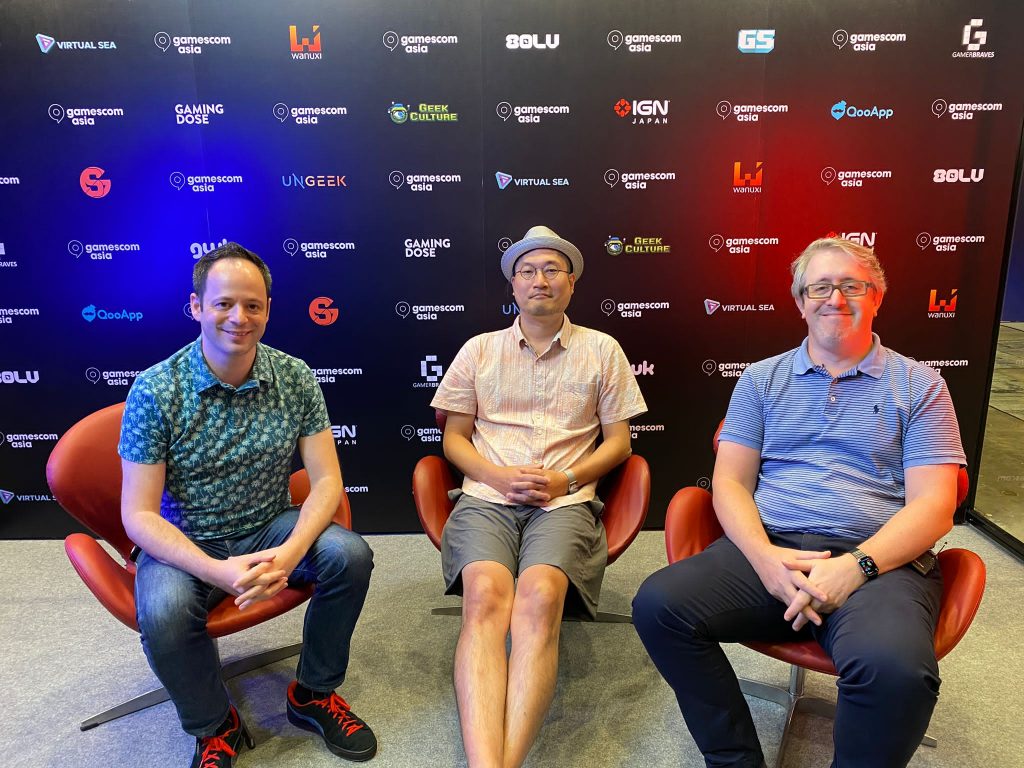 I hosted a panel during Gamescom Asia Studio, the online portion of the show. Dylan Cuthbert and Baiyon from Kyoto-based indie studio Q-Games joined me to talk about what makes Japan's game scene so unique. You can watch the whole video on Gamescom Asia's YouTube channel here.
During the panel, Baiyon made an interesting point when discussing BitSummit. Co-founded by Q-Games, the indie game event is held in Kyoto annually. Baiyon said that as a Japan-born developer, it is hugely beneficial to have a game event like BitSummit on his doorstep, giving the option to local developers to gather and share ideas without having to fly all the way to San Francisco for GDC, Los Angeles for E3 or Cologne for Gamescom.
This budding new local edition of Gamescom in Singapore is similar. It feels like it could offer something special to Asia-based developers and game fans alike in future years.
Next in Gamer's World: G-Star
Next in November, G-Star will take place in Busan, South Korea. And seven of the speakers during its conference come from Japan. That is a decent 16% proportion of the overall lineup of 44 speakers.
The show will see talks from Hideki Kamiya (Bayonetta), Ryozo Tsujimoto (Monster Hunter), Fumihiko Yasuda (Nioh) and others. Once again, the influence of Japanese games in Asia and around the world will be on display.
It's encouraging to see how Japan's pop culture is viewed overseas. And exciting to see games from other cultures rise up to find a global audience. They provide an engaging and fun way to learn about our neighbors around the world!


RELATED:
Author: Daniel Robson
Daniel Robson is chief editor of videogame news site IGN Japan. Read his series Gamer's World on JAPAN Forward, and find him on Twitter here.