Get A Glimpse of Samurai Life at New Year Asakusa Kabuki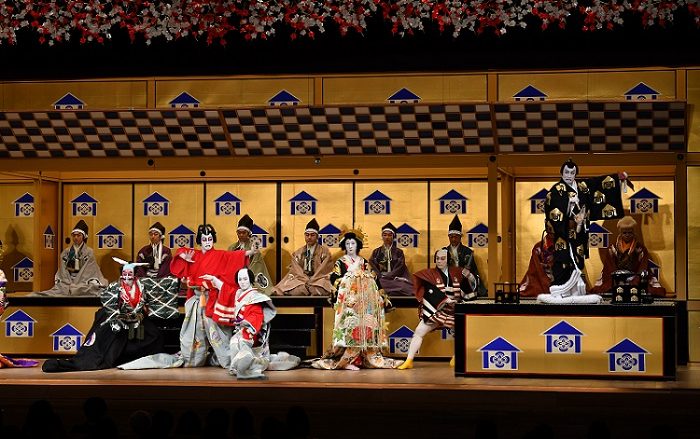 ©Shochiku Co., Ltd.
There may be some people who believe that there are still samurai and ninjas in Japan.
That is no longer the case, but actually there is still a place where you can catch a sense of the era. The Kabuki play house in Asakusa allows visitors a glimpse of samurai life and chance to see samurai all around.
The area is one of the major sightseeing spots in Tokyo, which was known as the city of Edo, the Shogun's home ground, until 150 years ago. Despite the passage of time, those visiting Asakusa today can still immerse themselves in the essence of Japan and Edo-ness.
A Kabuki performance is held every January in Asakusa. Regarded as a gateway to stardom for budding Kabuki actors, the "New Year Asakusa Kabuki" is a great performance for first-time Kabuki audiences. Tickets are sold at more reasonable prices than the shows at Kabukiza and other famous venues, the shows are shorter, and the entire town is elevated in a festive mood during the New Year season.
Both Part 1 and Part 2 have exciting shows lined up. However, if you have time for only one, the highly regarded Kotobuki Soga no Taimen in Part 2 of the program is recommended. As you can see from the photographs, the program is full of typical Kabuki renderings and has been considered a perfect Kabuki stage to watch during the New Year season.
The "beauty of the style" of Kabuki can be felt firsthand when watching a live performance. The audience is enveloped in the exciting experience of a live Kabuki set, such as the hanamachi, a stage passageway built through the audience where the actors can walk about, and the many different sound effects from BGM (background music) and tsuke (striking wooden clappers) for dramatization. The actors wear flamboyant costumes and their kumadori, a particular style of Kabuki makeup. The stage performances include mie — a stationary pose and gaze the actor adopts to express emotions — and fighting scenes called tachimawari.
With 400 years of history, the traditional Japanese theater form has been entertaining audience with diverse ideas.
"We will work hard on putting together a show so that even audiences who don't understand Japanese can enjoy it without having to use earphone guides in English. It's going to be great," said Matsuya Onoe.
As the leading actor of this year's Asakusa Kabuki group, Onoe explained how the performance was planned so that foreign tourists could also enjoy the show.
Onoe continued: "As a united team, the young actors will put together a show that will be welcoming of young audiences who may be watching Kabuki for the first time. Compared with watching the traditional theater performance at Kabukiza, where the air may seem a bit too dignified, Asakusa Kabuki can be enjoyed more light-heartedly. The town itself is a fun place for foreign tourists so they can experience Kabuki within the exciting atmosphere."
For those who haven't experienced traditional Kabuki performances, January's New Year Asakusa Kabuki is highly recommended as a thoroughly enjoyable, light-hearted introduction to the genre.
New Year Asakusa Kabuki in Asakusa
Dates: January 2 to 26, 2019
Language: Japanese; free English programs will be handed out at the theater
Times:
Part 1 runs from 11:00 A.M.

Part 2 runs from 3:00 P.M.
Click here to reach the official website for the show and for information on buying same-day tickets at the box office.
Click here to buy tickets online for the New Year Asakusa Kabuki performances at Asakusa Public Hall.
Click here for information on the theater and its facilities.
Click here for more about Kabuki.
Author: Yukihiro Watanabe