Hokusai Humor and Smiles
An exhibition titled "Hokusai Humor: Sowing Seeds of Smiles" is running at the Sumida Hokusai Museum in Sumida Ward, Tokyo, until November 26.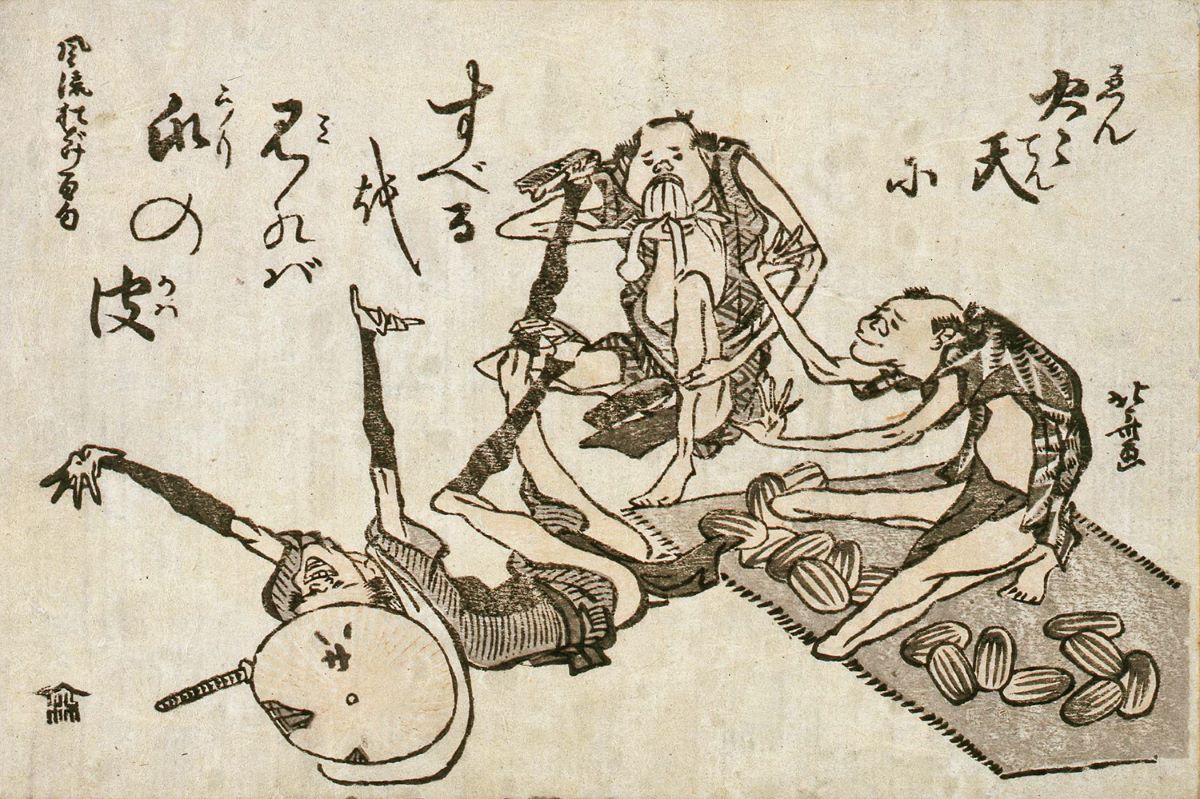 Hokusai Humor: Sowing Seeds of Smiles is presently being exhibited at The Sumida Hokusai Museum until November 26, 2023. The exhibition features 40 caricatures by Hokusai, 32 of which are on display at the museum for the first time. It will be held in two stages, term one from September 20 to October 22, and term two from October 24 to November 26, with many like-for-like substitutions being made for the second term.
Katsushika Hokusai
Katsushika Hokusai (1760–1849) is arguably the most famous of all Japanese artists. A prolific creator of woodblock prints, sketches, paintings, and hand-printed books, his ideas had a profound impact on the painters, thinkers, writers, and musicians of late nineteenth-century Europe. His social observation, mastery of brush, and striking use of color were deeply influential.
His influence has not waned. Hokusai typically depicted normal people engaging in everyday occupations and activities in actual, rather than idealized, locations. This is a trait that is clearly evident in contemporary manga and anime.
In the same way that nineteenth fans of Hokusai's work would venture to Nihombashi, Ryugoku-Bashi, or Enoshima to visualize the scenes from his prints, manga fans of the present day flood to the recognizable locations employed in key scenes, smartphone cameras at the ready. The railway crossing adjacent to Kamakura Koukou Mae station, on the Enoshima Electric Railway (Enoden) is portrayed in the opening scene of Slam Dunk, a basketball-themed anime. The crossing is presently only a little less of a draw for Kamakura's "pilgrims" than the region's most famous shrines and temples.
The curators of Hokusai Humor: Sowing Seeds of Smiles, have managed to depict and represent humor and smiles by Hokusai and his students in an imaginatively large number of ways. The exhibits are grouped into three general classifications: the smiling face depicted in symbolism and mythology, types of smiles, and caricatures and humorous drawings.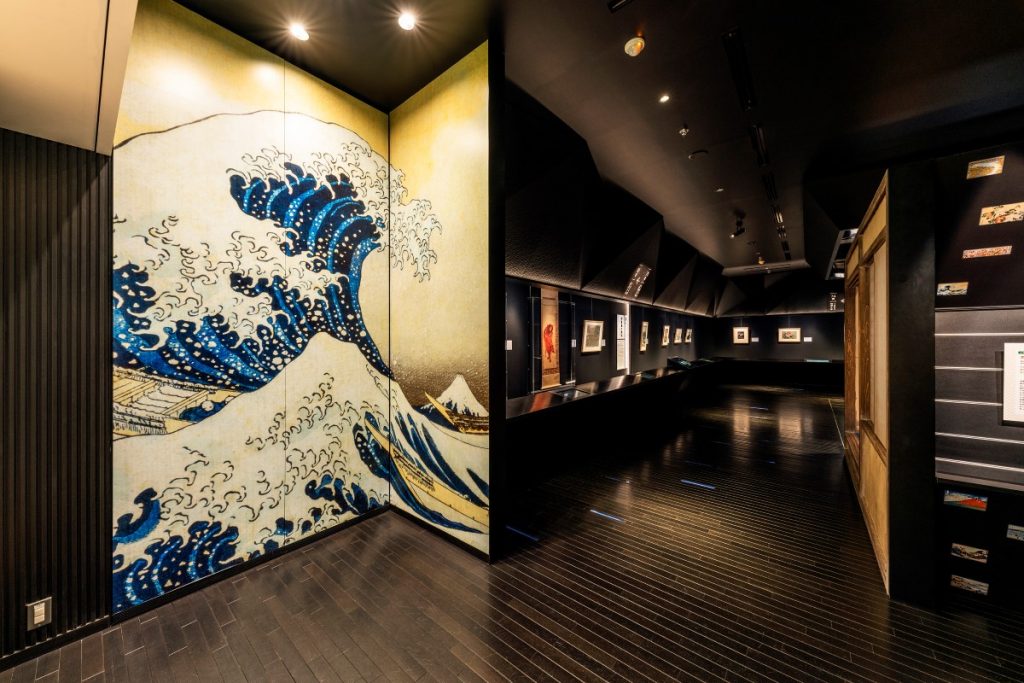 Symbolic Smiles
The feature work of the symbolism section is of Daikoku, one of the Seven Gods of Luck. As per tradition, he is depicted with his magic mallet and enormous treasure bag, and perched upon two bales of rice. Daikoku is surely a creation of mythology who has much to smile about.
A Variety of Smiles
The section on types of smiles, however, is where the curators have been most creative. Weird smiles, embarrassed smilies, mocking smiles, strained smiles, ridiculing smiles, and the "sloppy smile" of the drunk or infatuated, are all on display. This section concludes with a pair of prints from Hokusai's popular One Hundred Ghost Stories series, in which the smiles are of a menacing style.
In The Ghost of Kohada Koheiji, the skeletal apparition of kabuki actor, Kobata Koheiji, pulls back a mosquito net and smirks down at his sleeping murderers: his wife and a fellow kabuki actor. One can only imagine the terror they would feel when confronted by this spirit, eyes upturned and corners of its mouth turned up into a grotesque smile, when awakening in the middle of the night.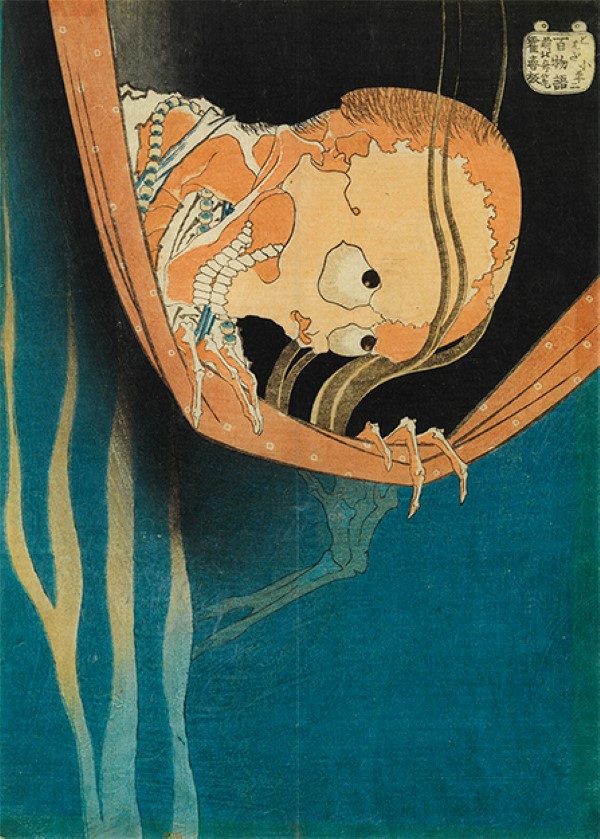 Caricatures and Humorous Drawings
It is the caricature section, however, where the laughter truly begins, and it can be absolutely riotous. Many of the caricatures are set to kyoku verses — a form of humorous haiku but without strict haiku conventions. In Who Is Responsible for This? the kyoku that inspired the print is of a manager of an agency that dispatches live-in servants, to which a very pregnant maid has been sent back. He questions a household head who is unconvincingly feigning ignorance.
In Slip Under the Blazing Sun: Must Be Melon Peel, the relevant verse decrees that if someone slips on the road, not in winter when roads are icy but in summer, melon peel must be the cause. In this picture, a man has slipped and fallen right in front of a vendor selling melons and a customer eating them.
The humor in Who Is Responsible for This? is timeless and universal. However, a more cultural and historical form underpins Slip Under the Blazing Sun: Must Be Melon Peel. Explanation for Japanese nationals and English-speaking foreign visitors alike is more than adequately provided for.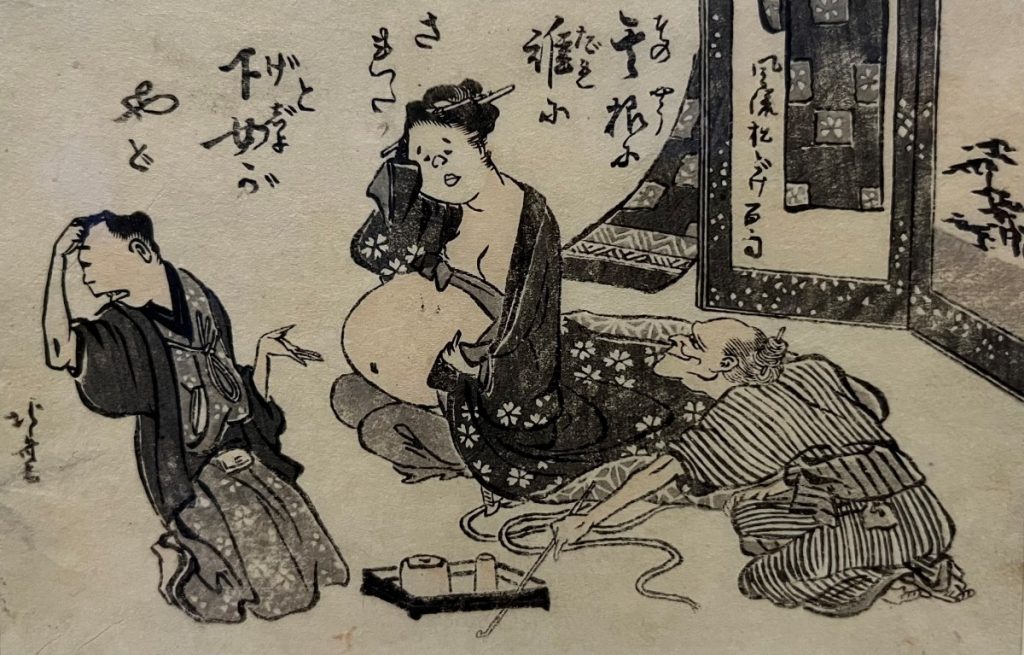 Additionally, an informative list of words related to forms of laughter is displayed. They include zesshou (to laugh vigorously), koushou (to laugh loudly with the mouth open), and kakataishou (to roar with laughter, burst into laughter). An opportunity for students of Japanese to expand their vocabularies? Yes, but the three Japanese nationals who I have shown the full list to have come across some new words as well. Such is the breadth of Japanese words that can be used to chronicle laughter.
A Man of His Times
Some, however, may not find the humor in Who Is Responsible for This? particularly funny. Many of the caricatures contain the type of subject matter of a less politically correct era. Therefore, the curators include a warning on how some of the themes, words, and expressions "may be considered inappropriate in terms of contemporary values." Regardless of one's views on the content, however, the illustrations, from an artistic point of view, are undeniably delightful.
"The customs of the Edo period and Hokusai's artworks are closely connected," the cautioning text continues. They are "difficult to separate" for those wishing to understand and fully appreciate Hokusai's work.
A further form of humor portrayed is created by homonym — word play. As there are innumerable Japanese words with identical pronunciation but different kanji characters, the Japanese language lends itself to this form. Customers come to the opticians because they need to wear (kakeru) glasses, while people pose (kakeru) riddles. In The Optician and the Riddle-Solving Priest, the priest, a mere boy, points and laughs at two people whose eyes become bigger after putting glasses on.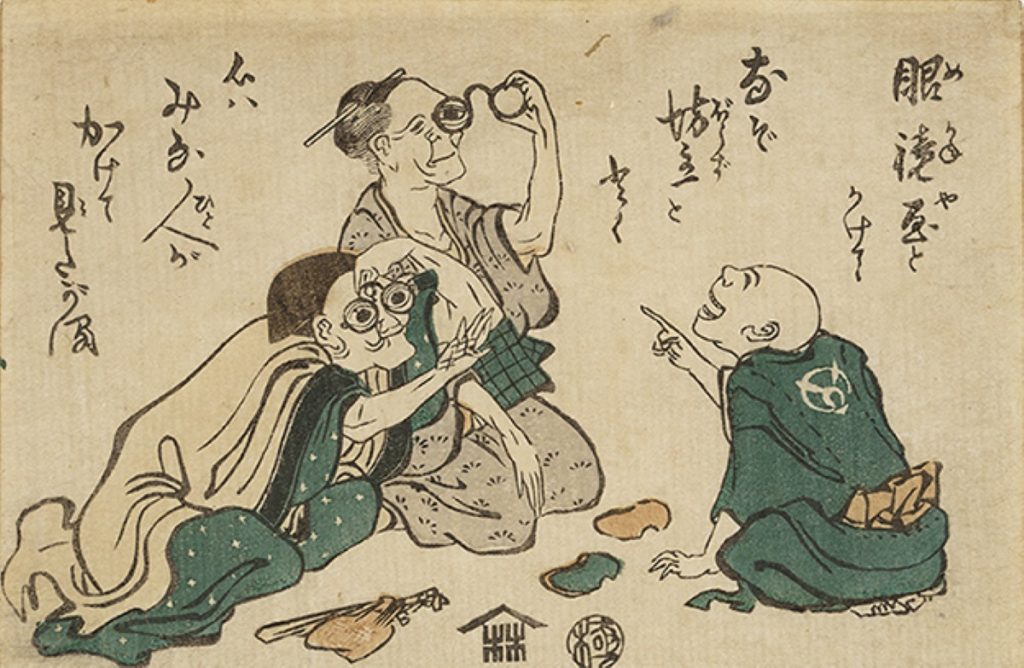 A Landmark of Sumida Ward
As with many contemporary art galleries, The Sumida Hokusai Museum is an attraction itself. Sited in Hokusai's old stomping ground of working-class Sumida ward, the building has a human scale. The slits and angles of the design negate the sense of the museum having a front and a back, making it inviting from all directions. Designed by Kazuyo Seijima, a Pritzker-winning architect, visitors new to the museum should not forget to appreciate the design characteristics of the venue.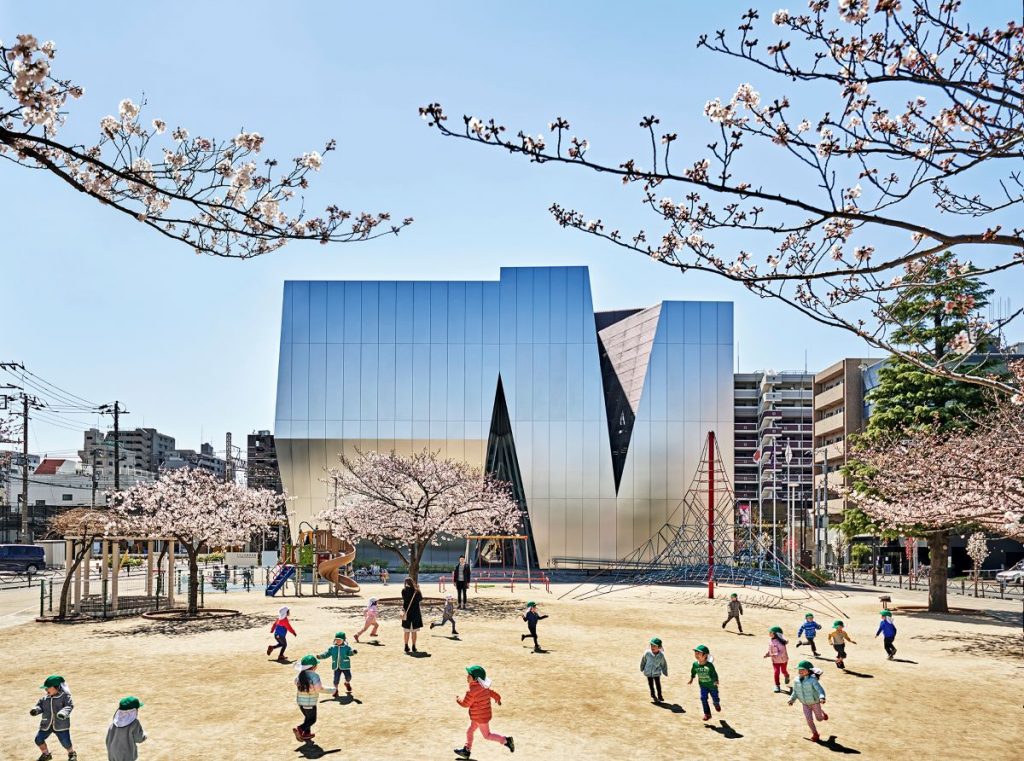 After suffering through years of COVID-19 restrictions, Hokusai Humor: Sowing Seeds of Smiles seems well-timed. Was the decision to curate an exhibition on smiles and humor intended medicine for the ills of the pandemic experience? Not specifically, a curator replied, but "I hope that this exhibition will bring smiles to the faces of those in need of a good laugh". It certainly does. The exhibition is worth visiting for a multitude of reasons, a good laugh being but one.
Getting There
Five-minute walk from the Toei Oedo Line Ryogoku Station
Nine-minute walk from JR Sobu Line Ryogoku Station
Exhibition period: September 20, 2023–November 26, 2023
Open: Tuesday–Sunday, 9:30–17:30 (last admission 17:00)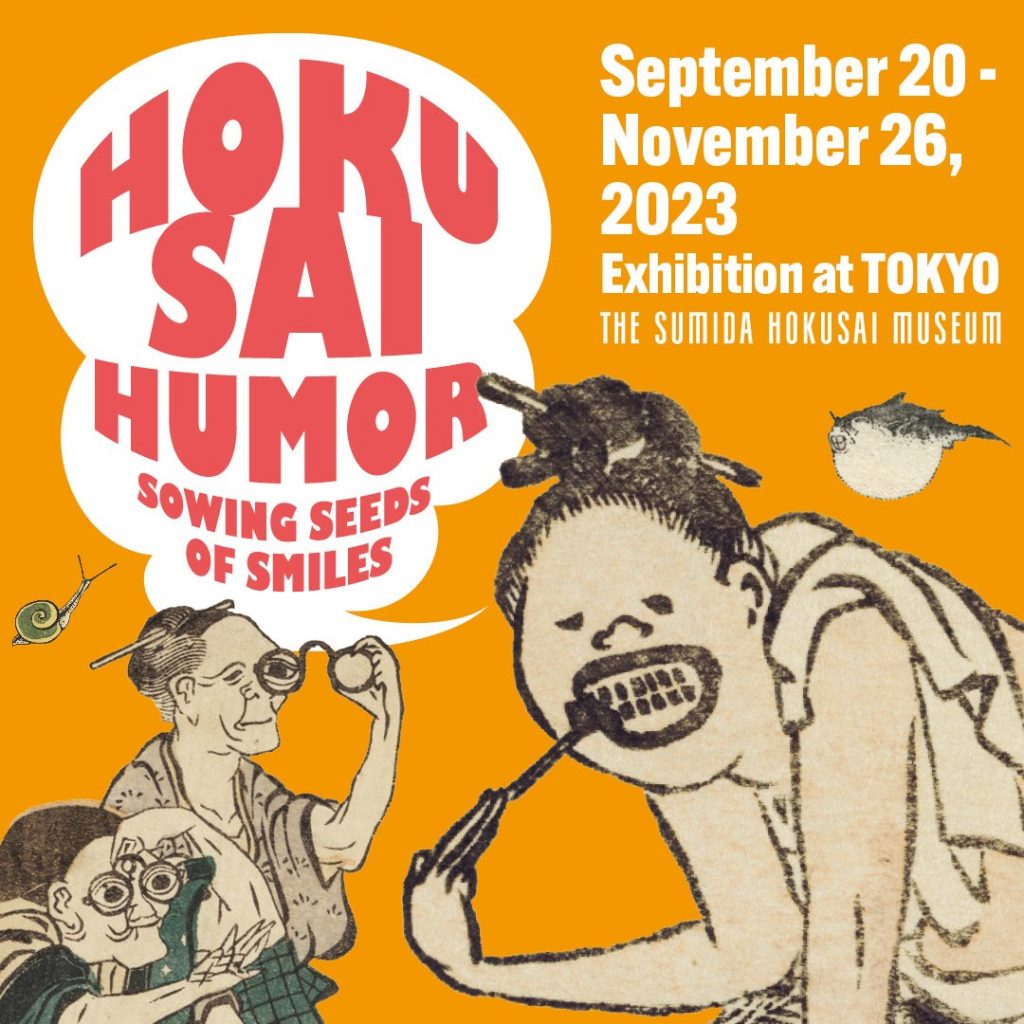 RELATED:
Author: Paul de Vries