Honored by the Captain of the Guard, Kishida Clinches Trade and Security Deals with Britain
Posing for tourists isn't the only duty of London soldiers in red tunics. They are envoys of a powerful military which regards Japan as a key defense partner.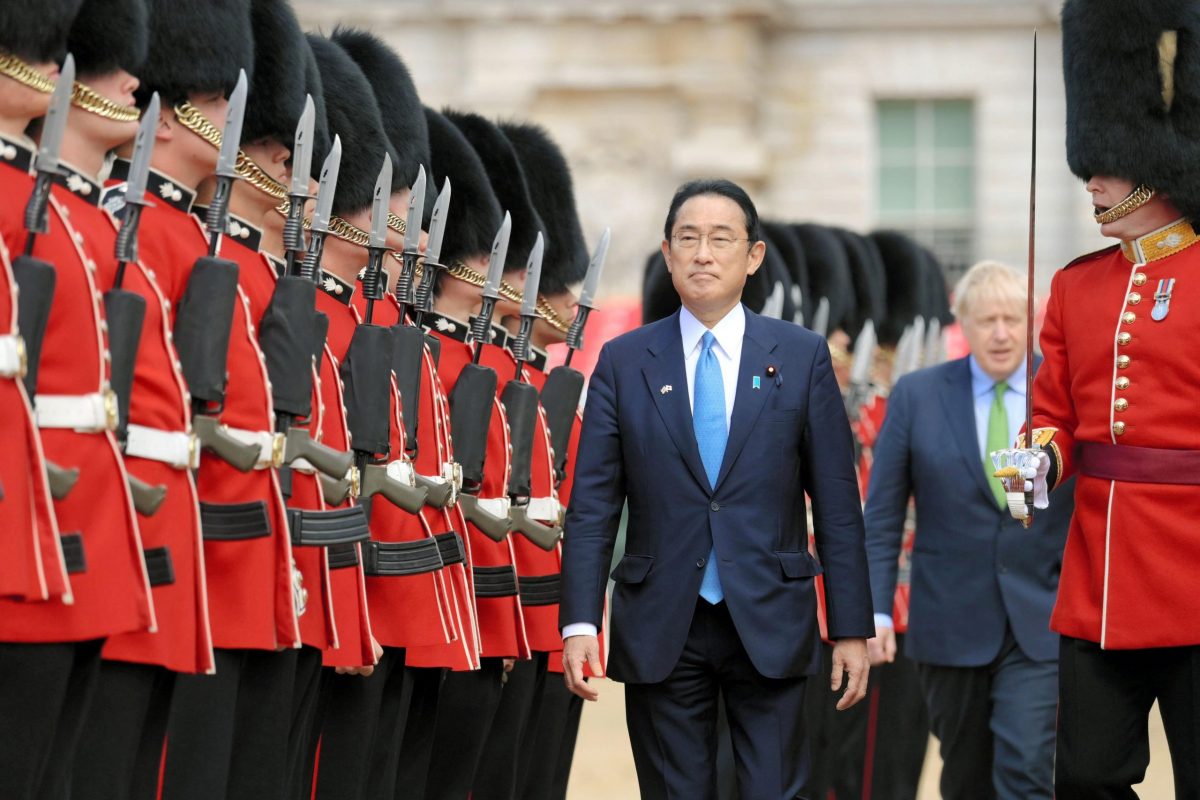 Some Londoners panicked when they noticed a large jet flanked by two fighter planes flying low over the city during the recent visit to the city by the Prime Minister of Japan, Fumio Kishida.
People wondered if they were witnessing some sort of terror incident. Photos of the planes were shared anxiously on social media.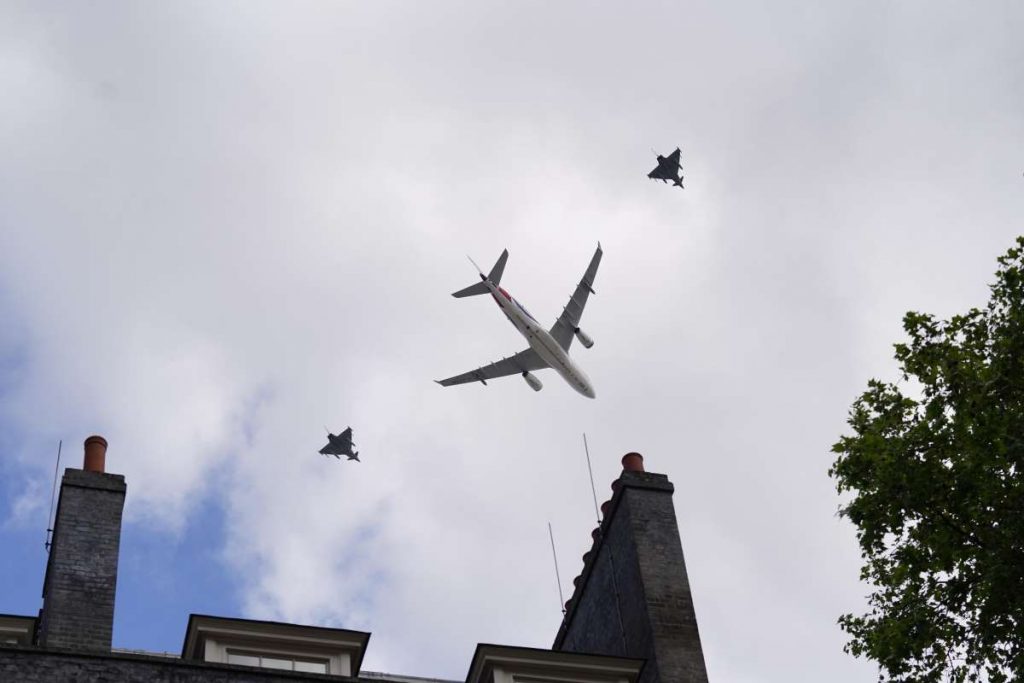 One user wrote: "An airliner aeroplane has just flown low over Trafalgar Square flanked by fighter jets."
Another added: "Fighters escorting passenger plane approaching Heathrow."
Fortunately, there was no cause for alarm. The ceremonial fly-past had been carefully arranged by the Royal Air Force to honor Mr. Kishida and the British Prime Minister Boris Johnson, who were standing on Horse Guards' Parade, the ground where every year the Trooping the Color takes place to mark Her Majesty The Queen's official birthday.
The largest plane in the formation was an RAF Voyager Vespina, with a Union Jack flag emblazoned on its tail. It was accompanied by two smaller RAF Typhoons.
The jets passed above the roof of Buckingham Palace, then over the pelicans in St James's Park before appearing directly over the heads of the prime ministers, drawing smiles and gasps from onlookers.
Then a British army captain, dressed in scarlet tunic and a white plumed bearskin hat, stepped forward and invited the honored visitor to inspect the Grenadier Guards. Major General Chris Ghika made his invitation in perfect Japanese.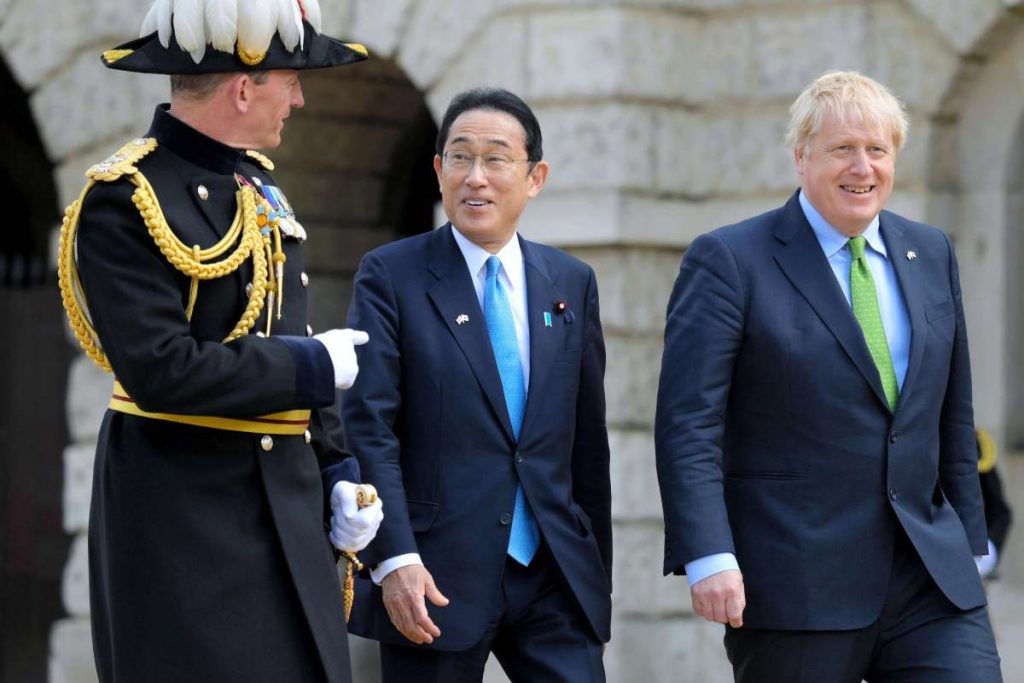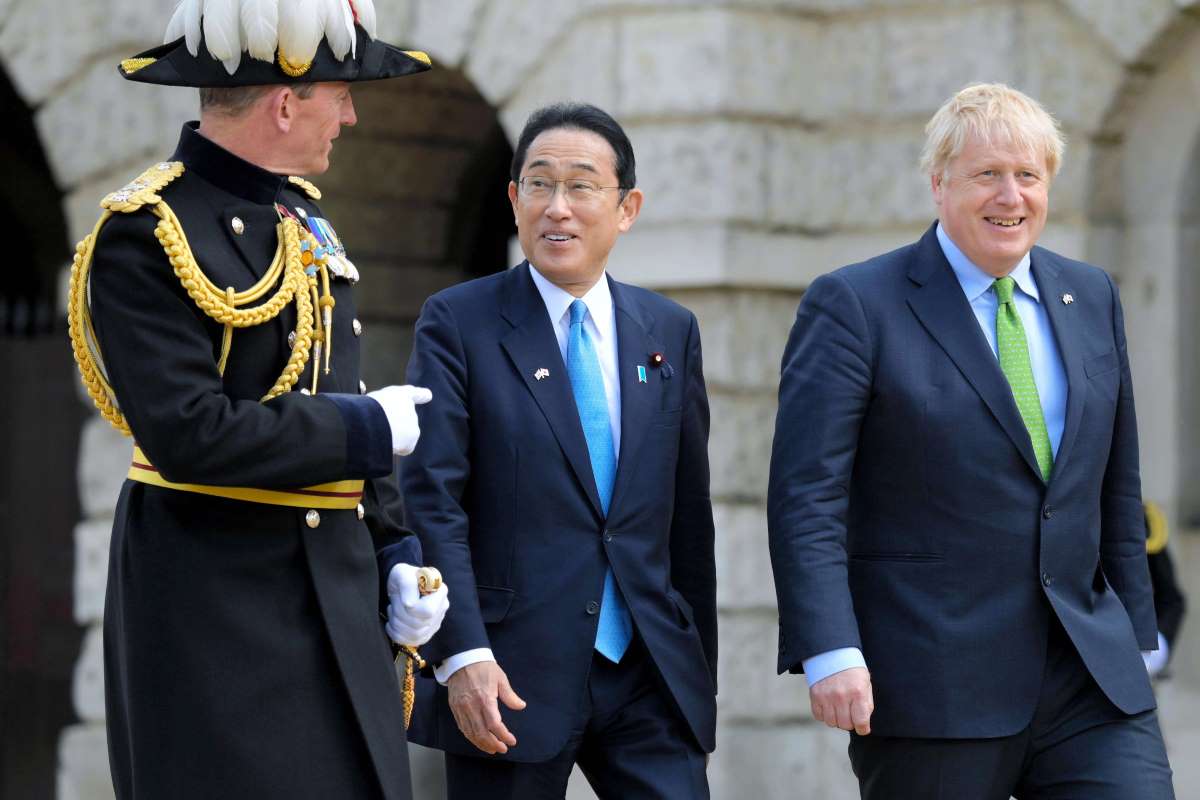 Pageantry with Purpose
Such pageantry may strike critics as a waste of time and money. But it was designed to impress important points upon the visitors.
The government wanted to show that Britain commands a powerful international military force and enthusiastically supports the defense industry.
At a press conference later that day, Mr Johnson said that the United Kingdom and Japan had agreed a defense deal that will allow their national forces to work more closely together and that the UK's Future Combat Air System (FCAS), "could become the cornerstone of the UK-Japan bilateral relationship."
Prime Minister Johnson, speaking in Downing Street alongside Mr. Kishida, said he was glad that the two nations have agreed to a reciprocal access agreement for the armed services, which should enable more joint military exercises involving Japan's Self Defense Force and the British Army.
He said allies in Europe and East Asia must be unified in the face of threats. He condemned the recent ballistic missile launch by North Korea, offering reassurance that the UK stands shoulder-to-shoulder with Japan and its Indo-Pacific allies.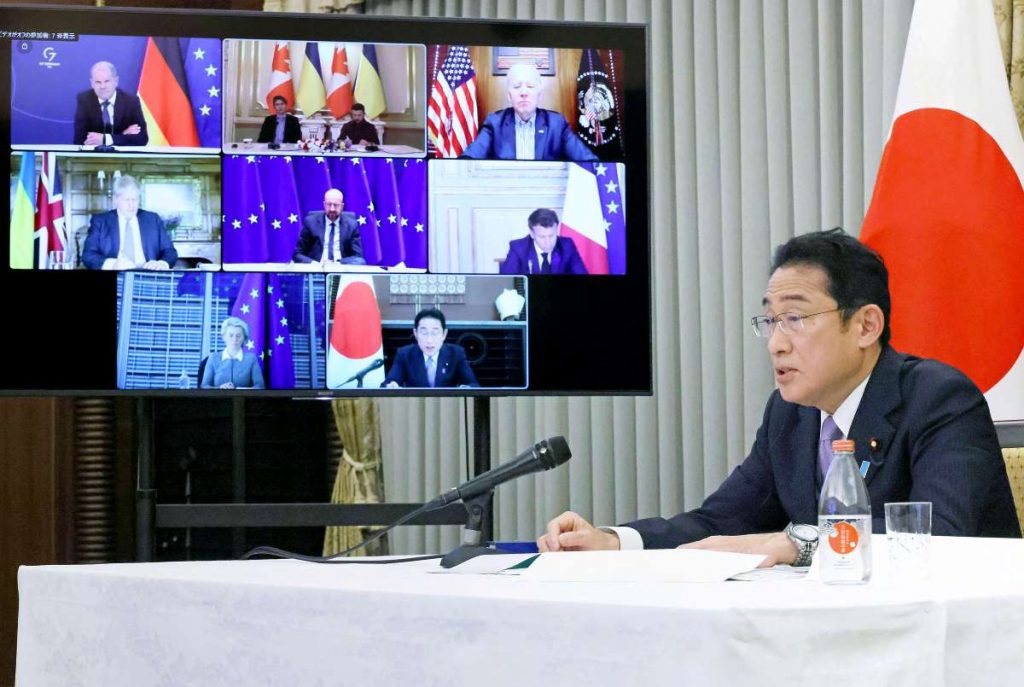 Solidarity with Ukraine
Mr. Johnson said he was impressed by the strong stance the Japanese government has taken against the Russian aggression in Ukraine.
Mr Kishida underlined this position by stating in London that: "Russia's egregious aggression against Ukraine is a clear violation of international law."
He continued: "Acts amounting to war crimes are utterly unacceptable and I condemn them in the strongest terms. In order to achieve peace, the international community must make it clear that aggression brings consequences."
Mr. Kishida pointed out that Japan is one of only a few Asian countries sanctioning Russia - the others being South Korea, Singapore and Taiwan. "We will continue to work with the UK and the international community to take resolute action to end this atrocity and restore peace as soon as possible," he said.


Trade Connections
As well as the landmark defense agreement, the Japanese leader's trip to London also brought forth a pledge to collaborate more closely on trade and to press forward with Britain's application to become a member of the CPTPP bloc. The British government announced that it has appointed Greg Clark MP as the UK's new trade envoy to Japan, with a brief to further strengthen economic links.
Mr Clarke said: "As Business Secretary from 2016 to 2019, I enjoyed strong relationships with Japan as a hugely significant trading partner with the UK. I look forward to building on this in the role, championing UK businesses and creating more opportunities for our two countries to deepen our already strong ties."
The British government, led by Mr Johnson, places great importance on forging closer alliances with friendly and like-minded countries in Asia. This policy forms part of the "global Britain" approach to international relations, which has been developing since Brexit.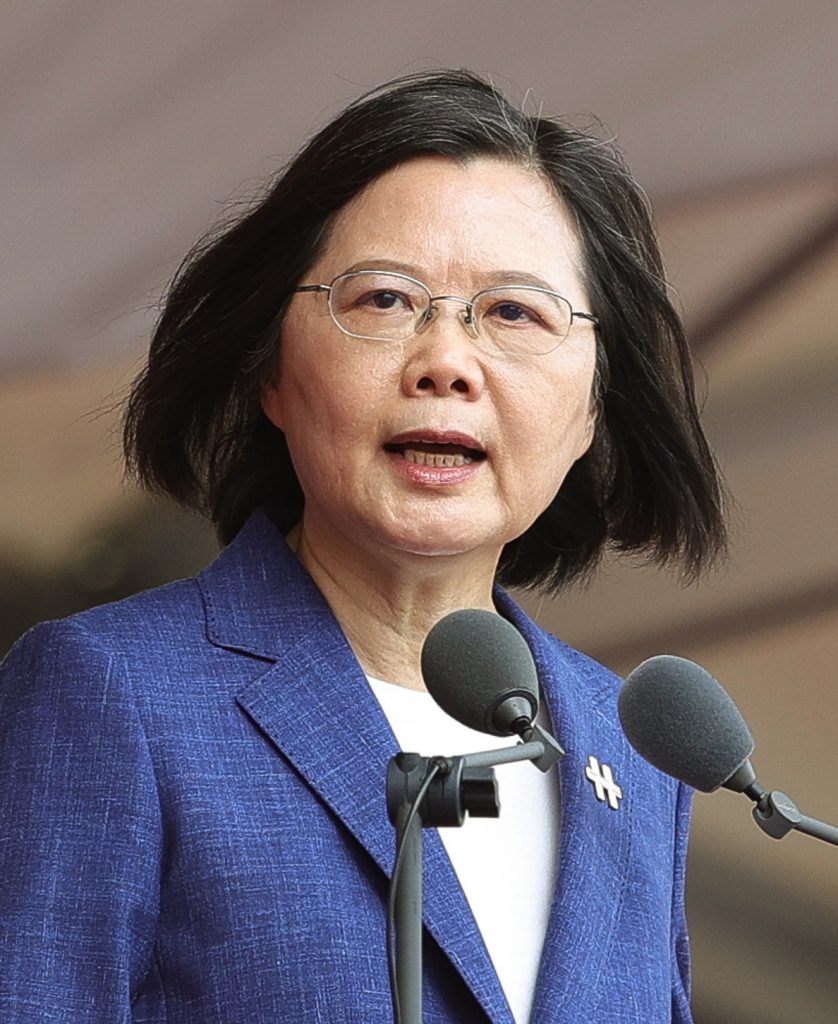 Supporting Taiwan
The Foreign Secretary, Liz Truss, emphasized the connections between security in Europe and the risks to peace in the Indo-Pacific during a recent speech.
"We need to pre-empt threats, working with allies like Japan and Australia to ensure that the Pacific is protected," said Ms. Truss.
She added: "We must ensure that democracies like Taiwan are able to defend themselves."
Britain does not offer diplomatic recognition to Taiwan but treats its envoy similarly to an ambassador. And many members of the governing Conservative party praise Taiwan for maintaining a multi-party democracy in the face of threats from China.
There is a similar situation in the United States, where Senators from both the Democrats and the Republicans are adamant that Russia's invasion of Ukraine must not be allowed to embolden China to act aggressively against Taiwan.
In London, Mr Kishida said: "Peace and stability in the Taiwan Strait is critical not only for Japan's security but also for the stability of international society".
He added: "Japan maintains its position to expect a peaceful resolution through dialogue to issues surrounding Taiwan. And the situation will be watched carefully from that perspective."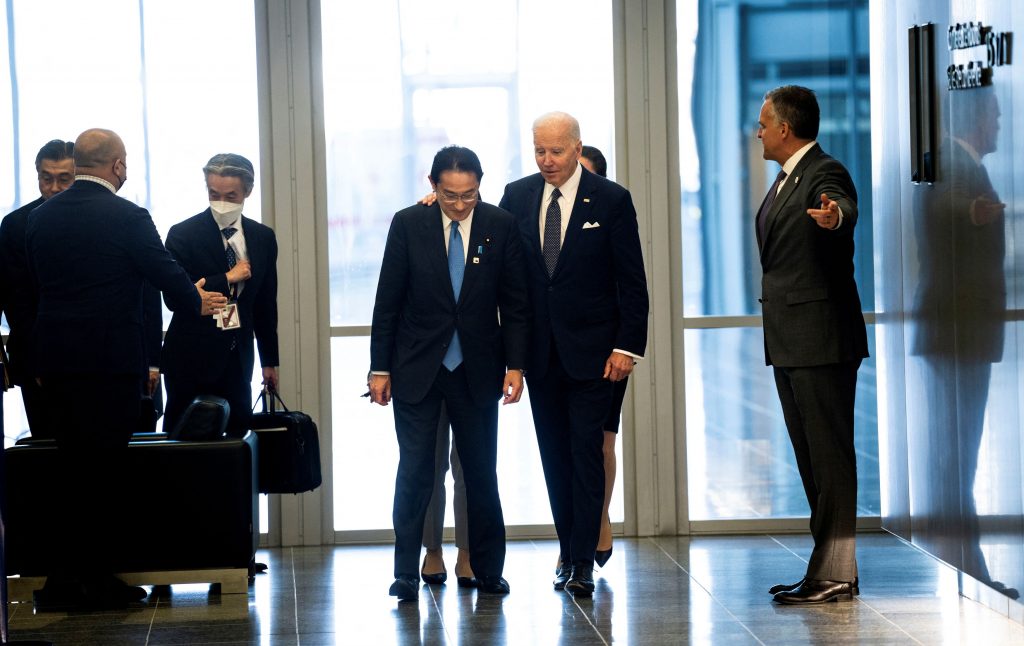 NATO Event
Representatives of NATO member states will gather in Madrid next month for a crucial meeting to discuss the alliance's strategy for the coming decade.
Japan is not a NATO member but has been attending meetings as an observer regularly since the Russian invasion of Ukraine. It is highly likely Foreign Minister Hayashi will attend the Rome event. The representative of the British government, Liz Truss, takes the view that NATO "must have a global outlook, ready to tackle global threats".
However it is possible that Ms Truss will no longer be Foreign Secretary by the time the Rome event takes place.
According to one MP representing Mr. Johnson's Conservative party, she's being lined up for the role of Chancellor of the Exchequer, which would give her responsibility for the national budget.
If the rumors are to be believed, the man who is currently the top finance minister, Rishi Sunak, would then move to become the head of the Foreign, Commonwealth and Development Office.
From Japan's perspective, it is not particularly important who holds which positions within the British government, provided there is continuity of policy in areas such as trade and defense.
It is even possible that there could be a change of prime minister in London this year, if Mr. Johnson is unseated by a party rebellion. If that were to happen, the Japanese will surely hope that the new British leader shows as much commitment to challenging "autocratic, coercive powers" as Boris Johnson.


RELATED:
Author: Duncan Bartlett
Duncan Bartlett is a regular contributor to JAPAN Forward. You can read his other articles and essays here.