In the Face of Opposition, Wind Power Moves Offshore
In response to citizens' concerns over onshore wind farm development, Japan is actively promoting offshore wind power, with several projects underway.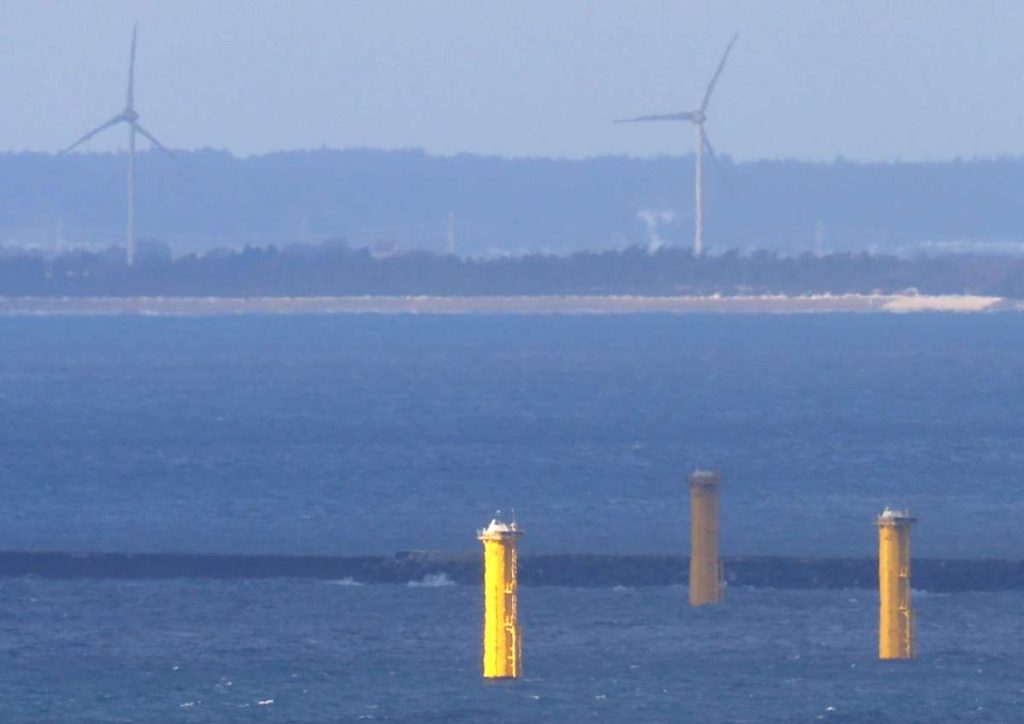 Read the full story on Japan 2 Earth - In the Face of Opposition, Wind Power Moves Offshore
A shift from onshore to offshore is underway in the location of wind power farms across the country. In late 2022, commercial operation began at Japan's first large-scale offshore wind power plant in Akita Prefecture.
The government is promoting offshore wind power as a key to the spread of renewable energy.
This shift unfolds against the backdrop of onshore wind power becoming increasingly large-scale and more concentrated in the Tohoku and Hokkaido regions. As such, it is becoming more difficult to build consensus with local residents in each region.
Promoting Offshore Wind Power
The governor of Niigata Prefecture, Hideyo Hanazumi, made the following comment in October 2022.
"Our efforts to request prompt designation of promotional areas have been welcomed. We will work to introduce offshore wind power generation in harmony with the fishing industry and local communities."
At the time, the Ministry of Economy, Trade and Industry (METI) and the Ministry of Land, Infrastructure, Transport and Tourism (MLIT) designated promotional areas for offshore wind power development in waters off the coasts of Murakami and Tainai cities in the prefecture.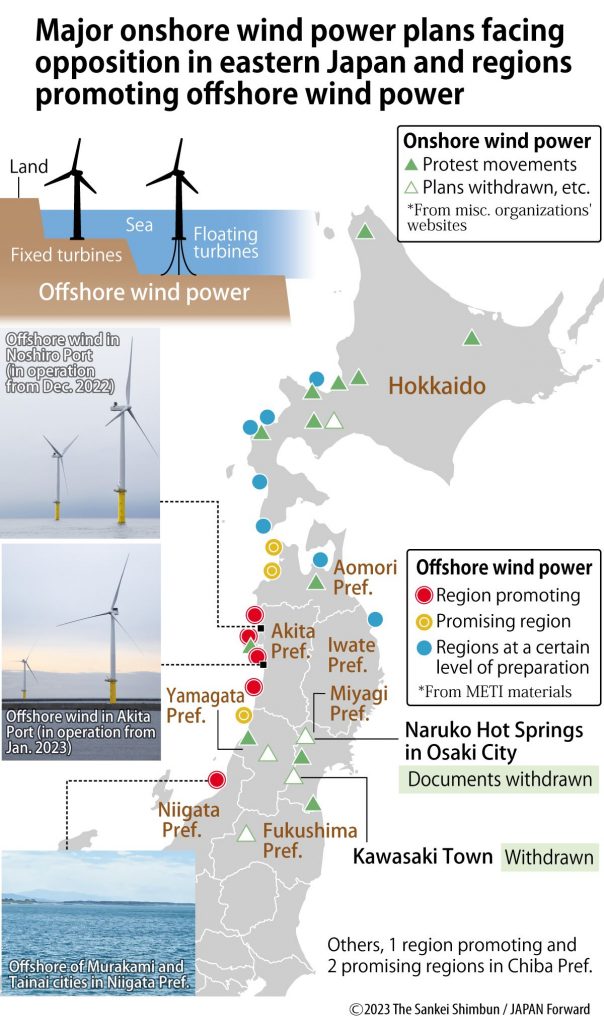 Plans are based on the Act on Promoting the Utilization of Sea Areas for the Development of Marine Renewable Energy Power Generation Facilities.
In December 2022, the two ministries put out a public call for tenders to operate in the designated sea area. The selected operator will be allowed to operate a power generation business in the area for up to 30 years. The deadline is the end of June 2023, and the operator is expected to be selected in March of 2024.

Akita Prefecture, also along the Sea of Japan, has a head start. The Akita Offshore Wind Corporation, which includes investors such as Marubeni and Tohoku Electric Power, recently began operating 33 offshore wind turbines.
Farms were opened at Noshiro Port in Noshiro City in December 2022 and at Akita Port in Akita City in January 2023. Four new areas in Akita have been designated as promotional areas. Construction is planned to commence for two of these in 2026. As in Niigata, the remaining areas are open for bidding.
Continue reading the full story on Japan 2 Earth.
And find more great articles on the environment and the challenges of achieving the SDGs on our new website Japan 2 Earth (J2E), sparking a transition to the future.
RELATED:
(Read the article in Japanese.)
Author: The Sankei Shimbun