INTERVIEW | ANA to Fight 'Strongest Headwinds' in Postwar Era – CEO Shinya Katanozaka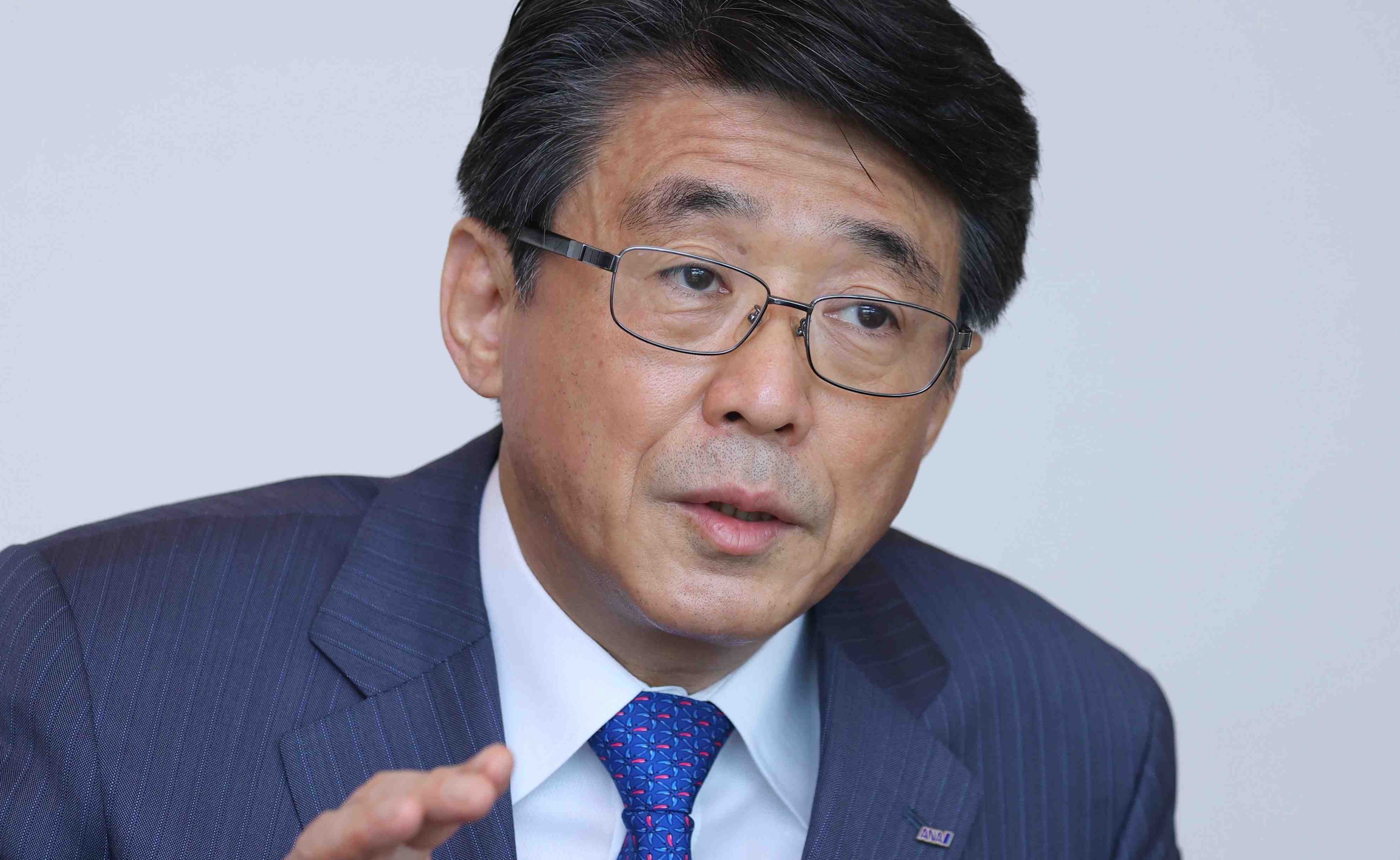 ANA Ground Staff Washington DC waives goodbye ANA 101 on March 31 - last flight before coronavirus brings halt to flights.
The global spread of the new coronavirus has dealt a monumental blow to the airline industry. Demand has dropped sharply due to travel restrictions imposed by affected countries, resulting in a continuing drop in the number of flights and routes flown.
President and CEO Shinya Katanozaka of ANA Holdings Inc., parent of All Nippon Airways, the nation's largest airline, talked about the hostile climate for the airline industry in an exclusive interview with The Sankei Shimbun.
In the early April interview, Katanozaka anticipated that the domestic airline industry would likely suffer a ¥2 trillion JPY ($18.36 million USD) reduction in annual earnings as a result of the pandemic. Emphasizing that the industry was taking all possible steps for its survival, Katanozaka acknowledged emerging impacts on employment. He expressed determination to fight "the strongest headwinds" in the postwar period.
Following are excerpts from the interview.
The movement of people is being restricted by many countries. How does that impact the airline industry?
The airline industry is involved in the business of moving people, but the situation in the world now is one where people have been ordered to restrict their domestic and international mobility. Both international and domestic airlines have been tremendously affected by these restrictions.
All Nippon Airways has suspended 80% and 30% of our daily flights international and domestic routes, respectively. If restrictions on immigration and mobility are further expanded by individual countries, we will be forced to decide sooner or later to cancel more flights during the holiday-studded Golden Week from late April to early May.
Do you expect ANA's earnings to drop further due to the reduction and suspension of flights? If so, how will you deal with that?
We'll take all possible steps because we must survive. Our financial structure is firm. But we'll borrow money from banking institutions to prevent an interruption in cash flow, because our survival is at stake.
With the inauguration of new flight services in and out of Haneda Airport, we were scheduled to procure a large number of new passenger aircraft. But delivery of a third A380 aircraft will be postponed.
Fewer flights also means more days off for cabin attendants, as well as cuts in remuneration for executives.
How will you manage the treatment of employees?
Their employment will be ensured, but the number of surplus employees has increased due to the suspension and reduction of flights. As for cabin attendants, they'll be asked to take extra days off in rotation.
I'd prefer not to adjust bonuses for rank-and-file employees, but I'll negotiate with labor unions on the matter because the bonus payment is interlocked with business performance. The effect on bonuses is inevitable, given the forecast for a huge drop in earnings.
In addition, there will be no alternative but to decide on cuts in executive pay.
Under the current circumstances, how difficult is it to forecast business achievements?
We postponed the announcement of our fiscal 2020 midterm management plan for three years — it had been scheduled for March. The delay was inevitable, because it had become impossible to bring the forecast for projects into focus with the current level of uncertainty.
At this stage last year, discussions about the midterm business plan basically envisioned a bright outlook. Measures taken in past business recessions were reviewed in the process, given the possibility that the business could have slackened due to such factors as U.S.-China trade friction. And now that recession has become a reality.
How are you assessing the decrease in earnings of the domestic airline industry?
During a government hearing on March 23, ANA president Yuji Hirako said he anticipated the decrease to amount to ¥1 trillion JPY ($9.2 million USD.) Hirako and I share the view that, since then, the anticipated drop has nearly doubled.
I feel that the decline in industry earnings has rapidly expanded, reaching as much as ¥2 trillion JPY ($18.36 USD). All of the industry is affected.
As Chancellor Angela Merkel said for Germany, COVID-19 is our biggest challenge since World War II. We must seriously assess the current situation and deal with it with firm determination.
After the current pandemic has settled down, the government plans to come up with measures to assist the tourism industry. Will that affect the airline industry?
The government has said it would put forth revitalization measures of an unprecedented scale, focused on the transportation and tourism industries. We must be prepared with aircraft and personnel to meet the anticipated demand from the stimulus package. It appears that the government will provide travel coupons and traveler's checks as industry stimulus measures.
Humans by nature want to actively move around. The desire to move about for business and sight-seeing is not going to change.
(Click here and here for access to articles in Japanese related to this story.)
Interview by: Reo Otsubo