INTERVIEW | Unless Russia Kicks Out Putin, It Will Be 'More Isolated from the World'
Polish Ambassador to Japan Paweł Milewski: "Russia is a terrorist state. Putin is a war criminal,' explaining why on April 12.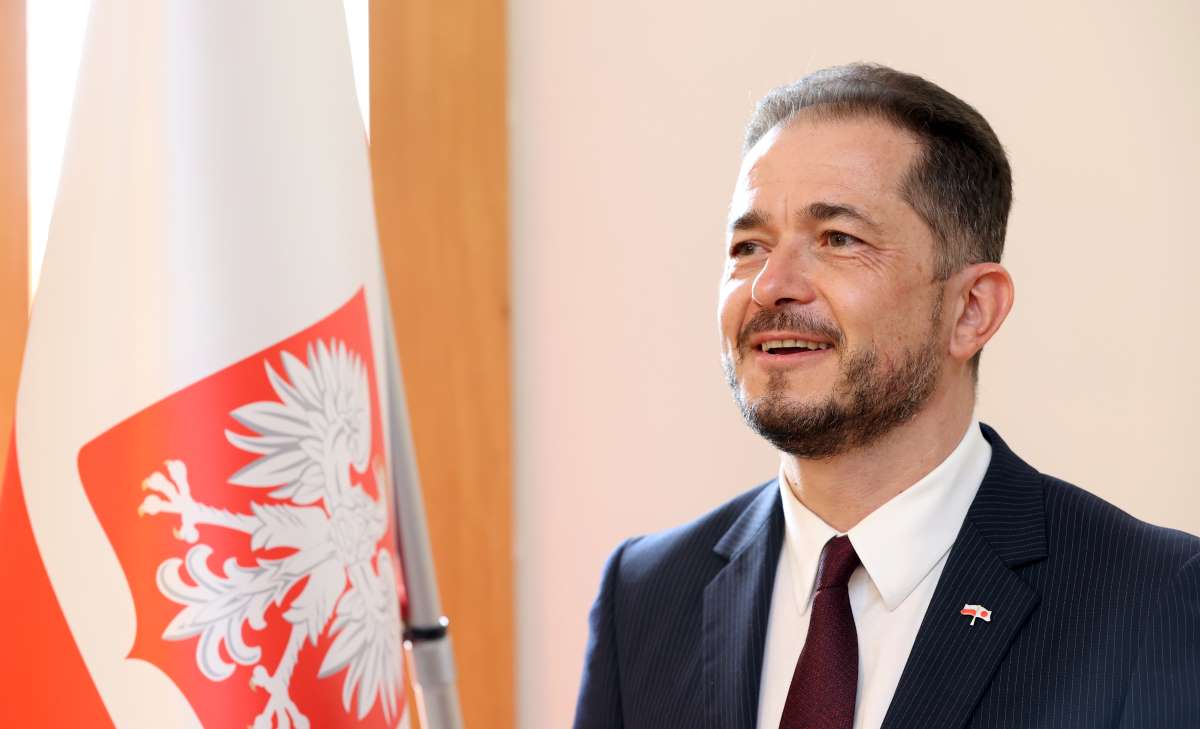 Second of 3 parts
Part 1: INTERVIEW | Envoy Hopes for Kishida Visit to Poland in Support of Ukraine


On April 12, Poland's ambassador to Japan Paweł Milewski sat down with journalists from The Sankei Shimbun and JAPAN Forward for an interview about Poland, Ukraine, and the changing global landscape. What does this mean for Japan, which he considers "Poland's most strategic partner in Asia"?
In this second installment, Ambassador Milewski talks about the challenges of the refugee crisis, Russian President Vladimir Putin's ambitions in Europe, and what it's going to take to end the war in Ukraine.
Excerpts follow.


Ukrainian Refugee Situation
How is Poland doing with the influx of refugees from Ukraine?
The situation is extremely difficult for Poland, for the European Union, and especially countries [that are] neighbors to Ukraine: Slovakia, Hungary, Romania, Moldavia.
Poland has received more than 2.6 million Ukrainians [since Russia started the war]. At the beginning of the crisis, we received approximately 100,000 to 140,000 people every day.
They are mostly women with their children, elderly people, with just a few suitcases, few plastic bags, not knowing where they [would] go, and with the expectation that they will at least leave the risk of death behind. [The demographic] means that they cannot come to Poland and find a job easily because they have to take care of the children and the grandparents, for example.


How is Poland coping with those large numbers of people?
The Polish government has taken immediate measures to receive each and every Ukrainian, even people who didn't possess documents, passports, health certificates, vaccination certificates, even Ukrainians traveling with pets.
The Polish parliament passed a bill in the first couple of days after the start of the war allowing Ukrainians to stay in Poland for the next 18 months. They have full rights to find a job, free medical service, free education rights for their children, and no costs of transportation. It means that people were free to move around.


There must be challenges housing the evacuees. How can Poland is handle it?
In more than 45 days since the war started, Poland hasn't built a single refugee camp. That means that, mostly, this (welcoming effort) is on the shoulders of the Polish people and the Polish government.
Polish people traveled from different parts of the country to the border with the signs, "If you wish to come to Krakow, I have three seats in my car. You can take your two children and come to my house." That was something which surprised us (Polish), that the Poles have been so generous, open, and kind.


Why do you think Polish people have been so generous?
In Polish history, we have seen our borders moved, have been occupied by Nazi Germany, but also the Soviets, and we were under occupation for almost 70 years.
Our history has seen thousands of Polish people who have been deported from Poland to the Russian Far East, traveling to Vladivostok, to Sakhalin.
We understand very well what that means to leave your house when it's bombarded by the military forces.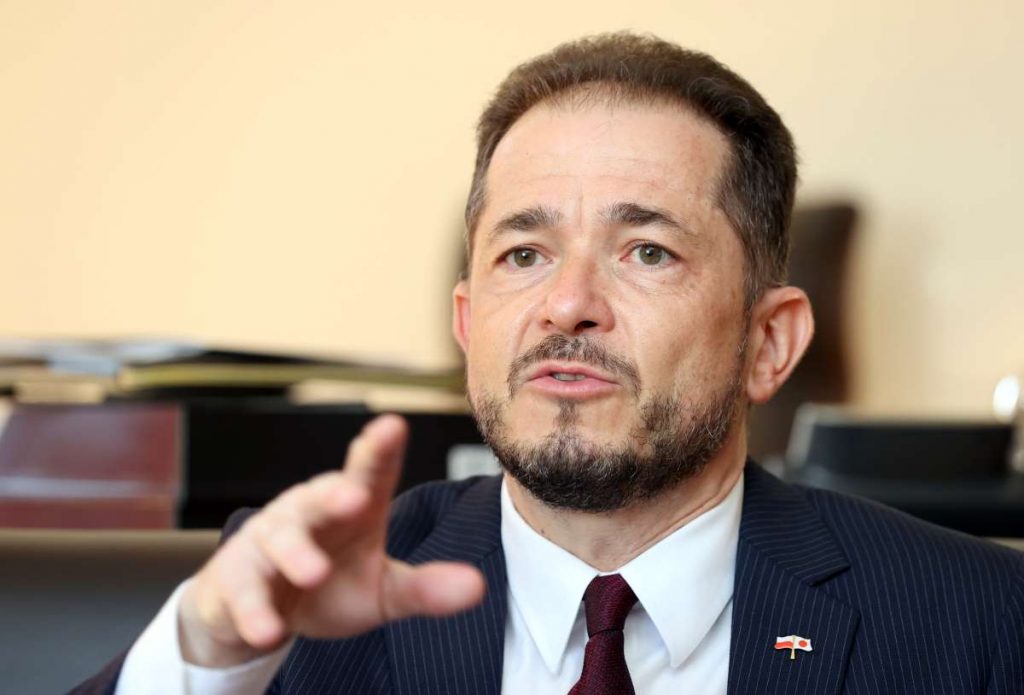 What about the impacts on daily life in Poland?
There are of course also negative effects [of the war]. Due to the war in Ukraine and the influx of refugees, we are facing very high inflation, almost 11%. If this crisis continues, it's quite likely that the Polish economy will be facing a lot of challenges.
Next year, we will have elections. The [incoming] Polish administration might find it difficult to govern the country and to lead the people if the situation continues to deteriorate.


The Long War
Will Ukraine be divided between the East and West?
The war is not going to end quickly. It will take some time.
Ukraine has always been divided into the West and East. The Western part is extremely pro-European. One is reminded of the Maidan square demonstrations [in 2013].
It will not sound very diplomatic, but the Eastern part of Ukraine has been more Sovietized because it has been more inhabited by Russian people, and still is.


Does this background of divided leanings make a difference in the war?
For the Russian military forces, it will be much more difficult to fight against the Ukrainians in the north or in the west compared to the east.
Crimea in 2014 was taken just like that. [The Russians] were accepted linguistically, culturally, and in terms of the political kind of mindset.


War Crimes and Relations with Russia
What lies ahead in the region's relations with Russia?
Russia is a terrorist state. Putin is a war criminal. He should be standing up and confronting the international criminal court right now and responding to all of those atrocities he has inflicted on the Ukrainians: bombarding houses and killing children.
War crimes don't [just] happen. They are committed.
Someone is using missiles, using weapons prohibited by international law, like cluster bombs, vacuum bombs, and parachute bombs. Those [Russians] are war criminals leading the country.
He (Putin) has to resign from power. It is not for us to change [Russia's leader], the Russian people have to do it. Unless Putin is gone, there is no relationship between Europe, European states, and Russia at all. I don't think it's possible to talk about the normalization of the bilateral relations between European countries and Russia.


What about relations with the Russian people?
The Russian society has to realize that they are at war and that they are living in a parallel world, a world full of fake news, disinformation, and propaganda [saying] that there is no war.
[A Russian propaganda saying that] "A special military operation taking place in Ukraine, Ukraine is full of Nazists and people who are killing their children." This is all rubbish.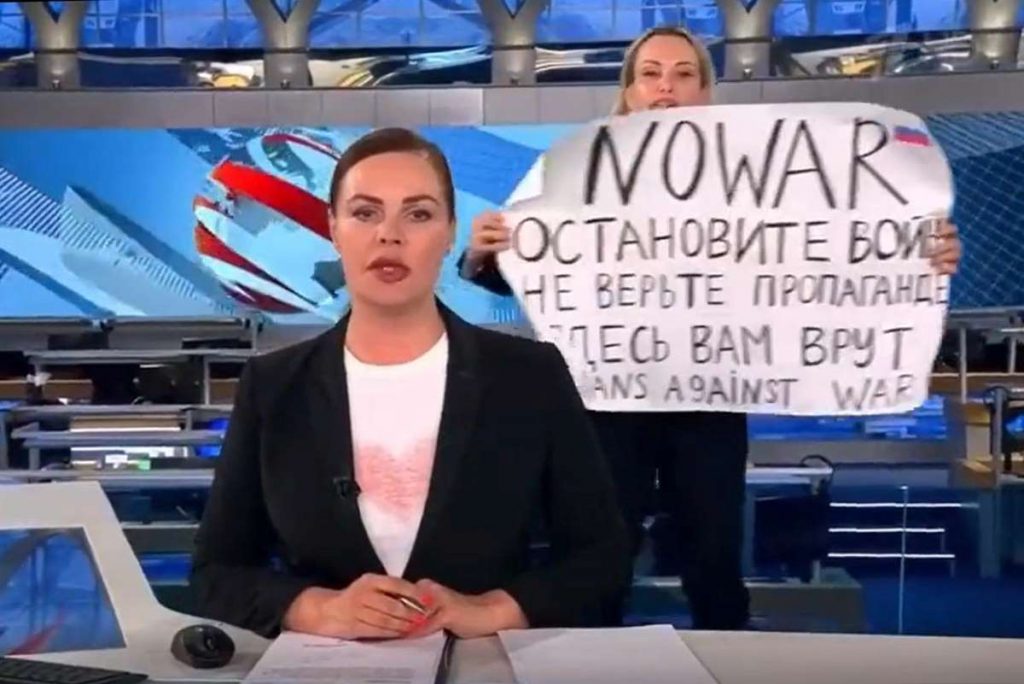 Do you think the problem is contained to Ukraine?
We face many security challenges in Eastern Europe, but also in East Asia. If we allow Russia to continue its atrocities in Ukraine, I'm afraid that some other countries, like North Korea, like the People's Republic of China, and maybe others will be eager to follow these examples.
That (countries following Russia's example) would mean to destroy global security.
Putin has repeated a couple of times that he would be in the position to use nuclear weapons if something goes badly for him.


Would Putin really use nuclear weapons?
I think that, especially here in Japan, people understand what it may mean if someone uses nuclear weapons. It would be an apocalyptic situation, because other countries also possess nuclear weapons: North Korea, the People's Republic of China, and some others — Pakistan, for example. It's an extremely dangerous situation.
History repeats itself, and we have to really unite, stand together, and respond collectively; otherwise, it might be like a domino effect.


What is the motivation for the aggression, in your view?
From the beginning of Putin's leadership in Russia, he kept saying that Ukraine is an artificial state. It used to be part of the Russian Empire, and it should be part of the Russian Empire.
He has never accepted that on the Russian doorstep there is an independent sovereign state, a proud and strong nation, which is striving to be part of the European Union, to be part of the European family.


Does Poland feel this same resistance from Russia?
Poland entered the European Union in 2004. We got rid of Communism 15 years earlier.
For my generation, and for all Poles, it was our dream to be part of the European Union, to be part of the free and independent world, not to be subject to any of the empires on our western or eastern borders.
[It was our dream] to be free and to develop our nation as we wanted.


Is Ukraine different?
Ukraine has been inhabited by many Russians, and now Putin is bombing and killing his own nationals.
He's deporting [people from Ukraine] to Russia, many young people, from Crimea, from Donetsk, just like Polish people who were deported to the Russian far east.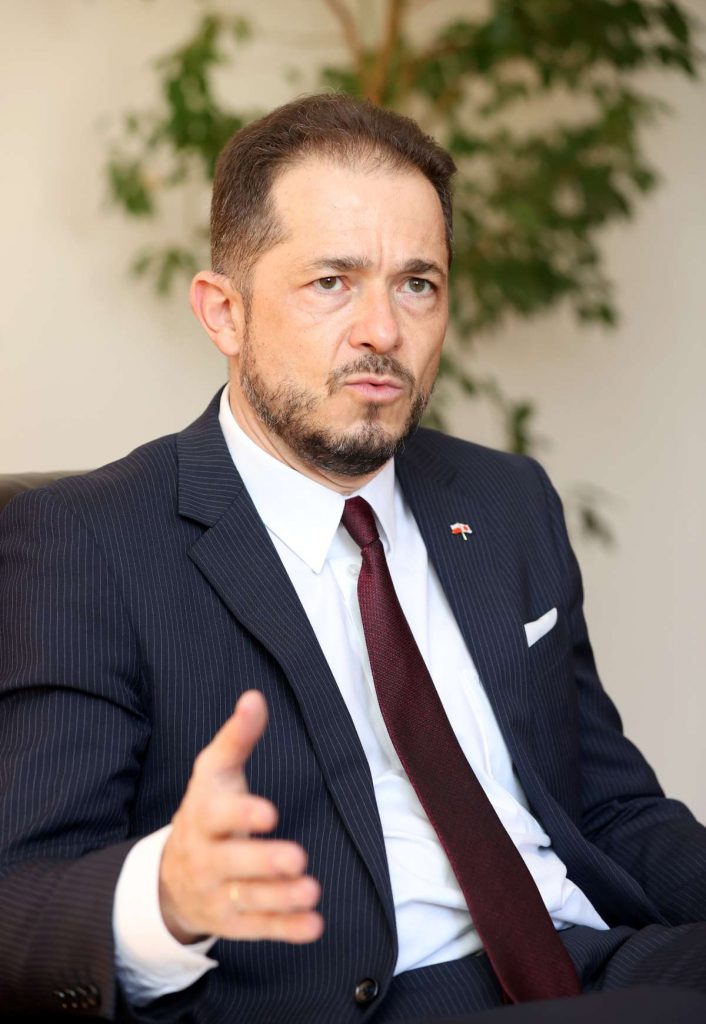 Finding a Way to End the War
What can be done to end, not escalate, the war?
We have to first of all judge the aggressor and what he has done.
To do that, we have to finish the war as quickly as possible, provide weapons, and everything that is needed.
At the same time, we have to be careful, because if we (including Poland) engage into a war with Russians, the whole NATO will have to go into this war. NATO is obliged by Article 5, which says that if one member state is attacked, the rest [of NATO] has to go together, right?


How can NATO avoid risking escalation?
We live in a world of fake news, cyberattacks, and we have to be very careful not to be subject to any kind of provocation.
Two, three weeks ago, a little village was bombarded by the Russian military just 20-30 kilometers from our border. That was a provocation from the Russians.
If we had fired back, Russia would have responded, and the entire NATO would have to be engaged in this war. Putin would have said, "I was attacked by NATO, I have to respond."
NATO has proved to be extremely united, effective, and well-equipped militarily.


What if other countries join NATO?
Sweden and Finland really want to join [NATO] quickly right now. The parties in Finland, which were saying that the country should not be a member of NATO, now are saying this is a time to consider joining because that would provide security if Russia attacks.
Putin always said that this is the problem of NATO expansion toward the East.
But he has never agreed with the truth that Eastern Central European countries have always wanted to be a part of NATO — not because it's fashionable or cool, but because they have all felt a danger of Russia towards them.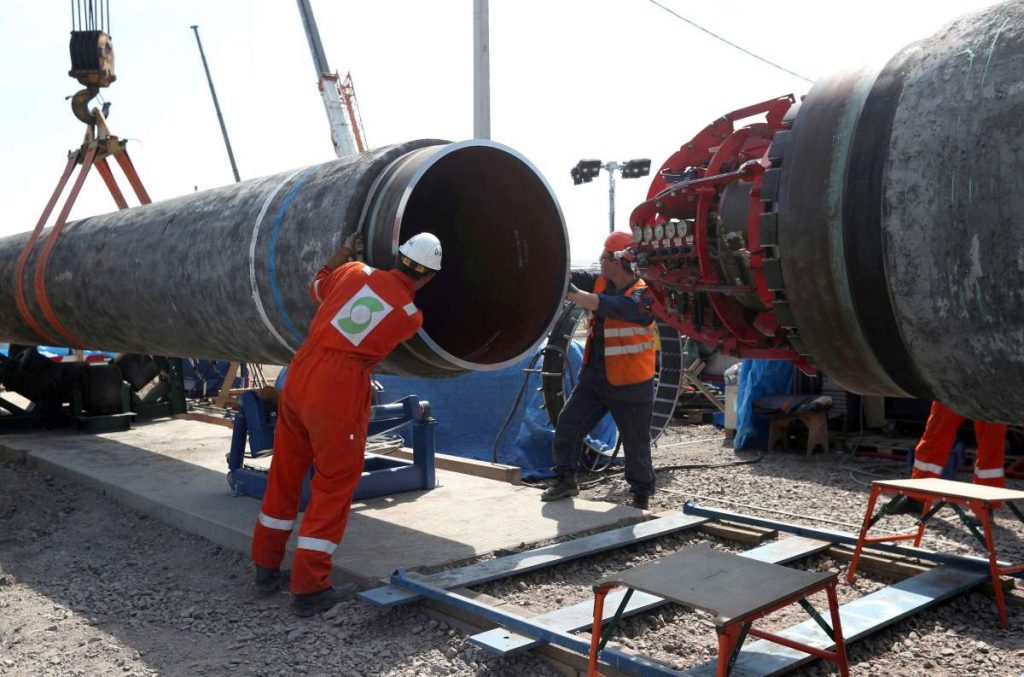 Europe has been a strong Russian trade partner. Will that change?
Russia is a huge country. With China alone, it has 4,300 kilometers of border. Yet it's an undeveloped country.
The economy is so based on exports of energy, and it requires a lot of reforms. Many Western countries [thought that] they were in a position to modernize Russia: "We have to trade with it. We have to get it into our economic circles so that we can guarantee that they will behave like us."
That all proved very wrong.
Our German, French, American partners said that Poles, Baltic states, the Romanians, many Central Eastern European countries — which were under the occupation of the Soviet Union — that we were Russophobic, that we were exaggerating.


Watch for Part 3.


RELATED:
Interview by: Mizuki Okada, Arielle Busetto, Yasuo Naito