[JAPAN SPORTS NOTEBOOK] Kawasaki Frontale Stretch Win Streak to Five with Spirited Comeback Against Vegalta Sendai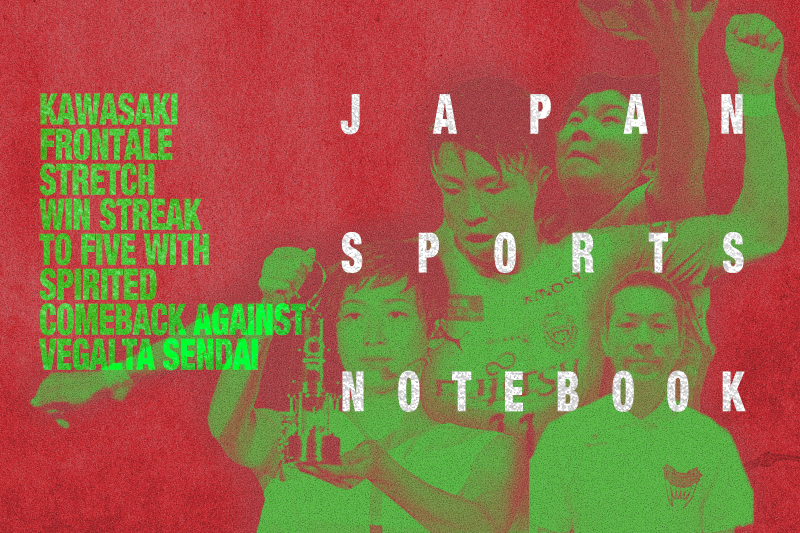 Some victories provide a telling look at a team's overall quality and potential.
Such was the case on Wednesday, July 22 at Yurtec Stadium Sendai.
In Sendai, Kawasaki Frontale overcame a 2-0 deficit in the first half and rallied for a 3-2 road victory over Vegalta Sendai, stretching their winning streak to five games.
Frontale manager Toru Oniki's club leads the J. League first division with 16 points.
With six games in the books in the 2020 season, Nagoya Grampus (14 points) and FC Tokyo, Gamba Osaka and Cerezo Osaka (all with 13) are also near the top of the table.
Is Frontale on the verge of another spectacular season?
It's probably too early to tell.
But Kawasaki fans are certainly thrilled about what they saw in the second half against Sendai, and in the team's recent games, too.
Against Vegalta, Frontale got two second-half goals from Yu Kobayashi, one in the 58th minute and the other a go-ahead strike in the 68th. In between, Miki Yamane tied it at 2-2 a minute after Kobayashi's first tally.
Sendai had jumped ahead 2-0 on goals in the 30th and 38th minutes, but Kawasaki turned the tide after the break before an announced crowd of 2,507 spectators.
Oniki's men relied on a tactic that often works: take more shots than your opponent.
For Frontale, a 17-9 shots advantage was a key factor in keeping their winning streak alive.
Since the J. League restart on July 4, Kawasaki defeated the Kashima Antlers, FC Tokyo, Kashiwa Reysol and Yokohama FC in succession, before taking on Vegalta Sendai. In a sign of the team's quality offense early this season, Frontale pounced on FC Tokyo 4-0 on July 8, and dismantled Yokohama FC 5-1 on July 18.
The team leads the league in goals (17), while only yielding five in its six matches. Grampus, FC Tokyo, Gamba, and Cerezo have all had more modest offensive production so far, with 11, 10, 10 and seven goals, respectively.
Kobayashi, one of five J1 players with four goals, was in the right place at the right time to secure the victory, slamming in a cross sent from the right side to the middle of the pitch with a powerful volley before leaping in celebration.
"While holding the opponent with my left hand, I was able to meet (the ball) successfully. I wanted to win and come back," Kobayashi said of the winning play, according to Sports Hochi.
In addition to Kobayashi, a 32-year-old Aomori Prefecture native, the other top goal scorers for Frontale are Akihiro Ienaga and Tatsuya Hasegawa, with three apiece, and there are only three other J1 players with three tallies. Kashiwa Reysol's Michael Olunga is No. 1 with five goals.
Last season, Frontale finished in fourth place, 11 points behind title-winning Yokohama F. Marinos.
The 46-year-old Oniki, who is in his fourth season at the helm, guided Frontale to back-to-back J1 titles in 2017 and 2018.
Update on Attendance Restrictions
On July 20, the J. League said that its attendance restrictions will remain in place until August 10, citing the rise in COVID-19 cases.
When the season resumed in early July, games were held without fans for the first week back. But on July 10, venues were permitted to allow a maximum of 5,000 people to sit in the stands, or 50 percent capacity for smaller venues.
Tokyo Olympics
2020 Organizers Mark One-year Countdown
Tokyo 2020 organizers held an event at the new National Stadium on July 23 to mark the one-year countdown to the postponed start of the 2020 Games.
Because of the COVID-19 pandemic, the event was not open to the public. The 2020 Games were scheduled to open on July 24, but the global pandemic forced the IOC and the organizing committee to push back the start until next year.
At the ceremonial event, swimmer Rikako Ikee lifted a lantern with an Olympic flame, giving the festivities a spirited vibe.
In a statement, IOC President Thomas Bach said: "With only one year to go, a mammoth task still lies ahead of us. With our Japanese partners and friends, we agree that we have to adapt the planning of the Olympic Games Tokyo 2020 to the requirements of the global crisis, while maintaining the unique spirit and message that define our mission."
Ikee, meanwhile, reflected on her own battle with leukemia, while addressing athletes from around the world and a global audience which followed on a live stream. Ikee was forced to delay her goal of competing in the next Olympics while coping with health issues. Her new target: the 2024 Paris Games.
"It was my dream to compete at these games," Ikee said, according to published reports, before calling the Olympics and Paralympics "special for athletes."
"I think having the goal suddenly disappear from your eyes leaves you with a sense of loss beyond words … You need the power of hope in order to overcome adversity," she added. "I want the flame of hope to burn here on this day next year."
Swimming
American Star Ledecky praises Ikee
Katie Ledecky, one of the most decorated swimmers of the past decade, spoke about Rikako Ikee's aforementioned battle with leukemia in a recent interview with Kyodo News.
Ledecky said that Ikee exudes positivity.
"She is a great swimmer and she is a great person," Ledecky said of Ikee, according to Kyodo News.
"She just has such a positive attitude and it's very inspiring," Ledecky added. "I think she has inspired many beyond her own country and the swimming community as a whole."
Ledecky, 23, has kept in touch with Ikee via Instagram, receiving updates about the Japanese swimmer's health.
"It was so hard to see her go through this over the past year. I know the whole swimming community has been behind her," the 15-time world champion noted.
Ledecky struck up a friendship with Ikee after finishing third in the women's 200-meter freestyle at the 2018 Pan Pacific Championships in Tokyo, where Ikee earned the runner-up spot.
"That was a fantastic race, a very tough race," Ledecky recalled in the interview.
"I was struck by how friendly she was, and how kind she was, and she has such beautiful strokes and is an incredible swimmer. She has so much talent, so much potential and she has already accomplished so much at 20 years old."
Ikee showcased her talent and potential in a big way at the 2018 Asian Games with six gold medals.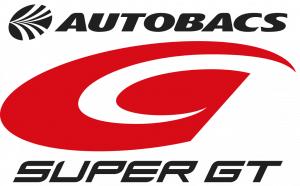 Auto Racing
Super GT Returns to Fuji Speedway
Ryo Hirakawa and Nick Cassidy teamed up to steer Toyota Gazoo Racing to victory in the Fuji GT 300-km race in the GT500 class at Fuji Speedway on Sunday, July 19.
It was the opening race of the Super GT season, which was originally scheduled to open in April.
Driving the No. 37 KeePer TOM's GR Supra, Hirakawa and Cassidy had pole position and dictated the pace and strategy of the 66-lap, 300-kilometer race.
"When I took over for the second stint, I had a lead of nearly 20 seconds and I thought that it was the perfect format for a win, but then the safety car came out," Hirakawa said in his post-race remarks. "But still, I was able to concentrate and keep the lead to the end. I am very glad that we were able to give the GR Supra a debut win."
Said Cassidy: "Supra is back! It was really an amazing victory. During the off-season the team and everyone at Toyota Gazoo Racing really worked hard for us, and that is why we were able to get a debut win…"
AU TOM's GR Supra team of Yuhi Sekiguchi and Sacha Fenestraz placed second. WAKO's 4CR GR Supra duo Kazuya Oshima and Sho Tsuboi finished third.
Round 2 of the Super GT racing season is August 8-9 at the same venue. The 2020 Super GT schedule is posted here.
Baseball
NPB Delays Plan to Increase Spectator Limit
As COVID-19 cases continued to increase throughout Japan in recent days, Nippon Professional Baseball announced on July 23 that it will keep its 5,000-spectator per game limit in place until the end of August.
When the season began on June 19, three months later than usual due to the pandemic, fans were not allowed to attend games. That changed, however, on July 10, when the league eased restrictions. NPB previously said it would OK crowds at half capacity, starting August 1.
While allowing fans back into ballparks, facemasks are required, and there is some social distancing between seating sections. What's more, fans have mandatory temperature checks upon arrival at stadiums.
Basketball
Hamaguchi Takes Over in Toyama
Veteran bench boss Honoo Hamaguchi, who guided the Kyoto Hannaryz from 2011-20 during the bj-league and B. League eras, has stepped down as coach of the Kansai club.
Hamaguchi, 50, will take over as the Toyama Grouses' new sideline supervisor, it was announced on July 21.
Toyama is coming off a 17-24 season. American mentor Don Beck guided the Grouses for the past two seasons.
Kyoto went 20-21 in the 2019-20 B. League campaign, which was cut short by the COVID-19 pandemic.
Before joining the Hannaryz, Hamaguchi piloted the Sendai 89ers from 2005-11.
Hina Suzuki Signs with University of North Alabama
Point guard Hina Suzuki has signed a letter of intent to play for the University of North Alabama women's basketball team.
The NCAA Division I program, which went 21-9 this past season, announced the signing on its website on July 23.
Suzuki, a Hamamatsu native, will join the team in the fall.
The 5-foot-3 junior attended Osaka Toin Senior High School and Kwansei University, where she averaged 14.2 points over her freshman and sophomore seasons. She also posted averages of 5.8 assists, 4.2 steals and 3.2 rebounds per game, and sank 37.8% of her 3-point shots at Kwansei.
"Hina will bring added experience to the point guard position" UNA head coach Missy Tiber said. "She has played against upper talent levels in Japan and was very successful in high school. We continue to strive to bring previously successful players into the program to help elevate everyone.
"Hina brings the type of talent we look for in a point guard with speed, quickness and an ability to find the open teammate. This is our first player from Japan, so that's exciting as well."
Editor's note: Interested in submitting a news item for possible inclusion in the Japan Sports Notebook? Send an email with relevant information to e.odeven@japan-forward.com, or JAPAN Forward's comment's page or Facebook page and look for future editions of Japan Sports Notebook on our website.
Author: Ed Odeven
Follow Ed on JAPAN Forward's [Japan Sports Notebook] here on Sundays, in [Odds and Evens] here during the week, and Twitter @itsjapanforward.