Lunch at Tokyo's Best Curry House in Ogikubo
Japan has thousands of curry restaurants, but an unassuming, fallen-out-of-time restaurant in Ogikubo takes the top spot. Why? It's time to investigate.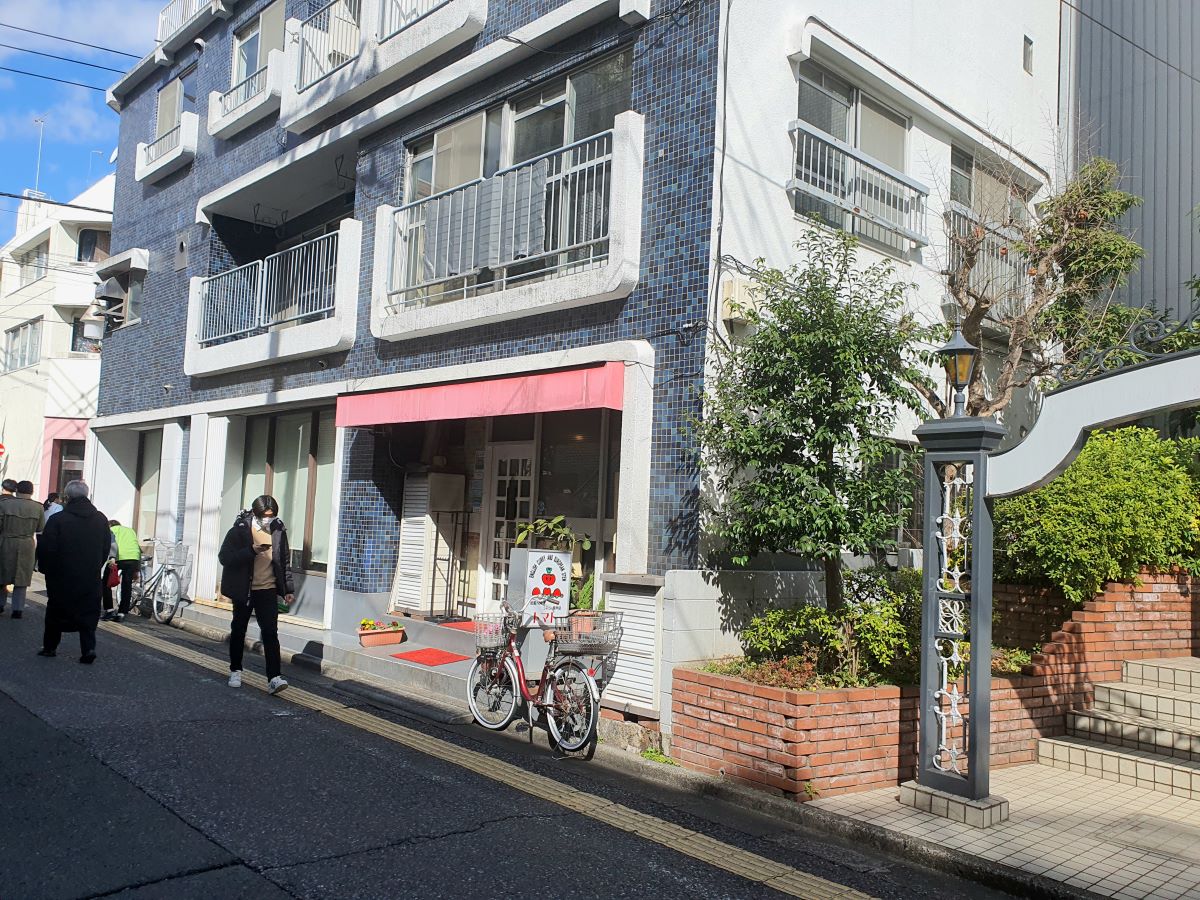 If you want to eat at Japan's highest-ranking curry restaurant, you need luck and a lot of time. Most people arrive at Tomato well before noon because the place sells out fast. For a start, the restaurant only has 15 seats of which half stay mostly empty. With two chairs at the counter and twelve around three tables, only between four or five parties can be served at the same time. Patience and planning are therefore key.
At 12:10 on a chilly weekday, eleven people are in line on the pavement opposite Tomato. There is not enough space to form a proper line in front of the restaurant, which only has a simple sign that says: "English Curry and European Stew."
Ten minutes later, Mrs Omino, the owner's wife and only other staff member, comes out to close the line with a small chair she puts up just behind me. What a stroke of luck! No more lunch places for today after my turn. The young man in front of me is reading a college science textbook, calmly underlining with a yellow marker. Most people in the line today are young men, the sort that would go to a comic-con event.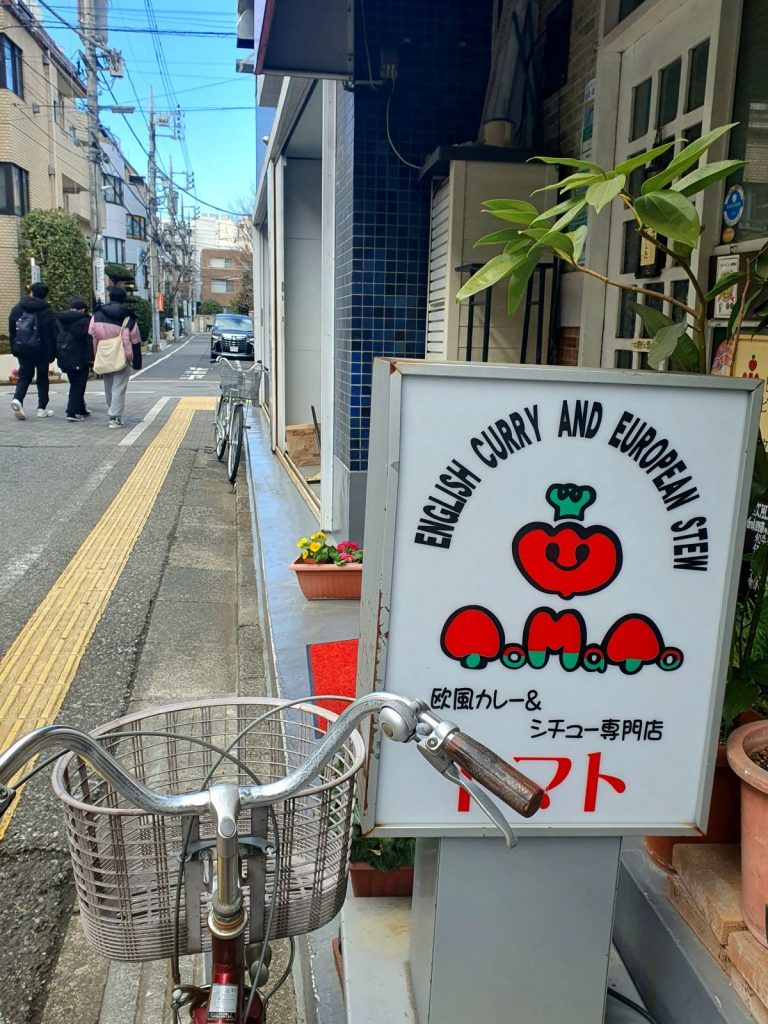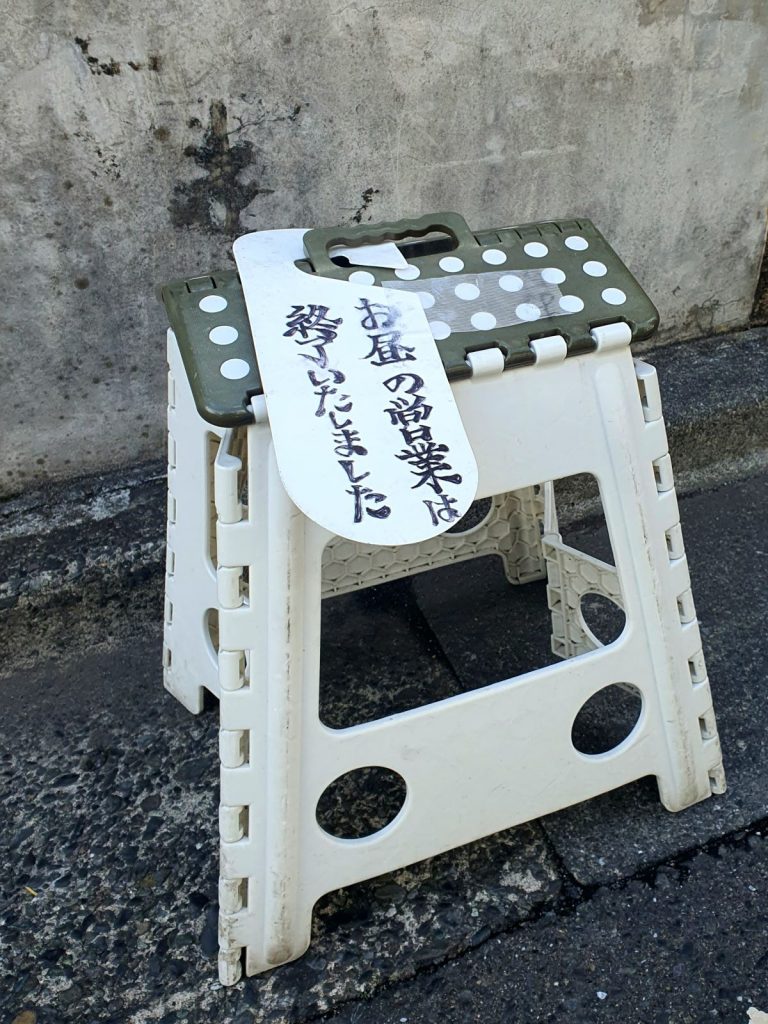 Time-Tested Recipes
The place opened in 1982 and the recipes have remained the same — and so have the furniture, the plates, and the cutlery. The menu has not changed much either over the decades. Adding to the retro atmosphere is the cute tomato sign designed by chef and owner Kyoji Omino. Trained in French cuisine, Omino graduated from culinary school and worked for a famous Ginza restaurant, until he decided to set up his own shop in Tokyo's Suginami Ward, West of Shinjuku, together with his wife.
For his curries, Omino uses 36 different kinds of spices without grinding them. He also adds more than a dozen vegetables, herbs, and fruits to his base of fond de veau (veal stock). He cooks everything for hours on end to produce his rich, creamy trademark sauce. He spares neither time nor effort in his old-fashioned preparations. This is slow-cooked food before slow cooking became a buzzword.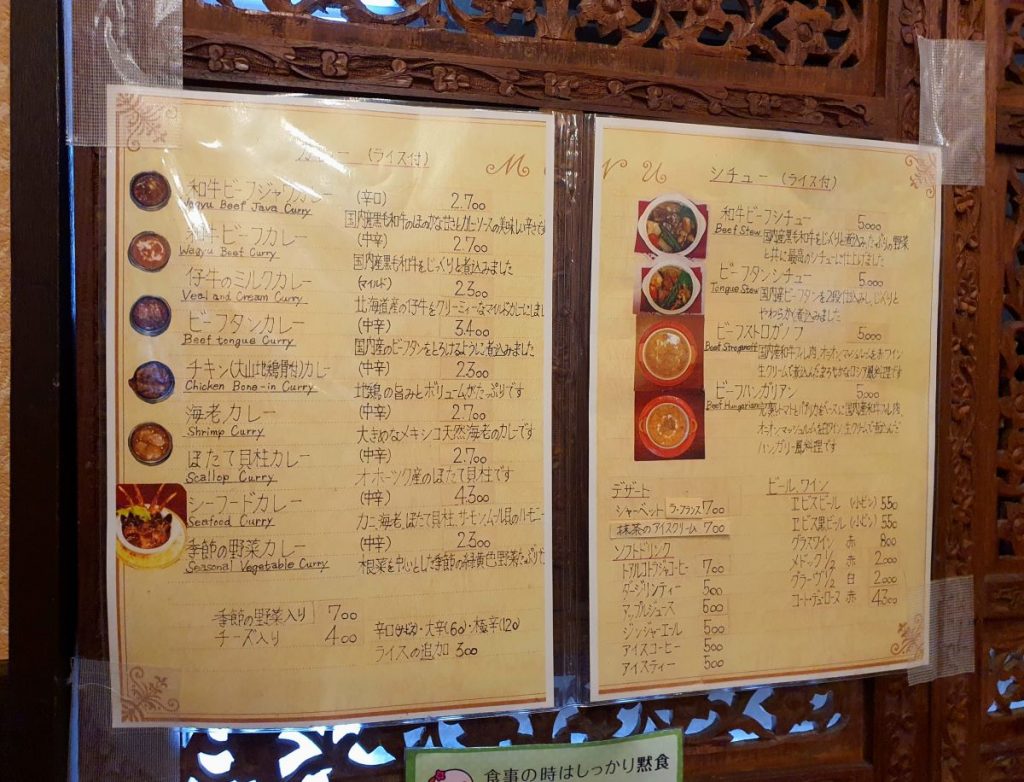 Top Curry Spot
Tomato has a long track record of achievements. It was placed on the Michelin Bib Gourmand list in 2017. On Tabelog, Japan's famous restaurant review site that doesn't take prisoners, it has a stellar 3.93 rating. In fact, it wins a Tabelog award every single year. Tomato has also been featured on NHK World in the TV series The Professionals in 2018. On Tabelog, it features as the number one curry restaurant in its category — and the list has more than 20,000 curry restaurants in Japan.
Tomato calls its dishes "European-style curry," which in itself is a bit puzzling. "When we started the restaurant, curries and spicy foods were not yet popular in Japan," explains Mrs Omino. Back in the 1970s and 1980s, curries were seen as something you would find in London at curry houses set up by Indian or Pakistani immigrants. In a way, Tomato was already showing us the future with a fusion of Indian and French cuisine 40 years ago.
No Pain, No Gain
However, the wait for the famed curry is long. There is plenty of time to study the restaurant's sign and observe the neighborhood in a street where not much is going on anyway. After an hour of standing in the same spot, even the young man in front of me looks slightly impatient. Not even his textbook studies can keep him engaged and he starts flipping through the pages of his book. Only after 1 hour and 15 minutes does the door open, and the last three people in the line are called in.
But Mrs Omino in her elegant, loosely fitting black dress brings bad news. Half of the dishes on the menu have already sold out. The veal curry, the seafood curry, the vegetable curry, and several others on the menu are no longer available. I settle for hotate (scallop) curry.
Mrs Omino writes the order on a block of paper and takes it back into the kitchen. There is no talking inside the kitchen between the couple who has been working together for so long. They seem to have developed their own communication style without the need for words. About 10 minutes later, the first dish arrives. Two types of pickles: onion and Chinese cabbage. If the taste of the pickles is any guide, the main dish should be no disappointment.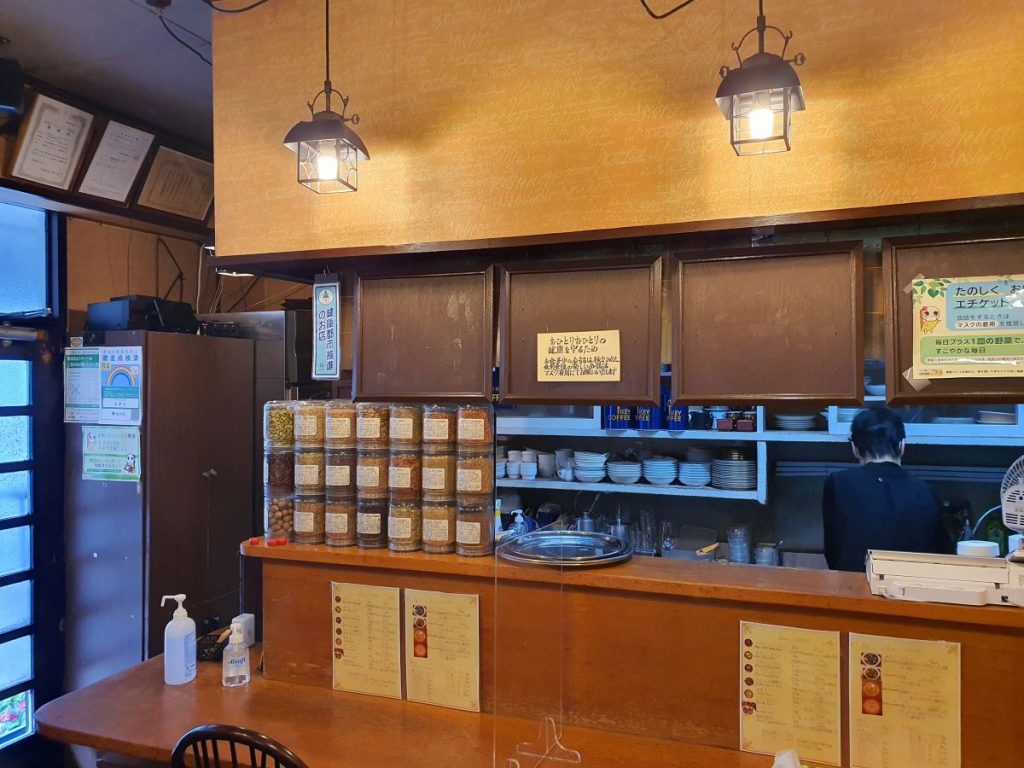 Not for Instagram
It takes another 10 minutes for a plate of rice to arrive. It does not look very appealing. But it still looks better than the curry, served in an old-style sauce boat with a handle and a ladle, both in stainless steel. The brown curry sauce comes without a hint of decoration, a will for design, or any garnish from herbs that could give it a nice accent — not even a parsley sprig. Clearly, Japan's best curry does not look good in pictures. Perhaps not a fit for the Instagram age.
Some customers order a topping of vegetables, probably just to improve the visual appeal of the curry. But it does not really make it more beautiful. The restaurant itself has not much decoration either. A dated poster with spices, a wooden board that explains the cooking process, and a tower of spice containers stacked together on the counter. But the Ominos don't seem to care. After all, it's the taste that takes center stage here.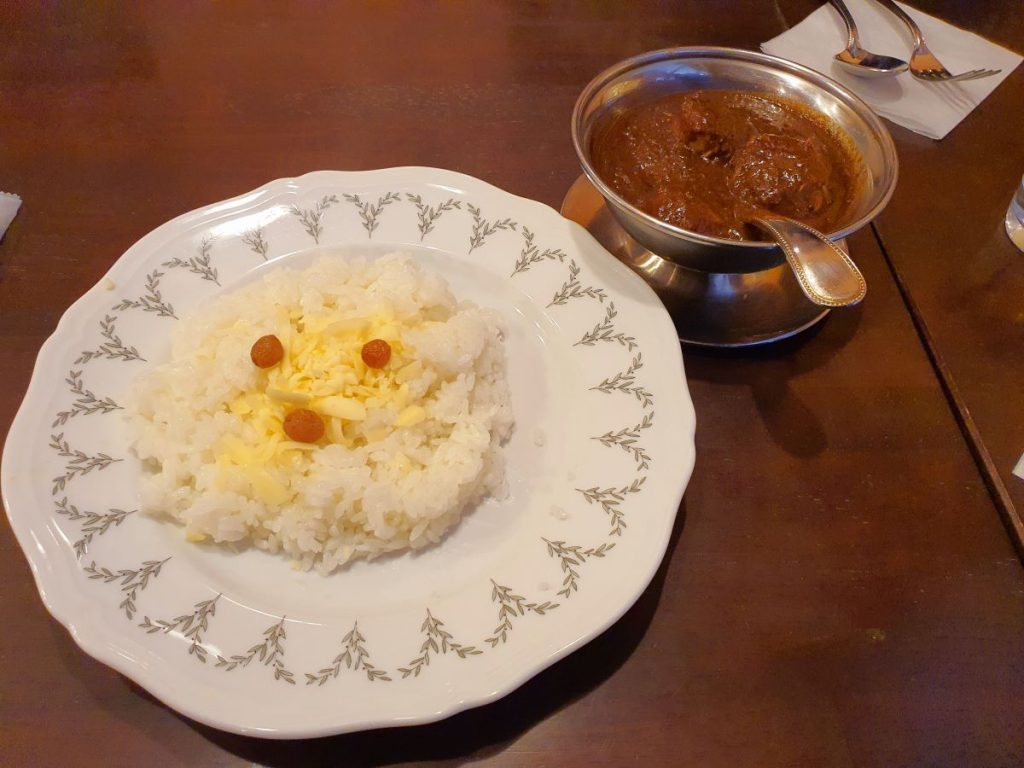 Taste is Everything
The chef makes everything fresh. The rice has yellow raisins and a sprinkle of cheese. For the scallop curry, Omino adds the scallops into the curry sauce uncooked, so that the texture stays firm — more like scallop sashimi than cooked seafood. The sauce is a cross between an Indian curry and a classic French beef bourguignon (beef stew with red wine).
It is quite in its own category with its rich, creamy taste that balances spices, bitterness, sweetness, and umami flavors. Is it curry, but is it also something else? It's hard to pinpoint, but very, very delicious. How many hours would one have to wait in line every day to savor everything on the menu? Certainly a long while. There is not a single day without a line of customers in front of Tomato. But the wait is well worth it.

RELATED:

Author: Agnes Tandler