North Korea:  A Better Approach to Kim Jong Un's Return to the Missile Test Range 
With its provocative missile launches and nuclear threats, North Korea is causing Japan and South Korea to rethink deterrence and alliance-based cooperation.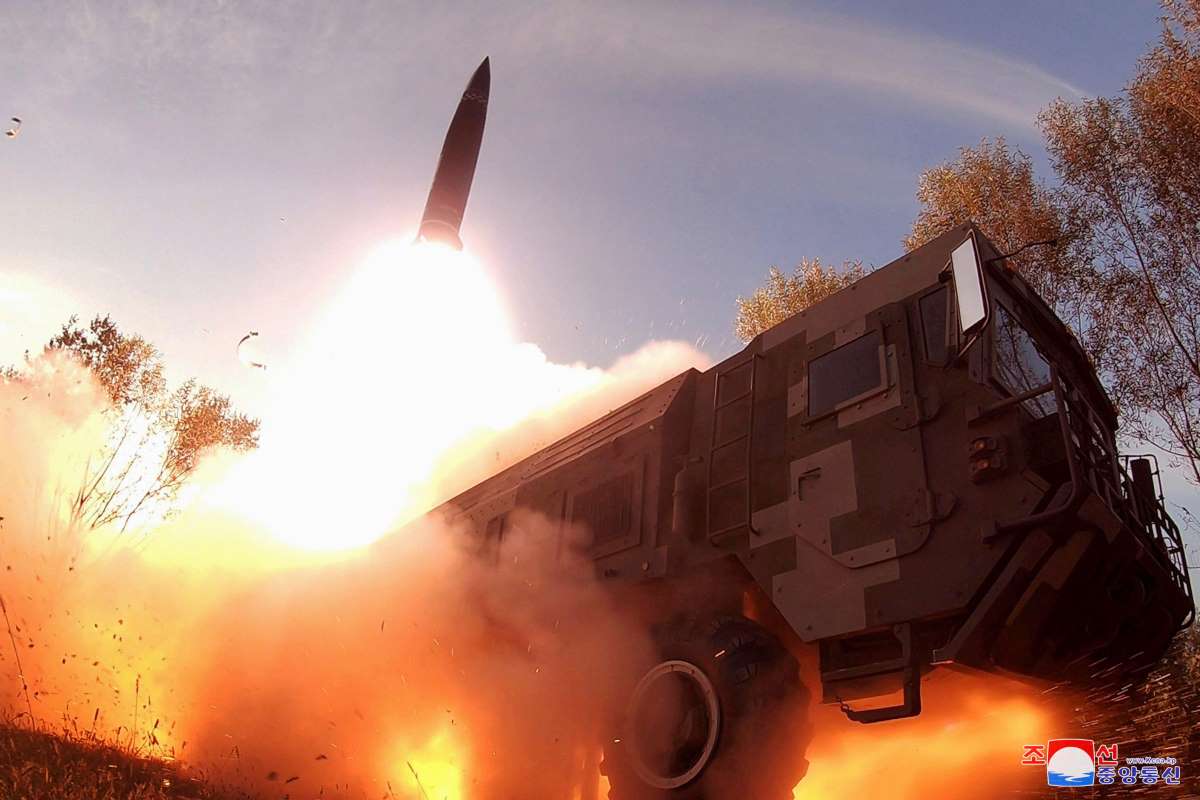 After a quiet summer, Kim Jong Un has returned to the missile test range.
Beginning on September 25, with a missile firing to welcome the USS Ronald Reagan for trilateral anti-submarine warfare exercises with Japan and South Korea, followed in short order by missile firings on September 28, 29, October 1, 4, ,6, 9, 12, 14, and November 2 and 3, Chairman Kim displayed North Korea's rapidly evolving missile arsenal. The October 4 test of an Intermediate Range Ballistic Missile (IRBM) flew over Japan, the first such test since 2017. The November 2 tests involved some 23 missiles of differing types, launched from several sites toward waters off South Korea and Japan. Several of the firings simulated tactical nuclear strikes.
In case you have been focused elsewhere, Kim is drawing strategic attention back to the Korean Peninsula and Northeast Asia.
Kim's Lofty Threats and Aspirations
Today in 2022, as outlined in Kim's January 2021 speech to the Korean Workers Party Congress, North Korea is moving quickly to advance development of a nuclear and standard missile arsenal, including hypersonic missiles. Pyongyang is saying they are a strategic deterrent aimed at the United States with a pre-emptive strike capability ー and also tactical, nuclear war-fighting capability.
Kim advanced this strategic direction in an address marking the 90th anniversary of the founding of the Korean People's Army in April 2022. At the ceremony. Kim announced: "The fundamental mission of our nuclear forces is to deter a war. But our nuclear weapons can never be confined to the single mission of war deterrent."
He added, "If any forces try to violate the fundamental interests of our state, our nuclear forces will have to decisively accomplish its unexpected second mission."
As the autumn missile firings continued, on October 10, KCNA quoted Kim on the prospects for denuclearization as saying: "We have no content for dialogue with the enemies and felt no need to do so."
This is where things stand as of early November 2022. Denuclearization is at an impasse or dead end, and there is a rapidly deteriorating security environment on the Korean Peninsula and in Northeast Asia.
Options Beyond the Impasse
Could an approach that differed from the diplomacy of the past three decades have yielded a different North Korea? The Agreed Framework, the Three Party and Six Party talks, the Singapore and Hanoi Summits, and the on-going efforts of South Korean governments to engage North Korea, have been tried and failed.
Hindsight will always provide rich avenues for speculation. Diplomacy, however, requires an interlocutor valide. And, in this context, North Korea has not been reassuring.
Vice Foreign Minister Kang Suk Ju's October 2002 admission of a secret uranium enrichment program stands as a case in point. And Pyongyang's response to the Obama administration's initial outreach was its 2009 nuclear test.
In track 1.5 discussions in Europe, in which I participated, North Korea interlocutors made clear that Pyongyang would never bargain away its nuclear deterrent for a "basket of economic goodies" offered in President Park Gyen-hye's Dresden speech. In short, they were not interested in buying what we were selling.
Would a different approach have yielded a different outcome, possibly. Perhaps. But it is extremely doubtful. Economic opening and reform would threaten the regime's political control.
Does this mean diplomacy is to be abandoned?
As always, diplomacy should be the first line of defense. Efforts to engage North Korea should not be ruled out. But critical to any resolution of North Korea's nuclear challenge, and any cap and freeze approach, are the terms of engagement. Without a full accounting of the history of North Korea's nuclear program, Pyongyang's acceptance of transparency and IAEA inspections, including the challenge of on-site inspections, there can never be confidence in the outcome of diplomacy.
Japan and South Korea in the Security Picture
As for the security environment on the Peninsula and in Northeast Asia, North Korea's rapidly evolving tactical and strategic nuclear capabilities pose a daunting challenge to the security of the Republic of Korea, Japan, and to US bases in both countries.
Reflecting growing security concerns in South Korea and Japan has been the surfacing of nuclear deterrence issues in the public debate in both countries. There have been questions as well relating to the United States commitment to extended deterrence. These are fundamental alliance-related issues that must be addressed.
Critical to dealing with North Korea's nuclear challenge is the strengthening of alliance-based defense capabilities and, in turn, deterrence. On the Peninsula, the US and the ROK have resumed large-scale, combined military exercises for the first time in four years.
At the same time, the United States and South Korea Extended Deterrence Strategy and Consultation Group met on September 16 for the first time since 2018. And, Vice President Harris, in her September 29 meeting with President Yoon Suk-yeol, reiterated the US commitment to defend South Korea, with the full range of its military capabilities, as "ironclad."
In Japan, increasing security concerns have brought to the surface a long dormant defense debate. During the 2021 House of Representatives elections, the Liberal Democratic Party campaigned on a platform calling for a 2% increase in defense spending.
Prime Minister Fumio Kishida has committed his government to a "substantial" increase in defense spending over the next five years that will "fundamentally strengthen defense capabilities without excluding any options."
Effective Deterrence
With respect to the missile threat posed by North Korea, Japan's focus has been on missile defense, or deterrence by denial. Among the options now being considered is the acquisition of "counterstrike capabilities" ー deterrence by punishment ー to hold at risk North Korea facilities in response to an attack on Japan.
North Korean missiles flying over Japan on October 4 and again on November 4) have only intensified the defense debate, making the acquisition of counterstrike capabilities more likely. If acquired,it will be critical to integrate Japan's capabilities into the wider US-Japan alliance-based integrated deterrence architecture.
On October 5, a Yomiuri Shimbun editorial called on the government to work closely with the US and the ROK to "quickly improve missile defense capabilities." Also on October 5, the Asahi Shimbun editorialized that "it is vital that Japan, South Korea and the United States remain firmly united in their security-related collaboration."
In Seoul President Yoon echoed those sentiments, defining North Korea as a nuclear threat not only to the ROK but to the world as well. A statement released from the Blue House quoted Yoon as saying that "the ROK-US alliance, as well as trilateral security cooperation between South Korea, the United States and Japan will be further strengthened."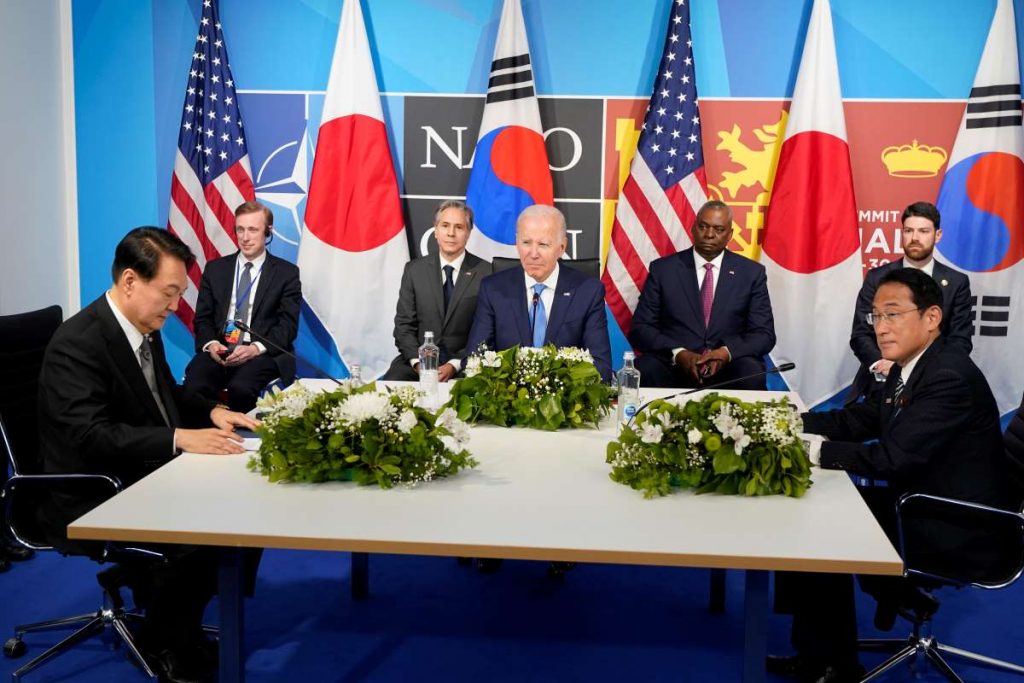 Approaching the Problem as a Trilateral Alliance
As noted above, the US, Japan and South Korea engaged in anti-submarine warfare exercises on September 30. Trilateral ballistic missile defense and air exercises followed the October 4 North Korean provocations.
High-level defense and diplomatic consultations have also followed, culminating in Deputy Secretary of State Wendy Sherman's travel to Tokyo at the end of October. In both countries, she held trilateral consultations with Japanese and ROK counterparts.
Despite the lingering and unresolved issues of history between Korea and Japan, North Korea's growing threat has served to move Seoul and Tokyo toward closer security cooperation. And, North Korea's much anticipated seventh nuclear test should only accelerate that welcomed process.
Preparing for the Next Step
Faced with the same regional security challenge posed by North Korea's tactical nuclear capabilities, the Joe Biden administration should consider moving to integrate the on-going US-Japan and US-ROK bilateral deterrence dialogues into a trilateral US-Japan-ROK structure. Seeing the same deterrence picture would be a significant step in the strengthening of alliances, and the allies' confidence in extended deterrence.
Thinking ahead, it is important to understand that some wicked problems cannot be addressed successfully at the time of our choosing. Those are best managed until ripe for resolution.
So it is with North Korea. And the key to successfully managing the challenges posed by North Korea is to strengthen alliance-based defense cooperation and reinforce extended deterrence.


RELATED:
Author: James J Przystup
Dr James Przystup is a Senior Fellow at the Hudson Institute in Washington, DC.