Reviving the Pharmaceutical Industry: Overcoming Vaccine Defeat
A new command center is setting out to promote the development of domestic vaccines through creation of a more supportive research and funding environment.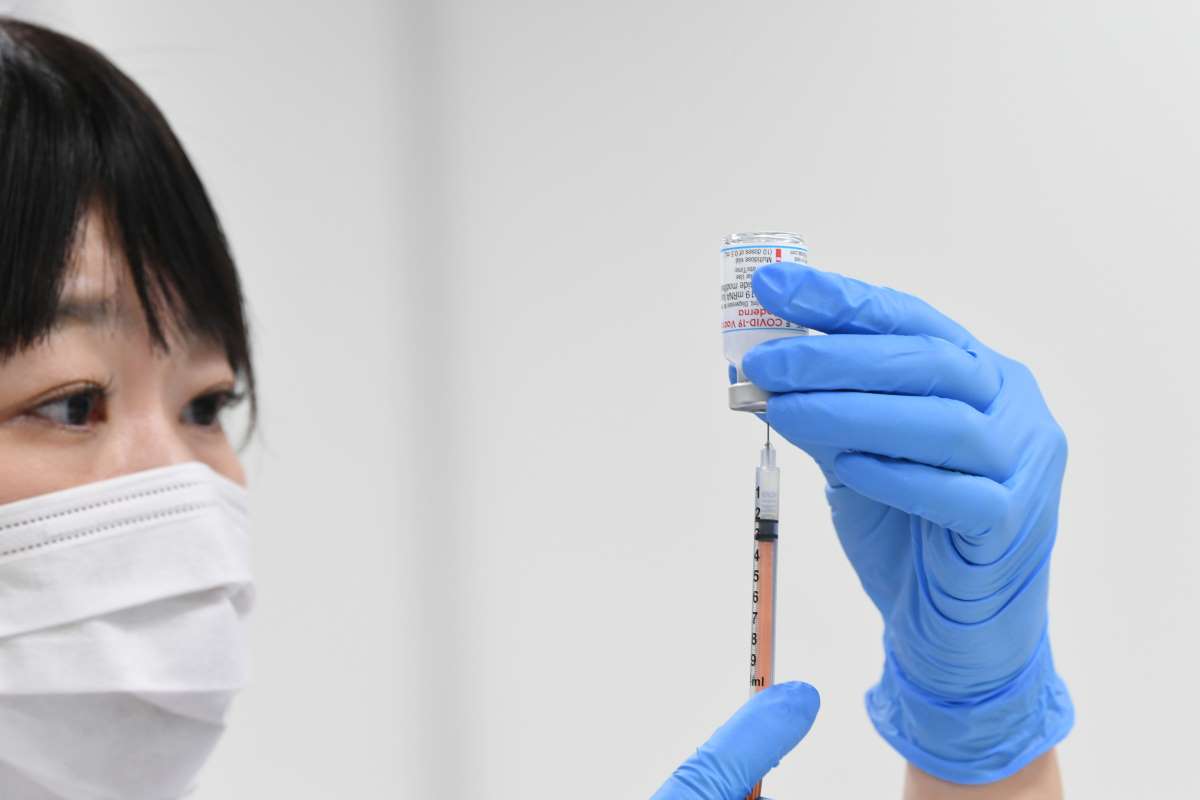 First in a series
"In the 1980s, Japan created lots of vaccines on its own. From there, we have fallen into a situation where we cannot even produce a fragment of messenger RNA (mRNA) vaccines. If we cannot domestically produce vaccines with the latest technology, Japan has a grave future ahead of it."
This comment was made by Michinari Hamaguchi, former director of the Japan Science and Technology Agency, who was expressing frustration when referring to the foreign-made mRNA vaccines that swept the world during the COVID-19 pandemic. It was April 4, 2022 in Tokyo, and the venue was the first Strategy Promotion Meeting of the "Strategic Center of Biomedical Advanced Vaccine Research and Development for Preparedness and Response (SCARDA)," of which Hamaguchi is the first leader.
SCARDA is a national command center that promotes the development of domestic vaccines. It was launched in March 2022 to prepare for the next possible global pandemic.
Japan is one of the world's leading countries in the discovery of new drugs, but it has lagged behind Europe and the United States in the development of a vaccine for the coronavirus. It's difficult to protect the health and safety of citizens when relying on overseas manufacturers. And, even now there is no domestically-produced or -developed vaccine.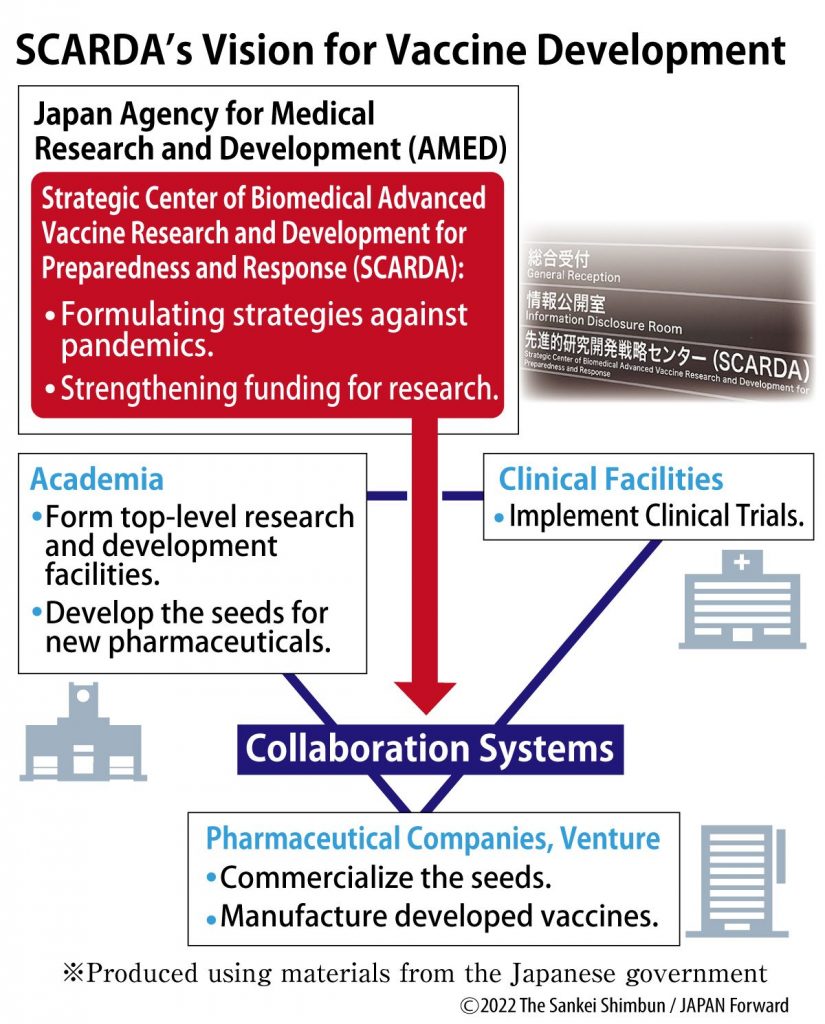 Distrust Behind the Problem
In 2009, a new form of influenza spread throughout the world. The report compiled in June 2010 by experts at the Ministry of Health, Labor and Welfare's Countermeasures Review Meeting, had the following recommendations.
"From the perspective of national security, we should support vaccine manufacturers, promote development, and strengthen production systems in order to secure vaccines for all citizens as soon as possible."
However, this suggestion was soon abandoned. It is no exaggeration to say that this is what caused our vaccine defeat.
In the 1970s and 80s, Japan was one of the few countries in the world where vaccines were developed. Serious issues soon came to surface, however. There were cases in lawsuits about dangerous vaccines where the government was defeated and assumed the responsibility, which caused distrust of the vaccine itself to spread among the people.
This problem had a significant impact, causing reluctance to take steps toward producing new vaccines by both the government and private companies. The fact that other infectious diseases, such as SARS (Severe Acute Respiratory Syndrome), did not end up becoming an epidemic in Japan also led to a weakened sense of crisis.


Changing the Paradigm
Indeed, the "Plan for Strengthening Vaccine Development and Production Systems" put forward by the Cabinet in June of 2021 pointed out that "infectious disease research has been tapering off in industry, government and academia."


Points From the:
Plan for Strengthening Vaccine Development and Production Systems
Form top-level R&D facilities
Increase funding for strategic research
Maintain & expand environments for clinical trials
Quicken and improve approval processes
Cultivate pharmaceutical ventures
Promote development and manufacturing of vaccines
Supporting Early Clinical Trials
SCARDA aims to address the causes of Japan's decline from its earlier status as a leading country in producing vaccines. It would strategically promote all stages of vaccine development, from basic research to practical use.
In order to further Japan as one of the world's top-level countries for research and development, the Center plans to provide funding for private sector development. After public applications, it will decide in August which universities will be the base for these efforts.
The funding, which extends until 2026 and has a maximum of ¥3 billion JPY ($22 million USD) per case, will support research up to the second phase of clinical trials, in the development of vaccines against the priority infectious diseases set by the Ministry of Health, Labor and Welfare.
An official at the Ministry of Health, Labor and Welfare said, "We fight not just with words but with fierce action. Until now, the support for early clinical trials was weak."
"Innovation can come from a place of mischief. We want people to go against the established and say, 'we're going to use a different method,' or 'that's not the way it is.'" Junichi Koga, the Provost of SCARDA, says with determination, "We want to back the people we have employed and work alongside them."
Dr Koga hit it off with Dr Hamaguchi, the leader of SCARDA, after having drinks on the night of April 19th. "We will promote change by taking advantage of Dr Hamaguchi's experience in academia and my experience in industry," Koga said.
Hamaguchi has served as the president of Nagoya University and the director of the Faculty of Medicine. Koga was a former managing director of Daiichi Sankyo and also served as the head of research and development. The two doctors have joined to finally develop new vaccine strategies.


'Japanese-Style' Collaboration Between Industry, Government, and Academia
The 6th Government Drug Development Council meeting to discuss vaccine strategy was held on December 6, 2021. Yasushi Okada, Chief Operating Officer of Eisai and Chairman of the Japan Pharmaceutical Manufacturers Association, shared his views about the materials from the Ministry of Economy, Trade and Industry's "Strengthening the Pharmaceutical Discovery Venture Ecosystem Project," which was included in the supplementary budget for 2021, as follows:
"The Japanese drug discovery ecosystem has the problem that it is hard to get funding compared to the United States and other countries. We're thankful for the money, but the true direction we need to go in is for human resources and funding to independently enter the ecosystem."
The ecosystem is a concept in which multiple companies collaborate to build a network in which they coexist and co-prosper, like an environmental ecosystem. Crucial to development is creation of a "drug discovery ecosystem" that organically connects major pharmaceutical companies, venture capital companies, universities, the government, and others, to bring about major innovation and put new drugs into practical use.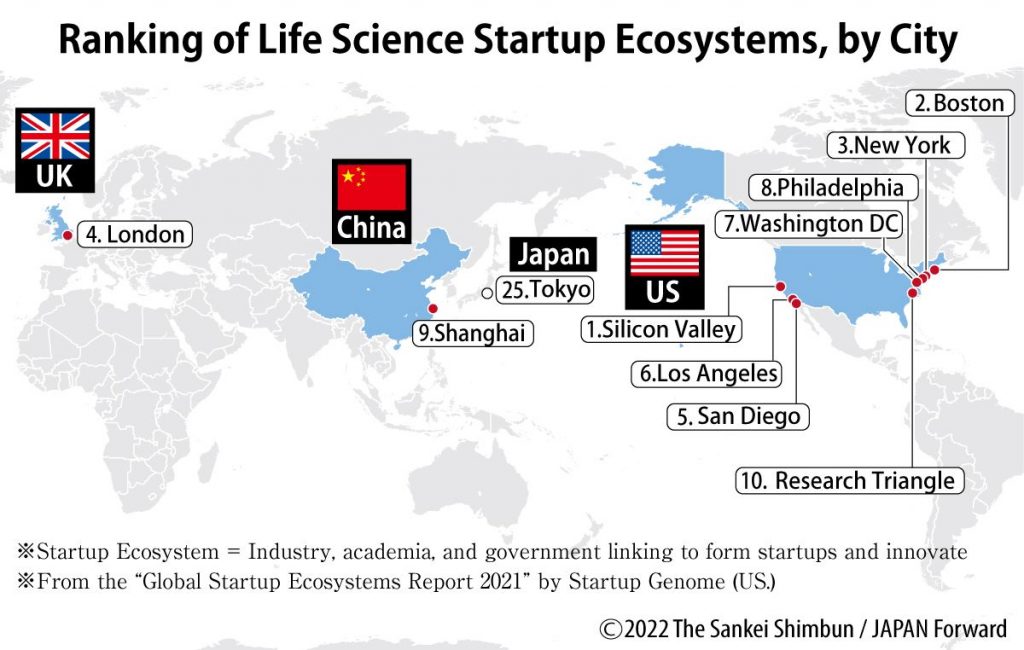 Japan is still developing in this sense, compared to the United States and others.
Ryuichi Morishita, endowed professor of the Osaka University Graduate School and the founder of AnGes MG, Inc. (Ibaraki City, Osaka Prefecture), a pharmaceutical venture company that was the first Japanese company to start clinical trials of a new coronavirus vaccine, points out the current situation in Japan.
"Venture companies receive the research generated in the laboratory and then aim to commercialize it. This process is starting to occur in Japan. But there aren't systems in place for large companies that have the know-how and the funding to then take over and develop it for practical use."


'Bio' in the Mainstream
Boston, Massachusetts, in the United States, is representative of a drug discovery ecosystem. Biopharmacy-related industries that use biotechnology are concentrated in the area, and it is even called a "biocluster."
The focus of drug development is shifting from lightweight-molecule drugs manufactured through chemical synthesis to biopharmaceuticals. And the United States' Moderna and Germany's BioNTech, who developed the messenger RNA vaccine for the coronavirus, are both biotech firms.
Researchers such as those at Harvard University and the Massachusetts Institute of Technology (MIT) started bio-ventures in the 1970s and 1980s, and venture capital investment became active in the 1990s.
Since the 2000s, global pharmaceutical companies have been headquartered there. As of 2020, about 500 life science companies are located in Boston, and Moderna also was started there.
Takeda Pharmaceuticals also has a research and development facility in the Boston area. It's difficult to generate big innovations through just in-house research. With that in mind, the company has switched from "self-reliance" in research and development to "external collaboration" with other companies.
Shogo Kato, director of the company, who has been in Boston for about five years, talks about the effects of this change. "People, materials, and funding from ventures, venture capital, megapharma (large pharmaceutical companies), academia (such as universities), and university hospitals are all gathered in one location, so the pace of development from basic research to practical use is very quick. Non-profit organizations are taking the initiative to share laboratories with various companies and the infrastructure is complete, making it easy to create new ventures."
He says that the high mobility of human resources is beyond imagination. "There are quite a few people who change their jobs once every three years. Perhaps because the world's top talents are gathering here, the level of introductions that can be made is amazing. There are also many people from industry in academia, and they work with practical applications in mind."


Innovation Bioclusters in Japan
In Japan, there are bioclusters such as the KOBE Biomedical Innovation Cluster (Kobe City), which was born from the reconstruction projects following the Great Hanshin Earthquake, and Shonan Health Innovation Park (Fujisawa City, Kanagawa Prefecture, Shonan iPark), which was established after Takeda Pharmaceutical opened the Shonan Research Institute.
However, these do not have the global prominence that Boston does.
Toshio Fujimoto, general manager of Shonan iPark, points out: "I think that an ecosystem like Boston is necessary in Japan, but it cannot be exactly the same. Compared to the United States or Europe, there is less mobility for people here. The culture still has the remnants of the lifetime employment system, and people value uniformity. So it is necessary to consider a suitable form of development on the premise of Japan's unique situation."
The search for a Japanese ecosystem continues.


Will it be possible for Japan to regain its place as an innovator in pharmaceuticals? This series explores the challenges and paths forward through the lens of vaccines.
Next: Late Starts to Drug Discovery


RELATED:
(Read the article in Japanese at this link.)


Author: The Sankei Shimbun