[Speaking Out] High Court Hands Significant Victory in the Case for Fabricated Reports on Comfort Woman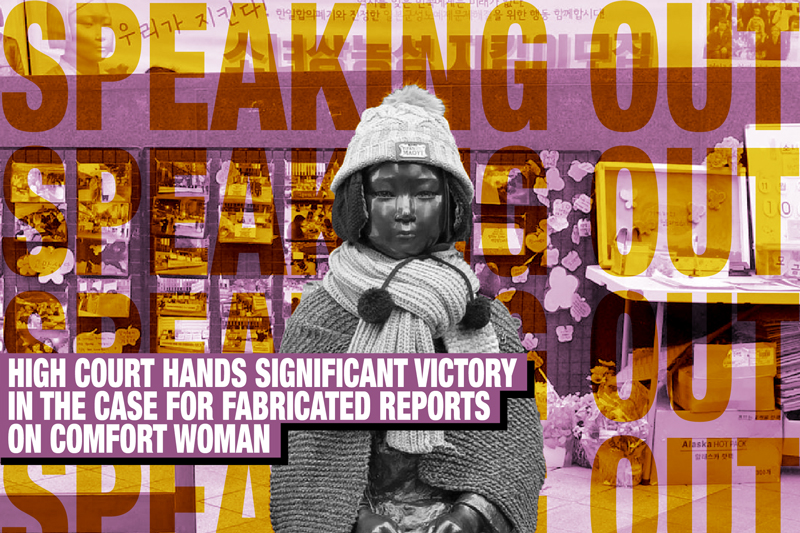 On March 3, the High Court gave me a perfect victory in a libel case brought against me by former Asahi Shimbun newspaper reporter Takashi Uemura. He had sued me for criticizing his August and December 1991 reporting on a former Korean comfort woman Kim Hak Sun as fabrications in a book and magazine articles. The victory followed a similar one in the District Court.
There are two requirements for a libel damages suit to be turned down. The first requirement is that the theme is of a public nature and the purpose is for public benefit. The second is that the written facts are true or reasonability believed to be true.
Both the District and High courts easily recognized that commentary about a bylined story in a newspaper, a public information organ, is of a public nature and for the public benefit. At issue was the truthfulness of three facts I pointed out in my commentaries. I quote those facts below from the High Court ruling:
(1) The appellant (Uemura) was aware that Kim Hak Sun had been sold to a kisaeng (traditional Korean female entertainment house) due to her family's financial distress. But he dared not write that fact in his reports because it was inconvenient for his premise that she was coercively recruited by Japanese authorities.
(2) The appellant intentionally wrote the factually inaccurate reports to preserve the premise of authorities' coercive recruitment and to support a lawsuit (a complaint for damages by former comfort women) filed by an association of families of (Korean) war victims, of which his mother-in-law was one of the leaders.
(3) The appellant knowingly wrote factually inaccurate newspaper reports claiming that Kim Hak Sun was coercively recruited under the "Women's Volunteer Corps" (for wartime factory labor) and brought to a battlefield where she was forced to have sex with Japanese.
The High Court as well as the District Court recognized that the first and second points were reasonably believed to be true, and the third point was true. The recognition of the truthfulness of the third point is of particular importance.
The court ruling effectively said that Uemura had been unable to identify any coercive recruitment by the Japanese military, but he nevertheless wrote the factually inaccurate reports. The rulings, like my commentaries, concluded that Uemura's newspaper reports were fabrications.
Rebuttal to Uemura
A weekly magazine headed by Uemura has asserted that at the trial I admitted that I had fabrications in my book and commentaries. I simply rebut the assertion.
First, a misquotation from the Hankyoreh newspaper found by Uemura and his associates in my book titled Understanding the Comfort Women Issue was corrected in the second printing of the book's paperback version, published on September 5, 2014, before Uemura filed the libel suit. Surprisingly, the copy of my book that Uemura submitted to the court was the third edition, after the correction. In the copy, the misquotation clearly had been corrected.
Second, as for my commentary in the weekly magazine Bunshun, saying that Kim Hak Sun had written in her legal complaint that she was sold by her parents to become a comfort woman, Uemura and his associates claimed that Kim Hak Sun's complaint did not include such passage. However, the complaint said that she dropped out of school because of poverty, was adopted into a kisaeng school and brought by her adoptive father to a Japanese military comfort station.
For an expert well aware of the social conditions at that time, the meaning of the passage is clear: she was sold by her parents and became a comfort woman. In my magazine commentary, which is not an academic journal, I summarized the meaning. It is unreasonable to assert there is any fabrication or intentional lie in the commentary.
A version of this article was first published by the Japan Institute for National Fundamentals, Speaking Out #662, on March 2, 2020.
Author: Tsutomu Nishioka
Tsutomu Nishioka is a senior fellow and a planning committee member at the Japan Institute for National Fundamentals and a visiting professor at Reitaku University. He covers South and North Koreas.