The Making of Munakata Shiko: The Man Behind the Masterpieces
Despite receiving global acclaim, the artist Munakata Shiko was unassuming — always receding behind his masterpieces. Because to him, making art was everything.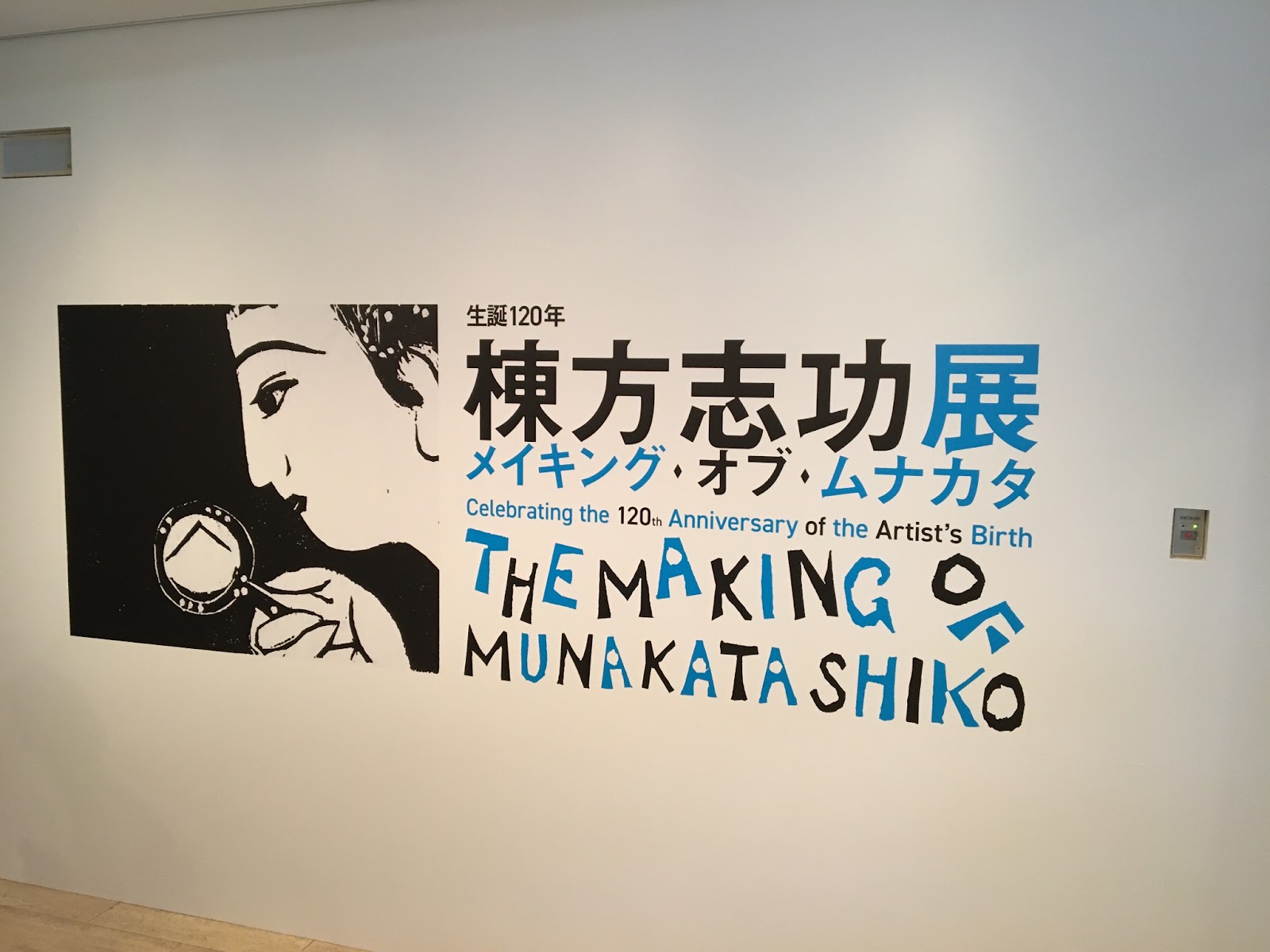 Munakata Shiko's woodcut prints are immediately recognizable to art fans worldwide. Bold lines, dramatic color contrasts, block shapes framed by swirling arabesques, expressive eyes, and playful smiles. These are just some of the hallmarks that make a Munakata stand out in any museum. But who is Munakata Shiko the artist? Some readers may know him as the jolly-looking man with wavy hair and thick, round spectacles, famous for his highly animated style of carving his works. But what about his background, his upbringing, his life?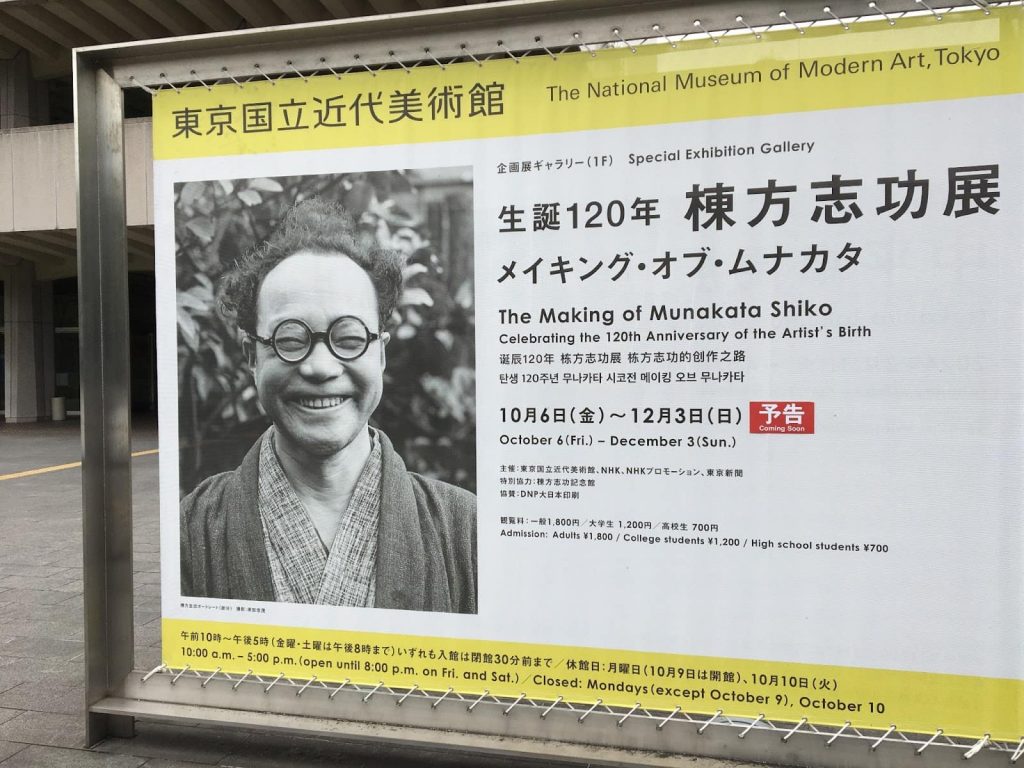 In "The Making of Munakata Shiko," a new exhibit at the National Museum of Modern Art near Takebashi Station in Chiyoda Ward, downtown Tokyo, museum patrons are treated to a feast of the great artist's work, as well as to an introduction to the man behind the masterpieces.
On a Legendary Scale
The first thing one notices as one stands in front of many Munakata Shiko artworks is their size.
Stretches of paper scroll off along the wall or under glass for yards and yards. Huge swaths of black-stamped white tower up from the floor, leaving the viewer overwhelmed.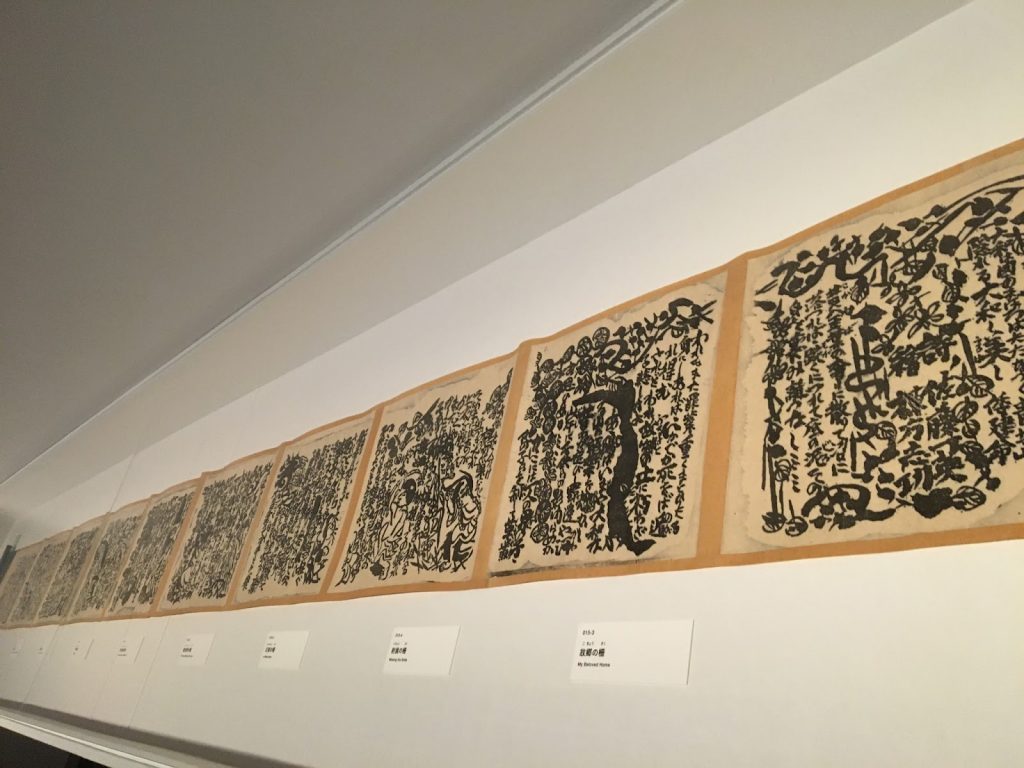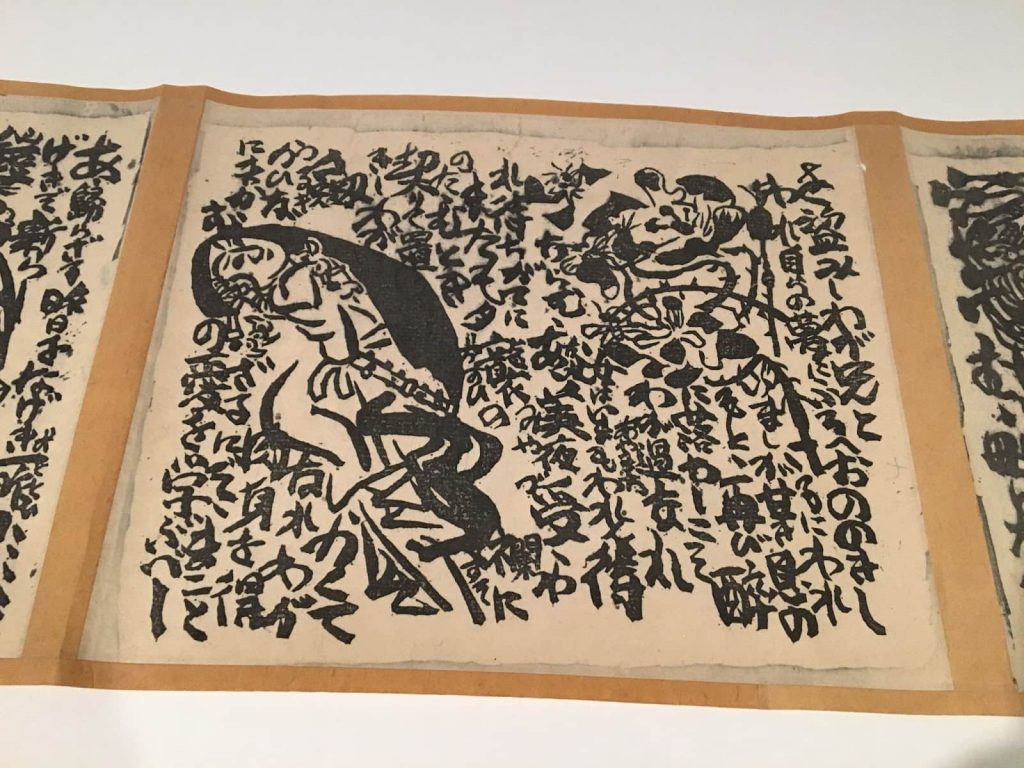 To go to a Munakata Shiko exhibit is to realize that the artist worked on a legendary scale. Not all of Munakata's woodblock prints and works in other media are so big, of course. Many items in "The Making of Munakata Shiko" exhibition, being held at the National Museum of Modern Art in Tokyo until December 3, 2023, are standard portrait-size or so.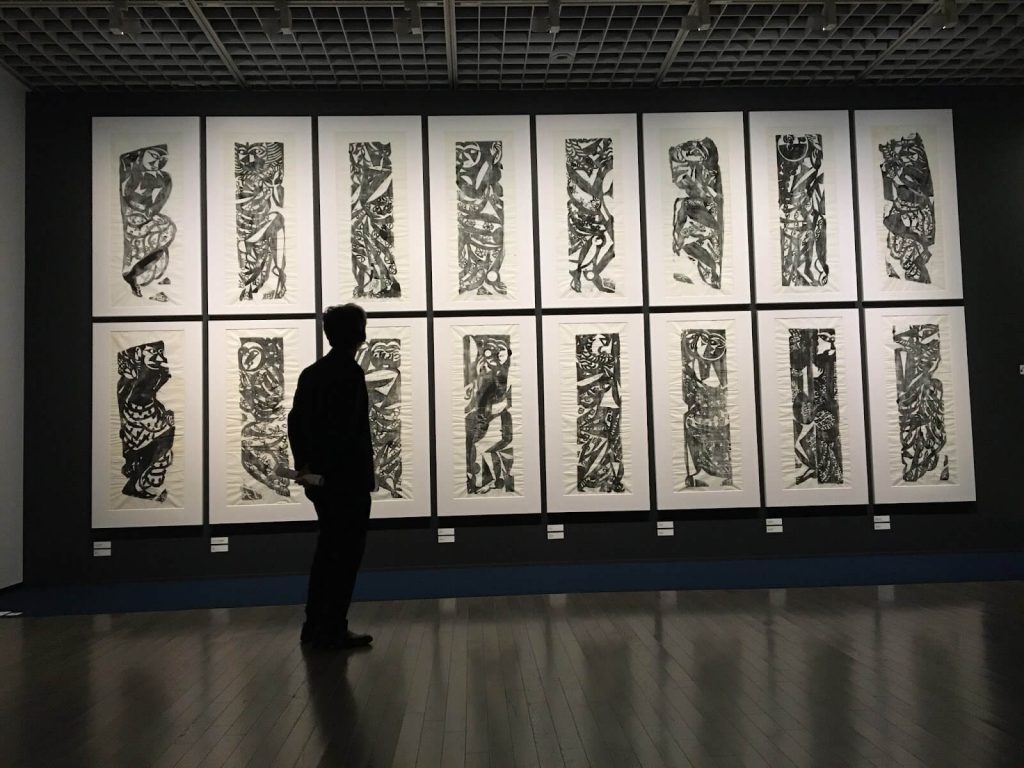 He also designed playbills, postcards, and other items of much less than epic size.
But when Munakata gets going, he just doesn't stop. His grand visions gulp down paper by the square foot and keep on sprawling. Amid this expansive composition are lines of exquisite boldness and also of vulnerability, forms in ink and white that arrest a work's motion even as they propagate it across the created space.
Take the 1939 print series Two Bodhisattvas and Ten Great Disciples of Sakyamuni, for example. Each of the twelve figures is more than a meter in height.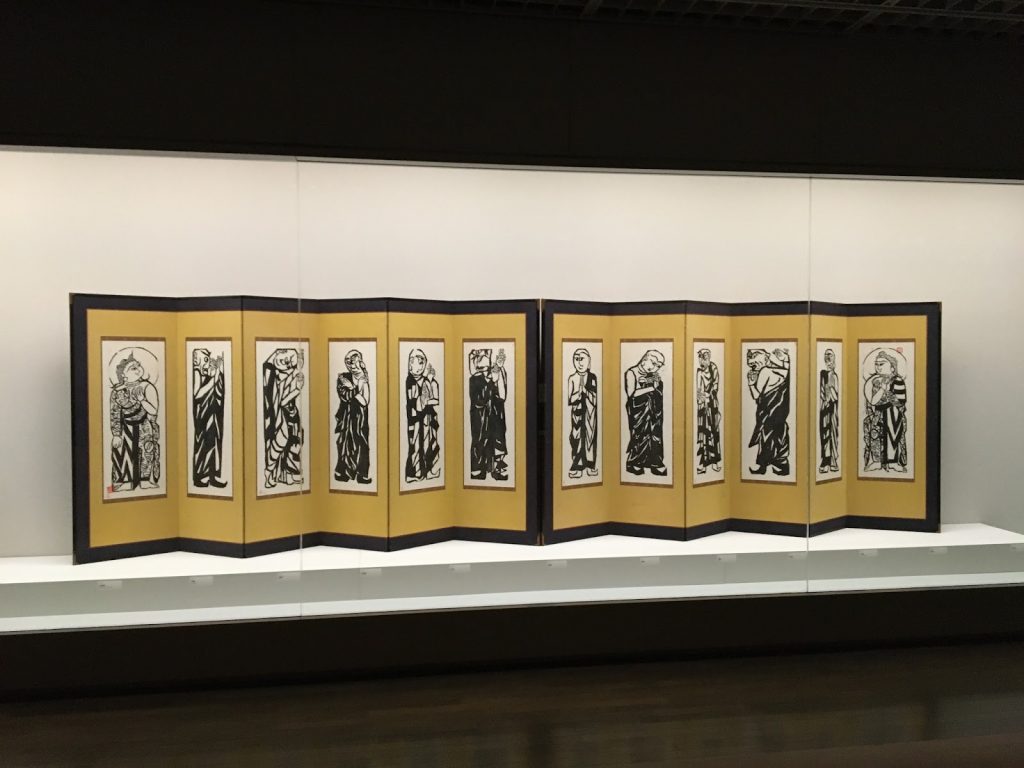 Munakata's 1953 work The Twelve Apostles is even bigger. It stands at a little over three meters and opens to a width equivalent to the height of a tallish man.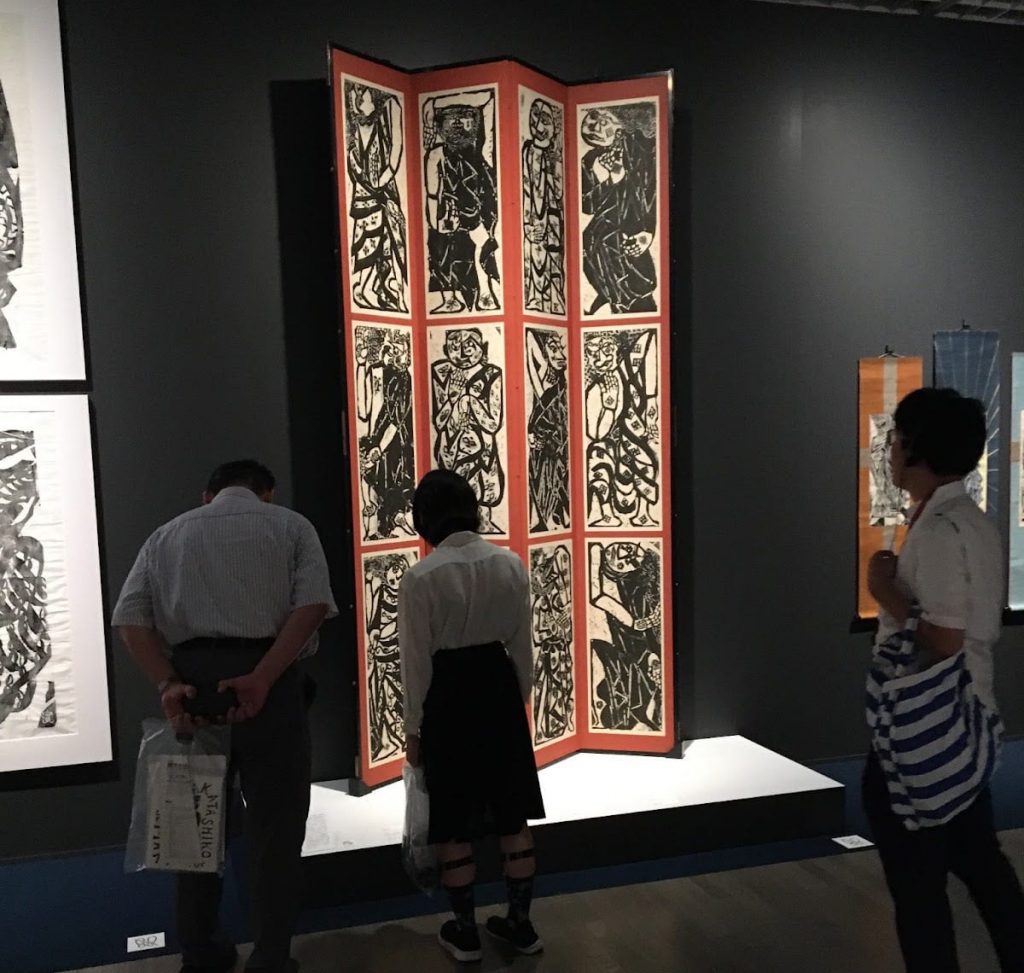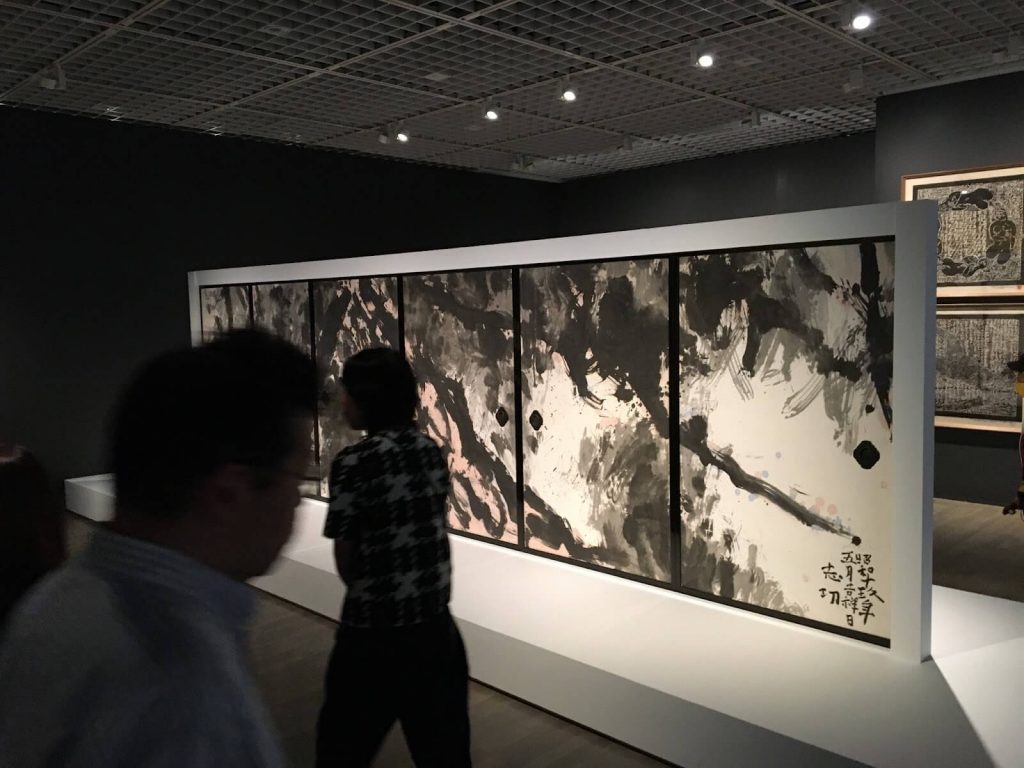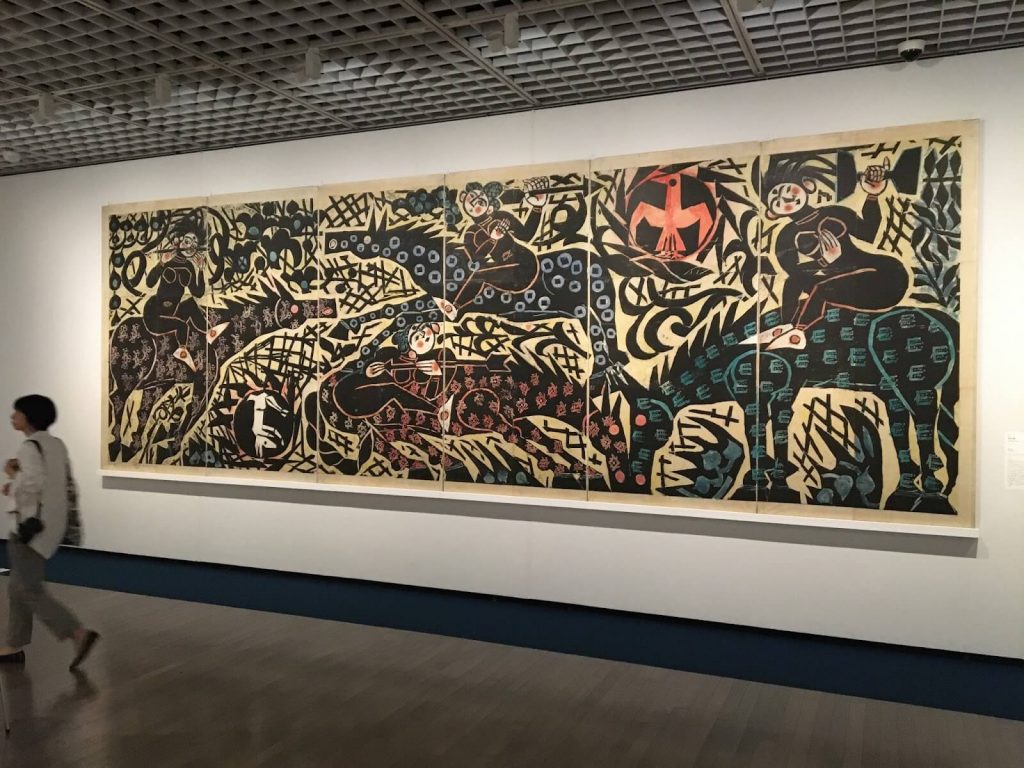 Aomori and van Gogh
Munakata Shiko worked big, but his origins were much more modest.
Munakata's expansive artistic vision was born in Japan's northeast. In Aomori, under the broad Tohoku sky, Munakata grew up in poverty, the son of a blacksmith and one of fifteen children.
But Aomori was filled with life and color. The Nebuta Festival for example, and the landscapes etched into the fecund earth, awakened something in the young Munakata that would take a lifetime to fully flower.
Munakata was inspired to become an artist by viewing Dutch painter Vincent van Gogh's work Sunflowers in an issue of the literary magazine Shirakaba. Early Munakata canvases — at the time he had not begun to specialize in the woodblock prints for which he is now famous — seem to be attempts to work through the influence of van Gogh.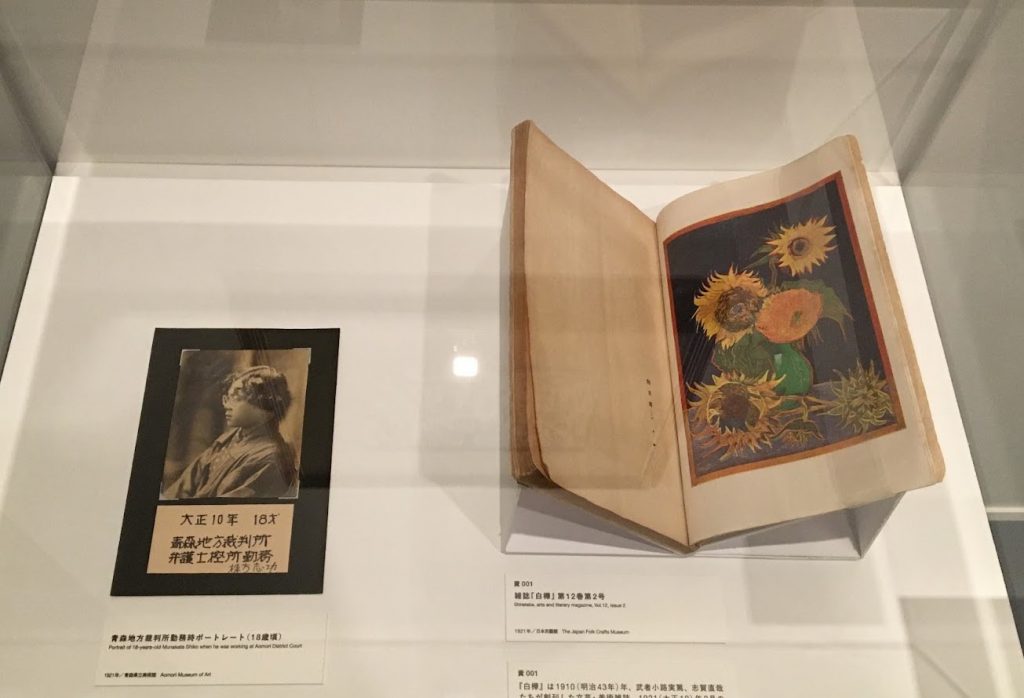 Perhaps other European artists were also on Munakata's mind. His 1924 painting Mt Hakkoda, for example, is redolent of Paul Cezanne (1839-1906) and Camille Corot (1796-1805).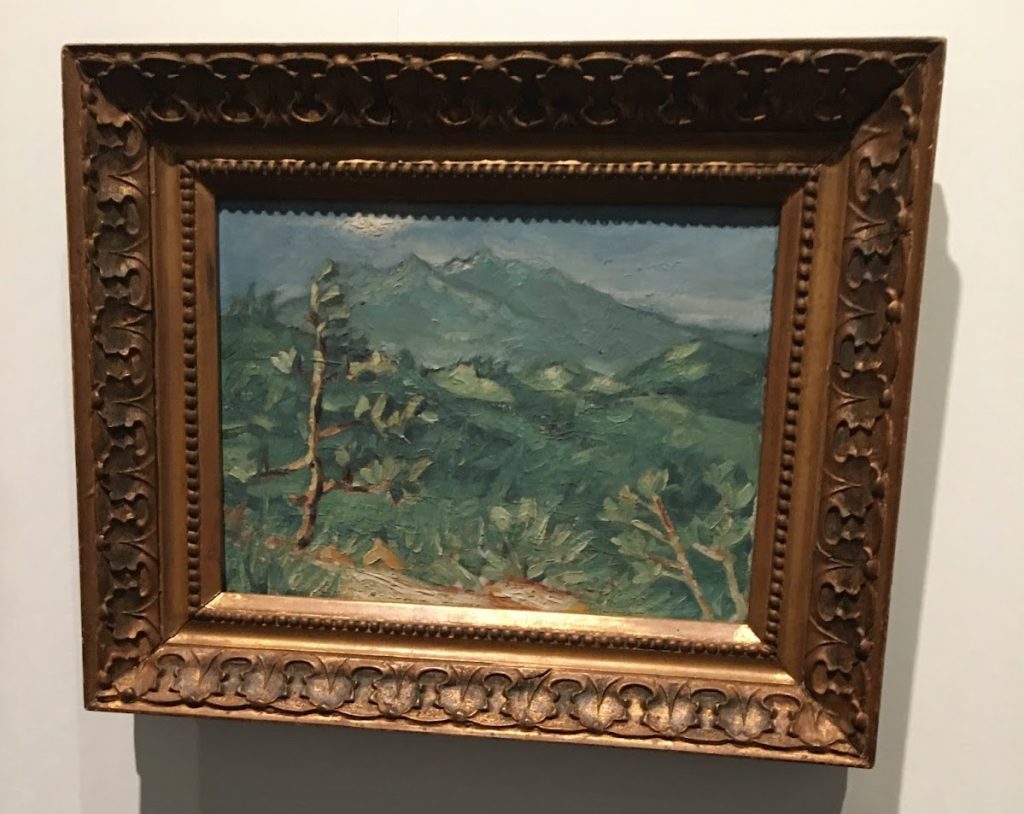 From Aomori, Munakata moved to Japan's capital as a young man, determined to make a career out of his artistic vision. It was there that a chance encounter with — somewhat ironically — artists and philosophers more interested in tradition than in Tokyo modernity would set Munakata on a path to international renown.
The Mingei Movement and Yanagi Muneyoshi
A June 1937 photograph on display at "The Making of Munakata Shiko" exhibit speaks volumes about Munakata Shiko's artistic development. In the photo, Munakata sits in the front row, arms folded, face framed in his signature dark-rimmed eyeglasses. To his right, arms similarly folded is Yanagi Muneyoshi (1889-1961).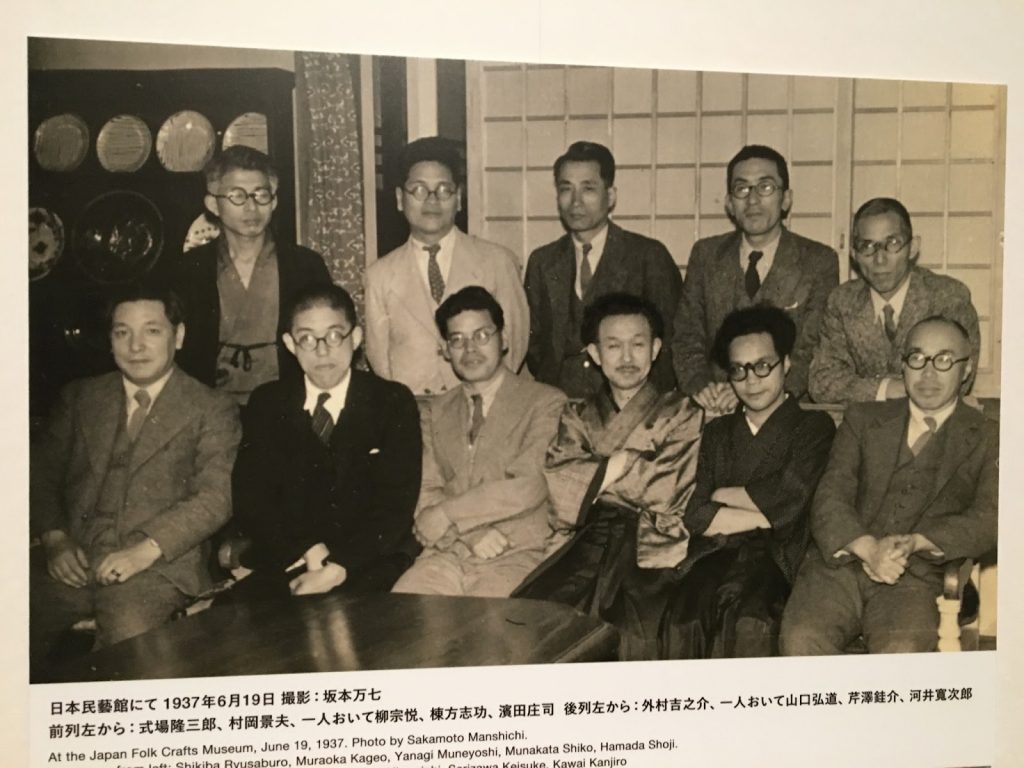 The photo was taken at the Nihon Mingeikan, or Japan Folk Crafts Museum, located in Meguro Ward, Tokyo.
Yanagi Muneyoshi was the philosophical and artistic driving force behind the founding of the Mingeikan, as well as behind the Mingei movement more generally. The Mingei movement, which Yanagi started in South Korea called for a re-evaluation of folk crafts as works of artistic beauty. Yanagi believed that art was not the exclusive province of social elites. For the Mingei group, average people could, and do, make art that brings beauty out of, and into, the everyday.
A Turning Point
Yanagi and fellow Mingei enthusiast Shoji Hamada (1894-1978) discovered Munakata's work by chance one day after it had been rejected by a major, mainstream exhibition. Yanagi, taken with Munakata's art, bought some of his works to display in the newly-opened Mingeikan. This provided financial and moral support for an emerging artist.
As "The Making of Munakata Shiko" exhibition volume explains, the expanding Mingei network in Japan proved to be a turning point for Munakata's working environment. Mingei artists and enthusiasts provided frequent and specific commentary on Munakata's art, awakening him to new creative perspectives. The human connections Munakata formed through Mingei were invaluable to him, an artist from Aomori who later in life created a piece reflecting on having had to learn the Tokyo dialect.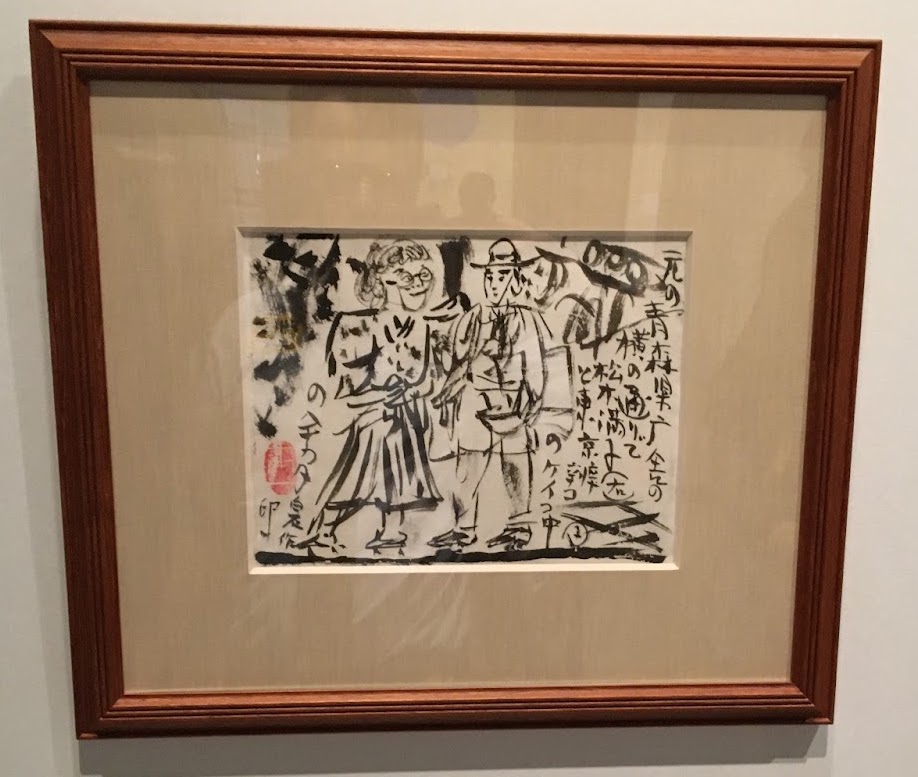 Munakata stayed for a month or so at Mingei ceramicist Kawai Kanjiro's (1890-1966) home in Kyoto, for example. He also spent time at the Hamada home in Mashiko, Ibaraki prefecture.
The Mingei movement welcomed Munakata into the center of a community of like-minded artists. Once rejected by the academic galleries, Munakata had found an artistic home.
Buddhism at the Heart of Postwar Munakata Revival
As Munakata flourished in his art career, however, Japan sank into suffering.
Munakata and his family spent the last months of the Greater East Asia War in a small town in rural Toyama prefecture. Kawai Kanjiro, Munakata's Mingei mentor, helped the Munakatas find shelter thanks to the good offices of a Buddhist priest named Kansho Kosaka. Munakata was back in the provinces — and also immersed in the Buddhism that spiritually supported him.
National Museum of Modern Art Chief Curator Hisaho Hanai gave a lecture on Munakata during the special press-only pre-opening event. It was held a day before the official opening of the "The Making of Munakata Shiko" exhibition. Hanai explained that Munakata is often remembered for his Mingei associations as well as for the worldwide acclaim that he garnered after the war. However, she stressed that the Toyama period was also crucial to the formation of Munakata as an artist.
Munakata was a believer in Pure Land Buddhism. His works from the Toyama years make this explicit. In Toyama, the Buddhist spirit that coursed through the Mingei movement flowed with great power into Munakata's art.
A World Figure
The long war years finally drew to a close, but Munakata stayed in Toyama until 1951 when he resumed his art career in Tokyo. The seclusion of the war and immediate postwar years gave way to global acclaim. In 1956, Munakata won the 28th Venice Biennale. The awards kept coming. Munakata became an internationally renowned artist.
He sojourned in the United States and India, and his works were shown in other countries, as well.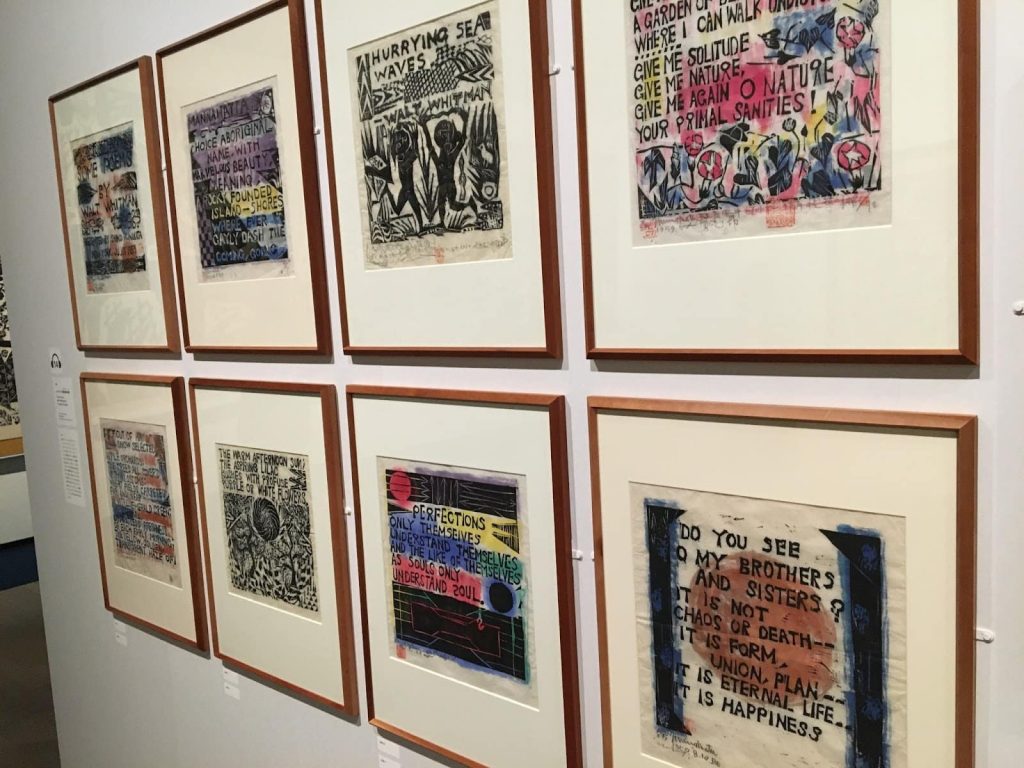 Munakata's ebullient way of working — face pressed down to the wood to accommodate his poor vision, humming songs of Beethoven into his flying hands — and the deceptively simple beauty of his work endeared Munakata to art lovers around the world.
Munakata finally found widespread fame in Japan, too. During what Curator Hanai calls the "postwar publishing boom," Munakata's book cover designs for famous authors such as Junichiro Tanizaki and Kenji Miyazawa established his reputation in his home country.
'Munakata for the World'
Munakata has a long and rich history with Mingeikan. But as Curator Hanai noted in her pre-opening-day lecture, the National Museum of Modern Art has also put on Munakata exhibitions, both while the artist was alive and after his death. The National Museum of Modern Art also holds many Munakata pieces. Therefore, Hanai said, the "The Making of Munakata Shiko" exhibit is an opportunity to revisit the work of Munakata, not just as a Mingei artist, but also as a postwar artist.
It seems fitting that Munakata's retrospective was held at the National Museum of Modern Art for another reason. Munakata is not just Mingei, and he is also not just Japan. He belongs to all of us.
Munakata is forever a son of Aomori, of course. He enjoyed depicting (and dancing in) Aomori's famous Nebuta Festival in all of its brilliant colors. His home prefecture boasts a museum dedicated to his work. Munakata's pieces grace halls and other public spaces in the Aomori cities of Hirosaki and Hachinohe.
But the artist, while rooted in the Mingei tradition and in his native Aomori soil, is also, as Hanai put it, "sekai no Munakata": "Munakata for the world."
Making Art Was Munakata Shiko
How true this is. Munakata Shiko left behind a body of work that graces the walls of museums and private collections across the planet. The Metropolitan Museum of Art in New York City has a Munakata. The Japan Society in New York did a Munakata exhibition in 2021. The Art Institute of Chicago has a fine Munakata collection. Italy, Switzerland, Brazil — Munakata's prints and paintings have been everywhere.
And yet, there is a way in which "The Making of Munakata Shiko" does not tell the whole story of the man himself. Perhaps this is because of the way he worked, the way he gave all that he had to his vocation.
As I was leaving "The Making of Munakata Shiko" exhibition at the National Museum of Modern Art this October, I was struck by Munakata's spectacles and a few other personal items on display. Those small things that Munakata kept on his person stand in great contrast to the outpouring of creativity from Munakata's soul.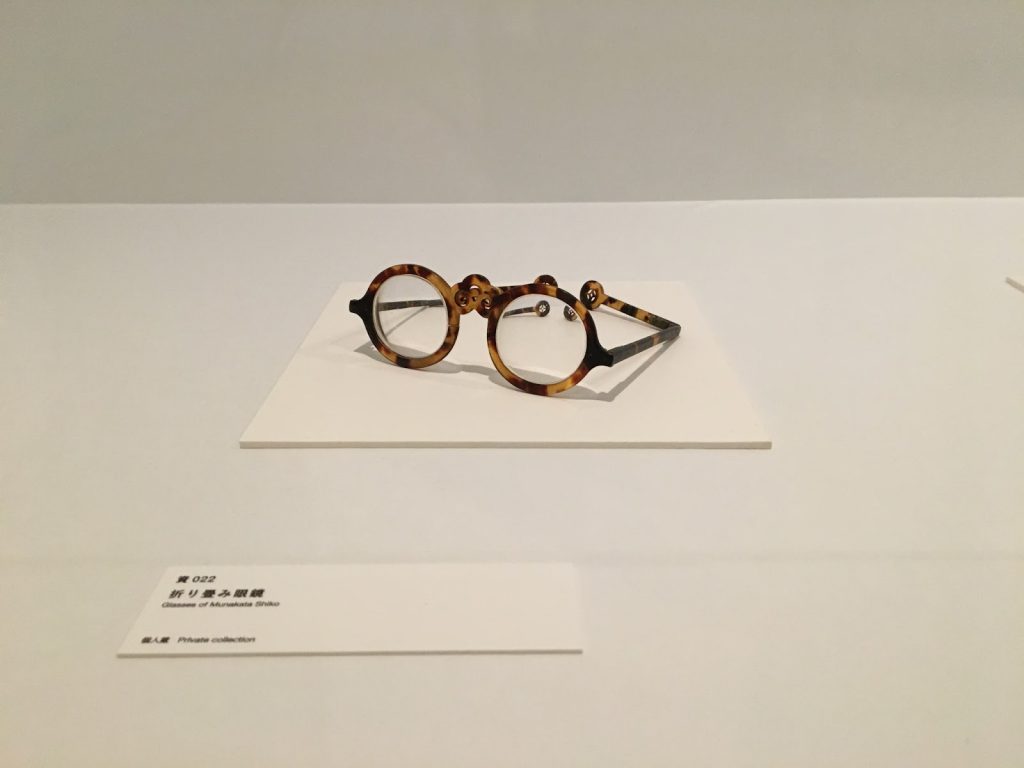 How giant his art was. How self-effacing the artist was. Munakata's artworks tower. The man himself recedes, forever creating, forever pushing blade and brush into new arrangements of color and line.
If one wants to know the making of Munakata Shiko, I reflected, one must look to his lifetime of artistic production. Because for Munakata, the making of art was everything.
"The Making of Munakata Shiko" exhibition at the National Museum of Modern Art runs from October 6 to December 3, 2023. The National Museum of Modern Art is near Takebaschi Station on the Tozai subway line.
RELATED:
Author: Jason Morgan, PhD
Jason Morgan is an associate professor at Reitaku University in Kashiwa, Japan.