Tokyo Symposium Pushes for Resolution of North Korean Abductions, Human Rights Violations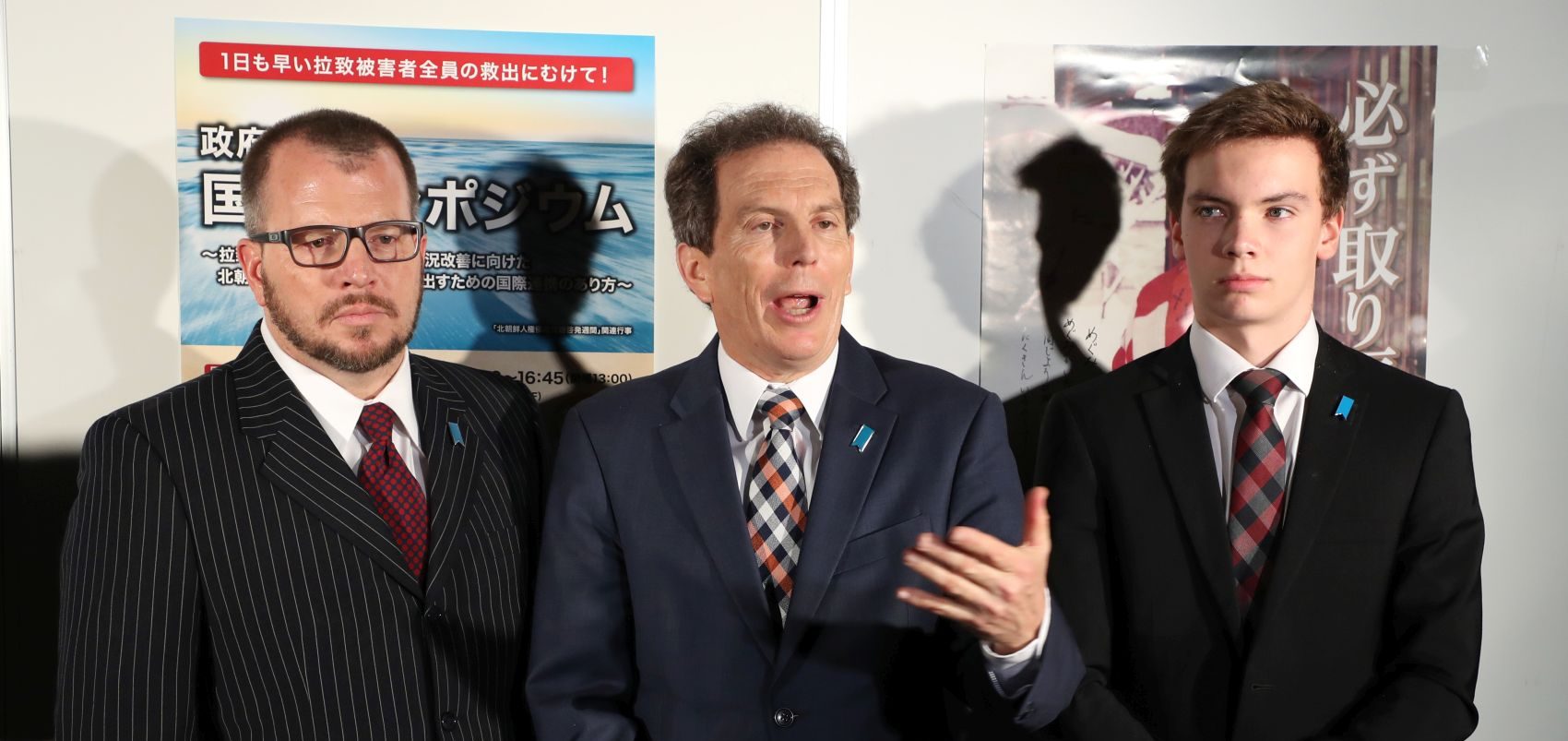 The powerful voices of the victims of North Korea's four decades of human rights abuses rang clearly in Iino Hall in Kasumigaseki, Tokyo, on Saturday, December 15, at the government-sponsored International Symposium on North Korean Human Rights. It capped a week focused on the North's abduction of Japanese and other human rights abuses.
The event was opened by Chief Cabinet Secretary and Minister for Abductions Yoshihide Suga, who made it clear the abductions are a very high priority for the Japanese government.
While junior high and high school students read essays on the abduction of 13-year-old Megumi Yokota, the families of Japanese and American abduction victims reminded the public of the unending pain experienced by those living with missing loved ones. Human rights experts from the United States, Japan, and South Korea debated the best way to resolve the problems caused by North Korea's behavior.
Representing the Japanese families, Shigeo Iizuka, whose sister Yaeko Taguchi was abducted in 1978, emphasized the urgency of bringing the victims home as age and illness take their toll on the families.
Takuya Yokota, whose sister Megumi Yokota was abducted in 1977, articulated the frustration of the families as the issue lingers. Yokota pointed out it would have been far easier to resolve the issue had the government acted decades ago, when North Korea's role in the disappearances first became evident.
Fred Warmbier, the father of the American student Otto Warmbier (1994-2017), led the families as he spoke about the death of his son due to North Korean torture. His message was a clear and poignant call for an end to the North Korean regime's ability to commit further human rights abuses.
The family of American victim David Sneddon, believed to have been taken by North Korean agents while traveling in China in 2004, was represented by the victim's brothers. Michael Sneddon spoke to the largely Japanese audience in English, and James delivered the family's message in Japanese, expressing commonality with the families of the Japanese victims and hope for the speedy return of all victims.
Significantly, because of the event, the two American families met each other for the first time in Tokyo.
In an interview with JAPAN Forward and The Sankei Shimbun after the symposium, the Sneddon brothers emphasized their hope for an end to all North Korean abuses, while also acknowledging the terrible toll on the health and lives of the parents and other loved ones left behind. It is this pain, shared with the families of Japanese victims, that brings them back to Tokyo every year, and their expression of it that keeps the public riveted to David's case.
With the family's permission, the letter read by Michael Sneddon at the December 15 symposium is reproduced in its entirety below:
December 2, 2018
Dear Friends, Distinguished Government Officials, and Honored Guests
It has now been nearly 14 years since our brother and son, David Louis Sneddon disappeared while hiking through Yunnan Province, PRC. We shared our frustrations and hopes with you at the NARKIN and Japanese government symposium in 2014. Based upon new information from Sung-Yong Choi, President of the Abductee's Family Union, and others we are now sure that David is being held by the DPRK. In the present political climate which is dealing with denuclearization and normalization of relations between the DPRK and its neighbors in the region, David's presence may be helpful to all concerned in such a critical time.
David is trilingual, speaking English, Korean and Mandarin and has lived within the cultures represented by these languages. This may be useful to negotiators from the DPRK should they choose to use him behind the scenes. Even in the context of abduction there is reason for hope for David in the present situation. In our family certain things have not changed. Indeed, our children, and most all of David's nieces and nephews pray daily for his welfare and safe return. But this is long journey. Today, we find hope in the eternal principle that good always triumphs over evil. If we are patient and work for that which is good, we can hasten its triumph.
Through our quest for David's return, thankfully, we have found the NARKIN organization and the Government of Japan and most importantly, the many wonderful families of North Korean abductees who also suffer from similar tender feelings for their missing loved ones. While our family shares a burden of loss and pain, somehow, the presence of other families, shouldering similar burdens with heavy hearts, makes our hearts lighter. With this thought, this mindset, we use hope and our own perseverance to bring David home. Our hope is for all who have been abducted, may they soon return.
Further, we thank all families affected by these abductions for their continued courage and concerted fight for recognition by their governmental leaders. We call upon responsible government officials everywhere, but especially in the United States, to affect change. This is a time politically when that which is morally right, bringing the abductees home, can be accomplished.
Yet in this quest, we would be selfish should the return of our loved ones, these abductees, be the sole focus of our efforts. Though we and the abductees presently suffer, and have suffered for many years, millions of innocent citizens of North Korea continue to suffer under oppression, punishment, abuses, malnutrition, fear, and other unspeakable tortures brought upon them by their own government. They have endured this "winter" of pain and oppression for the entire duration of their lives. Yes, even for generations. We would be remiss should we forget their plight, their suffering, and not fight for their better day. Therefore, with our heartfelt desire to bring home our loved ones, let us not forget the forsaken people of North Korea. Let us also help them find a warm, sunlit summer morning filled with hope, opportunity and freedom.
As our hearts reach out to all the abductees and affected families, we pray for the oppressed people of DPRK. They like us suffer. They like us, shall one day be freed from this pain. This is the hope of the Sneddon Family that all will soon be free. We desire all within the sound of our voice to pick up the torch of hope while working relentlessly for a brighter day upon the Korean peninsula. Oppression of people there shall cease.
Respectfully yours,
Roy, Kathleen, Michael, James, Jannene, Katherine, Cameron, Nathan, Mary, Jenny and the extended Sneddon Family
Author: JAPAN Forward