Why Japan is Reluctant to Become Seriously Estranged from China
Tokyo hopes that, through direct talks with Beijing, it can encourage restraint on the Taiwan situation and China's provocative behavior around the Senkakus.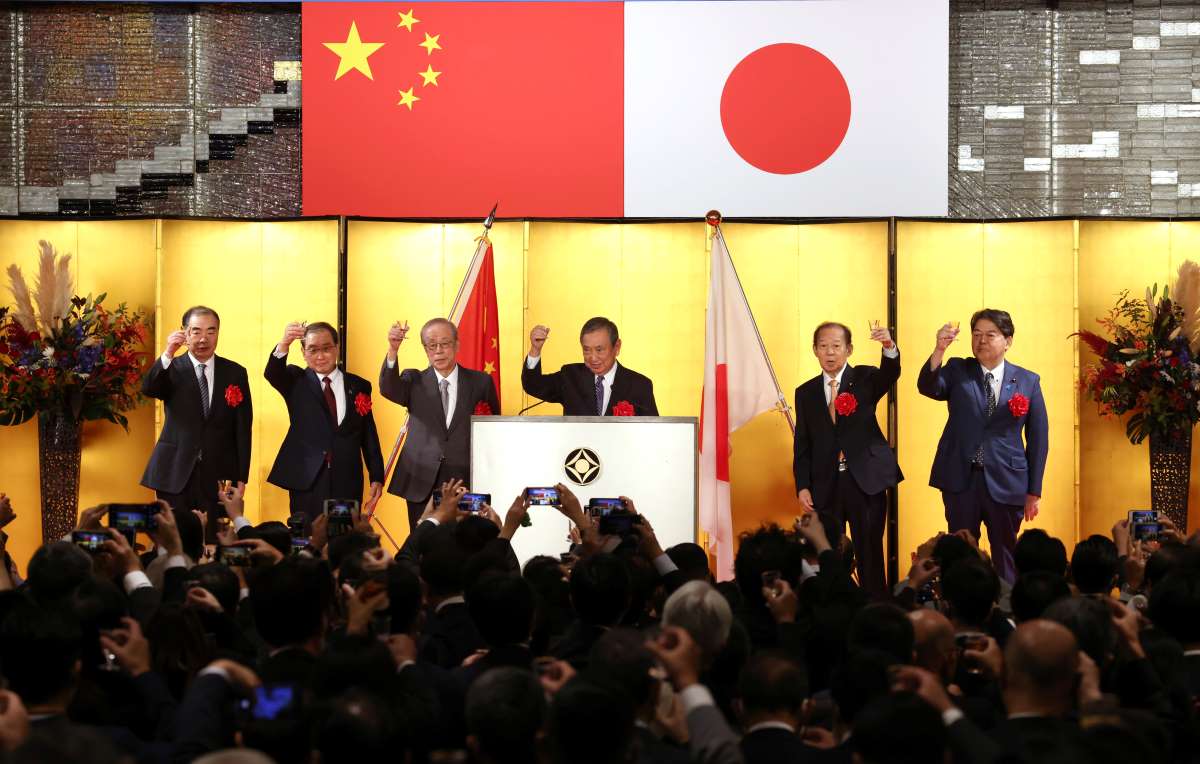 September 29 marked the 50th anniversary of the normalization of diplomatic relations between Japan and the People's Republic of China. On that day, Prime Minister Fumio Kishida and Chinese President Xi Jinping exchanged congratulatory messages in which they called for building bilateral ties appropriate for a new era.
Nonetheless, tensions between the two neighboring nations continue unabated as China increasingly engages in hegemonic behavior in the East China Sea and South China Sea. A formal summit-level meeting of the respective national leaders has not taken place in close to three years, and the current bilateral mood is anything but celebratory.


Tokyo Commemoration
A commemorative party organized by the Keidanren (Japan Business Federation), the Japan-China Friendship Association, and other groups was held at a Tokyo hotel on Thursday, September 29, to celebrate the occasion. Among the guests were former Prime Minister Yasuo Fukuda, former Liberal Democratic Party secretary-general Toshihiro Nikai, and China's Ambassador to Japan Kong Xuanyou.
Prime Minister Kishida was invited to the event, but did not attend. Messages from Kishida and Xi were read instead during the ceremony.
Kishida stressed the importance of remembering normalization of relations a half-century ago as a "starting point" for both sides to work together to forge a new bilateral relationship appropriate for the future. Xi vowed to work with Kishida "to lead both sides to jointly build a China-Japan relationship that meets the demands of the new era."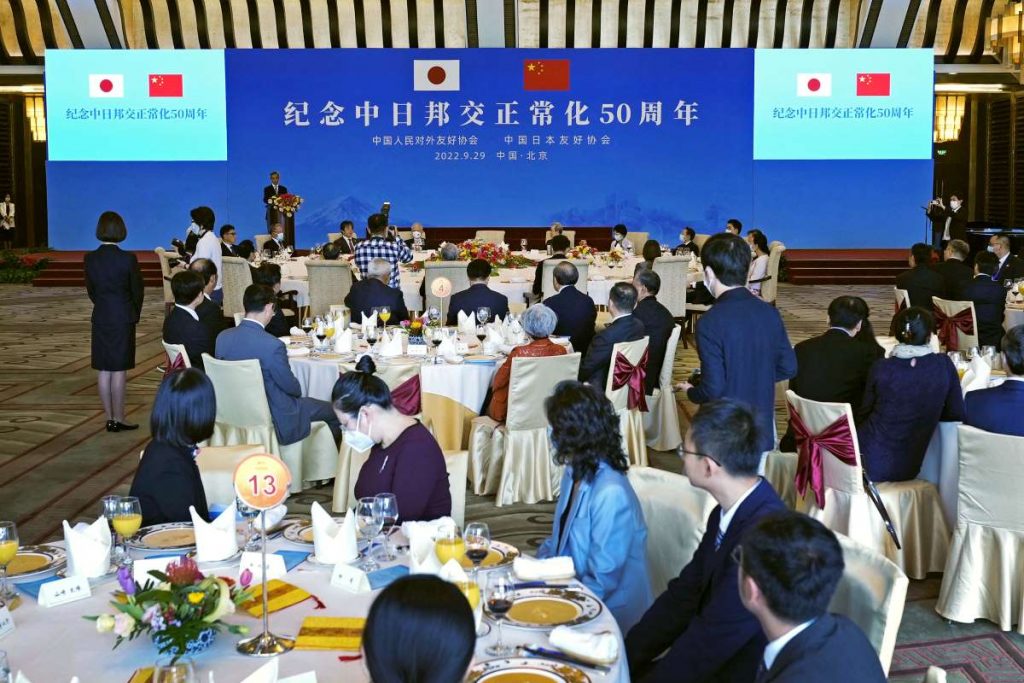 Beijing Commemoration
That same day, the Chinese side hosted a commemorative ceremony at the Diaoyutai State Guesthouse in Beijing. Among the dignitaries in attendance were Vice Chairman of the National People's Congress Ding Zhongli and Japan's Ambassador to China Hideo Tarumi.
During the 50 years since normalization, relations between the two nations have been characterized alternately by cooperation and confrontation. Japan's provision of more than ¥3.6 trillion JPY ($25 billion USD) in official development assistance (ODA) gave a strong boost to China's development efforts. And during the past five decades China has become Japan's number one trading partner.
In 2010, China surpassed Japan to become the second largest economy in the world in terms of GDP. At the same time, there have been multiple bones of contention between the two neighbors.
Beijing has made provocations the norm, for example by sending China Coast Guard vessels repeatedly into waters around the Senkaku Islands, Ishigaki City in Okinawa, territory that Beijing has laid claims to. Even on September 29, the anniversary of normalization of relations, four Chinese vessels were prowling around the waters adjacent to the outer perimeter of Japan's territorial waters.


Maotai Toasts May Leave a Hangover
Rather than being a day of unadulterated celebration, September 29th highlighted the current severely frayed state of bilateral relations. There is no better evidence than the failure to create opportunities for direct dialogue between the two countries.
Prime Minister Kishida has said that he would like to work with President Xi to establish "constructive and stable ties," but it remains unclear how that might proceed.
"As we celebrate this 50th anniversary, let us all continue to work hard [to foster Japan-China ties] until the 100th anniversary," he said.
Former Speaker of the House of Representatives Yohei Kono led around 850 guests in attendance at the Tokyo event, including many prominent members of the business community, in a toast with fiery Guizhou Maotai liquor.
This was the same drink that then-Japanese Prime Minister Kakuei Tanaka and Chinese Premier Zhou Enlai toasted with when they signed the Japan-China joint declaration of intent to establish formal diplomatic relations 50 years ago. The obvious intent was to give a further boost to the celebratory mood.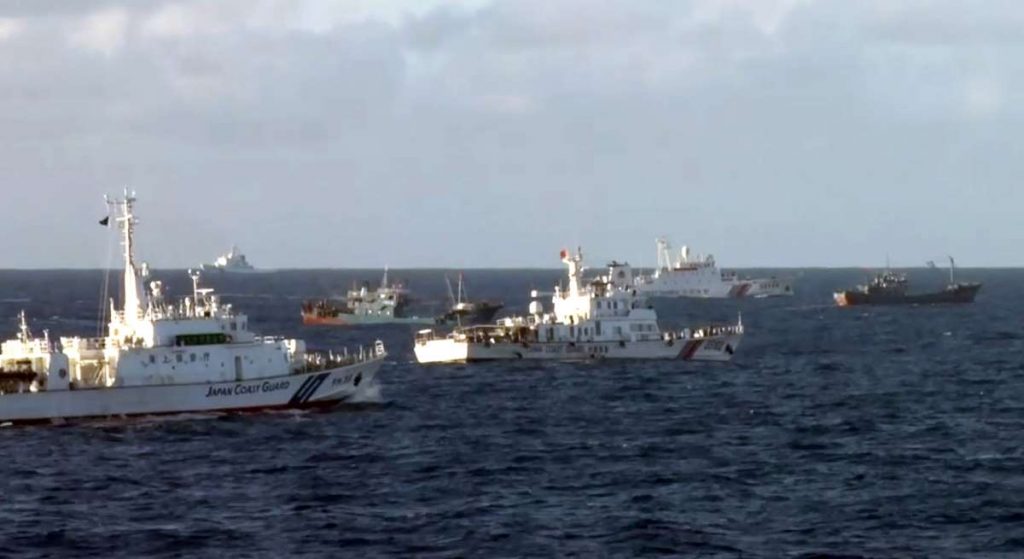 Regional Tensions High
Be that as it may, at present Japan-China relations are directly confronted with a harsh reality. Since Russia's invasion of Ukraine in February, the PRC has moved in lockstep with Moscow, further exacerbating its confrontation with the West and other countries.
Tension surrounding Taiwan has also spiked since United States Speaker of the House Nancy Pelosi made a short visit to that island democracy in August.
Impetuous behavior on the part of China, including the last-minute cancellation of a previously scheduled Japan-China foreign ministers' meeting, has caused rapid deterioration in the relationship.
Although feelers were sent out to arrange a meeting of the foreign ministers of the two countries on the sidelines of the United Nations General Assembly meeting in New York in September, in the end the talks did not materialize. For one thing, Japan did not seem in the mood to make concessions too readily, with one foreign ministry official saying Japan was not inclined to bow and scrape to secure a meeting with a party that had previously canceled at the last minute.


Seeking a Stable Relationship
Nonetheless, at heart Japan is loath to become seriously estranged from China. That is because it hopes that, through direct talks with Beijing, it can encourage restraint regarding the Taiwan situation and China's provocative behavior around the Senkakus.
On September 22, Prime Minister Kishida told a press conference that the specific form the dialogue takes would have to be carefully considered and worked out by the two sides.
The G20 Summit and other major international meetings are due to be held in November, and there is always a chance that progress will be made in arranging a summit meeting between Kishida and Xi. A Japanese government source describes the prospects for improvement in Japan-China relations as follows: "A sudden 'jump' is out of the question, but we are taking appropriate 'steps.'"


RELATED:
Author: Yoshikazu Hiroike
(Read the article in Japanese at this link.)