Ambassador Sergiy Korsunsky: Ukrainians 'Have Freedom in Their Blood'
Ambassador Sergiy Korsunsky spoke at the Kanda Institute of Foreign Languages about why the war must be won and the friendship between Japan and Ukraine.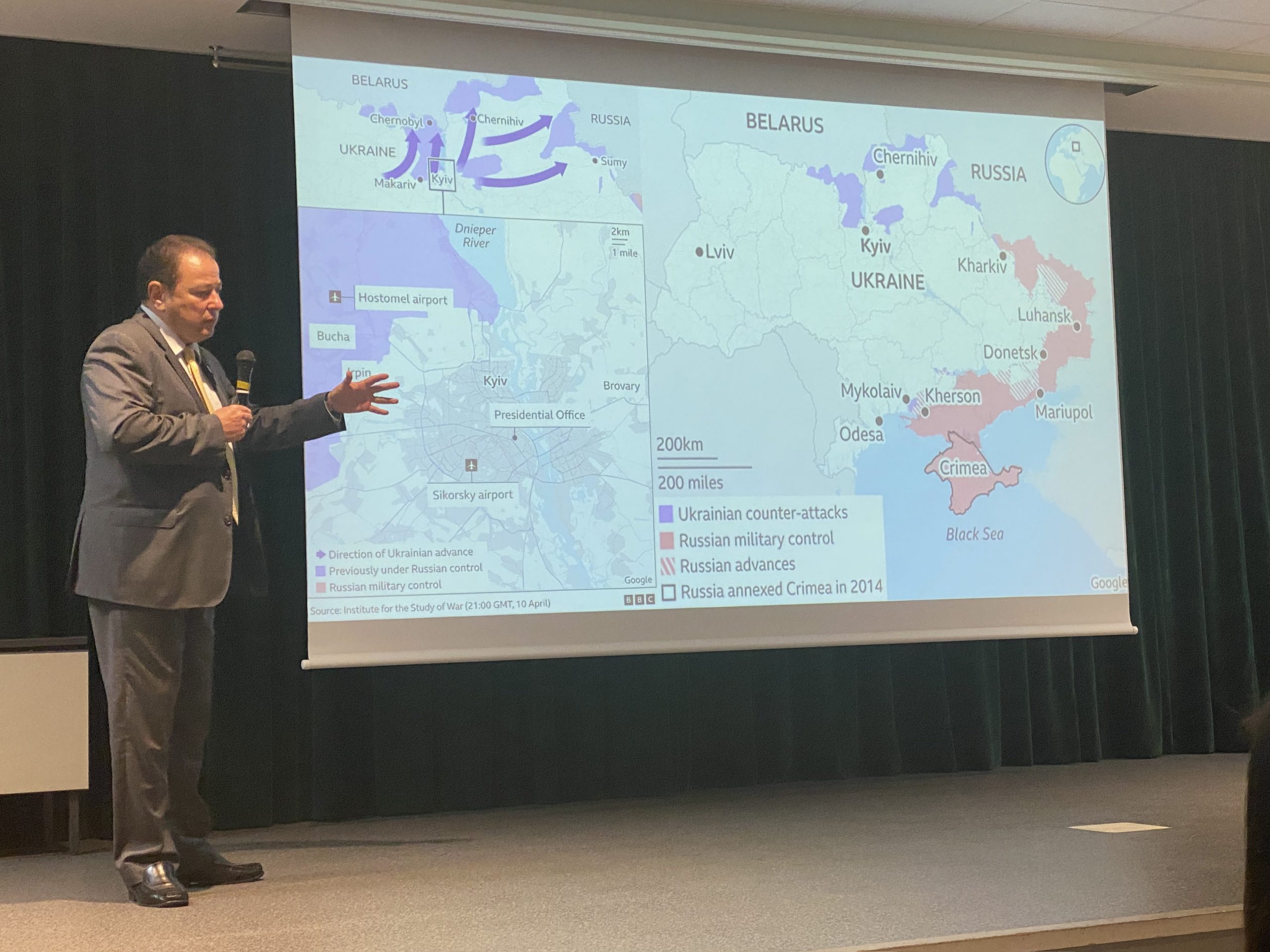 As the world transitions to Covid-19 coexistence, communities and institutions have begun resuming their regular traditions and events. Accordingly, in November, the Kanda Institute of Foreign Languages held its school festival after a two-year hiatus with a special guest: Sergiy Korsunsky, Ambassador Extraordinary and Plenipotentiary of Ukraine to Japan.
After his presentation, students from the Kanda Institute of Foreign Languages and their Ukrainian counterparts held a discussion via zoom. They also welcomed students from a variety of South and South East Asian nations.
The ambassador's presentation was divided into two parts. The first detailed commonalities between Ukraine and Japan. But the second larger portion addressed the ongoing war. Powerful imagery included numerous before and after shots of ruined Ukrainian cities and towns. Korsunsky also personalized his presentation by depicting just how close the Russian forces came to his own home.
During the tenure of the Soviet Union, Ukraine's achievements were largely subsumed by Russia. The ambassador clarified the distinction between the two. For example, Taiho Koki, the legendary sumo wrestler who became a yokozuna in the 1960s, was half Ukrainian, not Russian. His father was deported to the East by the Russians, where Taiho was born. Additionally, Korsunsky explained that Ukrainians were the ones who founded the city of Moscow, the seat of power of the former Soviet Union, six hundred years after Kyiv.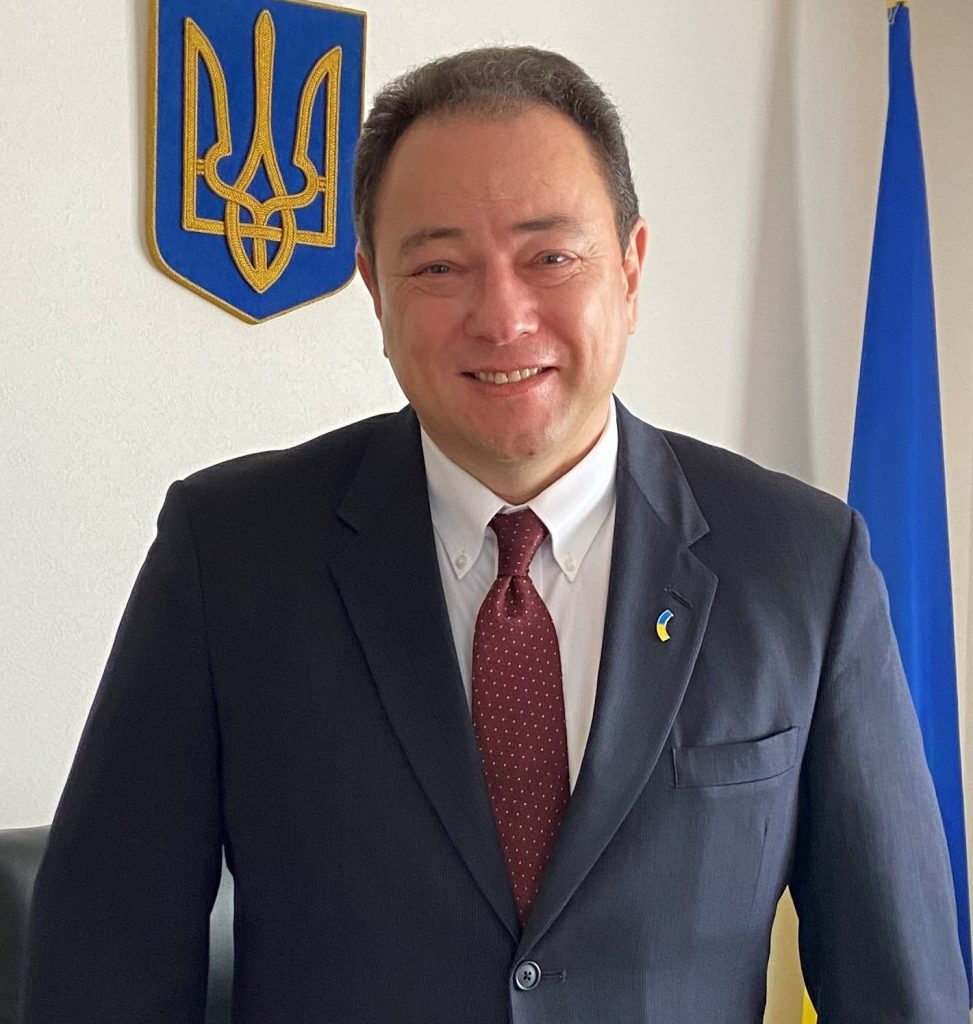 Ambassador Sergiy Korsunsky Thanks Japan
The most pertinent question from the students was whether Japan's support to Ukraine had been sufficient. The ambassador replied, "It would be impossible for me to complain." He then expressed understanding toward Japan's inability to provide military assistance and his great appreciation for Japan's diplomatic, technical and humanitarian assistance.
Of particular joy to the ambassador was how the Japanese citizens had beaten a path to the embassy's door to make donations. The embassy was overwhelmed with Japanese currency and quickly opened an account for donations. To date, over 300,000 Japanese citizens have contributed, the youngest of whom is only four years old.
On a lighter note, the ambassador expressed his gratitude to farmers in Hokkaido. They had provided beetroot to the embassy as a form of "humanitarian assistance," enabling the Ukrainian community to cook borsch.
Further, the ambassador was clear in his hopes for Japan to play a significant role in the rebuilding of Ukraine. One small silver lining of the war is that much of the infrastructure that Russia has wantonly destroyed dates back to the Soviet era — a time for which the 60-year-old ambassador retains no nostalgia: "It was simply terrible."
Therefore, the rebuilding of Ukraine will be an opportunity to leave that era behind — to "rebuild a totally new country."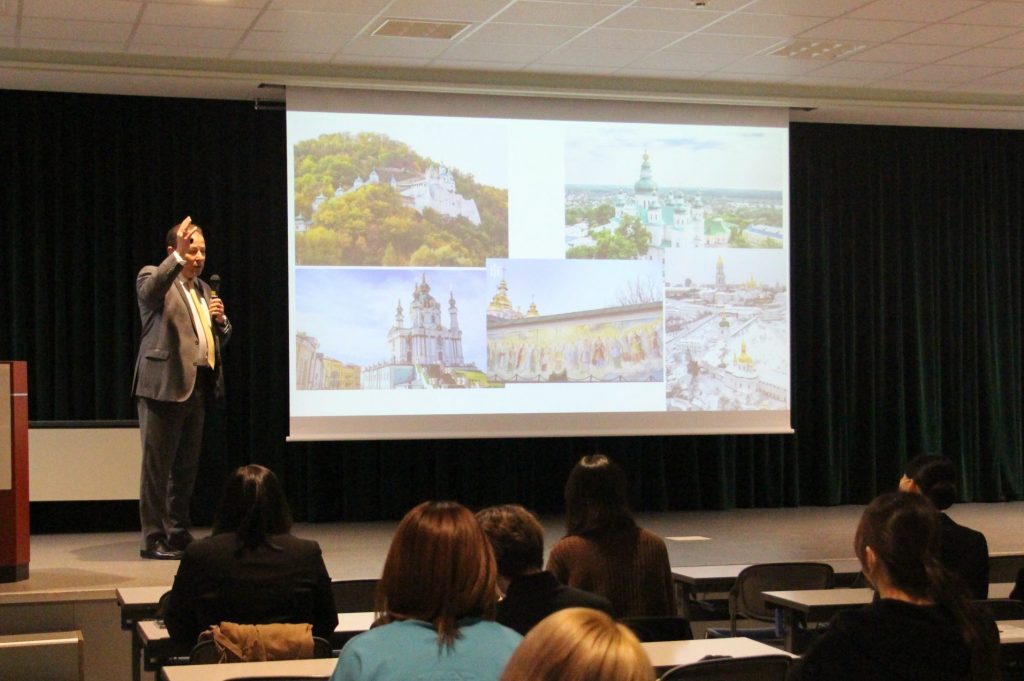 'We Know What We are Fighting for'
The ambassador's passion was matched by his optimism. "You can't conquer a people who have freedom in their blood," he assured. "We know what we are fighting for."
He didn't embellish his warning against war-weariness and apathy to the international community. "If Putin prevails, other countries will be emboldened."
Then, he also expressed Ukraine's recognition that the Northern Territories occupied by Russia are a part of Japan and that the country was rapidly upgrading its relations with Taiwan. The students were left in no doubt as to which nations might become emboldened if Russia were to prevail.
Another source of optimism for the ambassador was the stark contrast between the pro-Russian and pro-Ukrainian alliances. Russia counts on military assistance from Belarus, North Korea, Syria, and Iran, while Ukraine has the backing and support of the democratic West.
At its core, the ambassador views the conflict as between a Russia that wants to be an empire, and a Ukraine that wants to live in Europe, "develop and innovate," and "be free."
"What have the Russians achieved in the past thirty years?" the ambassador challenged the students to consider. They have created no brands and no significant products, other than "the biggest micro calculators in the world," he joked. During the current war, Russia has even been reduced to "asking North Korea for uniforms and food."
If finally, after 400 years of living under Russian influence, Ukraine could develop independently, Ukraine would become a "real jewel," Korsunsky declared.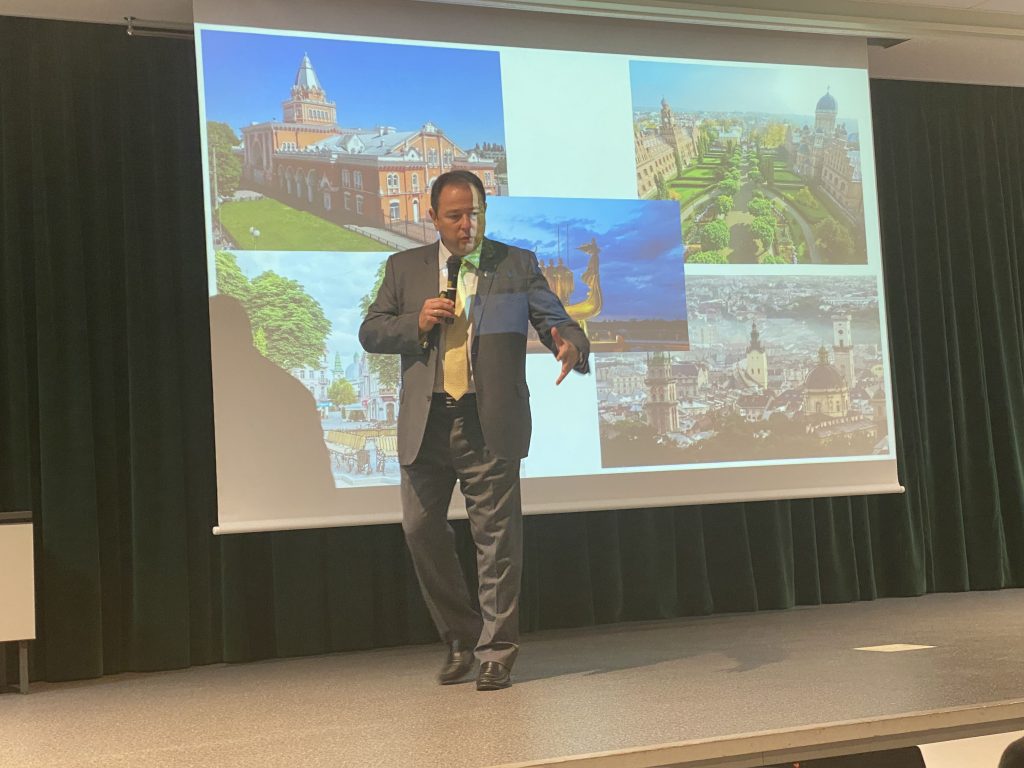 Future Journeys
Ambassador Sergiy Korsunsky came to the diplomatic service with a doctorate in mathematics. As his previous three appointments had been three, five, and eight years long, his current one, which commenced in 2020, could be for twelve, he quipped.
If he indeed stayed on as ambassador until 2032 and visited the Kanda Institute of Foreign Languages again during its 2032 festival, this time with the current war long since resolved, what would he talk about?
As with a couple of other notable members of the diplomatic community, the ambassador is quite a fan of Japanese trains. In fact, he envisions Ukraine's main cities being linked by the shinkansen bullet train.
One suspects, therefore, that in 2032, Korsunsky would dearly love to recount a recent trip between Kyiv and Odesa on a shinkansen. There will be many bridges to cross, both figuratively and literally, before that journey becomes a reality. But the ambassador can feel confident that Japan will play its part.

RELATED:

Author: Paul de Vries
Find other reviews and articles by the author at this link.