Boarding the USS Abraham Lincoln in the Philippine Sea by Osprey
US Navy F35Cs and F/A18s flew over USS Abraham Lincoln aircraft carrier in the Philippine sea as Japan's FM Hayashi and US Ambassador Emanuel arrived.
Fighter jets appeared without presage from behind the aircraft carrier, passing just by the bridge. Every time a fighter jet took off and landed, a roar echoed through the air and white steam rose above the deck.
Mizuki Okada, a staff writer at The Sankei Shimbun and JAPAN Forward accompanied Japan's Minister of Foreign Affairs, Yoshimasa Hayashi on his visit to USS Abraham Lincoln, the United States Navy's nuclear-powered aircraft carrier, on Saturday, April 23.
It was a joint visit by Mr. Hayashi and American Ambassador to Japan Rahm Emanuel to the USS Abraham Lincoln, one of the world's largest aircraft carriers. The US Navy's Nimitz-class vessel was deployed in the Philippine Sea, Pacific Ocean at that time.
It was the first time in about twelve years that a Japanese foreign minister had landed on a US aircraft carrier.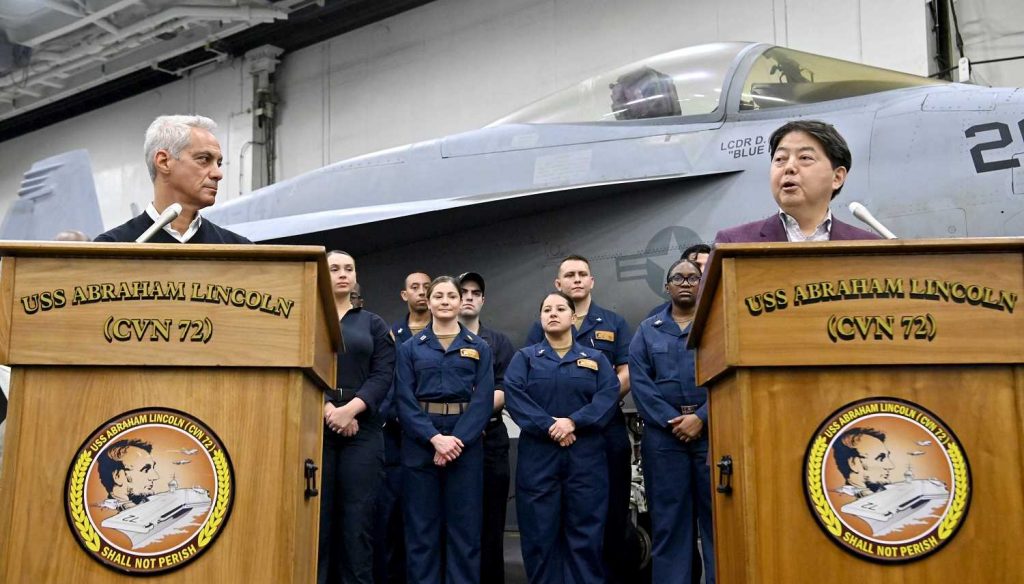 Onboard an Osprey
A group of both Japanese and American media boarded an MV-22 Osprey transport aircraft from the US Navy's Atsugi Air Base (located in Yamato City and Ayase City, Kanagawa Prefecture). It is the same type of aircraft boarded by Minister Hayashi and Ambassador Emanuel at the same base.
We were directed to wear equipment called "flight gear" including a helmet with earpieces and goggles.
About an hour after we were airborne, the sea breeze began to flow into the cabin. Eventually, the Osprey landed vertically on the USS deck while its propeller converted to axis up, like a helicopter.
Landing on the deck, we were exposed to strong winds from the propeller. This reporter crouched down to look up at the Osprey as it took off, but because the propeller rotated faster during takeoff, she ended up on her bottom instead, knocked over by the strong winds.


Commander of the Strike Group
Rear Admiral Jefferey Anderson, Commander, Carrier Strike Group Three, led by the USS Abraham Lincoln, called out to reporters as the press conference got underway, saying: "Good afternoon, ladies and gentlemen. Everyone can hear me? Okay, thumbs up, you can hear me? Okay!"
Commander Anderson expressed confidence in his ability to act with promptness, regardless of the situation. He had deployed in Iraqi Freedom and past assignments had included duties as a Top Gun instructor and training officer at the Naval Strike and Air Warfare Center. Speaking to both Japanese and American media, he said:
Can I talk about some of the exercises that we did in the Sea of Japan [in April] with the Inazuma [Japan Maritime Self-Defense Force Destroyer]. Primarily our operations there were to show our ironclad commitment to Japan.
Our work with the Inazuma there was largely focused on training and building interoperability capability and capacity. We trained across a myriad of mission sets from maritime strike and surface warfare, air warfare as well as anti submarine warfare, and the Inazuma integrated with us seeing this really, really shows the strength of the alliance that we have with with Japan, and I'd like to take a moment to mention that not only did we work with the Japanese Maritime Self Defense Force, but also, with the Air Self-Defense Force, and the Ground Self Defense Force while we are operating both in the Sea of Japan and the East China Sea.
Comments of the Guests Onboard
After touring the aircraft carrier, Mr. Hayashi and Mr Emanuel held a joint press conference onboard USS Abraham Lincoln's lower deck. There were still continued takeoff and landing drills by F35C stealth fighter jets and other aircraft, so the roar of the planes frequently drowned out their comments, forcing several interruptions.
"I just wanna say, I could have used that when I was mayor a couple times. Okay?"
Mr. Emanuel, who has served as Mayor of Chicago, joked and drew laughter pointing to the roaring fighter jets when the press conference restarted. For the record, there is no aircraft carrier with fighter jets on it in landlocked Chicago. However, the scene put the media members at ease.
Ambassador Emanuel's opposition to China's attempts to alter the status quo through force was prominent among his remarks at the joint press conference. Emphasizing this point, he said:
One of the things that China doesn't have is this kind of friends and allies. Our power as a country comes from the alliances that we have and the ability of all others. Also, it's not just Japan and South Korea, but Australia, New Zealand, India. We have a major base, a significant base in the Philippines. China has none of that.
Vice Admiral of the 7th Fleet
Vice Admiral Karl Thomas, Commander of 7th Fleet, who is based at Yokosuka, Kanagawa Prefecture, in Japan , was also on board.
The 7th Fleet is responsible for the Western Pacific and Indian Ocean. But the Russian invasion of Ukraine also seemed to be on his mind. Vice Admiral Thomas told the group of media present: "We've seen the strength and power of the free world come together when a country is aggressive and doesn't abide by our international rules-based order and invades a sovereign nation."
He added, "Russia is a large country and has a fleet on this Pacific side as well. And we watch them routinely. I'm very confident in our ability out here in the Pacific to keep an eye on the Russian fleet.
RELATED: INTERVIEW | US 7th Fleet Commander Karl O. Thomas: On Alert in the Indo-Pacific
When the Osprey carrying Mr. Hayashi and others took off from the USS Abraham Lincoln to carry them back to Atsugi Base, this reporter crouched down again to watch it go, thinking "Don't fall over again!" This time, she grasped the deck-installed handle with both her hands.
After seeing them off, she realized her hands had turned black with the oil that stuck to the deck every time an aircraft took off and landed.


RELATED:
(Read the article in Japanese at this link.)


Author: Mizuki Okada