China's Wealthy Out to Buy Japanese Ryokans That Suffered Losses During Pandemic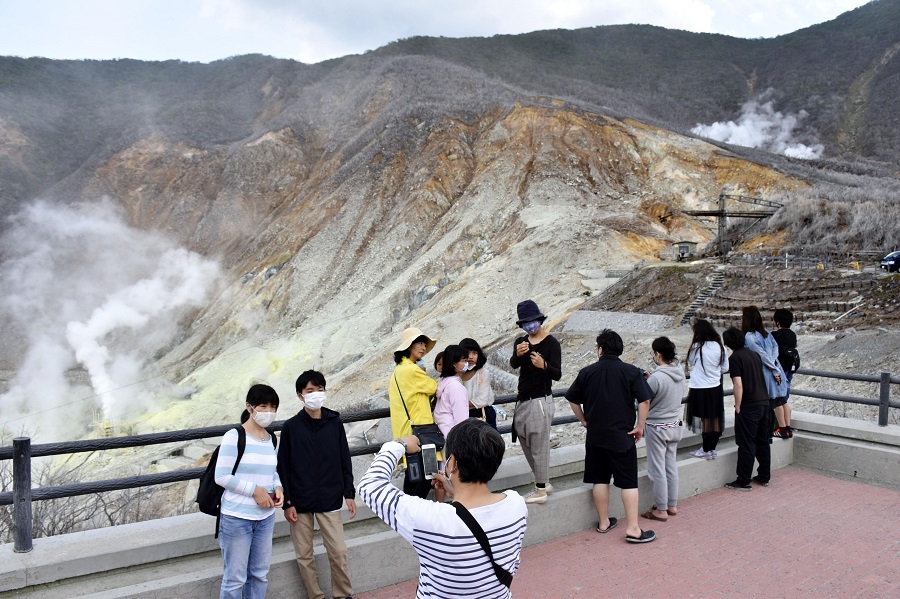 Wealthy Chinese are accelerating their bids to take over financially-stressed Japanese ryokan-style hotels in fire sales triggered by the loss of guests during the novel coronavirus pandemic.
The Chinese buyers cannot visit Japan due to lingering immigration restrictions also related to the pandemic. Instead, they are intent on executing their hot real estate deals through agents in Japan via video phone.
Another factor in the rush to purchase Japanese properties seems to be the tough stance of China's Xi Jinping administration. Moves — such as those seen in the passage of the new legal system and security regime to be imposed on Hong Kong — are prompting China's wealthy to find new ways to try to conserve their wealth. (RELATED ARTICLE: Ownership and Occupancy: Chinese Take Over Traditional Japanese Hotels, Inns)
Checking Properties via Smartphones
JAPAN Forward and The Sankei Shimbun witnessed a demonstration in Hakone-machi, Kanagawa prefecture, on Tuesday, June 2, to see how real estate information is sent to asset holders in mainland China.
A Japanese agent held a smartphone in the palm of his hand, then connected to one of the Chinese property owners via view phone. The asset holder asked, "Is the hotel still operating?" in fluent Japanese. The Japanese agent then replied, "It's closing."
The agent filmed the leafy view surrounding the hotel, along with guest rooms, large public baths, and kitchen areas, in sequence via smartphone camera to show the hotel's condition, while he answered some questions from the Chinese asset holder. The property price is likely ¥380 million JPY ($3.5 million USD).
According to an officer for the company operating the hotel, its occupancy rate fell by 90% compared with the same period last year because of the coronavirus pandemic.
In addition, business suffered following a landslide resulting from Typhoon Hagibis, which hit the Hakone area in 2019. The hotel lost guests, and continued operations began to make little business sense. As a result, they began to look for potential purchasers.
If the sales negotiations are successfully concluded, the hotel operator can take a breather from the standpoint of cash flow. However, the company representative with a complex expression on his face said, "We will decrease the number of hotels which we possess through the disposal, so we cannot openly be happy."
Mt. Fuji Area as Escape Property
Property owners in mainland China, where the pandemic originated, restarted economic activity earlier than other countries and regions, and set their eyes on properties with devalued prices in Japan, Europe, and the United States.
According to the Hotel & Inn Institute of Management Co., LTD (HIIM), a Japan-based brokerage business, Japanese-style ryokans located in popular tourist areas like Hakone, Izu, Atami, and other regions surrounding Mt. Fuji, are especially popular among wealthy Chinese. When considering acquisition merits, these buyers are reported to take into account the processes for accruing approvals and licenses for hotel operations in Japan and obtaining Japanese visas as company leaders.
During the turmoil in Hong Kong, China's rich have been concerned about a fall in their asset values, both Chinese renminbi and Hong Kong dollars. This seems to have become a motivation for wealthy Chinese to escape to Japan with their assets.
According to HIIM, the active movement of Chinese capital into Japanese hotel acquisitions began last summer, when Beijing's attempts to clamp down on Hong Kong democracy prompted serious demonstrations in the Special Administrative Region (SAR).
After the Chinese government decision to impose the mainland legal system and security regime on Hong Kong this May, agents of China's wealthy reached out to HIIM, requesting site visits, one after another.
The Chinese property buyers anticipate that the Japanese government will ease entry restrictions for foreigners to Japan in the near future, at which point they can schedule visits and prepare for any necessary clearances.
HIIM president Yuji Tsuji pointed out, "There are no concerns that the property of rich Chinese would be confiscated by the Japanese government, and so Japan is preferred as a place to shield their assets."
Security concerns have been raised as an issue in the controversy over the acquisition of Japanese properties by foreign investors like wealthy Chinese. However, according to Michio Ezaki, a Japanese commentator specializing in security, intelligence, and modern history: "If governmental restrictions for investments related to security would be made in Japan, they would be limited in scope and target. The target might be margins of fixed facilities for Japan's Self-Defense Forces and the U.S. military, water sources, and other [infrastructure]. It would be difficult to regulate hotel acquisitions."
Author: Mizuki Okada