Chinese Abuse of Uyghur Reaches Japan, Blackmails Migrant Into Spying on Tokyo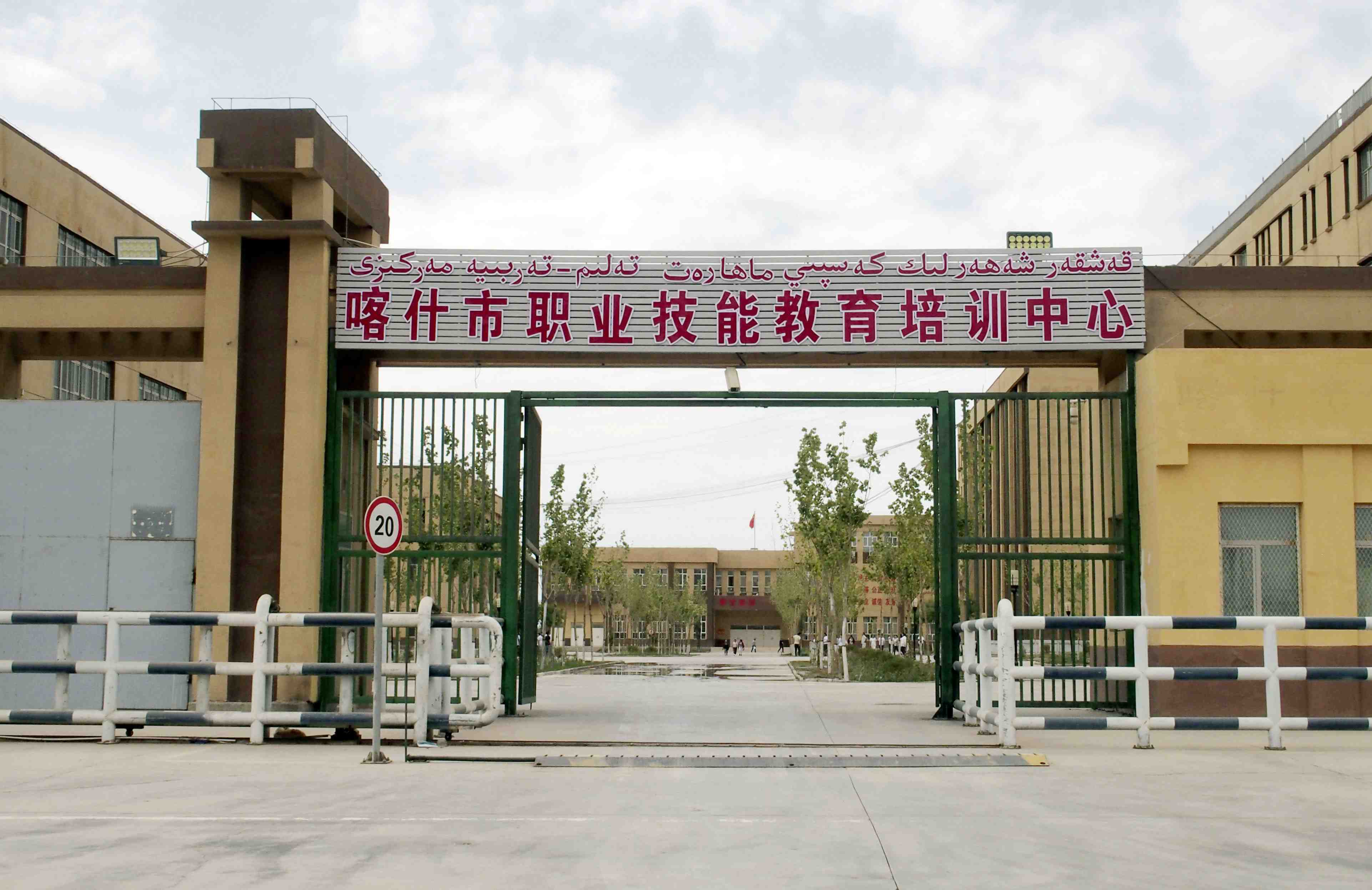 The Communist regime led by Xi Jinping has implemented draconian measures to prevent information from reaching the outside world that Beijing has herded hundreds of thousands of Uyghurs and members of other non-Han minorities into internment camps for "reeducation" and "job training."
Still, reports of serious human rights abuses have continued to come out of China.
In an exclusive interview with The Sankei Shimbun, a representative of the Uyghur community in Japan has described how the current cultural genocide targeting Uyghurs and other Muslim minorities living in the Uyghur Autonomous Region in China's far northwestern province of Xinjiang even affects Uyghurs living in Japan.
Halmat Rozi, a director of the Japan Uyghur Association, explained to The Sankei Shimbun how, even though he lives in Japan, he has come into the crosshairs of China's public security agents. They recently took his older brother as a "hostage" in an attempt to get him to spy on other Uyghurs in Japan. He added that he was unable to confirm the status of family members back in Xinjiang.
In a direct appeal to Prime Minister Yoshihide Suga, Rozi said: "I would like him [Suga] to send [China] a strong message that the Japanese government will not remain silent in the face of the oppression of the Uyghur people."
Rozi, 46, is a native of the Xinjiang Uyghur Autonomous Region who came to Japan in 2005 for graduate studies at a Japanese university. He currently operates a Uyghur restaurant in Chiba Prefecture and is also a director of the Japan Uyghur Association.
Internal Chinese government documents leaked last November describe in detail how since 2017, hundreds of thousands of ethnic Uyghurs and members of other minority ethnic groups adhering to Islam have been forced into reeducation camps. Rozi says that after 2018, several members of his own family were taken to internment camps. Their "crime" was that they had visited Japan for sightseeing.
Although they were released in 2019, Rozi has refrained from contacting relatives back in his homeland due to worries that staying in close touch with them could provide the Communist authorities with an excuse for sending them back to the camps.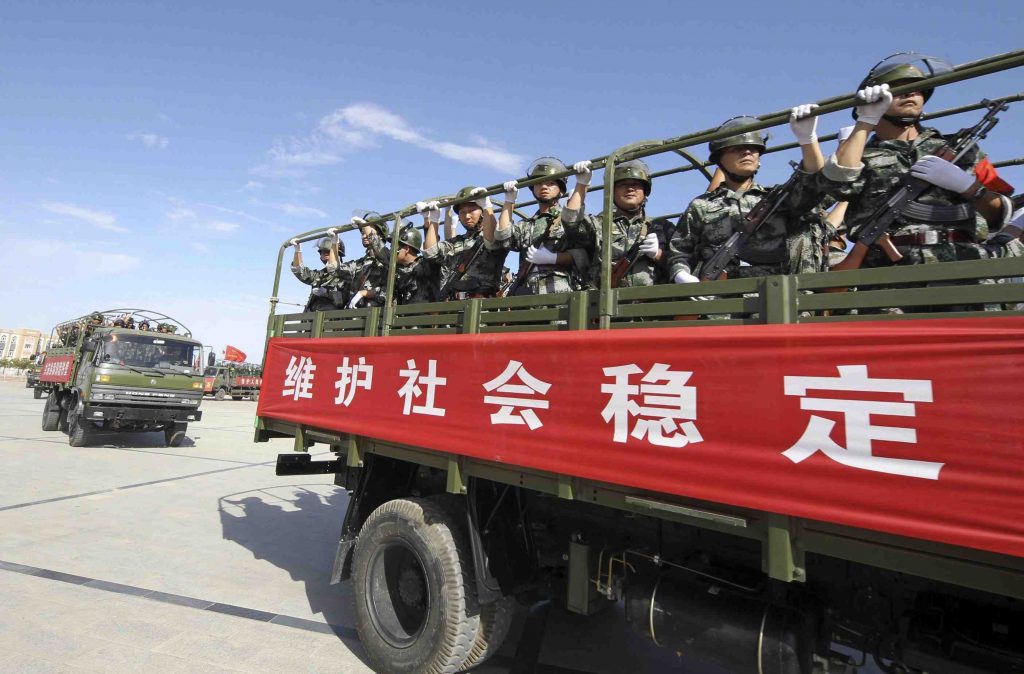 Armed members from a Chinese militia in anti-terrorism joint exercise in Uighur Autonomous Region. The Chinese characters read, "Maintain social stability." REUTERS/Stringer
Intimidation with Physical and Psychological Markings
Nevertheless, events took a strange turn last December. Out of the blue, family members in Xinjiang got in touch with Rozi. They then reached out to him again in February of this year.
Then in May he held a video phone call with his older brother, at the brother's request.
Rozi was immediately put on alert by the fact that his brother was sitting on a chair in a place that he did not recognize. His face was bloated, and his bodily movements seemed labored. His brother also seemed to be preoccupied with what was going on around him.
Finding this all very strange, Rozi used a separate cellphone to record the back-and-forth of the video call.
At that point a public security official who appeared to be an ethnic Han entered the picture from the side and began to ask very detailed questions about the activities of Uyghurs in Japan.
He said things like:
We want to know about the protests staged when President Xi Jinping visited Japan [for the G20 summit in June 2019.
Are you in contact with Rebiya Kadeer?
Kadeer is an exiled Uyghur former businesswoman who was a past president of the World Uyghur Congress.
The public security man added: "We can just look at the past as if it never happened. We want to be friends with you."
At this point, the battery in the cell phone cut off, so the telephone conversation came to an abrupt halt. However, Rozi's brother made another video call to him in June, during which the man from Public Security appeared once again and asked him to provide information on his compatriots in Japan.
"If you cooperate with us, your brother and other family members will have absolutely no worries," he cajoled. Rozi's response on that occasion was to quickly end the conversation.
After that he removed the app for calls with China, which ended the approaches. However, the result is that Rozi faces tremendous hurdles in determining whether or not his older brother and other family members are safe. That leaves him emotionally on edge every day.
I'm sure that if I had told them anything whatsoever about the Uyghur Association, their demands in exchange for guaranteeing the safety of my family would have continued to inexorably escalate.
Rozi has been telling his own story as part of his effort as director of the Japan Uyghur Association bring attention to the inhumane actions of the Chinese governmentーand urge the Japanese government to take measures to protect himself and other Uyghurs living in Japan from coercion by the Chinese authorities.
(Find access to the article in Japanese at this link.)
RELATED READS:
(Read this story in its original Japanese, here.)
Author: Takao Harakawa, staff writer, The Sankei Shimbun