Exploring Japan-Vietnam Connections: Full Text of Crown Prince and Princess Akishino's Impressions of Visit
Crown Prince and Princess Akishino interacted with people and explored how Vietnam expresses the value of its ties to Japan in a "very meaningful" trip.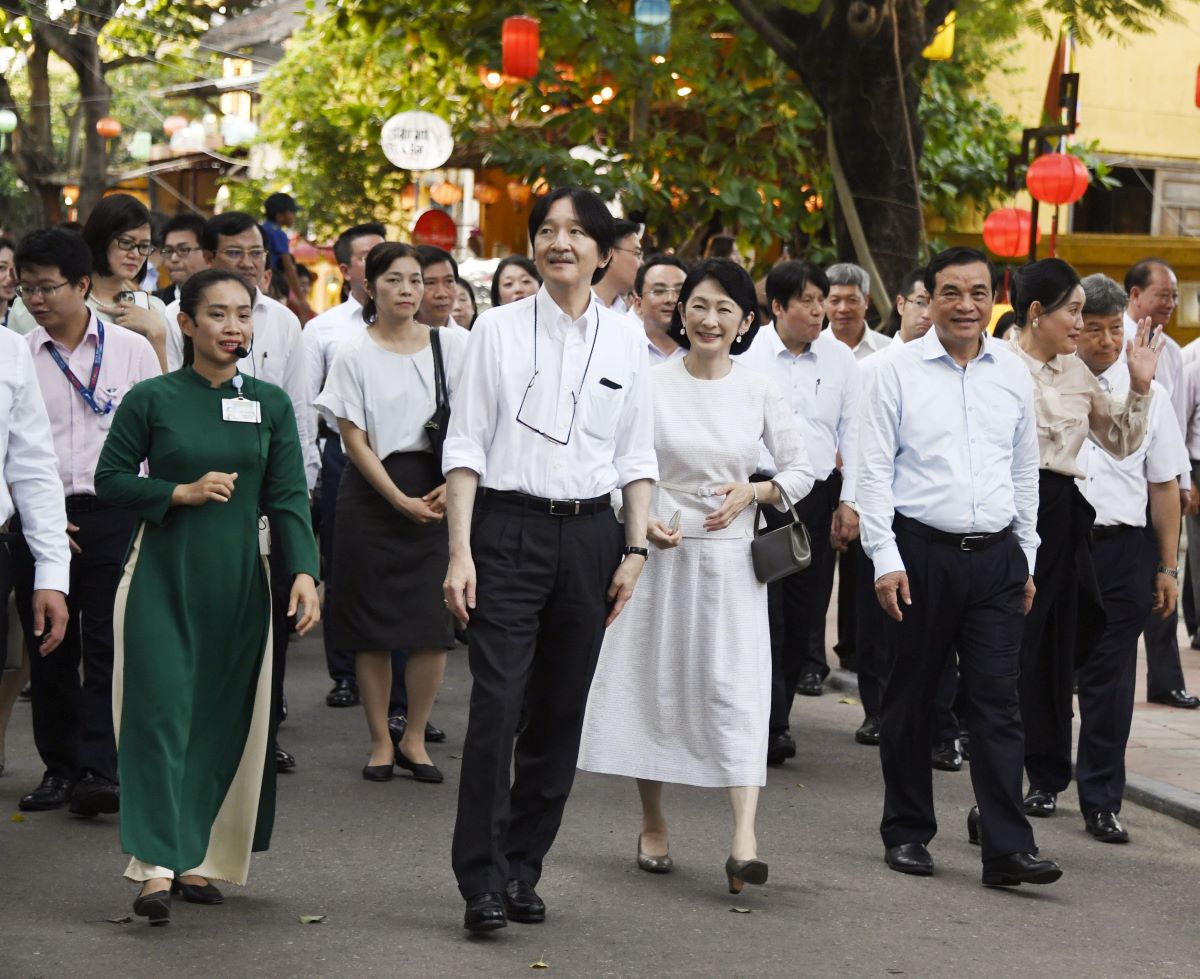 Crown Prince and Princess Akishino recently visited Vietnam, marking the 50th anniversary of diplomatic relations between the countries. On September 29, the Crown Prince and Princess published their impressions of the trip through the Imperial Household Agency. The full text follows in two parts.
Last of two parts
Part one: 'The Next 50 Years of Friendship': Full Text of Crown Prince and Princess Akishino's Impressions of Vietnam Visit

In addition to Hanoi, we visited Da Nang and Hoi An in the central region for the first time.
Da Nang is the third most populous city in Vietnam, and many Japanese companies have established operations there. We met with representatives from these companies, JICA [Japan International Cooperation Agency] members, and those working in the education field. These discussions were quite enlightening as to the situation in central Vietnam. As patron of the Saiseikai Imperial Gift Foundation, Crown Prince Fumihito met with medical professionals from Da Nang Oncology Hospital. In 2015, these doctors accepted Saiseikai's provision of training courses for Da Nang Cancer Hospital's medical staff. The donation was part of Saiseikai's 100th anniversary project.
The Red-Seal Ships of Hoi An
We visited Hoi An to see the old town's Japanese-Vietnamese cultural space. At its peak in the 17th century, the former hub of trade by red-seal ships was home to many Japanese and considered a "Japantown." A red-seal ship that Nagasaki Prefecture donated to the town was displayed at the entrance to the district. As I gazed at the vessel, I reflected on the impact of the Japanese merchants who traveled here.
We also walked through the old quarter of Hoi An, decorated with the famous colorful lanterns, before arriving at the Japanese cultural exhibition house. We saw Vietnamese people introducing visitors to origami, the art of the tea ceremony, and calligraphy. There were also exhibits on Nagasaki Prefecture and Sakai City, which showed how much they value their ties to Japan.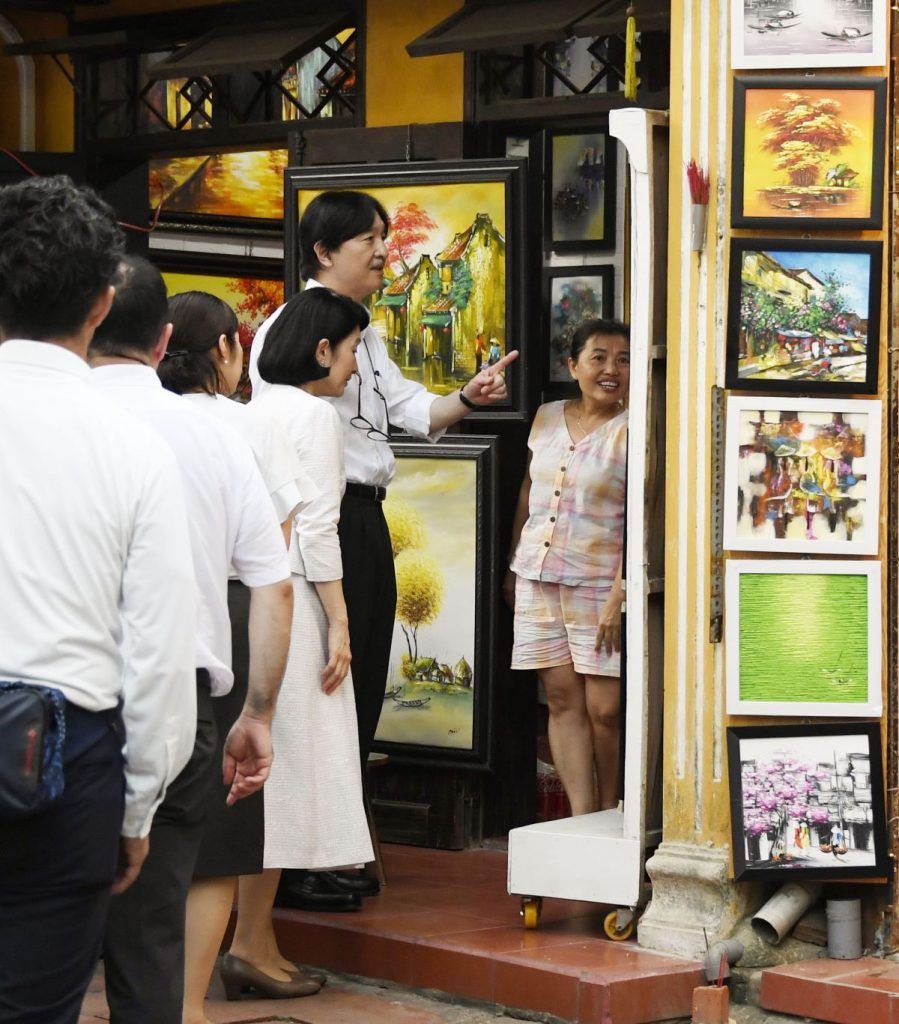 Chua Cau
Chua Cau [or "Japanese Bridge"], one of Hoi An's most famous landmarks, is currently undergoing restoration. JICA is providing technical assistance for this. The footbridge is believed to have been built by Japanese merchantmen from Japantown in the 17th century. Building materials from the period have been excavated.
It seems that the bridge today is quite different from how it originally looked. As we imagined what it must have looked like when it was first built, we hoped to cross it someday.
As the sun set, the moonlight lit up the beautiful night view of Hoi An. We walked along Princess Ngoc Hoa Street, named after the famous princess, admiring the lit lanterns and spirit boat procession.
My Son Ruins of Champa
On the last day of our stay, we visited the My Son ruins of Champa, ruled by the Cham people between the 4th and 13th centuries. Visiting archaeological sites in different places is something we enjoy, so this was one of the places we wanted to see.
The beautiful red-colored shrine is made primarily of bricks and partly of sandstone. Its interior was constructed using a technique in which the bricks were stacked with slight shifting. We were particularly intrigued by how these bricks, which have virtually no gaps, were glued together.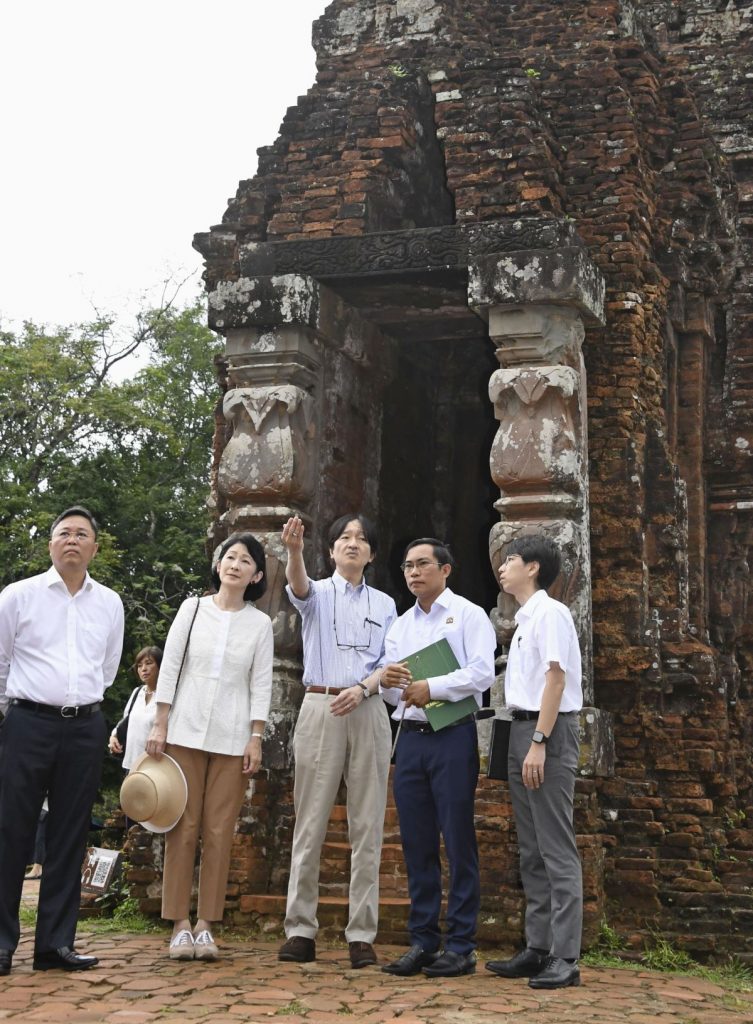 Friendship and Goodwill
Over the course of our five-night stay, we visited Hanoi, Da Nang, and Hoi An. In addition, we had the chance to tour several places with connections to Japan. Interacting with people committed to Japan-Vietnam bilateral relations in various capacities also made this a very meaningful trip for us.
On this visit, we were very graciously received by the President and First Lady of Vietnam, Vice President, and various officials. We are truly grateful for the warm welcome we received from so many people everywhere we went. We would like to express our gratitude to the many people who worked diligently and caringly to ensure we had a pleasant stay.
It is our sincere hope that this 50th anniversary will serve as a milestone for further deepening the friendship and goodwill between Japan and Vietnam.
RELATED:
(Read the statement in Japanese.)
Author: The Sankei Shimbun