Dear Megumi: 'Be Brave and Hopeful. I Will Find You'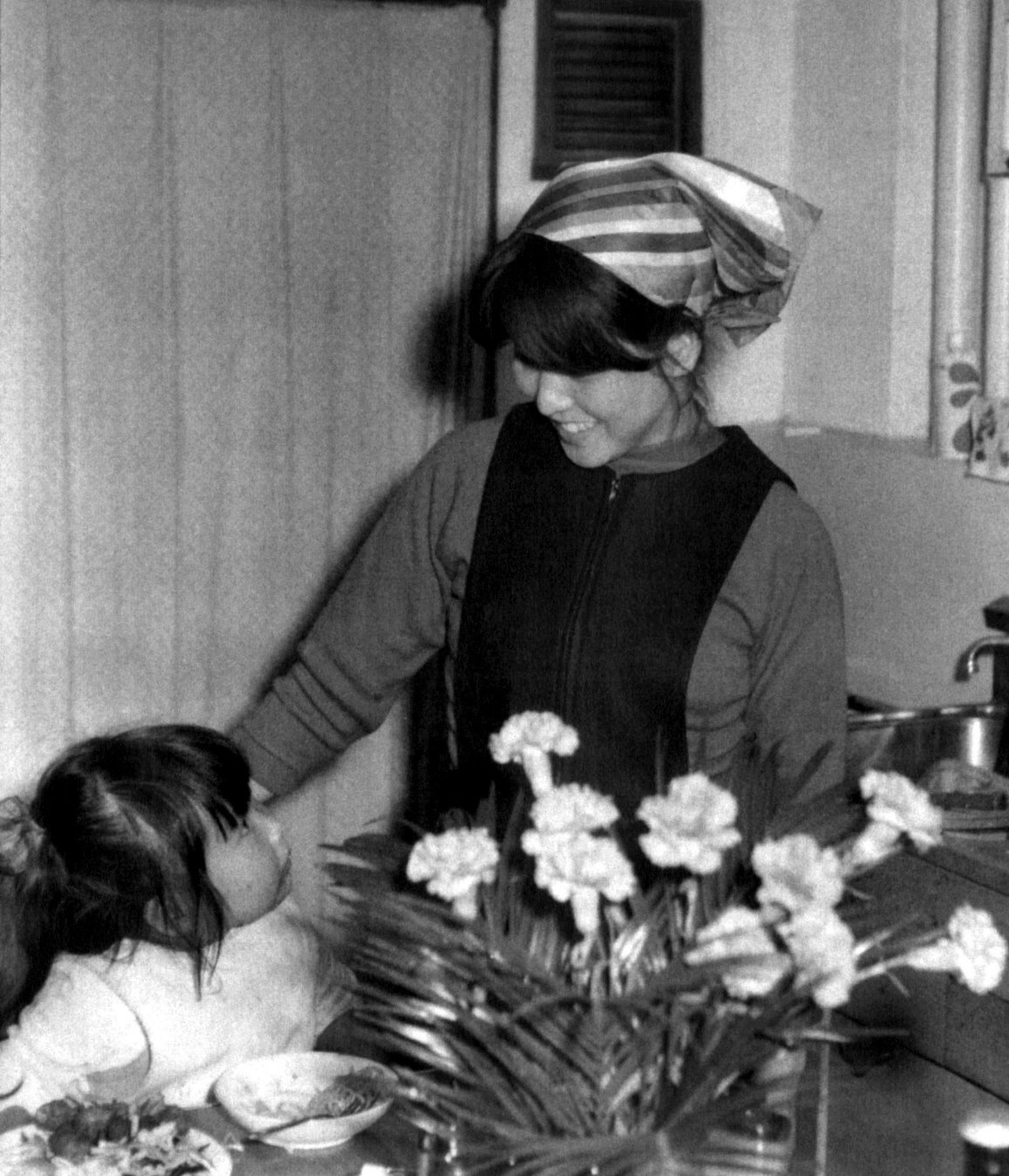 Megumi and Sakie in 1966.
Dear Megumi,
The new year has finally come. Despite our desperate pleas with the government for the rescue of all abductees by the end of the year, another year has passed without any progress, and it has left me heartbroken.
As the world enters a chaotic season, your father and I live each day with anxiety. When you were still with us, we, our family, used to celebrate Christmas with cheer and welcome the new year with hope.
Every Christmas, we decorated a small tree, enjoyed our favorite drinks, and had a boisterous celebration at the dinner table, where my homemade roast chicken was served. On the last day of the year, we listened to the temple bell mark the turn of the year.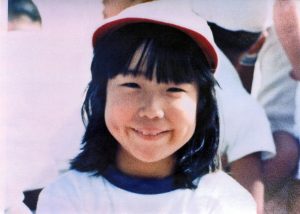 Since you disappeared, the start of each new year has been joyless and somber.
The temple bell always reminds me of your cheerful spirit. It makes me painfully aware that there is a huge hole in my life.
New Year's has become a difficult season for your father and I. Our yearning for the happy days before your disappearance burns inside us.
You were a healthy girl who could withstand the cold weather. You often got a sore throat in the winter, but it only made you stronger. Unlike your father and I, you were also very athletic. Ballet, swimming, and badminton strengthened your body, and you also loved to sing and run around energetically with Takuya and Tetsuya.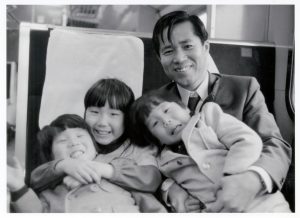 In Japan, the icy breeze feels like glass piercing the skin, but the winters in North Korea must be incomparably harsh. Worry and alarm comes over me like a dark cloud when I see you in my mind, waiting for us to rescue you.
So much time has passed since you were taken away from us. Even if your body could bear it, would your mind be able to withstand such suffering? Just imagining what you have endured makes my chest tight.
Through all this, somewhere in my heart I have strong faith that you're alright, because you are a strong girl.
Every Christmas and New Year's, I find myself becoming hopeful that a miracle would happen to the victims and their families. People's prayers are not easily answered, but I have not stopped praying that everyone will come back to their home country and resume life as Japanese citizens. My heart is still hopeful for a world where people can live in peace.
Forty years have passed since you were abducted by North Korea. For 20 years after your disappearance in 1977, it was as if I lived in hell. You suddenly vanished from my life, and I had no idea why. A further 20 years have passed since 1997, the year we found out that you were in North Korea.
Knowing that our beloved children have been waiting for decades, why has our country not fulfilled its basic duty of rescuing its citizens?
I have used up my anger and sadness long ago; now I am simply bewildered.
Your father is weak and cannot speak like he used to. I also lost my voice due to ill health, so this has been a trying time for us. We have lived with an unimaginable burden these past 40 years as we relentlessly fought for your return. I never realized this until now, because I was always frantic and desperate with worry for you.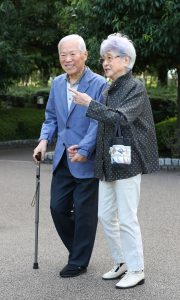 Many things happened last year. North Korea launched missiles continually and repeated nuclear tests; military tension was heightened and the atmosphere of disaster was thick. Concerns over your safety and future kept me awake for many nights.
Your father and I are over 80 now. We are a very old couple, and the weight of all that has happened and the harshness of reality has left us exhausted.
In the midst of all this, President Donald Trump unexpectedly talked about you at the United Nations so that the world could know the truth of North Korea's inhumane crime. I was given the opportunity to directly meet President Trump with the members of the Association of Families of Victims Kidnapped by North Korea, so that we could convey our feelings directly to him.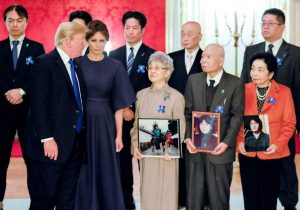 As various events unfold in our lives, I am still optimistic. I believe everything is moving towards the good.
The duty to rescue the Japanese abductees lies on Japan's shoulders. It would be the country's shame if it cannot even save its own people. It will leave an irreparable scar for the future generations, and Japan will be looked down on by the world. This is why I believe that our country will save you no matter what it takes.
Time is running out for the victims and their families as they become old. Many who have hoped for the return of the abductees and diligently fought for your rescue have passed away.
In December, we lost Mrs. Nobuko, the mother of Rumiko Masumoto, and Mr. Jenkins, the husband of Hitomi Soga. They left us one after the other. As more people leave us, an unbearable feeling of alarm and sorrow fill my heart.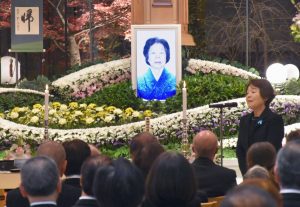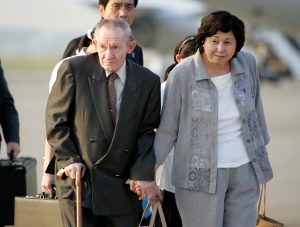 Megumi, I know that it's taking very long to rescue you. But do you know that people all over Japan are thinking about you? People are heartbroken and indignant for you, as they raise their voices up to promise your return. Many who have seen your photos and drawings displayed in various locations have often walked up to me on the streets to give me encouragement.
There is something your father and I strongly believe. In this unbearably painful and testing time, as you wait to be rescued from North Korea, God has given each of us an important purpose.
You will be home soon. Be brave and hopeful to the very end. Never give up, because I will find you.
(Click here to read the original article in Japanese.)
Read the other letters to Megumi:
Dear Megumi: President Trump Listened to Your Story, and That Gives Us Hope
Dear Megumi: The Fifth Abductee Was Released, but I Am Still Waiting for You to Return Home
Dear Megumi: One Day, You and Other Kidnap Victims Will Set Foot on Japan Again—If Our Gov't Works For It
Letter to Megumi: Somewhere in North Korea, We Know Your Hidden Strength Will Make You Survive
Letter to Megumi: We hope you'll return to the Japanese Summer and Your Mother's Stew
Letter to Megumi: We Long to Have You Back for the Next Children's Day
A Letter to Megumi: 'Forty years have gone by without you… Don't ever give up, you are going to come home'
Check out JAPAN Forward's special coverage of the Japanese kidnapped by North Korea