INTERVIEW | India's Bloodywood Are Babymetal Fans and Out to Inspire Change in the World
Thunderous one moment and humorous the next, the Indian folk metal band promises: "We'll change the world together, one song at a time."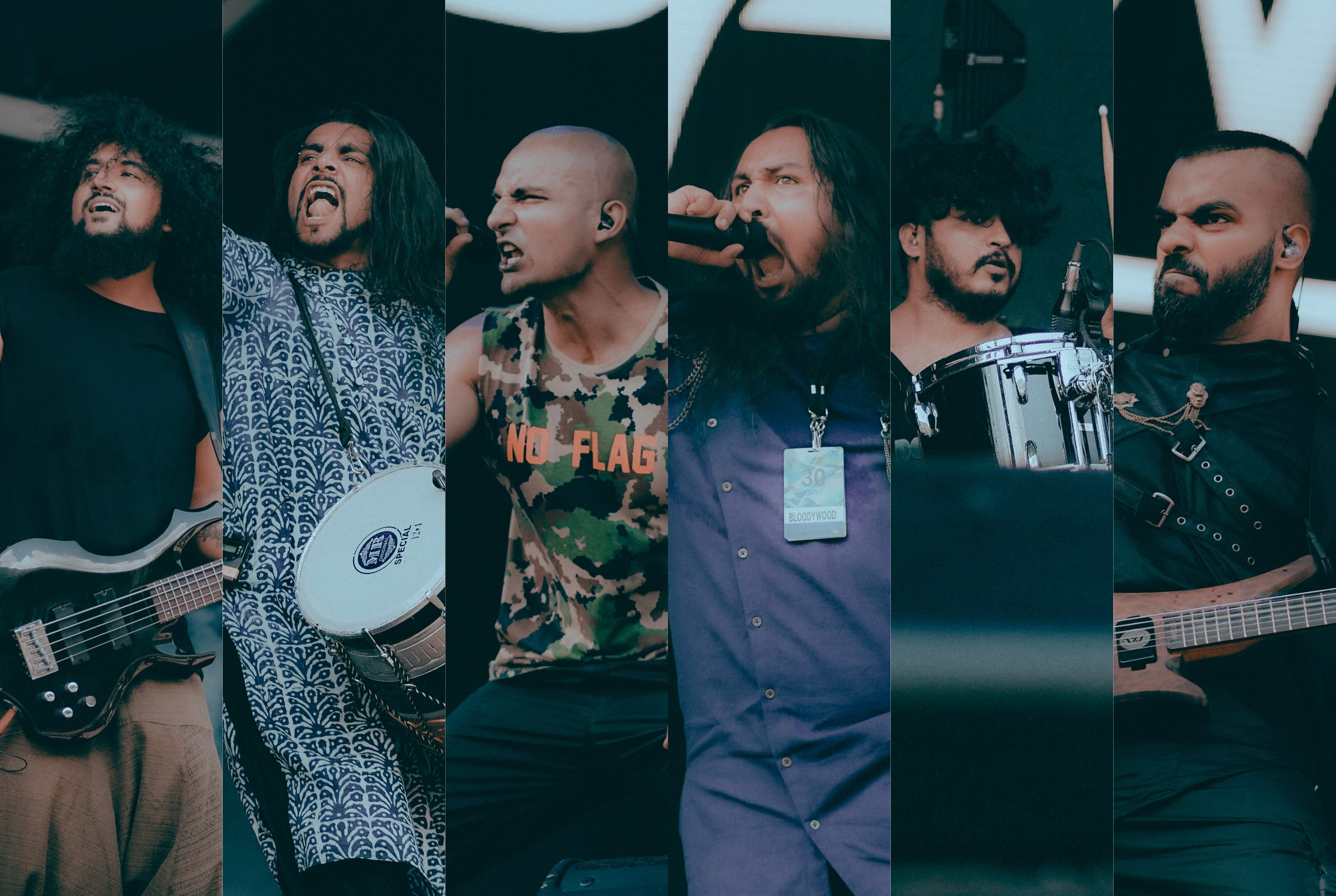 Defining themselves as an Indian Folk Metal band, Bloodywood released their debut album Rakshak in 2022, and they are already taking on the world.
In their debut Japan performance, the band from New Delhi enjoyed strong support for their set on the Green Stage on July 29 at Fuji Rock.
Bloodywood will be performing around the world on their Nine Inch Naans tour, a play on words of the American rock band Nine Inch Nails and India's famous flatbread naan.
On July 31, JAPAN Forward caught up with Bloodywood for a remote interview. Filled with good humor after their triumphant Fuji Rock set, the band talked about their music style and influences, from their crowdsourced pun tour names and their love of Babymetal, saying, "We can't wait to be back!"
Excerpts of the interview follow.

What was your experience performing at Fuji Rock?
Jayant Bhadula: It was so sunny, it was really hot, it kind of reminded us of Delhi.
Right before going on stage, we saw a lot of people already in the crowd. We were emotional, we were like "We hope people like it."
As we started the number of people [in the crowd] just kept increasing. They were jumping around, dancing, and singing along. I cannot stand the heat, so the fact that these people were listening to us in the sun was a huge deal for me, and it made me want to try harder, make it worth it for them.
We were already happy [during the set], but watching the footage later, we noticed how high the audience was jumping, and how good the response was.
Someone from Smash [organizers of Fuji Rock] told us there were 8,000 or 9,000 people, and it was one of the best turnouts for a morning set. We were told that the event was at 50% capacity due to COVID-19, otherwise there might have been 40,000 people. If this is true, I love it, but if it isn't, I'll just keep it with me, so I can get a confidence boost.
We heard that a few people had to be taken to the doctor because it was so hot during our set. I want to thank them, and hope the medics took care of those people!
Raoul Kerr: Everyone was going so hard, we were really inspired seeing that crowd.
We've only played two festivals before but it was definitely a unique view with the mountains and the scenery.
It was the first time we visited Japan in any capacity. All of us in the band love Japanese culture, so we leapt at the opportunity of coming to Japan.
Everything we've felt about Japan since we got off the plane, all the love we felt on that stage, it was just like a great climax and the perfect trip. So much love to everyone at Fuji Rock.

Your songs contain messages of bucking authority, fighting racism and sexual abuse and pursuing your dreams. How important is that to your music?
Raoul Kerr: We are not saying anything that people haven't heard before. The difference with music is that we can convey emotion.
What we hope to achieve is to make people feel enough that they will do something about it. Even if it's something as simple as having those conversations between friends and family, or taking more serious steps. Emotion can be a catalyst for change, from the grassroot level to the top.
Jayant Bhadula: It's like we said at the end of our set [at Fuji Rock]: we'll change the world together, one song at a time.

How did you feel about the reception from the audience in Japan, do you think your message came across despite the language barrier?
Raoul Kerr: We can't really speak to what people understood from what we were saying, but we can definitely confirm that they felt it.
After our set, we decided to stay and walk around, but we couldn't really do much because people kept coming up and telling us how much they loved the set. A lot of them said that it was their first time seeing us.
Jayant noticed that for a brief moment we were trending at number one on Japanese Twitter. This was one of quite a few signs that we were being shown so much appreciation and support from everyone we met. It was an amazing feeling.
With our music, the message is there for anyone who's listening. The deeper you dive, you will find the message staying true to every level of the song. That's why we make the music we do.
Jayant Bhadula: There were a couple of people who were already wearing Bloodywood T-shirts during our set. And afterwards, we saw so many [wearing T-shirts]. The merchandise guy told us that they were sold out.
You cannot gauge everything from one performance, but a lot of people were posting screenshots that they're listening to our album. Translations are out there. So I think the message is also going out there.

Japan has quite a developed metal scene, but are you familiar with any Japanese metal bands?
Jayant Bhadula: I've seen that the Japanese market really embraces metal music. I've been watching anime for a long time. For example, Death Note's theme song, "What's Up People?!" by Maximum the Hormone is so heavy. I am always struck by the fact that these songs are broadcast on TV in Japan.
In India, [I've seen] on TV one metal track during my whole life.
Raoul Kerr: Metal fans are 100% an amazing community. Metalheads across the world have common traits no matter where they are from.
The one thing I would like to say about our set at Fuji Rock is that a lot of people who didn't seem to listen to metal came up to us after the show as well. We had the best of both worlds in that regard.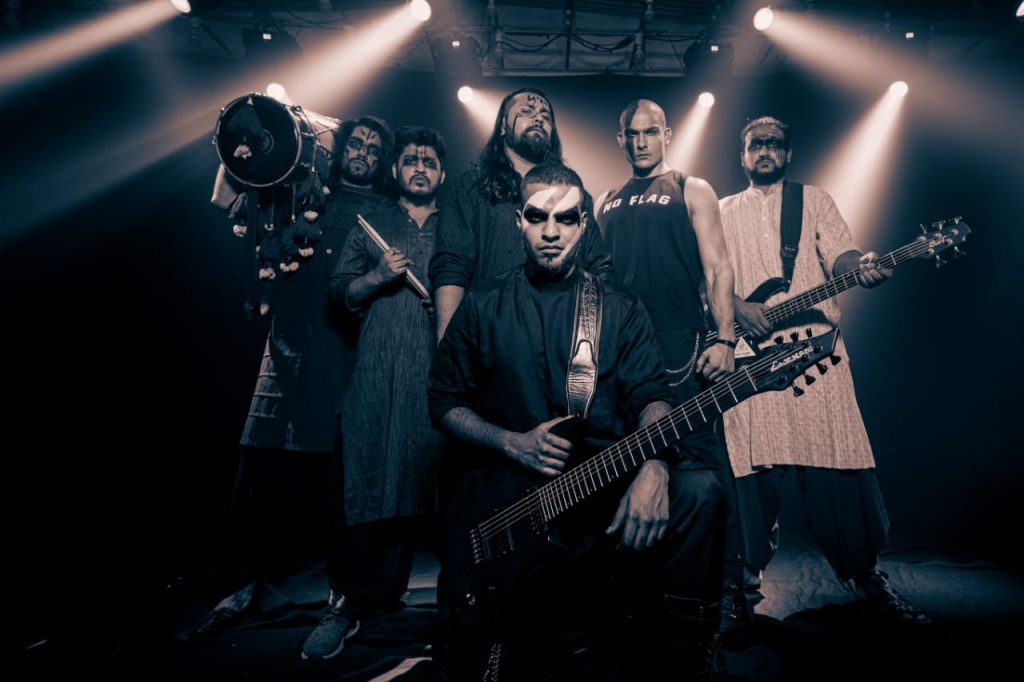 I understand that you are fans of Babymetal. Do you have any favorite songs?
Jayant Bhadula: I really like "Doki Doki Morning," and I love "KARATE." "Megitsune" is a great song from beginning to end.
I tried covering a couple of Babymetal songs, and I just thought I was butchering the words (laughs).
The first song by them I heard was "Gimme Chocolate!!." I was watching the video out of sheer curiosity, and they started singing these high-pitched vocals, and in the meantime the band is just going all out. My first reaction was that this was so out of place, but it sounded so good together.
I say this about metal, but it's true for Babymetal as well. Like wasabi, it's an acquired taste. Once you understand it, you cannot get enough.

You mentioned that you are fans of Japanese culture. Are there any particular influences on your music?
Raoul Kerr: I think the whole band has watched and loves the anime series Dragonball Z and Attack on Titan.
It's not just about the music, it's also the characters and the storylines that we enjoy. One good example is our song "Aaj," which includes a reference to "Kaioken" from Dragonball Z. It's a song about pushing your limits and becoming a better version of yourself, so it's a good fit.
When we were writing the song we thought we could use the word. We had a quick discussion and we decided it sounded really good on the ear, even if people didn't get the reference. The amazing thing was that we discovered that much of our support base instantly got the reference, it was effortless!
Jayant Bhadula: We realized that a lot of our fans also watch anime. So now I have started accepting anime recommendations on social media, and I'm up to date now. I went to see the movie Jujutsu Kaisen 0 recently, alone, since none of my friends watch anime. I had a recliner, I had popcorn, I was happy!

Your technical setup is quite minimal, but very effective. I was surprised that you could make so much noise without any amps on stage. What is behind that choice?
Rahul Kerr: The minimal stage setup is pure pragmatism. We are an independent band, completely self-funded, so we're dedicating a lot of our baggage allowance to our gear. During our Indian tour some of us put a box of equipment in our carryon because we didn't want to risk getting it damaged in check in.
We will definitely level up our production value when we can. We won't tell you what it is, but you can expect it's gonna be crazy!
Jayant Bhadula: Everything goes through an effects rack. Karan [Katiyar, Bloodywood producer and band member] and our sound engineers stayed up all night to make it as minimal as possible because we want to make sure that the sound is the best we can do. It's still a struggle, but once you are on stage it's worth it.

What is next for Bloodywood?
Raoul Kerr: On this album we explore the heavier side of our personality. So we want to try to bring the fun side. We can't give you any specifics, but we promise it will be good.
Jayant Bhadula: We all agree that there will be more music. The fun will be back, the heavy will be back. But we won't tell you anything because otherwise there are no surprises.
RELATED:
Author: Daniel Robson, Arielle Busetto