INTERVIEW | Uniqlo's Tadashi Yanai on What the Virus Crisis Should Inspire in Young People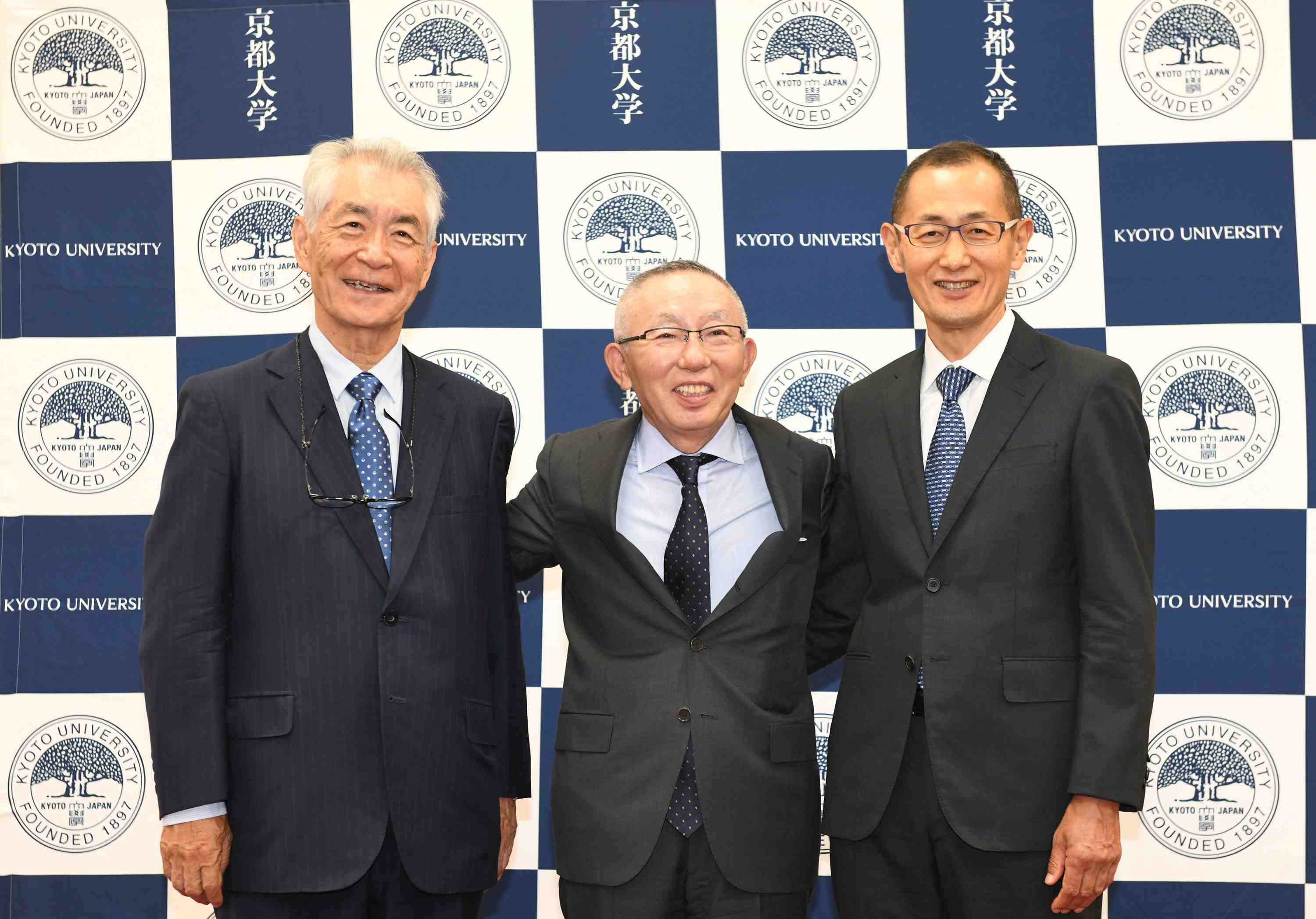 UNIQLO and Fast Retailing Co. chairman and president Tadashi Yanai brushes aside concerns over divisions in the world due to the global coronavirus pandemic. He says he has come to realize that our connections with the world are more important than ever.
In an interview with The Sankei Shimbun and JAPAN Forward, he says he anticipates that Asia will become the global center of growth in the years to come in the face of the coronavirus disaster. With the advent of the super information society, Yanai wants to encourage young Japanese to turn the crisis into an opportunity and cheer them into taking on the world with entrepreneurial spirit.
Excerpts of the interview follow.
Tadashi Yanai, Chairman of Fast Retailing, talks about entrepreneurship and opportunity at Kyoto University.
How are you taking the coronavirus pandemic?
This is the first time since the dawn of history that an infectious disease has spread across the globe at as fast a pace as this. Many people say that the world will be divided due to the virus crisis, but, on the contrary, I feel that we — and the world — are increasingly interconnected.
What changes do you find in the aftermath of the expanding epidemic?
The new world of 10 years into the future has suddenly arrived. We have joined the super information society in which information is transmitted instantly. It has become possible to understand each other and impossible to survive without making use of information. In this world, we have to think about how to apply information technology to our core business.
People the world over feared that they too might die from the coronavirus infection. And, I think, they wondered what they were doing in their jobs. This was especially true among young people with a promising future. So, each person has returned to the starting point, and I sense people are thinking about how they can use their business and profession to contribute to society.
RELATED STORY: INTERVIEW | UNIQLO's Future Is Here, and It's About Digital Retailing, Says Tadashi Yanai
It seems as though global companies have been hurt by the pandemic. How do you find the situation?
Contrary to what other people think, I'm glad I was able to market Uniqlo globally. Many Uniqlo shops were closed in the U.S., Europe, Southeast Asia, and China. We sell clothing — one of the three basic elements of life, along with food and shelter — together with many daily necessities. I thought it was essential to continue operating the shops as long as possible. We were able to share the success and failures in various countries among all the shops.
Will economic globalization continue?
[Under the circumstances] I think it would be extremely risky to consistently market to the domestic Japanese market alone. Once again, I can see that Asia will become the global center of growth in the post-corona world. Neither the U.S. nor Europe has much growth potential in the future.
Japan is part of Asia and if we want to grow with the region, we have to enter their markets. The business world will not prosper unless independently-minded countries cooperate with each other. Without goals and a vision for the future, I think we cannot continue to prosper.
RELATED STORIES: INTERVIEW | Tadashi Yanai on Why UNIQLO is Giving Back to Asia
INTERVIEW | Ultimate Goal: Make UNIQLO Asia's 1st Global Clothing Company — Tadashi Yanai
Companies that do not make social contributions will not be successful. Even if they offer [goods and services] that meet the needs of society, consumers would not buy them unless the company is making a positive contribution to society. This is the biggest change that we have seen.
What do you think Japan needs in the post-corona era?
Japan needs entrepreneurship.
It is important to remember the fundamental principle that companies that are the most useful to society will be the ones that are most utilized by society. It's a big world. To be successful, you cannot focus only on Japan, you have to go out into the world. It seems like the worst possible time for young people to create their future. But, at the worst times, you find the greatest opportunities. I want young people to think about the great opportunities that are out there.
What do you want to see from young people?
I think each person has their own individual mission. I know only about clothes, but I can share the advice that, if you are engaged for years and decades in doing something you're good at, you will eventually manage.
The Japanese people have a national character of hard work and persistence to reach a certain level of quality through cooperative efforts. Therefore, take advantage of your strong points and void your weak points.
I, too, wasted plenty of time. But if you move forward in pursuit of your own mission, you will find success.
Profile of Tadashi Yanai
Tadashi Yanai, born in 1949 in Hiroshima Prefecture, embodies the myth of the self-made man. After graduating from Waseda University's School of Political Science and Economics in 1971, he joined Jusco (presently known as Aeon Co.) in May of that year. The first Uniqlo opened in Hiroshima City in June 1984. In September 1991, he became president of Ogoori Shoji, which later changed its name to Fast Retailing, and today he owns over 2,000 stores across the world. He has assumed the current posts of chairman and president since September 2017. (RELATED STORY: INTERVIEW | Tadashi Yanai on Bringing Uniqlo's Values to Milan's Lifestyle)
(The original interview article in Japanese can be accessed here.)
Author: Yukako Hino