Korean Academic Steals Image from Takeshima Picture Book and Writes: 'Japan Killed the Sea Lions'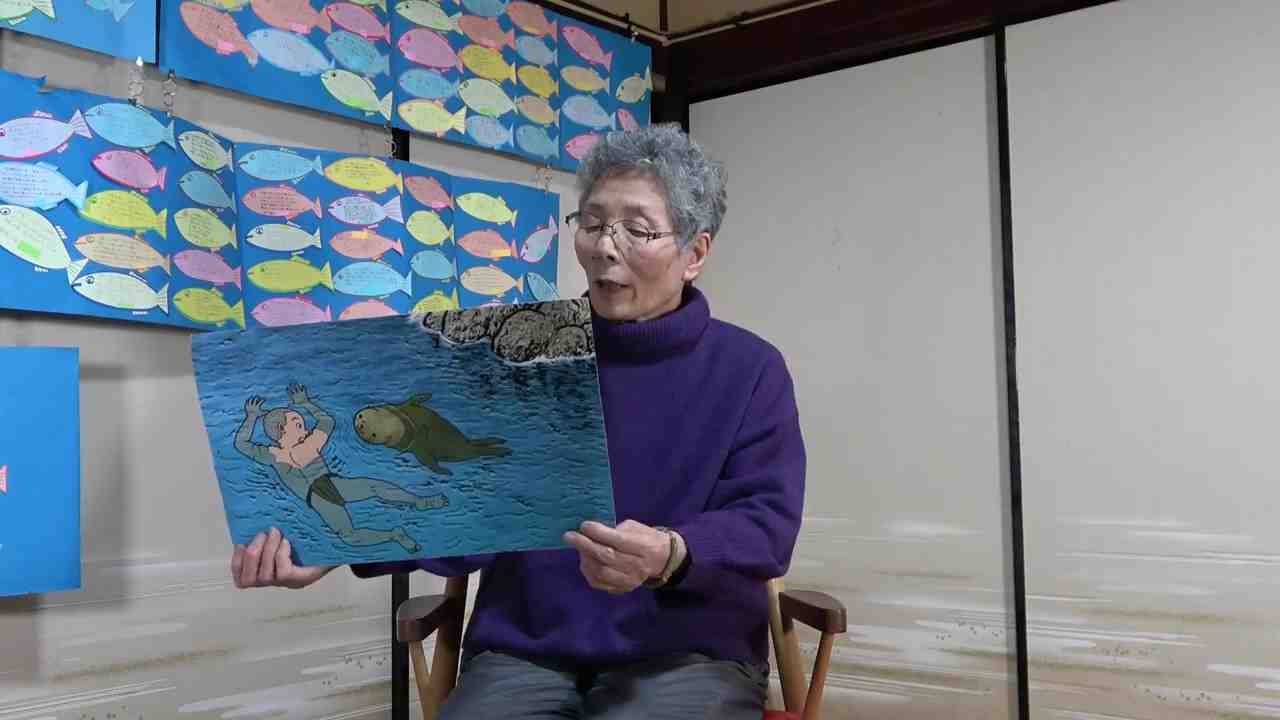 Above: Author Yumiko Sugihara and a picture from the Takeshima Picture Book from which a South Korean academic stole an image to make false accusations against Japan on social media.
A South Korean academic has caused a stir by posting on social media an image stolen from a Japanese picture book on Takeshima, islands of Okinoshima Town in Japan's Shimane Prefecture. He then invented the caption, "Japan killed the sea lions."
Seo Kyoung-duk of Sungshin Women's University used the image without permission from Yumiko Sugihara's book Mechi No Ita Shima, and subsequently insisted that, "it was a parody ad designed to question an ad released by Shimane Prefecture" which included extracts from Sugihara's book.
The post has been met with a backlash, leading to online comments such as, "It's insulting to Japan" and "It crossed the line."
Takeshima has been part of Japan consistently throughout history. It's use by Japanese fishermen has been noted in historical documents and maps since at least the early 17th century until it was seized by South Korea after the war.
Altered Text
According to Shimane Prefecture, the academic lifted the image from ads posted on Instagram and Facebook between August 7 and 31. The ads were promoting a summer children's exhibition in the prefecture.
The ad images were originally sourced from Mechi No Ita Shima (published by San-in Chuo Shimpo in 2017), which depicts Takeshima sea lions, or mechi, as they are called by Okinoshima residents.
On the original image, the text said, "Summer Exhibition at the Takeshima Reference Room!" However, Seo Kyoung-duk's rewritten Japanese text said, "Japan killed the Dokdo sea lions!"
The professor also changed the original text that read, "In the waters surrounding Takeshima in the Sea of Japan, Japanese people have been hunting sea lions and fishing for abalone since old times." The altered text on the stolen image said, "In the waters surrounding Dokdo in the East Sea, Japanese people illegally captured sea lions for their skin and fat using cruel methods."
Furthermore, Seo Kyoung-duk changed "February 22 is officially recognized as 'Takeshima Day' in Shimane Prefecture. We request your continued understanding and support concerning the Takeshima Islands issue." He wrote instead: "October 25 is recognized as 'Dokdo Day' in South Korea. Our country welcomes visitors who want to deepen their knowledge about the Dokdo Islands issue."
Inappropriate Behavior for a Professor
Seo Kyoung-duk is an activist who has complained about designs resembling the Rising Sun flag, and he has campaigned to get such designs removed. In September, he posted a stolen image with altered text on Facebook and Instagram.
"I created a parody ad because it was necessary to correct the false advertising and PR materials on Dokdo that were released by Japan," Seo Kyoung-duk said.
However, the post was quickly met with widespread criticism. Comments included "Not a single fragment of humor, no class whatsoever," "Describing this as a parody is abnormal," and "Inappropriate behavior for a university professor."
Another comment said, "By saying that the Japanese people hunted there, he is recognizing that Takeshima is part of Japan."
"Calling it a parody without showing any evidence is regrettable," said one manager at a Shimane prefectural office involved in Takeshima-related countermeasures.
South Korea Killed Sea Lions Illegally
"It's an exaggeration to say that Japan caused the sea lions to become extinct. Seo Kyoung-duk claims that Japan captured sea lions illegally, but from 1954 onward, it was South Korea that killed the Takeshima sea lions illegally," says Kenji Fujii, advisor on the Takeshima Islands issue.
In the past, Takeshima was known as a breeding ground for Japanese sea lions. During the Edo period, merchants from Yonago (now Yonago city in Tottori Prefecture) used to hunt for sea lions in the waters surrounding Takeshima.
By the early 1900s, the hunting gathered momentum and competition became fierce. Yosaburo Nakai, an entrepreneur based in Oki, submitted an application to the government, asking that Takeshima become incorporated into Japanese territory, together with a lease, in order to stabilize the sea lion hunting business. It is said that the application documents also included details on sea lion conservation.
After Takeshima was incorporated into Shimane Prefecture in 1905, hunting was managed under a prefectural license system. In June that year, Nakai founded a Takeshima fishing and hunting company.
Initially, locals captured hundreds and thousands of sea lions a year. But overfishing led to a dramatic drop in the number of sea lions. By the Showa period, only 20 or so were captured annually, and sold to places such as zoos and circuses.
Sea-lion hunting in Takeshima was discontinued just before World War II, but in May 1954, a local fisherman stated, "I saw a sea lion," when catching abalone and seaweed in the Takeshima area, while under the protection of a patrol boat.
Fujii has said that there were about 200 to 500 Japanese sea lions in Takeshima in 1958, after South Korea had started patrolling the area, according to a Korean Hydrographic and Oceanographic Agency report.
However, hunting continued after that, without any conservation measures, and the last sea lion was witnessed in 1975.
Picture Book Author: 'It's Pathetic'
Mechi No Ita Shima was written by 77-year-old Yumiko Sugihara, a former elementary school teacher based in Okinoshima. After working at an elementary school in Tokyo, Sugihara returned to her home town in 2008.
Upon discovering that some local people wanted the fishery around Takeshima to be restarted, she wrote her book, after first listening to about 20 residents.
The picture that was stolen by the Korean professor depicts Japanese sea lions being born and raised on Takeshima.
"Anyone who knows about sea lions would not write what he did. That particular picture is the most important part of my message in the book, so what he did is really pathetic," said Sugihara.
She added: "Legal action is difficult in this case. However, I like to think that he 'promoted' my book. I want people to read the book and realize that Japanese people have regarded both Takeshima and the sea lions as being important."
(Access to the original article can be found at this link.)
Author: The Sankei Shimbun