New Year Kanji 'Fly!' Fills the World with Hope
"What we need now is to work together to leap beyond the current trials. I want as many people as we can possibly reach to have hope" ー Yasuko Kanazawa, explaining the choice of "Fly!"
~~
~
Dressed in a reddish-brown hakama over a flower-patterned kimono the color of cherry blossoms in the spring, master calligrapher Shoko Kanazawa smiles for the camera over her latest creation. Her New Year's Kanji, or Japanese character, for 2022 is "tobu," meaning "to leap" or "to fly."
The kanji represents a wish for the world. Kanazawa and her mother, Yasuko, have watched in sadness as one coronavirus variant after another ran rampant in 2021, throwing our lives into disarray and wearing us out with endless bad news.
Deciding to bring mankind tidings of hope, "tobu" is their way of saying, "Let's take flight together!" "Let's leap free of the gloom the virus has brought!"
Before she leaps forward, though, Shoko looks back. She assumes a formal sitting posture before the blank sheet, folds her hands, and offers up a silent prayer to her late father.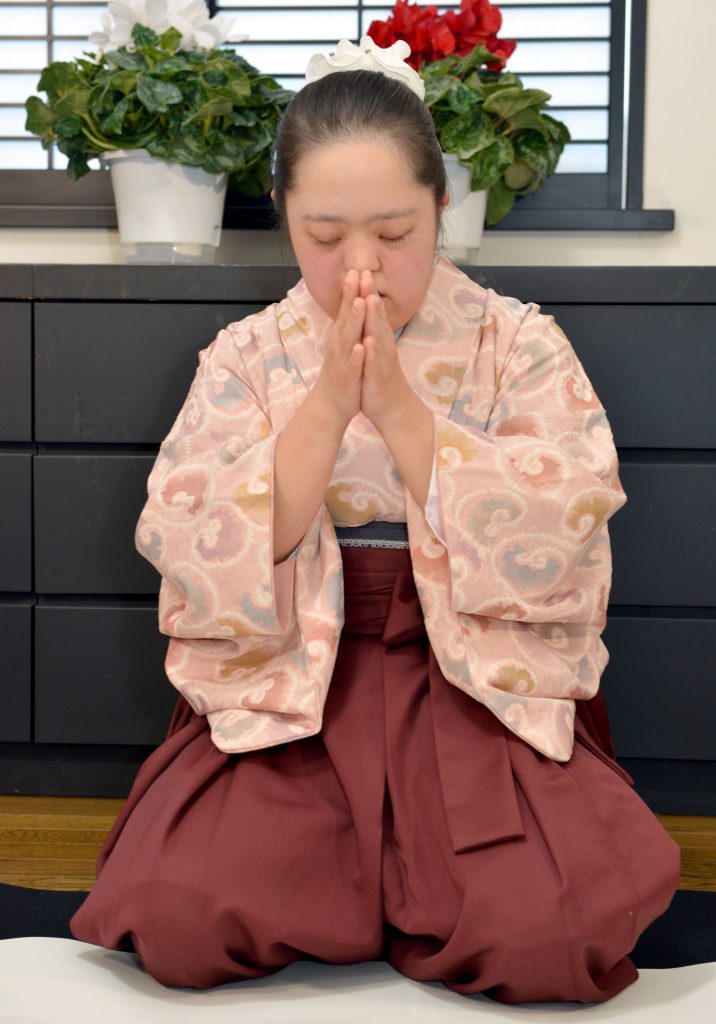 Yasuko looks on as Shoko then takes up a giant brush, dips it into a red lacquered pan of midnight-black ink, and arcs it back and forth across the white background, stabbing and finessing the brushstrokes by turn.
After a short, intense flurry of activity, the work is done. "Tobu" is born, filled with the new life Shoko has given it.
Just as Shoko's kimono, with its array of flowers and stems in vibrant yellows, purples, and light greens, reminds us that spring is not far off, Shoko's big, bold kanji—which seems ready to jump off the paper, true to its meaning—stirs within us the strength to fight on against the pandemic.


Art Imitates Life
Yasuko prompts and coaches Shoko as she works. At seventy-eight, Yasuko has spent much of her life this way, teaching her only child an art that few alive today have mastered like Shoko has.
Art imitates life. Outside the atelier, too, Yasuko has guided her daughter, now thirty-six. Shoko was born with Down Syndrome. At age fourteen, she lost her father to a sudden illness. Yasuko was left to raise Shoko alone. The two of them had little to rely on except prayer. They helped each other through their grief and heartbreak.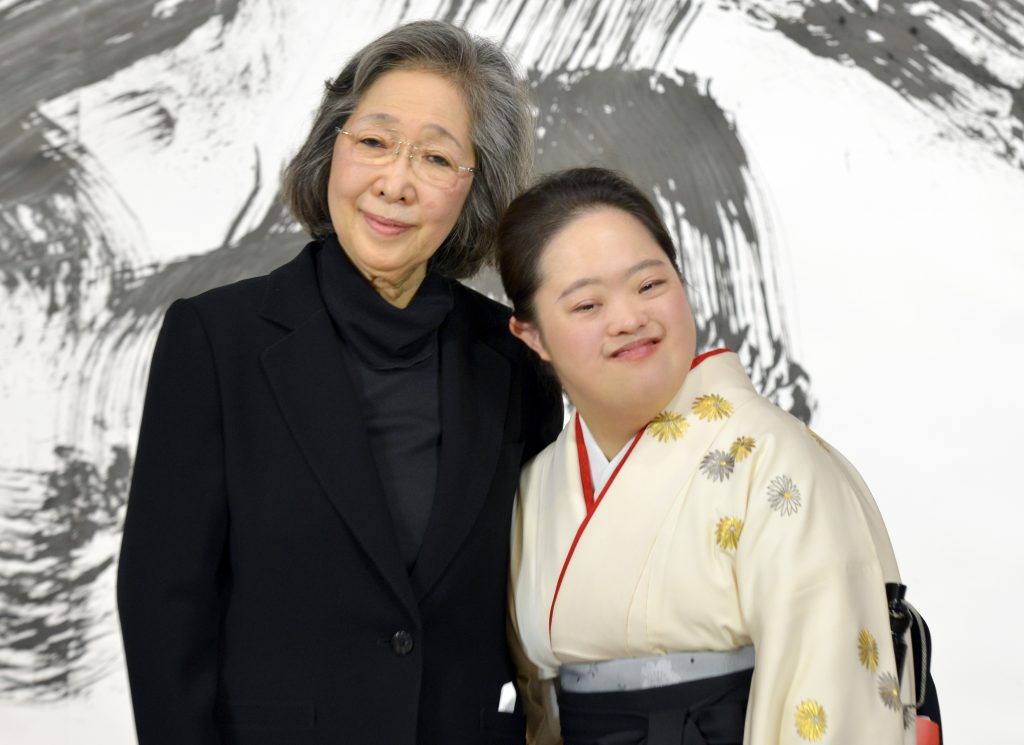 Together, with prayer and hard work, Yasuko and Shoko overcame their long season of hardship. Today, Shoko is easily the most famous calligrapher in Japan, and is recognized globally for her art.
"The world is suffering now," Yasuko says.
"I feel that what we need now is to work together to leap beyond the current trials. I want as many people as we can possibly reach to have hope," Yasuko continues, explaining why she and Shoko chose "tobu" for the New Year's Kanji for 2022.
From December 22 of 2021 through January 8, 2022, the Kanazawas, mother and daughter, will also leap into new territory: a solo exhibition for Shoko at the prestigious Mori Arts Center Gallery, atop the towering Mori Building in Roppongi Hills. Some of Shoko's calligraphic masterpieces will be on display in the show titled, "The Moonlight" ("Tsuki no Hikari").


Life Imitates Art
"The Moonlight" exhibition will feature a work said to be the biggest calligraphy piece in history: a gigantic page more than fifteen meters wide on which Shoko has inscribed, "Let light come to my heart / Let the moon come into the night sky" (Kokoro ni hikari wo, yozora ni tsuki wo).
The strokes vibrate, the kanji are alive. The words seem poised to fly up and away from their two-dimensional state. It is as though Shoko is pushing calligraphy to evolve, to make the quantum leap into modern art.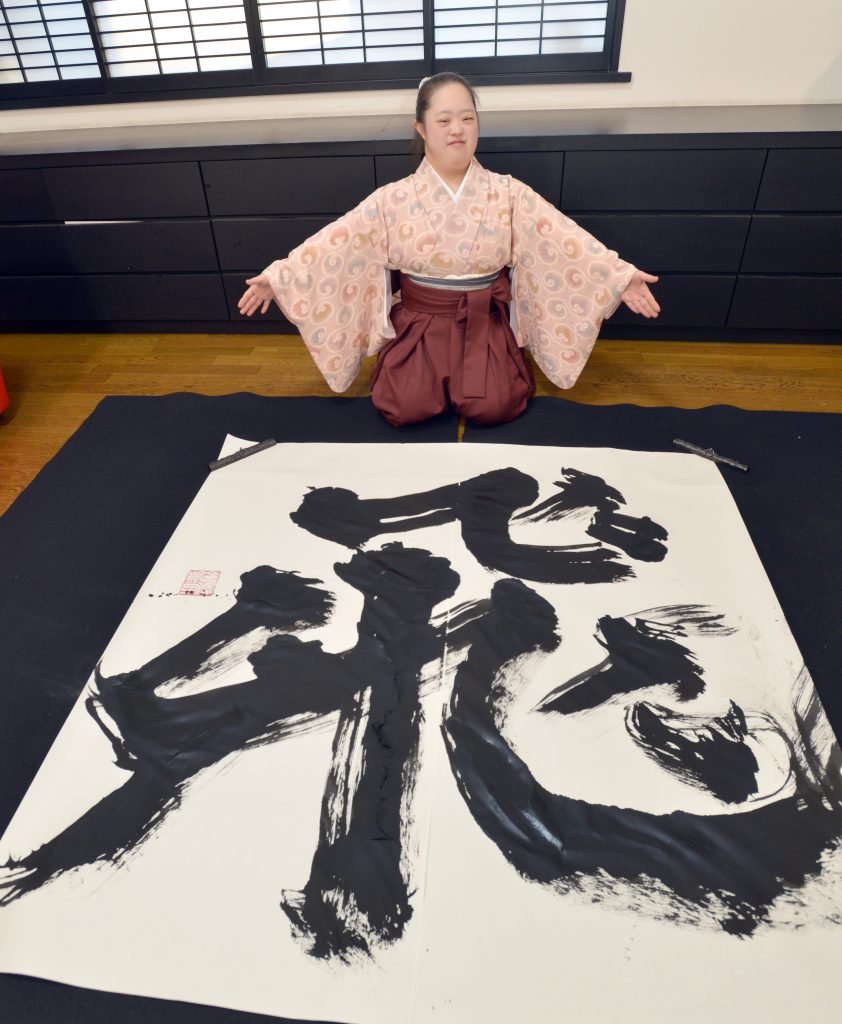 Life imitates art. Shoko, too, knows what it is to leap beyond expectations. At thirty, she began living by herself—something that many said was impossible for someone with Down Syndrome.
And in May of 2022, Shoko will be moving to the heart of the Kugahara commercial district in Ota-ku, Tokyo. It will be the realization of another dream, to live in the middle of a hub of commerce. This dream realized will yield to another. Although she will continue living on her own, Shoko wants to be close to her neighbors in the commercial community, everyone supporting one another into the future.
Last year, Shoko achieved yet another goal when she made her debut as a YouTuber. She is renowned as a calligrapher, but she has expanded the range of her activity beyond even her tremendous artistic success. Shoko's magic shows no sign of flagging anytime soon.


A Thriving JAPAN Forward New Year's Tradition
Twenty-twenty-two marks the fifth time that Shoko and Yasuko Kanazawa have honored our request to draw a New Year's kanji for JAPAN Forward.
In 2018 Shoko presented us with "hikari," "light."
In 2019 it was "inori," "prayer."
In 2020 she offered "wa," "harmony," in honor of the new Reiwa era in Japan.
In 2021 Shoko encouraged us all with "katsu," "victory," cheering us along in our fight against the coronavirus.
Now, in 2022, we are given "tobu," "fly, leap."
Shoko's prediction for 2021 came true in a way. The Tokyo Olympics and Paralympics, delayed for a year by the coronavirus, were finally held in the summer of 2021— a victory for Japan and the world.
But the fight is not over yet. We at JAPAN Forward are going to work hard to follow Shoko Kanazawa's lead as she springs into a brighter future ahead.
We wish everyone happiness and good health as you "leap into the New Year" and fly clear of the difficulties that faced us in the past.


RELATED (photo gallery): 'Fly!' is the New Year Kanji as Shoko Kanazawa's Wishes Fill the World with Hope


Author: JAPAN Forward
(Click here to read the article in Japanese.)