Prime Minister Suga's Maiden Foreign Visit: Why is Vietnam So Important for Japan?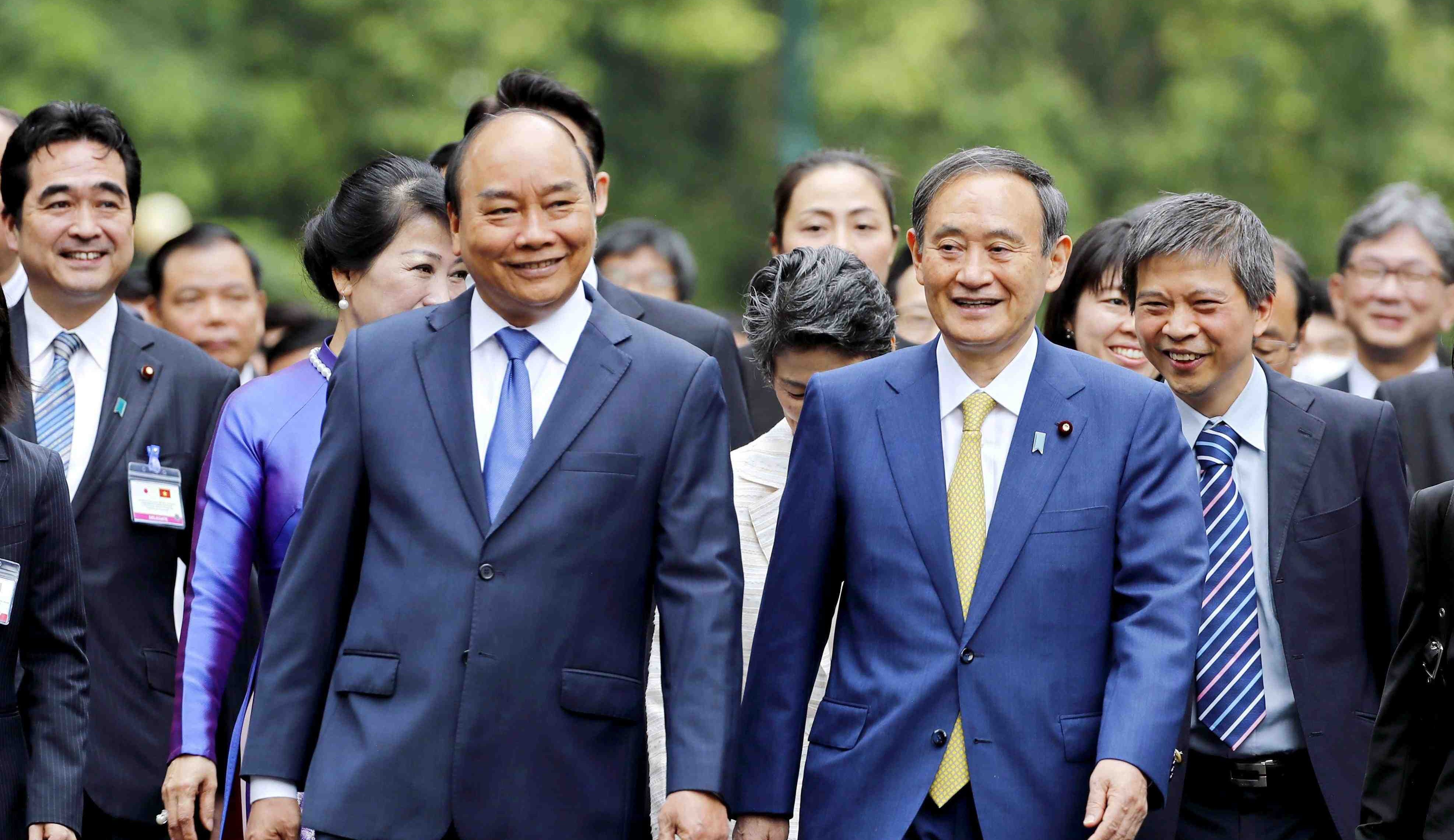 Japanese PM Yoshihide Suga's recent trip to the Southeast Asian nations of Vietnam and Indonesia was his first overseas visit after taking over as Prime Minister from the previous incumbent, Shinzo Abe.
Former Prime Minister Abe, who had been in power since December 2012, had injected a measure of continuity in Japanese foreign policy. Moreover, he had been successful in increasing Japan's profile in the ASEAN region.
The growth in Japan's relations with the ASEAN countries can be traced back to the Fukuda Doctrine of 1977, which was unveiled by the then- Japanese PM Takeo Fukuda. In addition, through its ODA (Official Development Assistance) program, Tokyo has played a leading role in the economic growth of many of the ASEAN nations.
Why Was This Visit Significant?
First, it means that PM Suga has taken off from where his predecessor, former PM Abe left off. His visit signals that Japan is firmly committed to the "Free and Open Indo-Pacific" vision and there has been no let-up in Tokyo's efforts to promote the same. Before embarking on the trip to Vietnam and Indonesia, PM Suga remarked that "I would like to show a resolve to contribute to peace and prosperity in the region toward realizing a Free and Open Indo-Pacific." Vietnam is the ASEAN chair for 2020 and in the past, along with the Philippines, has been one of the few countries that has taken on China's growing belligerence in the South China Sea region.
Second, it means that PM Suga has been quick off the mark in taking advantage of the post-COVID market dynamics. Vietnam is one of the economies which has been doing exceedingly well, even in the midst of the turmoil induced by the pandemic. The number of coronavirus cases in Vietnam has been at a record low and the country has re-started its economic activity after the pandemic. In addition, with the supply chains of many international firms moving away from China, Vietnam has been one of the biggest beneficiaries.
Third, Vietnam will be critical for Japan's recovery efforts after the downturn in the economy, in the light of the coronavirus pandemic.
In the earlier stimulus package announced by former Prime Minister, Shinzo Abe, Japan had allocated 23.5 billion JPY ($225 million USD) for those firms seeking to move production to other countries from China. Interestingly, this visit saw Japan's Marubeni Corporation committing to invest $1.3 billion in a power plant in Vietnam, while the Tokyo Gas Company Ltd and the Vietnamese PetroVietnam Power Corp will partner to develop a $1.9 billion gas-fired plant in Vietnam.
Fourth, Vietnam's location makes it key to Japan's future moves in the region. Japan is also looking at exporting weapons systems to Vietnam. During PM Suga's Vietnam visit, the two nations "agreed in principle on an agreement that will see Tokyo exporting defense equipment and technology to Hanoi". This is a major step forward for Japan's defense sector, which has been hobbled by the country's post World War II constitution. These exports would include patrol planes and aircraft.
Fifth, a lot of Vietnamese workers are also finding employment in Japan as the country ages rapidly and workers are in short supply. In the future, Vietnam could become a leading source of workers and caregivers in Japan.
During his visit, Japanese PM Suga and his Vietnamese counterpart Nguyen Xuan Phuc also agreed to work towards resuming regular flights between their countries as early as possible, and to implement a "business track" which will enable business executives and skilled workers to avoid a 14-day quarantine period, in lieu of following certain COVID-19 precautions."
The Japanese Way
Prime Minister Suga's visit to Vietnam and Indonesia also assumes significance in light of Beijing's Belt and Road Initiative (BRI). The ASEAN nations have welcomed Beijing's BRI, but some of them like Cambodia and Laos seem to have been drawn into a debt trap as a result of the same. This is where Japan could chip in- since Japan delivers on trust, something which has been missing in Beijing's commercial dealings with ASEAN.
Indonesia is also critical for Japan's plans in the region as it is the largest economy in Southeast Asia. In the past, Japan had tried to export its high-speed rail technology to Indonesia, but that bid was won by a Chinese-Indonesian consortium. However, Japan Inc. has not yet given up on Indonesia as it is critical for its recovery plans post the pandemic.
In his speech at the Vietnam-Japan University, PM Suga noted that "Japan is strongly opposed to any actions that escalate tensions in the South China Sea. Japan has been consistently supporting the preservation of the rule of law in seas."
It is worth noting here that both Vietnam and Indonesia have had issues with China's claims in the South China Sea region. In addition, the world is also waiting eagerly for the results of the U.S. Presidential election, and in case Joe Biden assumes the presidency, it could very well signal a reset of the United States' strained ties with China. This will also impact Japanese foreign policy as Japan is the U.S.' strongest ally in East Asia.
In addition, the Quad also seems to be making quick progress under the Suga Administration. After the meeting of the Quad foreign ministers in Tokyo on October 6, the decision to include Australia in the Malabar naval exercises points to a new-found resolve among the Quad nations to pool their resources in the maritime realm.
Prime Minister Suga has referred to Vietnam as a "linchpin in efforts to realize a free and open Indo-Pacific". While he was seen as a novice in the field of foreign policy, this successful visit proves that he has made the right moves to start with. PM Suga has surely taken the bull by the horns.
Author: Dr. Rupakjyoti Borah
Dr. Rupakjyoti Borah is an Associate Professor at India's Sharda University. His forthcoming book is The Strategic Relations between India, the United States and Japan in the Indo-Pacific: When Three is Not a Crowd. He has also authored two other books. He has also been a Visiting Fellow at the University of Cambridge, the Japan Institute of International Affairs (JIIA), Japan and the Australian National University. The views expressed here are personal. Twitter @rupakj