Shinzo Abe's State Funeral: The Day Ahead
The ceremony includes a speech from Fumio Kishida, and the attendance of foreign leaders such as Kamala Harris, Antony Albanese and Narendra Modi.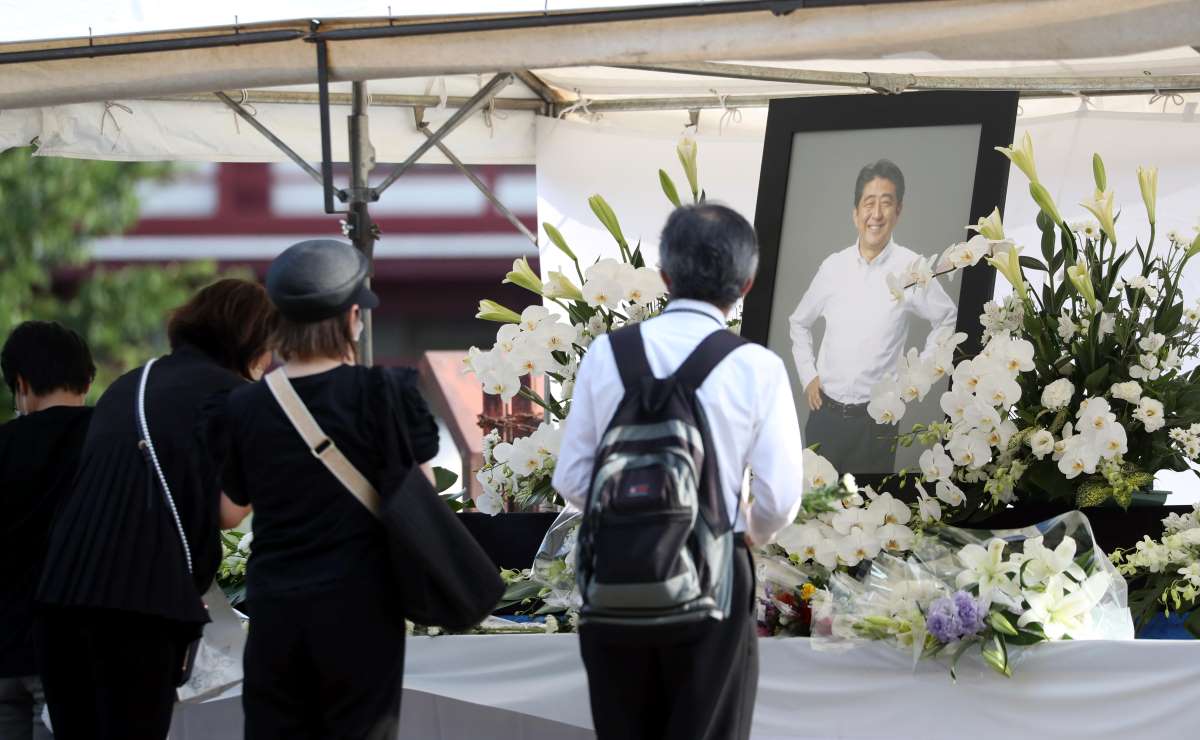 Japan's state funeral for former Prime Minister Shinzo Abe takes place on September 27.
An extraordinary event, it is the first state funeral Japan has held since the death of postwar Prime Minister Shigeru Yoshida, in 1967.
Ahead of the day, JAPAN Forward maps out some of the things to expect as the event proceeds.

What to Expect?
At 2 PM in the afternoon, a state funeral with approximately 4,300 attendees – including 700 from overseas – will be held at the Nippon Budokan in Kudanshita, Tokyo.
Nippon Budokan is familiar to many in Japan as it is used for many formal occasions, such as the annual anniversary ceremony marking the end of World War Two, other official government ceremonies, sports tournaments and major concerts. All participants have been asked to wear a mask.
Several speeches are scheduled from top government leaders, including Prime Minister Fumio Kishida and Lower House Speaker Hiroyuki Hosoda. Yoshihide Suga, who worked alongside Shinzo Abe during most of his administration and was very close to the former prime minister, will speak on behalf of Abe's friends.
Many local government officials are planning to attend, such as the governor of Abe's home prefecture of Yamaguchi. Japan's Self-Defense Forces will be represented by 1,390 members chosen from among its ranks.
While Emperor Naruhito and Empress Masako recently attended the state funeral of Queen Elizabeth II in London, it is customary for emperors and empresses not to attend funerals for political leaders, so they will not be present.
Logistically, the event is impacting Tokyo and its commuters. Roads near the Nippon Budokan are being closed to normal activity due to the many Japanese and foreign leaders present for the occasion. Highway access is affected and security also heightened.
Earlier on September 26, the police conducted security sweeps of areas around the imperial moat and surrounding manholes, among others.
About 20,000 police officers are scheduled to be on duty the day of the state funeral, according to the National Police Agency.

Who Is Coming From Abroad?
Among the invitees are many leaders from overseas. Although the final schedule has yet to be announced, Prime Minister Kishida is reported to be planning meetings with more than 40 foreign leaders and dignitaries over the span of three days around the state funeral.
Commenting on the busy diplomatic schedule, Kishida told reporters that the wish was to "continue Shinzo Abe's legacy" as a leader in international relations.
From the United States, Vice President Kamala Harris arrived in the afternoon of September 26. In a meeting with PM Kishida on the same day, she repeated that the relationship with Japan was a "cornerstone of peace and prosperity in the Indo-Pacific region."
From Quad countries, Australia's Prime Minister Antony Albanese and India's Premier Narendra Modi are also set to attend. Both will meet Kishida on September 27. Albanese, in a statement, had previously defined former PM Shinzo Abe as "a remarkable leader, a catalyst for change in Japan and the region, a true friend of Australia."
The Embassy of India released a statement in early July marking Abe's passing as "The loss of a great friend of India has been felt across our nation."
Mr Abe was the initial proponent of the idea behind the "free and open Indo Pacific," a loose alliance in which like minded democratic countries collaborate and strengthen together against Chinese hegemony in the region.
Among the European countries, former British Prime Minister Theresa May, and former Italian Prime Minister Matteo Renzi, former French President Nicolas Sarkozy and European Council President Charles Michel will attend.
Japan's Asian neighbors are sending leaders who worked closely with PM Abe on ASEAN and Indo-Pacific initiatives. They include Singaporean Prime Minister Lee Hsien Loong, Vietnamese President Nguyen Xuan Phuc, Cambodian Prime Minister Hun Sen, Philippine Vice President Sara Duterte, and Malaysian Minister of International Trade and Industry Azmin Ali.
Abe's close ties with Asian countries' leaders was a key drive in creating the Comprehensive and Progressive Agreement for Trans-Pacific Partnership (CPTPP), which includes eleven countries around the world.

How Can Citizens Mourn?
A flower offering table has been set up in a park near the Budokan where anyone can leave offerings from 10 AM to 4 PM. Strict security measures, such as metal detectors and bag checks, have been put in place.
The country will not observe a national day of mourning, however, and the disruption of classes and work has been discouraged. This departs from Shigeru Yoshida's state funeral, when there was a partial interruption of school classes.

What About The Opposition?
The state funeral has generated some pushback. Constitutional Democratic Party of Japan (CDP) leader Kenta Izumi is among the opposition politicians that has said they would not be attending the state funeral. Abe was shot in July while campaigning in a national Upper House election that the opposition soundly lost a few days later.
A Sankei/FNN poll conducted between September 17 and 18 found that over 60 percent of respondents were against the state funeral.
According to an NHK poll, while in the month of July most respondents were in favor of the state funeral for Mr Abe, the mood shifted in August and September. Over 70 of those who took the survey said in the FNN September poll that they were "not convinced" by the government explanation for holding a state funeral.
Polls have also suggested public opinion's suspicion of the LDP's ties with a Korean based social-religious organization commonly referred to as the Unification Church. Interactions between the church and politicians in general have been scrutinized by the media in the months following Shinzo Abe's assasination because the church was used as an excuse for the shooting by the man who carried out the assassination.
Chief Cabinet Secretary Hirokazu Matsuno said on September 26 that the government was working hard to ensure that the funeral would be an occasion when people can mourn peacefully the passing of Shinzo Abe.


RELATED
Author: Arielle Busetto