Uyghurs, Tibetans in Japan Decry Beijing's Oppression of Human Rights in their Homelands at Diet Meeting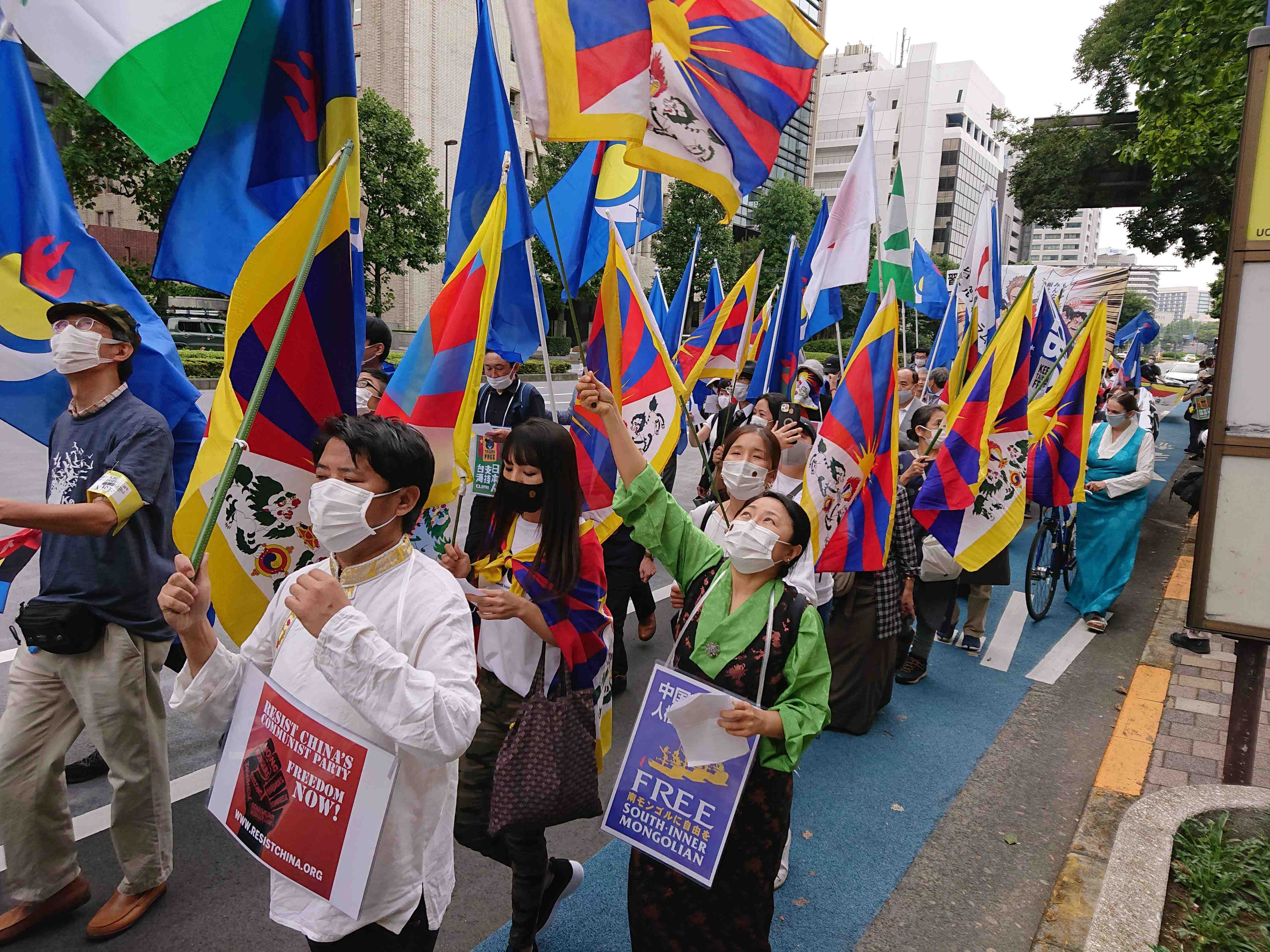 China's National Day, October 1, was not a cause for celebration among the Uyghurs, Mongolians and Tibetans who gathered in Tokyo to protest the Communist government's suppression of human rights in their respective homelands.
Representatives for members of ethnic minorities from China who now live in Japan met Japanese lawmakers at the National Diet Building in Tokyo, where they described Beijing's "assimilation" policies and other measures, which they allege are tantamount to cultural genocide. They also pleaded with Diet members to speak out against China's blatant disregard for basic human rights.
The meeting was part of joint protest activities organized by a Tibet support organization based in the United States. The joint protests were carried out in 88 locations in 36 countries to coincide with China's National Day. In Tokyo, it was followed by an October 3 protest march in the capital city's landmark commercial district near the Imperial Palace.
Lawmakers Listen
The meeting at the National Diet on October 1 brought the human rights and cultural oppression home to Japanese lawmakers through the testimony of the visiting participants.
Tsering Dorjee, a Tibetan participating in the event, pointed out how the Chinese authorities have recently ramped up surveillance of residents in the Tibet Autonomous Region.
"Everyone now has to carry ID when moving about," he reported. "And they have been keeping a tighter eye on the border, so that last year only a dozen or so Tibetans were able to make it abroad to seek political asylum."
Olhunuud Daichin, Secretary general of Southern Mongolia Congress, told lawmakers how since September Mongol children attending primary and middle school are increasingly being made to carry out their studies in the Chinese language, adding:
They are switching to the use of Chinese-language textbooks, and references to traditional Mongol ceremonies are being eliminated.
It looks like they are trying to exterminate the language and culture of the Mongolian people.
It should be noted that the Mongolians are divided between those living in the independent nation of Outer Mongolia and those in Southern Mongolia, which corresponds to the Chinese province of Inner Mongolia.
Kerimu Uda, President of Japan Uyghur Association, represented the Uyghurs in China's far western Xinjiang Province. (Uyghurs prefer to call their homeland East Turkestan.) They are currently suffering severe suppression by the central government, with huge numbers being forced into internment camps for "reeducation."
He said, "If Uyghurs do not have their names chosen from a list drawn up by the government, then they cannot even name their children officially."
The event accomplished its purpose of educating the lawmakers, according to organizers. Hidetoshi Ishii, executive director of the Japan executive committee for Resist China, and vice president of the Japan-based Free Indo-Pacific Alliance explained:
Almost all of the 10 National Diet members from both ruling and opposition parties that participated in this event stayed until the end. It shows that Japanese politicians are paying attention, which was very epochal. The members of the executive committee are willing to continue activities like this.
The meeting was followed by a press conference at which Olhunuud Daichin brought up the Uyghur Human Rights Policy Act of 2020 passed by the U.S. Congress to sanction Chinese authorities involved in the ongoing oppression of the Uyghur people.
"I would like to see a Japan that values freedom and democracy follow suit and pass such a human rights law," he declared.
The meeting also passed a resolution stating, "We must unite to force the Chinese government to halt its policies of ethnic genocide."
Tokyo Protest March
Two days later on October 3, about 350 people from the Uighur, Hong Kong, Southern Mongolia, and Tibetan homelands gathered in Tokyo's central commercial and business districts to parade through the streets with flags of their respective ethnic groups, in protest of the Chinese government's persecution of ethnic minorities.
Planners for the demonstration, hosted by about 20 Japanese organizations working on human rights issues in China, focused on China's recent directives to abolish education in the Mongolian language for students in the Inner Mongolia Autonomous Region of China and the crackdown on the democracy movement in Hong Kong.
Olhunuud Daichin representing the Southern Mongolia Congress told the group before the marches began:
The 71st anniversary of the Chinese Communist Party's administration is the 71st year of cracking down on us. We want to tell the people of the world about the current situation in China.
A 37-year-old Tibetan woman who participated in the march wearing the "Chupa" national costume said, "I participated in the hope of Tibetan independence. I expect Japan to be a leader in Asia and want to see you exert your power and influence on these matters."
Another Tibetan woman in her fifties told the group, "In Tibet, there is no end to people who commit suicide because they have no freedom. But (the international community) looks away while it runs to China for money."
"Some day, I want to go back to a Tibet that is free," she added.
(Read the original stories here and here, in Japanese.)
Author: The Sankei Shimbun