Vietnam Expects Bigger Role for Japan in Asia's Security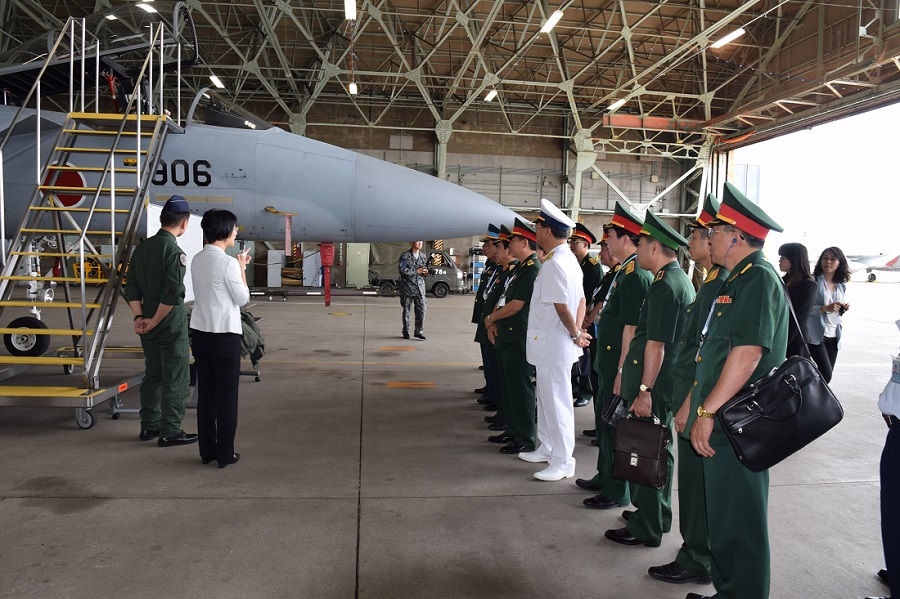 By Mizuki Okada
A delegation from the Vietnamese People's Army (VPA) visited Japan's Self-Defense Forces (JSDF) camp and bases for a week in late June. Vietnam shares borders with China and is one of the countries bordering the South China Sea, where China has been proceeding with its militarization of the region.
The Vietnamese Army delegation's visit is seen as a move to enhance defense cooperation with Japan against the background of China's maritime expansion.
This year's delegation was made up of 14 VPA field-grade officers. Their exchange visit was sponsored by the Sasakawa Peace Foundation.
The delegation paid a courtesy call on Itsunori Onodera, Japan's minister of defense, and participated in lectures on June 25 on the subjects of Japan's defense policy and discipline of the JSDF.
For three days from June 26, the VPA officers also visited JSDF training facilities, including the ground camp at Kanazawa, the air base at Komatsu, and the maritime base at Maizuru.
The Sasakawa Peace Foundation has organized exchange activities for field-grade officers of both Vietnam's military and Japan's Self-Defense Forces twice a year since 2014. This year's exchange visit in June marks the Vietnamese delegation's fifth visit to Japan. A similar JSDF visit to Vietnam is being planned for November.
Vietnam, along with other Southeast Asian countries, borders the South China Sea, where a standoff between the United States and China continues. This year, U.S. Navy warships have conducted freedom of navigation operations (FONOPs) in the South China Sea near the Paracel Islands, claimed by Vietnam as well as Taiwan and China, at least three times. According to Reuters, two U.S. Navy Aegis class naval vessels came within 12 nautical miles of the Paracel Islands and carried out operational maneuvers near Woody Island and others.
China's Defense Ministry released a statement about the U.S. Navy's move, saying it "contravened Chinese and relevant international law, seriously infringed upon Chinese sovereignty [and] harmed strategic mutual trust between the two militaries." China's Defense Ministry also said it had sent ships and aircraft to warn the U.S. warships to leave.
While the U.S. conducts FONOPs near the South China Sea islands to warn China against ongoing expansion, there is an expectant voice from the Vietnamese side about Japan's role in the region's security.
One Vietnamese military officer who visited Japan said in an interview with The Sankei Shimbun and JAPAN Forward, "I hope Japan [will] reform Article 9 and get involved more actively for our region's security."