A Visit to the Atelier | Memories of Musashino and Other Charming Things in My Studio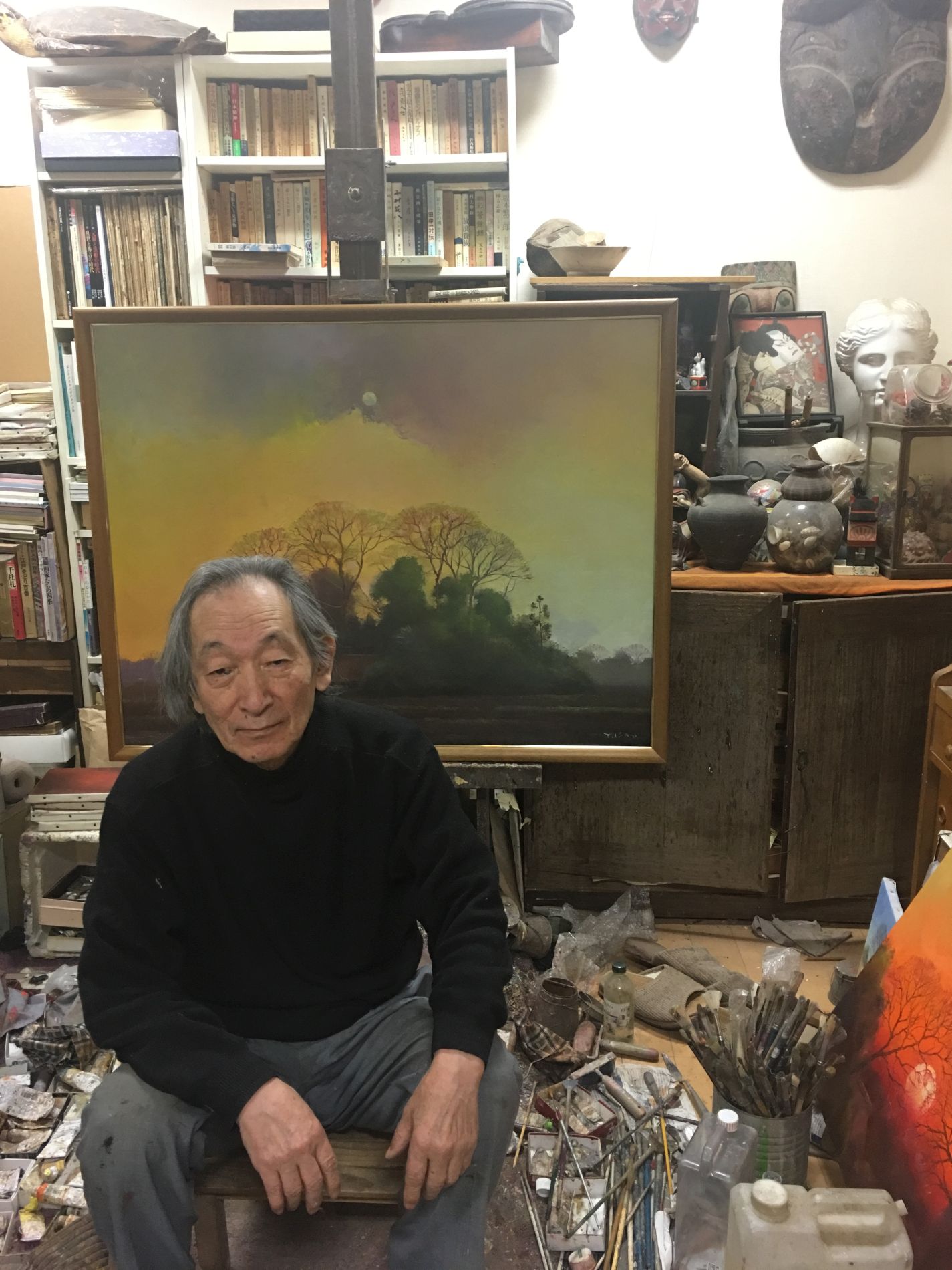 (Part 8 of a Series on the Art of Kuniyoshi)
This time, I will be introducing my atelier.
When people hear the word "atelier," they might think of a room with a north window and a high ceiling. However, just as there are all sorts of artists working in those ateliers, there are all sorts of ateliers.
Ateliers of famous and poor painters tend to be different, and many ateliers become messy over the years. Generally, people believe that ateliers of Japanese-style painters are carefully arranged, while ateliers of oil painters are dirty, with paint all over the place.
Let's have a closer look at my atelier. While it was spacious when it was built, it has gradually become packed with all sorts of things. I've had a tendency to pick up all kinds of things since childhood, and I'm even surprised myself about the way it looks today.
Since I'm a painter, a vase or dry flowers to draw as a motif would be natural to own. But there are also Southeast Asian and Japanese masks hanging on the walls.
On top of the bookshelves there are stuffed crocodiles that gaze at you. My younger brother brought them as souvenirs when he traveled around the world.
There are also shark teeth lying around that a friend who knows about my hobby brought, and there is a glaring cow skull by the entrance. This skull could be effective as protection against burglars.
However, there is more to be found in my atelier. Since I wanted to know more about the roots of woodblock prints, including ukiyo-e, I have collected all sorts of items. These include notes with printed Buddhist images on them that were handed out by temples, andon-e (paintings on paper lanterns), which were set adrift in the river during the Obon festival, otsu-e that were sold as souvenirs to travels in Otsu (now Shiga prefecture), and ema (votive tablets), which served to wish for a fruitful year.
Of course, the prints by Kuniyoshi and his disciples are the most important works in my collection. I acquired most of them at flea markets and second-hand bookstores. Their origin as items bought by ordinary people seems appropriate for a poor painter like me.
These lanterns, paintings, prints, and other objects were all distinctive items that reflect the tastes of common people in the past. Only ukiyo-e has become truly valuable, but it is fascinating that they all tell us about the lives of regular people.
To continue describing my collections: various boxes with Japanese-style paintings are lined up on the upper shelf. None of these are by renowned artists like Yokoyama Taikan. They are all by unknown painters.
Fortunately, paintings by unknown artists from the Edo (1603-1868), Meiji (1868-1912), and Taisho (1912-1926) periods tend to be cheap. Among such works I sometimes discover a charming work, but it can be difficult to get your hands on something tasteful.
Finally, there are book closets on both sides of my atelier. These closets mainly contain books about art, literature, and music. However, the most important to me are books and other resources about Musashino.
One of these books is Musashino, a short story by Kunikida Doppo (1871-1908), which you could say is my bible. It vividly describes the scenery of Musashino in beautiful prose. While it's only a short story, I'm sure it will continue shining for many years to come.
Author: Toshihiko Isao