[Asia's Next Page] For Stronger Defense Ties, Japan and India Should Quickly Finalize ACSA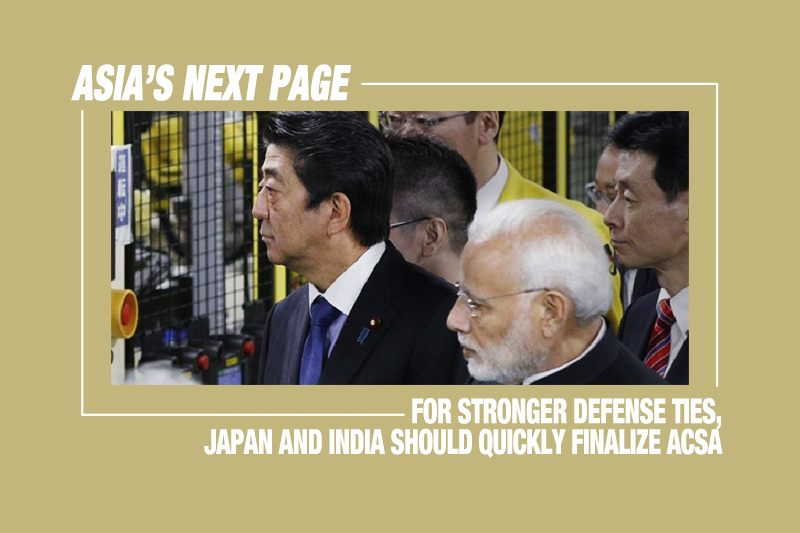 One of the significant outcomes of the 13th Annual Prime Ministerial Summit between India and Japan held on October 28-29, 2018, was the official start of negotiations for the two countries' "Acquisition and Cross-Servicing Agreement" (ACSA). This agreement, once implemented, will allow the armed forces of both nations to share military logistics for greater interoperability.
ACSA, once finalized, will encapsulate and even strengthen more than a decade of strategic convergences between India and Japan amidst mutual caution regarding China's assertive rise in the Indo-Pacific. At the same time, it will increase the scope for further bilateral and defense cooperation between the two nations.
Elevating the Indo-Pacific Defense Partnerships
At the first India-Japan 2+2 Foreign and Defense Ministerial Level Meeting in November 2019, enhancing bilateral cooperation, especially in the defense sector, was a focal point of discussions. Noting "significant progress" made in ACSA negotiations since their commencement in 2018, ministers from both nations expressed hopes for an early conclusion in order to strengthen defense cooperation.
Upon finalization, India is set to become the first non-Western nation with which Japan inks such an agreement, joining the ranks of the United States, United Kingdom, France, Canada, and Australia. An ACSA agreement will hence prove to be monumental in elevating the defense ties India and Japan share.
To reach the full potential of the Special Strategic and Global Partnership, evolution and expansion of the existing defense security ties between the two Indo-Pacific partner nations, is a necessity, especially in light of an ever-aggressive China. ACSA strengthens the agreements on Transfer of the Defense Equipment and Technology and Security Measures for the Protection of Classified Military Information that India and Japan share, allowing security ties between the two sides to bolster. It also coincides with their aim of creating a "free and open Indo-Pacific," contributing to the stability of the rules-based order.
Post-Galwan, it would not be surprising if India is more open to alliance frameworks, as opposed to its earlier resistance. A military-oriented virtual alliance framework between India and Japan would allow the two nations to emerge as security providers for the Indian Ocean Region.
India has emerged as one of Tokyo's most important security cooperation partners, as evinced in the 2019 defense white paper, and is perhaps preceded only by the U.S. and Australia. Post ACSA, India and Japan can reach for greater defense synergy with both the U.S. and Australia. Even as discussions are on to include Australia in the India-Japan-U.S. trilateral naval exercise MALABAR, the proposed ACSA can significantly enhance the occasion-building for an alliance structure between the four nations.
For India, in addition to the already signed three foundational military pacts with the U.S. — namely, the General Security Of Military Information Agreement; Logistics Exchange Memorandum of Agreement; and Communications Compatibility and Security Agreement — New Delhi is now looking to finalize the fourth foundational Basic Exchange and Cooperation Agreement. While this reflects the increasing military synergy between Washington and New Delhi, it is important to note that the logistics agreement the two nations share is somewhat similar to ACSA, which the U.S. has with Japan and North Atlantic Treaty Organization allies.
Further, in a recent virtual summit, India and Australia upgraded ties to a "Comprehensive Strategic Partnership" while signing a mutual logistics support agreement. ACSA will hence set the stage for security cooperation not just between India and Japan, but also among the Quad nations for a more robust and rules-based Indo-Pacific. Concurrently, with Japan already having ACSAs with the U.S. and Australia, India's addition will only strengthen the Quad narrative.
Setting the Stage for Future Defense Collaboration
The defense rationale and the context of India-Japan relations sets tremendous possibilities for future collaborations. The discussions regarding the amphibious ShinMaywa US-2 Aircraft have been going on for a few years and hold great potential for further defense equipment cooperation between the two countries.
With the synergy between Japan's expertise, precision, and timely completion of defense equipment manufacturing on the one hand, and India's competence in engineering and design on the other, India's "Make in India" initiative can be expected to play a substantial role in attracting Japanese companies and enabling opening of Japan's equipment manufacturing industry to India.
Additionally, the $12 billion USD "Japan-India Make-in-India Special Finance Facility" fund announced in 2015 has raised scopes for subsequent funds for collaborations. Tokyo's rising investment initiatives in India's domestic infrastructure at present only create confidence to extend the cooperation in different areas, including defense. ACSA, in this context, can play a significant role and encourage both the countries to view their defense and security partnership more holistically by considering the establishment of a defense manufacturing ecosystem with a boost to the "Make in India" initiative.
Operational maneuverability in the Indo-Pacific between India and Japan, as well as reconnaissance operations vis-à-vis Chinese threats, can also be strengthened via ACSA. India already has logistics pacts with France, South Korea, Australia, Singapore, and the U.S., which enhance operational capabilities of Indian navies from the Eastern shores of Africa in the Western Indian Ocean to the Malacca Straits and Southern Indian Ocean.
ACSA can open possibilities of better naval access into the various pockets of the Indo-Pacific, particularly as the agreement allows the Indian and Japanese navies for reciprocal access to military bases and facilities placed in strategic locations of Andaman and Nicobar Islands lying near the Malacca Straits, and Djibouti in the Western Indian Ocean, respectively.
ACSA for a Greater Technological Cooperation?
Artificial intelligence and chip manufacturing could set the trend for cooperation in technology and cybersecurity, especially as India and Japan pledged to promote research on A.I. and greater cooperation on security in their summit meeting in October 2018. A few months earlier, in July 2018, India and Japan also had agreed to collaborate on dual-use technologies to strengthen defense cooperation, including research on unmanned ground vehicle robotics.
Importantly, Japanese companies are known for their versatile chip-manufacturing capabilities that could allow the establishment of an alternate supply chain network as well as potential manufacturing of the next-gen A.I.-induced chips by both countries. Keeping this in mind, India needs to capitalize on the opportunity for future cooperation with Japan in technological areas, particularly in the backdrop of the worsening U.S.-China trade and technology rivalry, as well as a greater demand for battle management systems by India, owing to China's aggressive and revisionist postures at the border post the Galwan stand-off.
RELATED STORIES: Does India Still Have Doubts About China's Territorial Ambitions? and Galwan Valley Clashes Should Prompt India to Throw Out Its China Strategy
Another important area where both India and Japan can cooperate is the 5G. Notably, three out of four Japanese mobile service providers launched 5G services in Japan towards the end of March 2020: NTT DoCoMo (being Japan's first 5G smartphone service), KDDI, and SoftBank. India too is currently gearing up for its 5G trials. An India-Japan collaboration in this area can be in the cards, considering India's demand for the technology as well as Japan's capability to provide a secure and reliable 5G experience, as opposed to China's Huawei, which has been doubted for harboring the aggressive and revisionist agendas of the Communist Party of China.
It is also with regards to China and the global suspicion on Huawei that the U.K. is pursuing an alliance of 10 democracies (D-10) and "like-minded" countries, which include India and Japan. The signing and implementation of ACSA will only set a new reference for bolstering the India-Japan technological cooperation, and provide a platform for future collaborations like D10. Most importantly, considering both countries' mutual concerns regarding China, ACSA will strengthen India and Japan's technological footprints in the region.
In a post-COVID world order, ACSA can indeed provide credence to the India-Japan partnership, as well as strengthen the regional footprints of both the countries. Resolve for a quick conclusion of the agreement is hence needed to fortify the bilateral relations, particularly at a time of global geopolitical flux and balance the power conundrums in Asia.
Author: Jagannath Panda
Dr. Jagannath Panda is a research fellow and center coordinator for East Asia at the Manohar Parrikar Institute for Defence Studies and Analyses, New Delhi. He is also the series editor for Routledge Studies on Think Asia. Dr. Panda's most recent publications include India and China in Asia: Between Equilibrium and Equations (Routledge, 2019) and Scaling India-Japan Cooperation in Indo-Pacific and Beyond 2025: Corridors, Connectivity and Contours (KW Publisher, 2020). Follow him on Twitter (@jppjagannath1).