BMX Flatland Session in Komazawa Olympic Park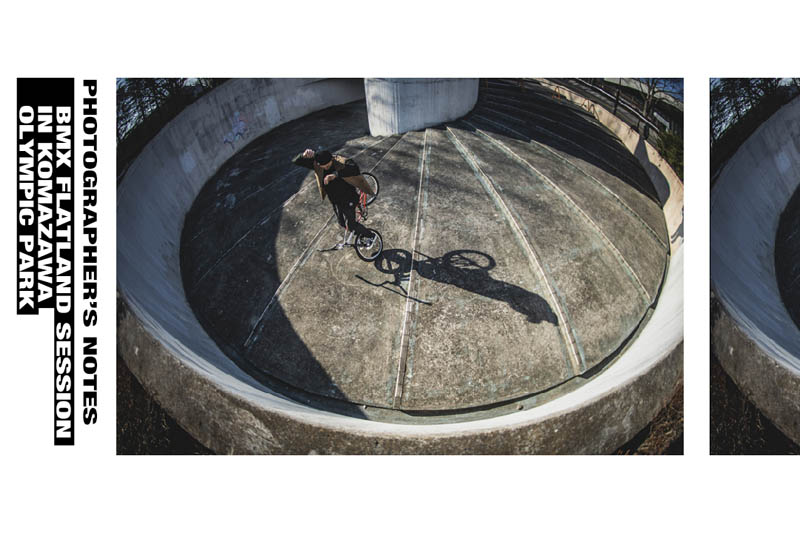 Author: Jason Halayko
The other day my good friend Tsutomu Kitayama called me up and asked if I wanted to go shooting. He had come across a potentially cool shooting spot close to a well-used flatland BMX practice area in the Komazawa Olympic Park. There is a popular skateboard area in the park and flatland riders often meet up to ride in a little open area adjacent to the skateboard area.
The next day we met up and Tsutomu was already riding when I got there. Although the regular practice spot wasn't the most photogenic area, (there is a stadium and trees in the background making for overly busy backgrounds,) I decided to see what I could get, and started shooting with my Nikon 16mm fisheye.
After a few tries, Tsutomu had decided on the trick he wanted me to photograph. At the same time, I had noticed the sun was coming through the trees, so I wanted to use that in whatever image I ended up with.
Respect and Collaboration with the Athlete
Often in these sessions I don't tell the athletes what tricks I want them to do, as they are always coming up with new tricks and combos, and there is no way I can follow every athlete in every discipline I shoot. So, while I will always ask them to perform a trick in a place that will be the best for the photo, I almost always leave what trick we shoot up to them.
Having your own ideas is important when shooting, but involving the athlete in the creative process makes the whole day much more fun. And, they will enjoy the collaborated end-images that much more.
After a few attempts of chasing Tsutomu with my fisheye up nice and close, I got lucky and was able to capture the trick he wanted, and get the sun in a cool position to make a picture that we were both quite happy with. Yea!
One thing I should mention is that being this close to the rider with your camera is not something recommended if it's the first time shooting flatland BMX, or first time shooting with a particular rider. Being able to understand the flow of the rider's movements while shooting is not easy. Many riders will be understandably uncomfortable with someone they just met super close to them while they are riding.
One false move and a crash can happen, sending you, your gear, and the rider flying to the ground. I couldn't care less about you or your gear, but if an athlete gets hurt due to your actions that is very bad. Very very bad. If you are just getting started, it's always best to start at a safe distance the rider sets, and then move closer as you develop trust and experience.
Taking Different Action Shots
Knowing I wasn't going to get a better shot here, I ask Tsutomu to show me the spot he found earlier. After a quick walk and a few pets of dogs in the park, we came to the next spot. It was basically a large spiral staircase that only went down one rotation, but had a really cool feel and look. The little graffiti on the wall was a nice little touch, too.
Like with every new spot, we took a little look around and talked about what would be best, where to shoot from, and what kind of images we both wanted to walk away with. Tsutomu was hoping to get some portraits with his new sunglasses, so I made sure to put that on my mental list of shots I was making in my head.
As I thought the look of the stairs would be cool to incorporate in the action images, I started from shooting on the ledge above the stairs.
Starting with my Nikon 24-70mm lens at the widest focal length of 24mm I shot a few "simple" easy spin tricks. There was no way Tsutomu would be able to do many different tricks at this spot, but he was able to get a cool spin going amazingly well.
Having gotten a cool shot at 24mm, I felt like I still wanted to go wider, so I threw my Nikon 16mm fisheye back on and jumped back up on the ledge for a few more shots. I really liked how I was able to get the whole staircase in the shot with my fisheye, really showing off how cool the spot was.
Going for the Portrait Shots
Now that we had a couple action shots in the bag, I started working on some portraits. When I was shooting the action images, I noted the wall behind was nice and simple, and that the stairs could make some nice leading lines so I decided to stay in my current position but change to my Nikon 70-200mm lens.
I liked these shots here as I was even able to get some of the bushes in the foreground of my image to add another layer to the shots. This is something I very often do, and it can give your images a kind of 3D look.
After playing with another lens or two and having gotten what I could from the above position, I move down and in close, to get a closer up shot of Tsutomu and his sunglasses. Again the sun was in our favor. It had come down to a perfect spot just above his head.
It can be tricky putting the sun in your images and not blinding yourself, so please be careful if you try this. I will often pre-focus my image once so the sun is just out of shot. Then, I will close my eyes and move the camera to where I feel would be the best position for the shot. Then I shoot.
It is better to be safe than sorry when it comes to your eyes. In the end we got a cool shot we both liked, so I was happy.
For our last action shots, I thought it would be cool to use some of the graffiti on the wall as a background. Already having horizontal and vertical wide shots, I decided to use my Nikon 105mm/1.4 lens to get some more compressed images. I love using this lens, and it looks so sharp – even wide open – at f/1.4. These last shots were quick, and we were done with the spot.
If you would like to see how the shoot went, please check out the video here. [Insert video link or imbed video] You can really see how I communicated with Tsutomu throughout the shoot, and just how much fun we had getting these images.
Cheers!
Photographer's Information (header image):
Photographer: Jason Halayko (@jason_halayko)
Model: Tsutomu Kitayama
Place: Komazawa Olympic Park
Camera: Shot on Nikon D5
Lens: Nikon 16mm/f2.8 lens
Shutter speed: 1/1600s
Aperture: 2.8
ISO: 200
Flash: N/A
Author: Jason Halayko
Related Stories:
Finding New Spots in Yokohama for Shooting Breakdance with B-Boy Jun
How to Shoot Breakdancing with Hasselblad Cameras
B-Boy Taisuke Electrifies Hakodate's Sleepy Streets, Enthralls Tourists
Autumn Cool: Riding the BMX Down Tokyo's Golden Ginkgo Avenue
Playing with Tokura Under the Sakura
Photo Shoot: Tokyo Sunset and Bunnyhop