Crown Prince Reflects on Japan's Achievements, Challenges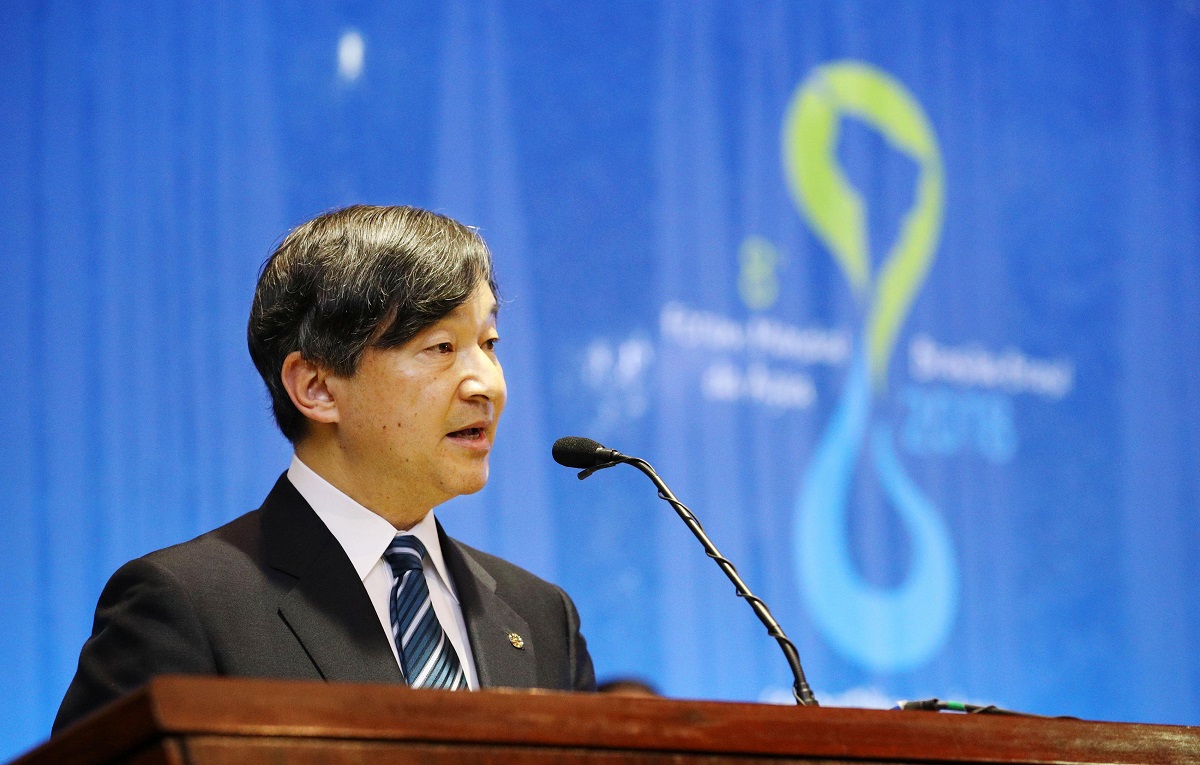 (Conclusion)
Part 1: Interview with Emperor-in-Waiting: Public Servant in Step with the Times
Part 2: The Next Emperor: How Prince Naruhito Prepares to Become the 'Symbol of the Nation'
The Crown Prince of Japan invited the press for a conference at his official residence in the Tōgū Palace just ahead of his 58th birthday, on February 23. During the interview, he discussed the traditions of the imperial line and explained that, as he prepares to succeed his father, he is "considering how to respond to changing social conditions and will act appropriately."
Part 1 covers how the Crown Prince made the first public indication of his thoughts on the upcoming imperial succession following the official announcement of the date of his enthronement ceremony, scheduled for May 1, 2019.
In Part 2, we ask the Crown Prince when he first came to realize he would become Emperor someday, and about his family's thoughts and preparations.
In this final segment, the Crown Prince discusses his impressions of the recent suffering and achievements of Japanese individuals and society in the context of his future duties.
Would you be willing to tell us about public work that left an impression on you in the past year, or events of note in Japanese society and the Imperial Household?
Looking back, this past year has seen many natural disasters, such as the flooding in Kyushu in July, and the eruption of the Kusatsu-Shirane volcano this January. I feel great pain thinking of all the lives that have been affected. I would like to express my sincere condolences to those who died because of natural disaster, and I would like to express my sympathy to the bereaved families and the other victims.
In addition, we witnessed extreme snows and severe winter weather this past year, especially in Hokkaido, Tohoku, and Hokuriku, as well as cold weather and heavy snow in various other places. I am again in awe of the power of nature. We have heard that many people have been injured or died in accidents, for example during snow removal work, and this makes me worry. I pray that the people of our country will not injure themselves or encounter unforeseen accidents in this harsh environment.
Regarding the Greater East Japan Earthquake, I was able to observe the state of reconstruction when I visited Miyagi Prefecture with Masako in November of last year. On that occasion, I observed that reconstruction was progressing steadily through the cooperation of local people and the efforts of administrators and other officials. I have a great deal of respect for the efforts of many people who are proceeding with the revitalization of the area.
At the same time, we are only part way along the road to revitalization, and the many stories of people have been pushed into unfree situations, including those who continue to live in emergency temporary housing, are very painful to hear.
I am also deeply worried that many of the victims, including children, continue to have inadequate mental support. Masako and I will continue to keep the reconstruction of the affected areas in our hearts, while praying for the health and happiness of each and every victim, so that they might return to a peaceful life as soon as possible.
On a happier note, I am pleased to see that young people from their teens to early 20s are engaged in a variety of fields. For example, Sota Fujii became the first middle schooler ever to achieve the rank of sixth dan in shogi, Yoshihide Kiryū became the first Japanese person ever to break the 10-second mark in the 100-meter dash, and Harimoto Tomokazu and Mima Ito became the top tennis players in Japan. I am encouraged to see young people achieving such great results on the world stage.
I think the successes of the Japanese athletes at the Pyeongchang Olympics have also been splendid. I am very impressed by the players who have been practicing hard, overcoming many difficulties, and competing for their skills on the world stage of the Olympic Games.
The gold medals captured in men's figure skating and women's 500-meter speed skating by Hanyu Yuzuru and Nao Kodaira, presented a visage that is competitive with veteran foreign players, and showed deep friendships that cross borders. It makes me feel proud of the presence of Japanese players among the world's sportsmen and sportswomen, and I feel relieved to see it.
In 2020, the Tokyo Olympic and Paralympic Games will be held. I hope that international goodwill will deepen further through sports and that Japan will be able to feel the beneficial presence of this international exchange.
Also, in this past year, I have been happy that some people have made achievements in specialized fields, and others who have been contributing to society for a long time finally have a spotlight shed on their work.
It especially heartens me to hear that Professor Yoshiaki Ishizawa, who assisted me during our visit to Cambodia last August, has been recognized with the Magsaysay Award for his work in restoring the ruins of Angkor Wat and contributing to the development of Cambodian specialists. I was impressed by Professor Ishizawa, who continues to work within his specialization for the reconstruction of a war-scarred society and the preservation of its cultural heritage. I feel that it is very important for every person to be able to provide support in the form of their own ingenuity, as represented by Professor Ishizawa, and to be clearly recognized for it.
Looking at the international situation, both in developed and developing countries, we are faced with issues such as income inequality and the issue of youth unemployment. In addition, armed conflicts and terrorist incidents have continued to occur around the world.
With that in mind, it pained me deeply to hear that, sadly, the number of refugees and domestic displaced people who had no choice but to leave their homelands has risen to about 65.6 million people, the highest number since World War II. I think it is more important than ever for all people to overcome differences of ethnicity and religion and to cooperate in tackling the challenges facing the international community to realize a sustainable society.
Amid this situation, last year the Nobel Prize in Literature was awarded to Mr. Kazuo Ishiguro, who has Japanese connections. I was happy to get news of the award itself, and even more impressed by Mr. Ishiguro's acceptance speech in which he mentioned how the Nobel Prize takes literature beyond the walls that divide us. He described how he felt that this would seem to reflect something worth fighting for as fellow humans in an age where ethnic tensions are deepening, and hostile groups are forming within society. It seemed to me a very meaningful and impressive suggestion.
Regarding the public duties which have left an impression on me, each has its own characteristics, and the types of impressions they have left are varied. For this reason, I think it would be rather difficult to present each specific occasion separately.
Over the past year, Masako and I have had the occasion to visit various places in the capital and abroad in the course of our public service. We were very pleased to be greeted with warm smiles on the roads along the way and at the venues, and it has been encouraging for Masako, which I appreciate as well.
Among these events, last May, Masako, Aiko, and I observed the wheelchair basketball championships. In September, we watched a wheelchair dance performance on the occasion of the National Disability Arts and Culture Festival, and in October, we watched the National Sports Championship for the Disabled. Not only I but also Masako and Aiko were deeply impressed by the way people with disabilities are working hard with steady effort to achieve new goals.
I feel anew that we have entered an era where we must produce an environment in which people who are in a so-called socially weak position—from the disabled to children and the elderly—can demonstrate their abilities and play an active part in society while receiving the support of the people around them.
In addition, when we visited industrial facilities in March last year, we observed that small factories have extremely high-precision processing technologies and play an indispensable role in the global support of cutting-edge industries. I was very encouraged to see highly motivated employees cherish ingenuity as they progressed in their work. This is evidence that, with enthusiasm and ideas, any organization or company can achieve great developments. I hope that we will continue to be a society that will reward such efforts in the future.
Regarding recent developments in the Imperial Household, last June the "Special Provision to the Imperial House Law Allowing the Abdication of the Emperor" was approved, and, in December, the Imperial Household Council was convened for the first time in 25 years. It caused me again to recognize with deep respect that Their Majesties have put their hearts into each and every one of their duties for many years.
(Click here to read the original article in Japanese.)