EDITORIAL | Regional Strategy Centered on Japan-US Alliance Key to Deterring China
President Joe Biden's declaration that the US would help defend Taiwan enhances deterrence in the region. Japan too should be proactive in this respect.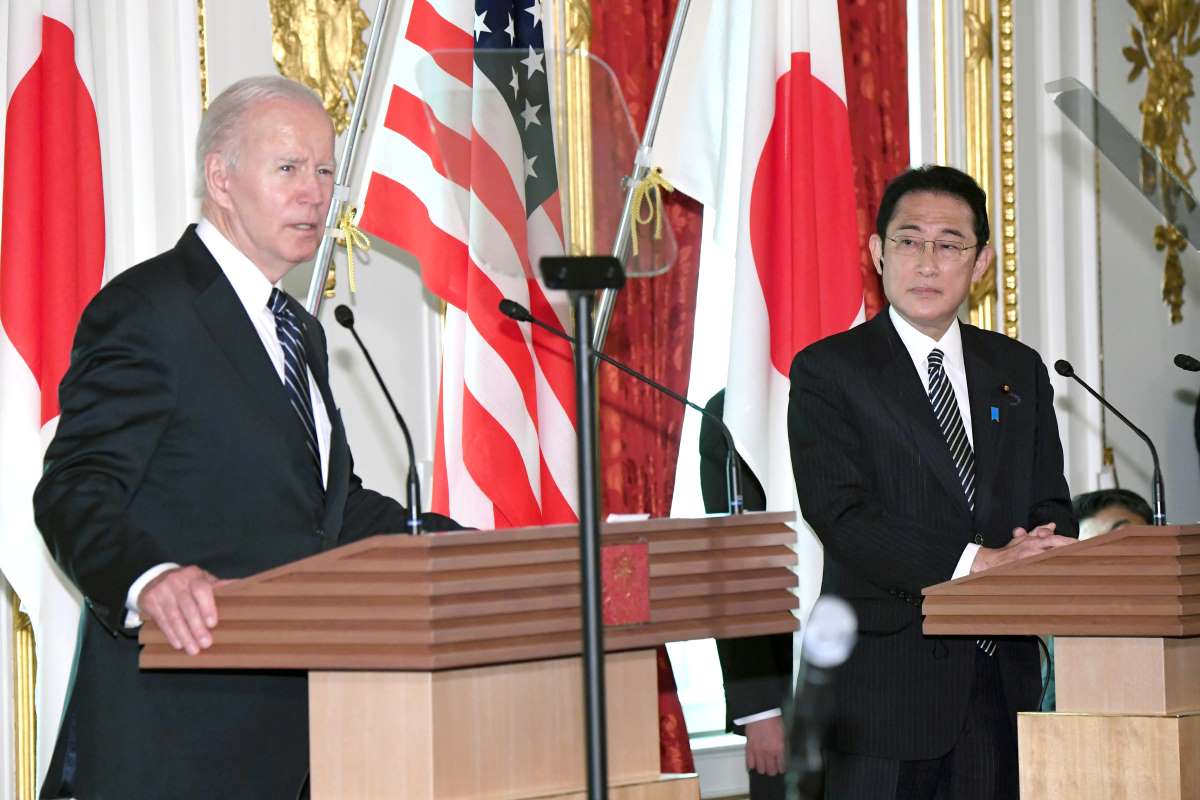 Against the backdrop of Russia's ongoing invasion of Ukraine, Prime Minister Fumio Kishida and United States President Joe Biden met in Tokyo on May 23 in what was Biden's first trip to Japan since taking office.
The invasion of Ukraine has shaken the global order, with repercussions even reaching the Indo-Pacific region. Biden has been strongly supportive of Ukraine. At this time his visit to Japan, a neighbor of China, is highly significant as it shows that the most important concern of the Biden administration remains deterring Chinese expansionism.
The two leaders criticized the Russian invasion and reaffirmed their position that the use of force to unilaterally alter the status quo ー anywhere ー is totally unacceptable. They also agreed that Japan and the United States would cooperate in order to jointly respond to threats from Russia, China, and North Korea.


Bolstering Deterrence of China
Biden's response to a question during the press conference following his meeting with PM Kishida attracted considerable attention. When a reporter asked what the United States would do if China invaded Taiwan, President Biden clearly stated that the US military would come to the defense of Taiwan.
Beijing has refused to rule out the use of military force to annex Taiwan. And a Taiwan contingency would inevitably involve Japan because of its geographical proximity. For that reason, Chinese adventurism must be deterred.
The longstanding stance of several US administrations on the issue of Taiwan has been one of "strategic ambiguity." However, the use of such delicately nuanced diplomatic language with a Chinese regime that respects only power falls on deaf ears.
That a president is willing to clearly announce that the United States will help defend Taiwan serves to enhance deterrence. White House officials later clarified Biden's answer by saying that US policy on the Taiwan question has not changed. But the fact remains that the President said what he did.
We would point out that previously in Japan former Prime Minister Shinzo Abe had said, "A Taiwan emergency is a Japanese emergency." Since Prime Minister Kishida, members of his Cabinet, and the ruling party agree, they should not hesitate to speak out.
Deterring a China that is using its mammoth economic strength to rapidly expand its military power will be no easy task. While continuing to cooperate with international society in that regard, we must look to the Japan-US alliance to play the central role. We should realize that the world has never before looked to the Japan-US alliance to play a critical role as much as it does today.


Enhancing Their Efforts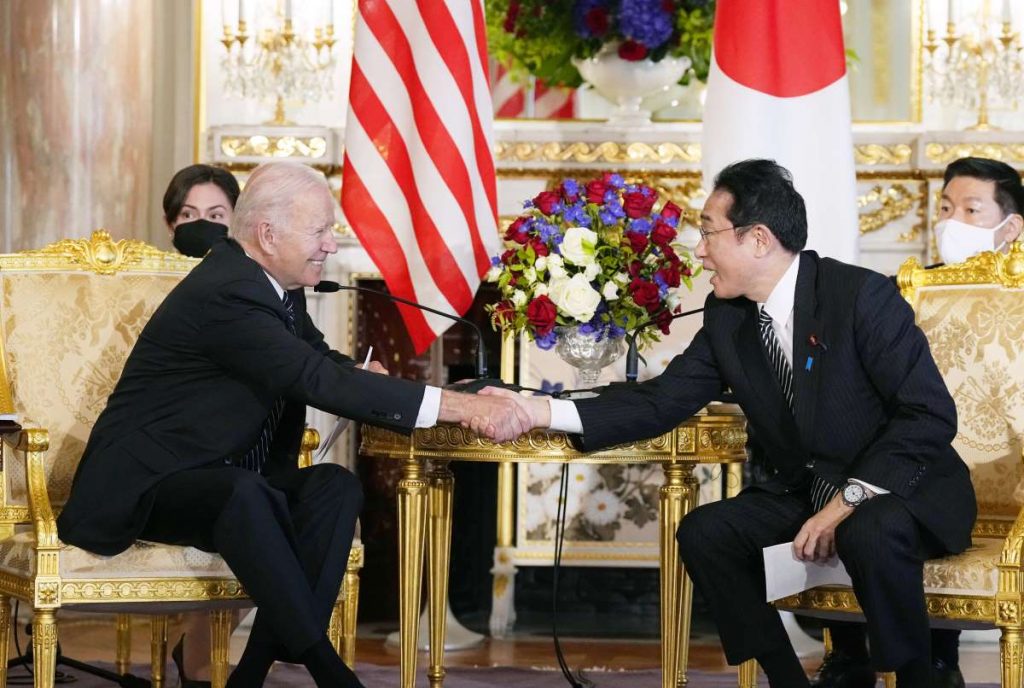 The summit participants deserve praise for announcing various initiatives for enhancing deterrence capabilities.
The two leaders concurred that peace and stability in the Taiwan Strait is a must if international society is to enjoy peace and prosperity.
With China and North Korea in mind, the two sides also agreed on close consultations, including at the Cabinet level, aimed at strengthening "extended deterrence" by the United States in defense of Japan that includes both nuclear weapons and conventional military forces.
China and North Korea continue to strengthen their nuclear forces, while Russia is threatening Ukraine and NATO with its nuclear arsenal. The time has come for Japan to review whether the "nuclear umbrella" provided by the United States is sufficiently reliable.
We need to shun taboos and engage in real debate about what Japan actually requires to defend its people, considering all options, including nuclear sharing and the development of an independent nuclear capability.
Without a doubt it will take a reasonable amount of time to reach a decision and then implement it. In ensuring Japan has a nuclear deterrent that will form the basis of our national security, we cannot waste a single day. We urgently need to review the state of the current nuclear umbrella and then take steps to strengthen it.


Reassessing the Nuclear Umbrella
President Biden welcomed the announcement by Prime Minister Kishida that he had resolved to seek a larger defense budget so that Japan could "drastically bolster its military strength." For the sake of the Japanese nation and the preservation of peace, we hope that the Prime Minister will follow through on his promise.
Prime Minister Kishida must begin explaining to the governing parties and the nation about the importance of acquiring a nuclear deterrent and a counterattack capability while increasing defense spending to more than 2% of the GDP.


New Economic Framework
Again with China in mind, President Biden has adopted a stance that emphasizes the economic situation in Asia. Japan and the United States are among the 13 nations participating in the new Indo-Pacific Economic Framework for Prosperity (IPEF) launched in Tokyo on May 23.
The US developed this concept as a framework to replace the Trans-Pacific Partnership (TPP), which it is not inclined to rejoin at this time.
Meanwhile, in its pursuit of regional hegemony, China has joined the Regional Comprehensive Economic Partnership (RCEP) and has applied for membership in the TPP. Strengthening regional solidarity centered on Japan and the United States is essential in order to counter Beijing's strategy. Japan should be proactive in this respect.
One problem is that since the IPEF will not get involved in discussions concerning tariff reduction, its benefits may not be obvious to Asian countries that are eager to export to the US market.
Another question is whether other countries will go along with the high-quality regulations demanded by countries like Japan and the United States. In this regard, Japan may be expected to act as a bridge between the United States and Asian countries in the debate concerning how to establish a highly effective framework.
It is unfortunate that Taiwan was not included among the IPEC founding members. No doubt, participating countries are wary of getting caught up in a confrontation between the United States and China and fear that Taiwan's participation in IPEC would adversely affect their ties with Beijing.
Nonetheless, if Taiwan were to participate, it would serve to further strengthen regional supply chains. Japan should approach other participants and encourage them to agree to let Taiwan join the IPEC.


RELATED:
(Read the editorial in Japanese at this link.)


Author: Editorial Board, The Sankei Shimbun