[FUJI ROCK 2019] Reviewing the Best of Fuji Rock 2019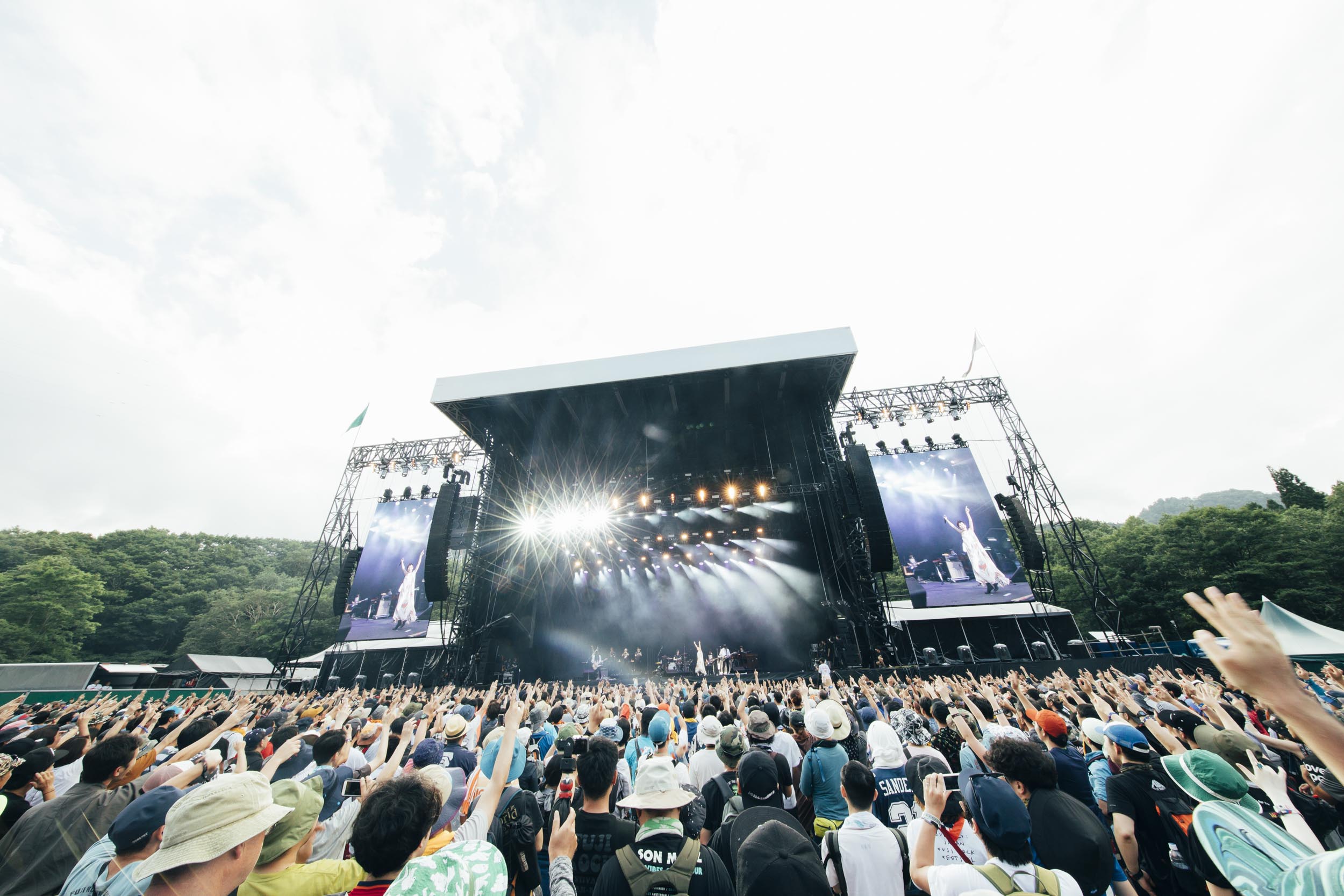 Superfly Performance: Photo Credit Masato Yokoyama
Fuji Rock Music Festival 2019 kicked off its 23nd year on Friday 26 July, with a menu of music that gave rock-fans and music aficionados plenty to look forward to. It's fifteen stages and headliners like The Cure and The Chemical Brothers promised to bring great talent all the way to Naeba in Niigata Prefecture.
The weather was slightly less cooperative, although it started off on a high blessed with a short spurt of warm weather on Friday. It was followed by the region's first typhoon of the season, which brought wind and sloshing-like rain on Saturday July 27. The evening events were especially hard-hit, causing major inconveniences for businesses and fans alike.
Fortunately, the music was the main point, and it was great. JAPAN Forward has put together a roundup of the best of both days to give readers an idea of the most interesting features of this year's Fuji Rock and bands to look out for in the future. There is lots more, too, but for further coverage make sure you check our video wrap-ups.
FRIDAY'S TOP THREE
The Chemical Brothers
The pioneering British electronic duo, The Chemical Brothers, released their latest album, No Geography, in April 2019 and are in the midst of taking it on tour around the world.
Shrouding themselves in an aura of mystery in their usual fashion and letting their music and visuals do the work for them, The Chemical Brothers didn't disappoint. Their set was the headline event on the Green Stage at 9 P.M. on Friday. One visual that particularly stood out, was a huge Michelin Man like graphic also used in their video of "Eve of Destruction" which bled out onto the three screens, making for a bizarre, visually strong experience.
Interestingly, this feature of their show was formally recognized in early July when they were awarded the Bose Innovation Award at the 02 Silver Clef Awards in London. The award recognized their trailblazing sound, employment of new technology and groundbreaking visuals in their live shows.
The set covered music going back to the classics, including "Hey Boy Hey Girl" (1999), up to their latest single, "Eve of Destruction" (2019), done in collaboration with Japanese rapper Nene.
Enthusiastic head bobbing and dancing by the audience all the way through the one and a half hour set was an indication of the crowd's appreciation of their performance. The emotion of some of the songs was evident, as our reporters caught one woman moved to tears at the end of one set, something uncommon for electronic music but altogether understandable given the long history of this landmark band.
Yaeji
Born in Queens New York to Korean parents, Yaeji gave an interesting performance in front of a full house at the Red Marquee. She repatriated with her parents soon after birth and spent her formative years learning English and Korean, but then returned to the U.S. for university. There, she discovered an obsession for electronic music. She is now based in Brooklyn, where she records her own songs.
Yaeji's performance in some ways reflected her background. The artist rapped in both English and Korean in a very hushed tone with a downbeat slightly melancholy - but at the same time very sexy - groove feeling. She had a lot of presence and took over the stage, dancing while performing and managing to keep the audience's attention on the Red Marquee, one of the largest stages at the Fuji Rock Festival.
Mitski
Born in Japan, Mitski grew up in no fewer than 13 countries before settling in New York for university. There she studied music and produced her first non-professional albums during her university career.
With a soothing voice which has a melancholy yet upbeat feel, her performance had a very deliberate air to it. For example, there was very little breaking into spontaneous dance. She alternated between YouTube hits such as Nobody (2018), which has a very pop feel to it, and other songs with heavy guitar such as Geyser (2018) from Be The Cowboy.
Mitski, whose mother is Japanese, admitted in an interview to having a collection of Ghibli movies. She emceed her performance completely in Japanese, showing gratitude to her fans - especially for taking a holiday from work and coming on a Friday, a comment which Japanese fans greeted with appreciative laughter.
SATURDAY'S TOP THREE
The band, which emerged only recently in 2018 with its hit YouTube song "Byoshin wo Kamu" ( 秒針を噛む, roughly meaning "Biting the second hand of the clock") hitting 25 million views, was a much anticipated act. Since official photos and video footage of the band members have not been available anywhere online, the group was surrounded in a shroud of mystery before the concert, with speculation as to whether they were a band or a solo singer.
Their name translates roughly as "If Only It Could Be Nighttime Forever". As such, the music has a home recording studio kind of feel. So their music was brought to life by having the six piece band perform onstage. The music itself is heavily J-pop, with elements of jazz such as strong keyboard lines, or rock with heavy guitar jams being meshed together seamlessly.
The stage had a backdrop of a black background, with the name of the band written simply in white and projections onto a net screen separating the audience from the band. Although there was little interaction with the audience, the exceptions - such as the vocalist ACAne whispering softly to her fans, "it's hot" in the microphone - showed a connection with the audience.
It was a fun performance hit after hit, and while offered a peek behind the curtain, the band was able to retain that all-important air of mystery.
Alvvays
Hailing all the way from Toronto Canada, this five-piece band manages to create melodically strong hits that seem to transport listeners into a dreamy, daze-like atmosphere.
An interesting feature of their performance at the Red Marquee was the band's rendition of The Breeders "Divine Hammer," which recast the original song's melodic vocal harmonies in Alvvays' dreamlike style. It's a band to keep an eye out for in the future, whether to see live or listen to absent-mindendly as the group transports you into a different world.
Alice Phoebe Lou
An up and coming artist, Lou is originally from South Africa but came to Europe in 2010 when she was 16. While she was whizzing between Amsterdam, Berlin and the like, she found a special place to which she wanted to return, and went back to Berlin to be a singer-songwriter in 2012.
Initially she busked on the streets of Berlin and gradually gained fame. Her video, Berlin Blues gained two million hits, but despite being offered contracts by several recording companies she wanted to stay independent. She released her first LP called Orbit in 2016, made up of song texts filled with a raw, yet optimistic lyrics about living your best life.
Performing on the Gypsy Avalon stage at Fuji Rock, her great combination of folk-ethereal indie-rock fit in well with the melancholy atmosphere of Saturday's heavy rainfall. Towards the end of her set, Lou also performed "She" (2017) which was nominated as best original song and featured in the film, Bombshell: The Hedy Lamarr Story (2017).
Typhoon Brings Only a Slight Damper
Although most fans were not discouraged by the typhoon, which also featured in Fuji Rock 2018, aspects of this year's festival that were affected by Saturday's torrential rain, which continued well into Saturday night.
One concern was the sheer water level of the normally shallow stream between the White Stage and the Green Stage, which was at worryingly high levels and caused the area around it to be closed.
As a consequence, a special viewing of Otoko Wa Tsuraiyo (Tora-san Makes Excuses), the forty-fifth movie of popular-film series featuring a clumsy comical hero scheduled as the evening event for a site next to the stream, was cancelled and the area, including surrounding shops, was shut down.
The transition area close to the Green Stage was also affected due to the slight dip in the terrain and accumulated water which made it impossible to pass. The Gan-Ban Square where Takkyu Ishino was meant to perform was closed, for example.
However, people still found respite in the availability of warm food and friendly people. Many shops were happy to become makeshift shelters, like the promotional booth for Fuji Rock's sister festival Asagiri Jam, which was completely covered and kindly offered shelter to JAPAN Forward reporters while they were trying to take a break from the rain!
SUNDAY'S TOP THREE
Stella Donnelly
26-year-old, half-Welsh, half-Australian singer-songwriter Stella Donnely was brought up mainly in Australia. She is one of the up and coming artists who made their way to the Red Marquee at Fuji Rock 2019 in the early afternoon of Sunday 28 July.
Donnelly plays the guitar as part of a five piece band, but also performs pieces on her own. Her songs have a characteristic clear pop-like quality, but don't be fooled by appearances because the lyrics of the songs are acerbic, witty, sharp, and sometimes very dark.
The texts often focus on societal problems such as income inequality, sexual harassment and the #metoo movement –as in the case of the opening song "Old Man" from her 2019 album Beware of the Dogs. It contains the biting lyrics:
Are you scared of me old man? Or are you scared of what I'll do? You grabbed me with an open hand, the world is grabbing back at you.
Smart and direct in her lyrics, yet with sweet pop melodies, her music doesn't come across as preachy. Instead, it seems almost a tribute to the flip side of the all-too common stereotype of millennials being sponges which are a weight on society. This millennial is trying to take back the narrative.
She and her band delivered a great performance, enjoying themselves so much it rubbed off on the audience. Interestingly, clearly her message seeped through to her Japanese fans despite the language barrier in understanding the lyrics, because the Red Marquee was rammed packed with fans for her performance.
Superfly
Superfly is made up by vocalist Shiho Ochi a petite 35-year old j-pop star. Shiho also made an appearance on the biggest stage at Fuji Rock – the Green Stage – in the afternoon.
Inspired by the 1960s and 1970s rock scene, Superfly's music is infused with an irresistibly cheesy quality. With an incredibly powerful and pitch-perfect voice - even in an outdoor setting - Superfly delivered all the favorite songs to her fans, who crowded around the stage on the warm sunny day.
Although the venue was perhaps not as packed as it had been at other times during the weekend, the sheer popularity of Superfly drew a crowd. Even those people just walking by couldn't help but put their hands up in jubilation and sing along, particularly when she performed "Ai wo Komete Hanataba wo" (Bouquet filled with Love, 2011).
An interesting trivia fact that contributed to making her a household name, is that in the immediate aftermath of the Great East Japan Earthquake in March 2011, the then 27 year old expressed her wish to release a special single to raise money for the recovery of the region. After being told that logistically it wasn't possible, given the sheer damage reeked in the transportation chains, she nevertheless went ahead in late March and recorded the single, "You & Me" under makeshift conditions. The song was uploaded onto iTunes and other online platforms to raise funds for those affected by the earthquake.
Khruangbin
A three-piece band composed of Laura Lee on bass, Mark Speer on guitar and Donald Johnson on drums, the trio came all the way from Houston, Texas to perform on the Field of Heaven stage on Sunday evening.
In a theme which recurred throughout many performances that day, this up and coming band's style was influenced by the rock of the 1960s and 1970s, while taking influences from southeast Asian folk and rock. Their 2015 album The Universe Smiles Upon You, is a case in point. Their 2018 album Como Todo El Mundo, takes some of its sound from the Middle East.
Mark Speer in particular stood out. He was sporting a very striking gold-colored suit, and together with his teammates combined guitar riffs, background dubstep and an exotic sound seamlessly.
There were very few songs with vocals. Yet, given the complexity of their sound they managed to grab the attention of the audience. This was augmented by their tribute to Japanese music when they performed a cover of pioneering techno-pop from the 1970s group Yellow Magic Orchestra's song Firecracker, which had everyone cheering and dancing.
A Wrap-Up To A Great Fuji Rock
Despite the typhoon on Saturday, the good weather on Friday and Sunday allowed festival goers to appreciate the best of the world's and Japanese music, delivering beyond everyone's expectations.
Something should be said about the sheer infectious enthusiasm at the festival. Possibly fuelled by the shared experience of all being soaked to the bone on Saturday, Fuji Rockers on Sunday shared an added enthusiasm. Celebrations went well into the night, despite the following day being a Monday.
The return was characterized by long queues to get to shuttle buses, despite the fact they started running at 6 AM, and choc-a-block bullet trains back to Tokyo, but everything ran relatively smoothly, with one of our reporters making it back in just over 2 hours.
Looking forward to next year, Fuji Rock will be exceptionally late in the summer, on the weekend of August 21, 22 and 23. This is despite its now 23 year history of being held the last weekend of July, with the exception of the 1998 event which was held on the weekend of August 1.
The schedule clears the way for Fuji Rock to avoid competition with the Tokyo 2020 Olympic Games, which will begin on July 24. The Paralympic Games on the other hand will begin on August 25, just after Fuji Rock 2020 at the Naeba Ski Resort.
RELATED ARTICLES:
Author: Arielle Busetto and Daniel Robson