Here's How to Add Christmas Cheer to Your Kimono, According to Sheila Cliffe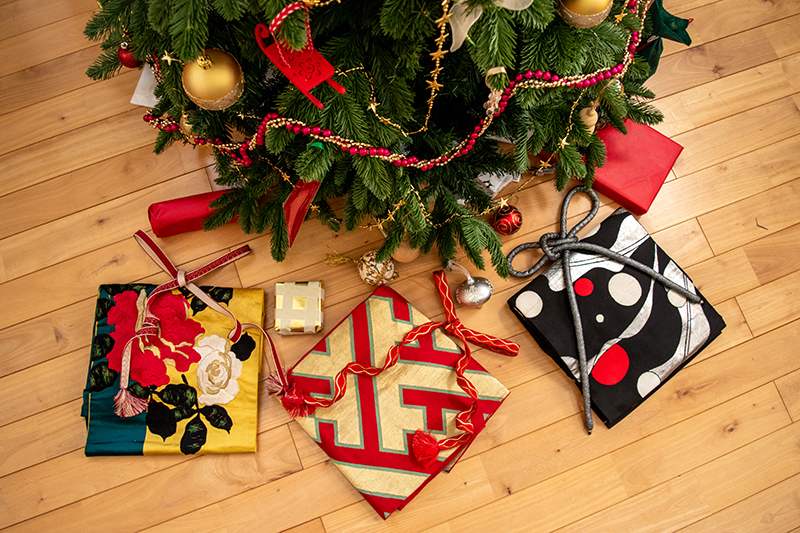 There is a stylish Japanese alternative to the Christmas sweater: kimono, which has always been embracing the new.
In the Edo period, popular games, musical instruments, and poems would appear on kimono. There were "in jokes" and puns on words.
In the Meiji period, new dyes from Europe arrived and resulted in the explosion of new bright colors in the Taisho period. In addition to the seasonal flowers and plants that had always been popular, all kinds of new objects appeared in kimono: oil lamps, vehicles, books, and a whole variety of items that people had made.
Flowers that were imported into Japan also appeared on kimono. The typical flowers for the winter are camellia, but also pine, plum, and bamboo — the three lucky friends of winter, which are common around the New Year celebrations. They symbolize long life, blooming in the coldest season, and being bent but not broken in turn.
Recently, Christmas, not a Japanese celebration, has begun to make its way into kimono too. Some yuzen dyers have painted Christmas scenes on kimono, obi, or accessories.
The obi and collars here are painted by Tokyo yuzen artisan Keiko Tanabe. The jolly scenes are playful and full of Christmas cheer. A scene of snowflakes is also perfect for the Christmas season. The pale blue of the snowstorm kimono is painted in the super-fine yuzen technique of Yuki Yamamoto. It would surely turn the wearer into an elegant snow princess.
More affordable, Christmas printed cotton obi have become popular, and cotton accessories are perfect for parties and casual events. They can be patterned or plain in Christmas colors, and can be used for both obi and collars.
Kimono researcher Nichole Fiorentino styled a plain dark green kimono with a shiny red soft obi by Rumi Rock and a bright gold metal belt to give a seasonal touch, and finished it off with red flowers in her hair.
I worked on several outfits with a Christmas feel, using old and antique kimono and obi.
The blue kimono has a design that appears like flowers but is actually snowflakes, and I styled it with silver accessories to give the feeling of a winter scene.
The nanten plant is often displayed at New Year. It is cheerful with its green leaves and red berries, and always reminds me of holly. Here I have paired it with an antique yellow and green obi, with black, red, and white roses for a warm Christmas feeling. Red is a great Christmas color, and, used with black, white, and silver, it makes a bold statement.
The top pair on the ladder are camellias under the snow and a contrasting green and gold striped obi. While the designs are Japanese, the color combination speaks of Christmas. Below it is a dark green kimono, which says "kimono" on it, combined with a red and white obi with a crane design. They also make a dynamic pair.
Some of my friends went out together for a Christmas lunch. The brown oshima woven kimono was paired with a star-like embroidered obi and warm red accessories, for a sophisticated look. Red, green, black, and white are a stunning Christmas combination, and this red and green obi with a ribbon look like a Christmas chocolate box.
A jolly Christmas obi looks cheerful paired with a green striped kimono. The camellia obi is a fantastic contrast with the black kimono and obi and the red and green accessories. A wine-red obi with patterns like stained glass contrast with a cream kimono and poinsettia hair decorations. There are as many combinations as there are imaginations.
Dressing in kimono is really getting wrapped up, and obi and obi jime (the cord) tie the outfit together, so in a way it is like present — wrapping yourself for those around you to enjoy. I hope you like the obi presents under the tree for Christmas.
Author: Sheila Cliffe